Brian Poole & The Tremeloes
| Track | Album / EP / Single |
| --- | --- |
| Ginny Come Lately ... | Big Big Hits of '62 |
| Twist Little Sister | Decca F11455 |
| A Very Good Year for Girls | Decca F11567 |
| Keep On Dancing | Decca F11616 |
| Do You Love Me? | Decca F11739 |
| Twenty Miles | Brian Poole & The Tremeloes EP |
| Candy Man | Decca F11823 |
| Someone, Someone | Decca F11893 |
| The Three Bells | Decca F12037 |
| I Want Candy | Decca F12197 |

Brian Poole & The Tremeloes playlist
Contributor: Peter Viney
Brian Poole & The Tremeloes earned their place in musical history by passing their audition for Decca Records the same week that The Beatles failed theirs. Decca rejected The Beatles so Brian Epstein said, because A&R chief Dick Rowe decided that guitar groups were finished. This doesn't ring true for a company which was about to top both the British and American charts with The Tornados' Telstar, and in a year, 1962, when The Shadows' Wonderful Land (on direct rival Columbia) would break the record for number of consecutive weeks at number one. It's been suggested that it was simply a polite let-down. Tony Meehan had produced the session, but attracts none of the notoriety that Dick Rowe had to live with. On "Anthology 1" on Apple, five of the fifteen they recorded in a single day appear, and Mike Smith, the engineer gets the credit. Decca rejected The Beatles and promptly signed Brian Poole & The Tremeloes. Their first release was an LP called Big Big Hits of '62 consisting of rapid medleys of twenty-two cover versions.
As both bands auditioned at the same time, and on their ability to perform lots of cover versions, no doubt Brian Poole & The Tremeloes' ability to swing from a Speedy Gonzales send-up to a rocking Let's Dance, and a yodelling Swiss Maid, won them the contract. They were also from the London area, requiring lower travel expenses. I figure that's what Decca were after in the first place … a good band to compete with cover versions with Woolworths Embassy covers label, who were stealing lots of sales. And I'd bet that the ability to play anything in the Top Twenty whatever the style earned them applause at the local Palais de Dance. Decca changed their spelling from Tremelos to Tremeloes, even though their best-selling band was The Tornados.
The band were multi-talented and Alan Blakely was the drummer before switching to rhythm guitar and piano, Alan Howard played sax before they bought him a bass guitar, Graham Scott played guitar, then Dave Munden arrived on drums. As well as racing through Big Big Hits of '62 (a sought after LP), they had the dubious distinction of backing Jimmy Savile on Ahab The Arab and The Vernons Girls cover of The Locomotion, and they continued to be a covers band. Decca often released originals on its London-American label, and commissioned simultaneous covers on the Decca label. Needless to say, the profit margin was higher if the Decca British cover won the chart race.
The thing about Brian Poole & The Tremeloes, is that they encapsulate a certain British beat style. Merseybeat, though these were London lads, and Brian Poole's hair was aggressively neat. I don't think they ever bettered an original, but they chose so many great songs and did bright and competent covers. You can listen to an album right through and nothing will strike you about the instrumental prowess, though the bass guitar holds it together well. But the rest is all competently jangling along. Where they differed is the conventional but important backing vocals. After they split, The Tremeloes went on to greater things, and the story is already clear on songs like Someone, Someone and The Three Bells, i.e. the backing vocalists were more distinctive and had a wider range than the lead singer.
Big Big Hits of '62 divided the twenty-two tracks into six medleys. I'm tempted to choose the last four on side two, just for the incongruity of sliding from Breaking Up Is Hard To Do via Devil Woman to Roses Are Red (My Love) and finishing it off with Halfway To Paradise. But at least two of these don't suit Brian's voice. So it's Medley Two: Ginny Come Lately, Stranger On The Shore, Dream Baby and Swiss Maid. The join between Brian Hyland's hit and a guitar instrumental version of Acker Bilk's greatest hit is seamless, the chug-chug into Roy Orbison's Dream Baby somewhat more forced, but then they get into the yodelling of Del Shannon's Swiss Maid and the backing vocals are … er, surprising. It's all quite bland, but also somehow pleasing to see how they link all this stuff up.
Twist Little Sister was their first single and starts off their predilection for dance songs: Twist & Shout, Do You Love Me, I Can Dance, Keep On Dancing, I Wish I Could Dance. If you line up the several dozen 1961-63 twist songs, this one stands out. Unusually for them, it wasn't (as far as I know) a cover. You gotta twist little sister to get that goodnight kiss.
A Very Good Year For Girls is one I met first in their version. It's a cover of a Johnny Tillotson B-side, so well-researched rather than a cover of a hit, and unrelated to It Was A Very Good Year by Frank Sinatra. Nice crunchy walking bass line.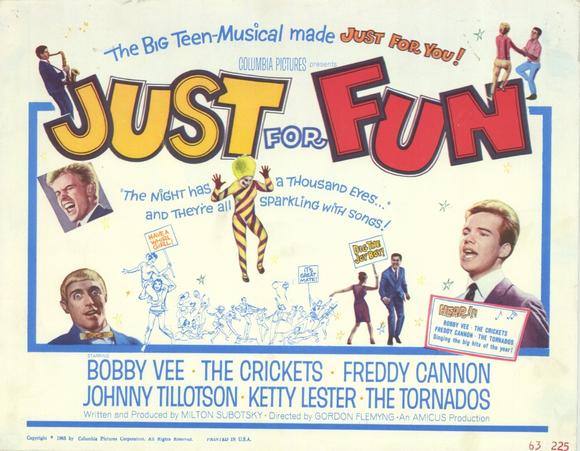 Keep On Dancing is from the 1963 British film Just for Fun, typical of the film, and appears to me to have lifted considerably from Monster Mash. The film is an excuse to parade lots of people to do one-off pop songs. It's not the 1965 song by The Gentrys.
Ironically and unfairly their first Top Ten hit, in mid 1963 was a watered-down cover of Twist & Shout. They were covering The Beatles, not the Isley Brothers.
Do You Love Me was a number one UK hit. I bought the Decca single to the horror of my friend Andy who played me The Contours original on Oriole American (i.e. British Motown then). Yes, the Contours version is stratospherically better in every way, but the big hit version dominated youth club dances for months, and it evokes the era better for me than the superior original. The B-side Why Can't You Love Me? got played a lot too … in those days you'd load up the auto-changer and flip the lot. It's basically the start of Twist & Shout with added bits.
They followed up Do You Love Me with I Can Dance, which is Do You Love Me? with slightly different lyrics. That's what you did in those days. I have a certain affection for it in the answer discs category.
Their first EP, unimaginatively titled Brian Poole & The Tremeloes was another set of covers, including Swinging on A Star and Yakety Yak, but Twenty Miles leapt out for me, and is a cover of a Chubby Checker B-side. It's in the Chubby Checker Toppermost. As mentioned there, Brian Poole improved on the original for once by eradicating the annoying whistling on the Checker version. I had both versions at the time. I love the song.
Candy Man is the Roy Orbison song, and of course there's no competition with Orbison's voice. Brian Poole & The Tremeloes replace the harmonica part with guitar, and keep a strong bouncy bass. But the backing vocals are prominent, and change the balance of the song. I like it because it's a poppier rethink of the song, not a slavish cover. And unusually for them the guitar part stands out strongly.
Someone Someone is to be honest somewhat somehow wet. It sounds far more like The Tremeloes in their later incarnation, and they would have done it more like Silence Is Golden. It shows where they were headed though. It's a cover of the post-Buddy Holly Crickets. The original sounds more dramatic ballad with doo-wop. The Brian Poole version sounds more straight pop.
The Twelve Steps To Love is an atrocity. It's a mealy-mouthed version of the old "ten bases" or "How far did you get?" pimply teenager conversation.
The Three Bells (The Jimmy Brown Song) was the Christmas 1964 youth club song, and the song is immensely catchy. At the time, everyone loved it and it was a #17 hit. It had been a #6 hit for The Browns five years earlier which meant it benefitted from vague radio memories of that far better version. In 2014 I saw Jimmy Ed Brown (lead singer of The Browns) perform it at the Grand Ole Opry with The Isaacs, and so listening to the Brian Poole to do this Toppermost was quite a shock. It's a feeble version indeed, but all I can say is that it's what we had at the time. Yes, it was crap. But it's the stuff of memory.
I Want Candy is one I bought. I suspect they recorded it because of the title connection to Candy Man. Again, I hadn't heard the original Strangeloves version which is more raucous and more exciting, though if I could only have one version it's got to be the Bow Wow Wow cover from the 80s by a mile. Brian Poole was the first I heard, and he does try to distance his voice in a similar way to The Strangeloves.
The last single was a cover of Good Lovin' – again a good choice of song and a creditable version. But the Tremeloes and Brian Poole went their separate ways. Brian Poole continued to make singles without success, while the backing band had seven top ten hits in the late 60s. Inevitably they are now reunited on the Solid Gold Silver Sixties Platinum Pop Golden Oldies circuit.
The Official Brian Poole Website
Brian Poole & The Tremeloes discography
Brian Poole biography (Apple Music)
Peter Viney writes on popular music and the arts at his website.
TopperPost #393