Catatonia
| Track | Album |
| --- | --- |
| Mulder And Scully | International Velvet |
| You've Got A Lot To Answer For | Way Beyond Blue |
| Lost Cat | Way Beyond Blue |
| Stone By Stone | Paper Scissors Stone |
| Strange Glue | International Velvet |
| Johnny Come Lately | International Velvet |
| Londinium | Equally Cursed And Blessed |
| Valerian | Equally Cursed And Blessed |
| Arabian Derby | Paper Scissors Stone |
| Gyda Gwen | For Tinkerbell EP |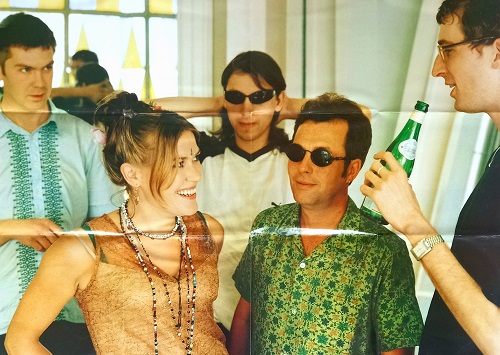 Catatonia are Mark Roberts (guitar, vocals), Cerys Matthews (vocals),
Aled Richards (drums), Paul Jones (bass), Owen Powell (guitar)
('Game On' fold-out poster photo by Steve Gullick)
Contributor: John Hartley
The time had come for the back bedroom to be decorated, a word guaranteed to strike fear into the very bottom of my heart. This wasn't just any old decorating either; the impending transition into his own bedroom of my first-born necessitated, it had been decreed, wallpaper as well as the generally-manageable application of paint. To soothe anxieties and stresses and provide suitable distraction from the task in hand, a small grey transistor radio manufactured by Sony was employed and took up its position nestled between the creases of paint-splattered sheets covering the floor, in anticipation of the inevitable spillages that will come from my paint brush. The Radio 1 afternoon and evening shows provided the most frequent soundtrack with Catatonia on heavy rotation.
Catatonia, this five-piece from Wales, were evidently causing something of a stir and much was being made in the relevant music media of their forthcoming new album. Thus far, however, they had failed to register with me, just as I had ignored and sheltered myself from the hyperbole surrounding the television science fiction of The X-Files. Something had to give, it would seem: before very long at all Mulder And Scully was on heavy rotation in my head even when the radio was switched off, the biggest hook being the bridge and its lead into the final verse. It took my mind off lining up Humpty Dumptys on separate bits of self-pasting wallpaper.
Decorating done and the need to listen to Mulder And Scully sated by the birthday gift of a cassette single, I promptly forgot about Catatonia. Well, slightly … There was very little escaping follow-up single Road Rage although in archetypical cynicism I rejected the song, despite its joyously hook-filled omnipotence, on the grounds that the band must surely just be cashing in on hot topics in the media with their song titling. Meanwhile, my brother-in-law was given the host album International Velvet for his own birthday which meant a couple of days of frequent play before either disc or case would be forevermore found (never together) littering the downstairs rooms of my in-law's home.
Fast forward a few months and, for reasons lost in the midst of time, I would find myself playing Splash! 15 Thirst-Quenching Tracks, a CD that had accompanied the July 1997 issue of Q Magazine. Looking at the tracklisting for that CD today gives no clue as to what possessed me; I have never developed interest in any of the bands featured with the occasional exception of R.E.M. However, this is irrelevant. For whatever reason I listened; I heard You've Got A Lot To Answer For and now my interest was well and truly piqued. I loved the plaintive kitchen-sink-drama lyrics, the urgency and, well, Cerys Matthews had a voice that was very easy to listen to whilst her band mates provided just the sort of musical accompaniment that was right up my street. I headed to a second hand CD shop and bought Way Beyond Blue.
In addition to You've Got A Lot To Answer For, the band's debut album included versions of singles from their independent days with Crai and one-offs with Nursery and the Rough Trade Singles Club. A further three singles would be released from the album by Blanco Y Negro including the opening track Lost Cat. This provided the perfect introduction to the album, with its meandering melody and sumptuous harmonies, and both song and album featured frequently on whatever listening device I could find to block out the mundanities of to and from work bus journeys.
That should really be that. Man hears songs by band, likes band's songs, buys future recordings and writes chronological Toppermost. Or, to borrow a line from Catatonia, "boy sees, boy takes, boy hooked and the subject's closed". Of course, life doesn't always work out neatly, and after first hearing Mulder And Scully it would be another three and a half years, six singles, before I would hear another song by the five-piece that would grab me and wrench the pit of my stomach. Maybe there was only space in my life for one band fronted by a formidable frontwoman.
By the time Catatonia released Stone By Stone my six-piece creation Echolalia were beginning their splintered descent into non-existence after three years of rung-climbing, line-up rationalising and an ultimate schism caused by the almost-touchable reality of releasing a vinyl record. "On common ground we'll build up castle walls, we'll build them stone by stone and how…" sang Cerys while a third of my own band shrugged at another close shave with potential fame and fortune, my singer's third threw down their sword and demanded "your family or the band" and the remaining third turned up for Sunday rehearsals oblivious to these shenanigans. Neither Echolalia nor Catatonia would survive beyond 2002, but Stone By Stone remained exactly the sort of song I wanted my own band to be able to create, with its strings solidifying the lyrical and instrumental romanticism.
It would be at least another decade before Catatonia made a dent on my musical intake. Of course, during this time songs would appear on the radio every now and again, and I listened to Way Beyond Blue on and off – it made a rewarding soundtrack to the weekly ironing of school uniform. Cerys Matthews would drift in and out of the public eye meanwhile, on celebrity reality television and via her solo releases. Indeed, it was one of these, Open Roads, that eventually whetted my appetite for more and when I discovered Poundland's quite superb offering of chart albums for a mere one hundred pence of my hard earned wages, the door was opened.
Having borrowed my brother-in-law's semi-homeless (it had only half a case by now) copy of International Velvet, I purchased a bona fide disc of my own and was instantly smitten by its content. Not all, it must be said; there remain a few songs across the Catatonia output that I just cannot warm to. However, the wistful waltz of Strange Glue took me straight back to the days of bedroom decorating, while my increasing interest in gardening and horticulture embraced the lyrical content of Johnny Come Lately, ignoring any allusions or metaphors contained within in favour of a completely literal take on the words.
Having played the album over and over ad (almost) nauseum I needed little persuading to shell out another whole pound sterling to acquire its successor Equally Cursed And Blessed. I was surprised to note how many songs I actually recognised from the album. Clearly Catatonia had been seeping into my subconscious existence – Top Of The Pops, Later … With Jools Holland, Radio 1, XFM, The Chart Show all taking their share of the blame I suspect. Dead From The Waist Down was a single that would have been difficult to avoid, and Londinium, another single, made an immediate impression on this self-exiled Northerner. While I have grown accustomed to the scenery and sounds of my south-eastern home the noise, bustle and claustrophobia of our capital city never fail to both thrill and threaten in equal measure. Sometimes this assault on the senses becomes too much, and I can well relate to the sentiments of the song's chorus, the need to escape and the prospect of coming "alive outside the M25". Indeed, the subtle beauty and majesty of Valerian would finally be revealed to me in such circumstances, as I passed through the greenery of northern England and a rather randomly-located llama farm on a train shortly departed from Manchester. If I had been aware of the song when it was first release I would have had well over a decade to compose a paean to the awe in which I hold it. Unfortunately, that's all I've got, so you'll just have to listen to it and find out for yourself.
By the time Catatonia's musical career drew to a close the lure of bright lights and fame had shown itself to be a false promise, and tales of alcohol and acrimony abounded alongside those of drugs and disenchantment, the latter seemingly mutual between band and label. The release of final album Paper Scissors Stone and accompanying promotional tours and appearances were postponed and when it did finally make it onto the shelves the album was welcomed with more of a shrug than an embrace. Only one single was released, the earlier-mentioned Stone By Stone. While there are few obvious other singles contained within, however, this does not mean the album itself is a dud; far from it. That said, the penultimate track in this Toppermost and the album's actual closing track, Arabian Derby does appear to darkly hint at the turmoil surrounding the band, with its deadpan-delivered chorus of "everyone's a winner baby". It seems nobody came out of the end particularly well and Catatonia have often been remembered in an unfairly negative light.
Twenty years on from that week of decorating you will be pleased no doubt to know that my first-born no longer has Humpty Dumpty wallpaper on his bedroom wall. However, I do still often have Catatonia songs stuck in my brain. Most frequently that song is the last in this Toppermost, one of the songs to which I turn when in need of an audiological hug. Discovered accidentally when an ironing session overran, Gyda Gwen is the Welsh-language version of early B-side New Mercurial Heights and appears as a 'hidden' track on Way Beyond Blue. More easily accessible is the version which can be found, along with its English version, on Catatonia's first release, the For Tinkerbell EP. This release dates back to 1993, a time when the thought of domesticated decorating and fatherhood seemed a million miles away for me.
"Cerys, Catatonia And The Rise Of Welsh Pop" by David Owens (2011)
Cerys Matthews official website
Catatonia biography (Apple Music)
John Hartley is the author of "Capturing The Wry", an autobiographical tale of the unsigned side of the music industry, published by i40Publishing and available here. After spending the best part of twenty five years trying to write the perfect pop song he has also turned his attention to writing about those who have done a much better job at it. He tweets as @JohnyNocash and gives away his music, generally for free, at Broken Down Records.
TopperPost #714