Leatherface
| Track | Album / EP |
| --- | --- |
| Not Superstitious | Mush |
| Never Say Goodbye | The Stormy Petrel |
| I Want The Moon | Mush |
| Peasant In Paradise | Fill Your Boots |
| Springtime | Mush |
| Pale Moonlight | Minx |
| Trenchfoot | Smokey Joe EP |
| The Bastards Can't Dance | Fill Your Boots |
| Dead Industrial Atmosphere | Mush |
| Do The Right Thing | Minx |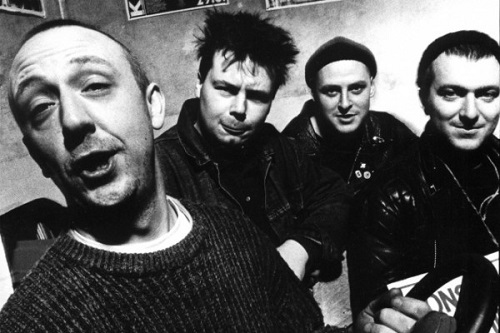 Leatherface (l to r): Frankie Stubbs (guitar/vocals), Dickie Hammond (guitar), Andrew Laing (drums), Andy Crighton (bass)
Leatherface at the Astoria in London, December 1991
Contributor: Ann Sequinworld
Leatherface were a punk band from Sunderland, formed in August 1988 by Frankie Stubbs and Dickie Hammond (formerly of HDQ). Leatherface released four full-length albums before their initial split in 1993.
Along with Hammond (guitar) and Stubbs (guitar, vocals) on the first album, Cherry Knowle, on the Darlington indie label Meantime Records in 1989, were Andrew Laing on drums and Dickie 'Dogman' Camm on bass.
Leatherface moved to Roughneck Records (a subsidiary of Fire Records of London) for their next three albums, starting with Fill Your Boots in 1990 with a change of bassist and location.
In 1991, Stubbs, Hammond, Laing (with yet another bass player Steven Charlton on board), recorded their third album Mush at the Greenhouse in London. According to AllMusic, Mush is "one of the most intense records of the 90s, with some of the fiercest playing and song dynamics … it's now considered one of the best albums of the decade. Furthermore, in I Want The Moon, Leatherface had written at least one bona fide punk-rock classic."
Here's AllMusic again on the fourth album, Minx: "a ferocious force to be reckoned with, and when it scales its highest peaks, many songs still pack one f*ck of a wallop. … it's impossible to take for granted this kind of tuneful, flexible, well-executed pummeling, especially given Stubbs' ability with a lyric pen. Another superb album, as much experience as music."
And then it was on to new things. After the split, the band released a posthumous mini album The Last in 1994 – before Stubbs and Laing reformed Leatherface in 1998 (see below).
Leatherface never achieved the success they deserved. Their music has been described as a cross between Hüsker Dü and Motörhead; a notable element being Stubbs' rasping 'gravelly' vocals along with killer riffs, and an underlying pop sensibility that earned them a cult following. Their lyrics often feature far-fetched similes, metaphors, word play and obscure allusions.
Whether it's acknowledged or not, their impact on the punk scene can still be felt today.
Not Superstitious – Mush (1991)
"By album three, the band had not only delivered that rarest of musical gifts, the truly perfect album, but also invented an intricate, yearning, yet still brutal sound, which has influenced every hardcore, post-hardcore, call it what you want, punk group that exists anywhere across the globe."
Never Say Goodbye – The Stormy Petrel (2010)
"It's all about the sound," said Stubbs. "You know, making the guitar go, AAAAARRRRRAAAARRRRGH!"
I Want The Moon – Mush (1991)
"Frankie Stubbs' voice is coarse and gruff and takes some people a while to get used to it. It sounds as if he smokes a carton a day and someone switched his Listerene with a can of paint thinner. Very rough, very impassioned and incredibly unique. It will move you. The lyrics are equally powerful. Stubbs comes off as weary bar-room poet who has seen too much of the world. Melancholy and yearning for some sort of meaning to it all."
Peasant In Paradise – Fill Your Boots (1990)
"At turns ferocious, wistful and declamatory yet always searingly dynamic and melodic, they laid down a savagely introspective sound which has been endlessly imitated but never with quite the same unique blend of face-ripping guitar with singer/guitarist Frankie Stubbs' sandblasted vocals."
Springtime – Mush (1991)
"They are one of the greatest punk bands of all time and, in my humble opinion, the best punk band Britain has ever produced." Omar Ramlugon, Colin's Punk Rock World
Pale Moonlight – Minx (1993)
"Leatherface bring on a brand of gritty punk that never loses sight of the song, the chorus and the hook."
Trenchfoot – Smokey Joe EP (1990)
"One thing that will forever set Leatherface apart from the many out there is the charismatic vocals of Frankie Stubbs, part Lemmy, part Tom Waits, all throat and bile. His rasp brings an immediate personality to each song."
The Bastards Can't Dance – Fill Your Boots (1990)
"Leatherface come raging back to remind us why punk mattered so much in the first place. And they do it with grace and style, spit and ire. And that voice. They do it with that voice."
Dead Industrial Atmosphere – Mush (1991)
"The ramblings of a psycho, or a glimpse into the mind of a genius? A lot of geniuses are psychos, including Frankie Norman Warsaw Stubbs, of seminal English punk rock outfit Leatherface."
Do The Right Thing – Minx (1993)
"Leatherface had no imitators, because no-one came close. They really did make you believe that punk could still matter, that it could be impassioned, intelligent and intensely affecting …"
BUBBLING UNDER
(a few Leatherface covers – with original artists in brackets)
Hops And Barley (Wat Tyler, 1989)
Talkin' ˈBout A Revolution (Tracy Chapman, 1988)
Can't Help Falling In Love (Elvis Presley, 1961)
Message In A Bottle (The Police, 1979)
You Are My Sunshine (The Pine Ridge Boys, 1939)
"This split LP, recorded in three days in 1999, seems as miraculous as it is a godsend. Because they were one of those truly astonishing modern groups that spontaneously combusted in the midst of an attenuated creative peak, Leatherface's unexpected 1993 bust-up seemed particularly cruel. Thousands of scattered souls openly mourned when the news came down that the punk/post-punk powerhouse had vanished. The sound of this new recording recalls the spark, the lift-off, and the balls-out clear smack of Mush and The Last." (Jack Rabid, on the 1999 split album with Hot Water Music)
"Wow. Who'd've thunk it? Leatherface have gotten around to putting out some new music. Stubbs and drummer Andrew Laing are the only names I recognise from lineup lists I have seen on other 'face records, but the music on this CD is rocking, and it still sounds distinctly like the 'face. The other two members are David Lee, and Leighton Evans (who was in former Stubbs project, Jesse). Just listen to opener, "Andy", a song in the memory of Andy Crighton (ex-Snuff). The galloping guitars are a wall of sound, this is how hardcore punk rock should sound, and few ever come close to matching the 'face's ever so high standards." (Andy Malcolm reviewing the same 1999 album for Collective Zine)
Four more Leatherface albums followed from Stubbs/Laing combines between 1999 and 2012, with Hammond rejoining the band for 2010's The Stormy Petrel.
Dickie Hammond died on 30th October 2015 after a long period of poor health.
Andrew Laing played drums in the Cockney Rejects for much of this century. Sadly, Lainey died on 3rd April 2023, this tribute from fellow musician James McMahon.
Frankie Stubbs most recent record, Blood Orange Moon, was released in August this year.
Leatherface appear as the band Shrine in "Emmerdale" (1998)
Leatherface perform Not Superstitious in Sunderland in June 2001 as featured in their "Boat In The Smoke" DVD
Leatherface on stage at Alte Mälzerei in Regensburg, February 2012
"The greatest British punk band of the modern era." The Guardian
"By far, England's finest, most exciting punk band of the 90s." Trouser Press
Richard 'Dickie' Hammond (1965-2015)
Andy Crighton (1963-1998)
DEEPER DIGGING
Dickie's own band HDQ released three albums between 1987 and 1990, and this one, "Lost In Translation", in 2013
Kingsane from the sole album by Pope, "JohnPaulGeorgeRingo" 1994 – left to right: Andy Crighton, Chris Mackintosh, Frank Norman Stubbs
The Jones: Dickie Hammond (guitar), David Golledge (vocals), Richie Glover (bass), Andrew Zammit (drums)
The second single from Jesse (1996) – Frankie Stubbs (vocals/guitar), Leighton Evans (bass), Peter Shields (drums)
Ex-members of Newport band The Abs, the Oldfield brothers formed Doctor Bison in 1994 with Dickie Hammond on guitar
In 2008 Graeme Philliskirk from Leatherface, landed on the shores of Canada to begin the band's Stormy Petrel World Tour. In support of this leg of the journey was Yesterday's Ring, a rag tag of Montreal mongrel punks headed by the charismatic lead singer Hugo Mudie who, also happened to be front the man for The Sainte Catherines.
Not long after the demise of Leatherface, Graeme crossed paths with his former band mate, guitarist Dickie Hammond and they both expressed an interest in playing music together again.
So, two generations of punk rockers from both sides of the atlantic whose mutual affection and appreciation for each other's music, and DIY approach led them to join forces for a unique collaboration. They named their monster project Medictation. Their first album, Warm Places was recorded in one week at Wild Studios, St-Zénon, Quebec. Sadly, Warm Places was to become Hammond's final recorded work.
The band photo at the top of this post is a promo shot c.1991 and is on the gatefold of the 'Leatherface: Razor Blades and Aspirin, 1990-1993' box set from Fire Records which comes with a 28 page glossy booklet.
The photo of Dickie Hammond can be seen in the In Memoriam piece on Louder Than Sound dated 9th November 2015, uncredited. We link to this piece above.
Frankie Stubbs on Little Rocket Records
Frankie Stubbs "Blood Orange Moon"
Leatherface – 'The Last' Tour
An article by Lukas Schwarzbrennen for Ont Road Fanzine (2013)
Leatherface interviewed by Paul King on MTV's 120 Minutes (1992)
"Rabid In The Kennel" – with a very special guest: the one and only Leatherface, the greatest punk rock band of the last 20 years, all the way from Sunderland, England (March 2010)
Punk Is Beautiful: Dickie Hammond (1965-2015)
Peter Catapano (New York Times, 4th November 2015)
Razor Blades And Aspirin: 1990-1993 – Fire Records (2015)
Peasants In Paradise: The Indelible Impact Of Leatherface
Negative Insight article & interview with Laurence Bell (initially of Fire Records and founder of Domino Records), January 2021
Leatherface biography (AllMusic)
Ann loves the psychedelic music of the 80s/90s. In between gigs, she runs her own business, Sequin World and Bead Monster. You can follow her on twitter @ann_sequinworld and other social media sites.
These are Ann's other posts on this site: Loop, The Heads, Thee Hypnotics, Mudhoney, Wooden Shjips, The Lucid Dream, The BellRays, Moon Duo, The Telescopes, MC5.
The quotes relating to this top 10 are from reviews at the time of each record's release, paraphrased here and there and attached to a song. This was a cut-up process and the quote may not originally have been about that particular song but … you know what … it doesn't matter because it works.
TopperPost #914