Lene Lovich
| Track | Album / EP |
| --- | --- |
| Bird Song | Flex |
| Lucky Number | Stateless |
| Too Tender To Touch | Stateless |
| Sleeping Beauty | Stateless |
| It's You, Only You (Mein Schmerz) | No Man's Land |
| Writing On The Wall | Stateless |
| Home | Stateless |
| New Toy | New Toy EP |
| Say When | Stateless |
| Rocky Road | No Man's Land |
Contributor: Richard Balls
She landed on Top Of The Pops as if from another planet. Strikingly made-up and pigtails bobbing about beneath a bundle of black ribbons, Lene Lovich was as irregular as her name suggested. Her single 'Lucky Number' was a pop song, right enough. But its chorus consisted simply of a high-pitched sounds. 'Ah! Oh! Ah! Oh!' So who was this oddball performer with the haunting voice? And what were viewers to make of this strange apparition on what had for so long been part of the Beeb's light entertainment offer?
Lili Premilovich was born in Detroit to an English mother and Serbian father on 30 March 1949. She was raised with her brother and two sisters in the city's predominantly black and downtown district, with Motown supplying an exhilarating soundtrack, as well as a welcome escape for the shy, solitary girl. Her father suffered from mental health issues, making home life difficult, and when his behaviour towards them became intolerable, her mother fled with the children to her native Hull.
Like many of those caught up in the cultural shift of the mid-Sixties, the teenage Lovich felt the pull of art college and it was here she met her romantic and creative partner, Les Chappell. On completing her studies, Lovich played around Europe with a hotel band, before they both joined The Diversions and tasted their first chart success. Fattie Bum Bum was a novelty hit in September 1975 and the following year Lovich released her own single I Saw Mommy Kissing Santa Claus.
Convinced there was a group out there for her, she wrote to Radio London DJ Charlie Gillett to see if he could help her find it. At the time he was setting up Oval Records, with dentist friend Gordon Nelki, and aware of a number of promising songwriters and musicians, they decided to pool their talents in a collective called The Oval Exiles. The sax-playing Lovich told them everyone hated her voice, but they managed to sweet-talk her into fronting the group.
Trying to think of a song that would suit her unorthodox voice, they plumped for I Think We're Alone Now, written by Ritchie Cordell and a US Billboard hit for Tommy James & The Shondells in 1967. The group recorded it and it was added to a tape of tracks which was sent off to a number of record companies.
It was a classic case of 'right time, right place' for Lovich. Stiff Records had already brought some of the industry's outsiders in from the cold, and in 1978 it was in the market for female artists. While Elvis Costello and Ian Dury and other old boilers from the pub rock circuit had led the charge from 32 Alexander Street in London's Bayswater, there was a clear vacancy for a woman on the label's decidedly oddball roster. Musically and visually, Lovich was perfect.
Robinson singled out I Think We're Alone Now from the demo cassette and immediately wanted to release it. Around 5,000 copies were pressed up and like Stiff's early 45s it was sold mainly via mail order. However, Lovich's arrival at the maverick label coincided with the departure of the Be Stiff tour and she found herself joining Mickey Jupp, Jona Lewie, Rachel Sweet and Wreckless Eric on the bill.
The tour was something of a curate's egg. On the one hand it provided a platform from which the acts would raise their profile (or the label's, as Eric saw it). On the other, audiences tended to drift to and from the stage and acts going on later in the evening could find themselves greeted by a small drunken crowd. Lovich didn't have a single to accompany her album Stateless, released for the 1978 tour. But she and her band proved the surprise package of the tour and one song in particular had provoked a reaction.
Lucky Number had been written hastily when a flip-side had been needed for her debut single. Recognising its potential as an A-side in its own right, Robinson demanded it be re-recorded. The result – an eccentric but highly infectious pop song punctuated by high-pitched shrieks – reached number three in the UK chart and sent her career into overdrive.
On stage she was kooky and beguiling, her backing band solid. In Stateless she had an extraordinary record, a smorgasbord of styles from the pulsating pop of Lucky Number and its hit follow-up Say When, to the achingly beautiful Too Tender To Touch and other-worldly Sleeping Beauty. Other standouts included the atmospheric Writing On The Wall and the starkly honest Home. For me, Stateless remains her strongest record and anyone not familiar with her music would be best to start here.
Her debut won critical acclaim and gave Stiff its first real female success story. Lovich, an outsider all her life, had meanwhile finally found a place where she fitted in. "I loved it, I totally loved it because I felt, at last, there is a home for me and there are people who take me for what I am," she says in Be Stiff: The Stiff Records Story.
The cover of her 1979 album Flex presented Lovich like some modern-day Miss Havisham, crawling about in a wedding dress (the photograph was taken in a fermentation tank at the Guinness factory in London's Park Royal). The record itself was steeped in atmosphere. Lovich's shrill warbling and the baritone undercurrent of Bird Song made for a chilling opening and reached number 39 in the UK chart. Her interpretation of The Four Seasons' The Night was as memorable as it was unexpected, and it was impossible not to get snagged on the pop hooks of Wonderful One and Joan. However, Flex reached number 19 and spent just five weeks on the UK chart – well short of the three months racked up by Stateless.
Subsequent singles, Angels and What Will I Do Without You flopped and Lovich's relationship with Stiff became strained, with Dave Robinson demanding she cover Motown songs and reluctant to listen to her new material. During the impasse, Lovich appeared as Mata Hari in a production at The Lyric in Hammersmith. Her third album No Man's Land, a more electronic affair, had been recorded before the stage show, but there was no reaction when she sent Robinson the tapes. Stiff's US partner Epic loved the record, however, and after having it remixed, released it in 1982. Stiff was furious, but it became her third successive album to make the US Billboard Top 200. It's You, Only You (Mein Schmerz) was among the highpoints (although it did nothing as a single), along with Rocky Road and Blue Hotel. The confident synth pop of New Toy, composed by Thomas Dolby, seemed tailor-made for the new MTV era. Yet inexplicably it sank without trace.
She parted company with Stiff and effectively disappeared from public view. Seven years passed before the release of March and with Lovich and Chappell having started a family, it wasn't until 16 years later that the subsequent Shadows And Dust saw the light. Live shows were few and far between for many years, but she has recently re-emerged and is now performing the songs for which she is best known. Lene Lovich remains a one-off.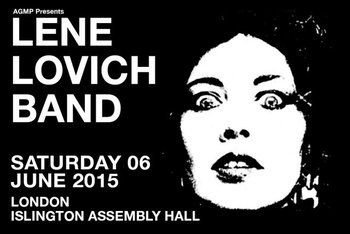 Lene Lovich biography (Apple Music)
Read more about Lene Lovich in Be Stiff: The Stiff Records Story by Richard Balls (Soundcheck Books)
TopperPost #442