Mighty Baby
Track
Single / Album
Egyptian Tomb
Mighty Baby
A Friend You Know But Never See
Mighty Baby
Same Way From The Sun
Mighty Baby
House Without Windows
Mighty Baby
I'm From The Country
Mighty Baby
The Happiest Man In The Carnival
A Jug Of Love
Virgin Spring
A Jug Of Love
Devil's Whisper
Blue Horizon 2096 003
and A Jug Of Love bonus track
Messages
Mighty Baby outtake
and A Jug Of Love bonus track
A Blanket In My Muesli (India)
Live At Glastonbury
Mighty Baby (l to r): Roger Powell, Mike Evans, Martin Stone,
Ian Whiteman, Alan King – photo: Keith Morris (1971)
Contributor: Dave Stephens
For a long time, (the album) Mighty Baby was unavailable and, in line with the old maxim of absence making the heart grow fonder, its reputation grew to the extent that it was perceived as Britain's lost psych masterpiece. Today's critics are made of sterner stuff though, and existing Amazon reviews of the album vary from the relatively under-impressed – "Average 60's rock, listenable & OK", and, "by no means a classic", to the positive, ecstatic even – "one of the crown jewels of the UK 60's psychedelic scene".
My own view comes somewhere in between those two extremes. I was lucky enough to see the band a couple of times at the Roundhouse way back when, and can confirm that their natural mode of operation was to state the theme of a song and then settle into a jam typically of over ten minutes duration, before returning to restate the theme once or twice before the end. So what, you may say; wasn't that was most 'psych' bands did? True, but the difference was that (a) their songs were usually more than just frames on which to hang the jamming and (b) the jamming, when it came, was usually structured and inventive rather than experimental/ground-breaking/repetitive/aimless, depending on which adjective you prefer and how much you'd been imbibing.
And I guess if you were going to make comparisons it would be to the Dead of Live/Dead which also came out in 1969, or to Quicksilver as evidenced by that band's first couple of albums. No other major Brit psych band evoked such comparisons. The Floyd and the Softs had their own unique sounds; Caravan had the Canterbury near jazz feel; Quintessence did Asian style chanting; Procol did the pseudo Bach bit; early T. Rex were sort of acid folk; the Broughtons had the Beefheart regurgitated blues sound (coupled with homegrown demonalia); the Move were really a singles band, and so on …
… and so on …
Those were the first three paragraphs of an Amazon review I posted (in 2014) of an album which had seen CD release in 1994; its first sighting since the original slab of vinyl hit UK record shops in that unforgettable Martin Sharp created sleeve in 1969, with our friends across the big pond getting their release a year later. If AllMusic is anything to go by, the Americans loved it; 4 and a half stars and "one of the best bodies of British psychedelia ever released".
Mighty Baby were a band formed in January 1969 from the ashes of The Action. That's how Wiki opened its all-too-brief feature on the boys. A little expansion is called for. The Action arose out of a name change by a Kentish Town mod group called the Boys in 1964. Their first single, 1965's Land Of A Thousand Dances (featuring lead singer Reg King) typified their chosen form of music: American R&B though they did start to widen their scope as the decade progressed. In mid/late 1967, guitarist Martin Stone and multi-instrumentalist (and part-time vocalist) Ian Whiteman joined the band. At that time Roger Powell was on the stool behind the drum kit, Michael Evans was playing bass guitar and Alan "Bam" King was on rhythm guitar and also part-time vocals with Reg King still lead vocalist. While the Action didn't sell a lot of records, in their day they were a very popular club act and their reputation has grown over the years. There is an Action/Mighty Baby Facebook Group which gives something of an idea of current interest.
Reg King left the band either to progress a solo career or because he was sacked, in late '67 or early '68, (depending on what you read of course). The Guardian obituary on King, after singing praises to his singing skills, does say "Following a disastrous gig at the Blue Lagoon club in Newquay, which ended with King being fined for causing damage, he left the Action in late 1967". Another version of this story has the band playing their instrumental, and usually lengthy, version of John Coltrane's India while a bored King climbed up an ornamental tree with an entirely predictable result.
What is clear from the last sentence is that the Action's music had been morphing with some rapidity into new areas altogether. This wasn't at all unusual in this timeframe; think Stevie Winwood/Traffic and Zoot Money/Dantalian's Chariot. After some false (re)starts they eventually got themselves a record deal in January 1969 with Head Records, a label run by former Action roadie, John Curd. We're informed (source: Wiki and review of box set 'At A Point Between Fate And Destiny' at Louder Than War) that it was he who came up with the name "Mighty Baby" and very shortly after, the band played their first gig under their new label at Covent Garden's Middle Earth.
The producer assigned to the boys was Guy Stevens, a blast from the past in terms of R&B but one who would go on to produce albums from Mott the Hoople and the Clash. Whether it was Guy's control or the band's self-discipline, temptations to extend numbers unduly were kept under tight rein. To quote another few words from my review:
"The original eight tracks vary from just under five minutes in length, to just over six minutes so there is nothing here which outstays its welcome. Group harmony singing at a near C,S and N level is also present but with less of the noodling and more of a solid beat than you got from that band. Roughly half of these songs have melodies which could have withstood a trimming down to single's length treatment and emerged as memorable records. Egyptian Tomb and House Without Windows are two that particularly stick in the brain."
So far I've featured Same Way From The Sun, one of the self-evidently psych oriented tracks from both the title – if a tad on the corny side, it did tell you what you were going to get – and that ominous/eerie sounding organ riff which opens the track and flushes any thoughts of corn down the drain. This is psych with beef (if I can use that metaphor in this day and age) not a million miles away from some of those US psych garage outfits though in reality probably more a part of the Action heritage. It's worth a mention at this juncture that although the songs are credited to "Mighty Baby" on the LP sleeve, Martin Stone informs us in an interview conducted by Dr. Brian Hinton of Ptolemaic Terrascope in September 1995 that Ian Whiteman or Alan King usually came up with the melodies, while he – Martin – usually provided the words.
Egyptian Tomb must be next in line, not only because I've already given it a mention but it's the first track on the album and wisely chosen because it's one of the standouts if not the standout. A dazzling intro from flute (or sax?) and guitar setting a vaguely Eastern tone, a drum roll and those instruments are synchronising on a backing riff, leading to a chorus which lodges in the brain featuring that CSN style harmonising – or perhaps just CS or CN since it was Ian and Alan only doing that good work while Martin's guitar sound just seemed to get bigger, a scat section – yes I did say scat – then Martin does his Jerry Garcia thing – no that's unfair: Martin's background prior to picking up the Action job was at least as varied and yes, eminent, as the great Garcia – a little more scat which by now is starting to go down well – a repeat of verse 1 plus the chorus with even more oomph as they fade into the distance.
I was born in a world that can easily bring you down
I was torn from the tomb of the foolish Egyptian crown
The title of track #2, A Friend You Know But Never See, suggests a religious theme to the lyrics which we already know are likely to have been penned by Martin Stone. In an interview with Ian Whiteman entitled Untold Story Of The Counterculture's Islamic Connection he states:
"Martin Stone had pioneered the group's entry into the Moroccan Sufi brotherhood as he had secretly entered Islam in that period just before Jug of Love was recorded. The impact was seismic. Jug of Love was not just about spiritual awakening in general. It was about our spiritual awakening."
Coming down to a more mundane level, after the opening gentle salvo "I'm ahead of you, a friend you know but never see / I keep telling you but you never listen", the lyrics tend to get a little washed away after being hit by a positive tsunami from Martin Stone's axe aided and abetted by the rhythm section in full churn mode. Stone (with some help from King and a fuzzbox) tends to occupy much of the rest of the number but there are the odd proggy bits plus Powell showing he knows his way round his kit. And at 3:50 there's a delightful surprise, I'll leave you to discover it but let's just say that Ian Whiteman discovering his inner Otis Spann wouldn't be wildly off the mark.
The album isn't all ripsnorting gallops through one's inner mind (or whatever); there are several calmer tracks that lower the pace but still show a total comfort with the material that oozes from each and every one of those grooves. Track #3 is one such. Its title, I've Been Down So Long (It Looks Like Up To Me) suggests that at least one member of the band – and from later interests I suspect that might have been Martin – managed to find time to keep up with on-trend literature. The title is a straight lift from the solitary novel written by Richard Fariña.
The presence of this number, and a couple of others on which the vibe is broadly similar, tells us that the jump between this album and A Jug Of Love which followed, wasn't anything like as large as some critics have stated. Arguably the tracks here are slightly more focussed but to my mind could still have fitted well on album #2. I'm From The Country leapfrogs this track as an example of the Babe in laidback mode. How could I leave it out? A melody line that works its magic on you almost before the first verse is over, those harmonies again and another of those indecipherable but entirely natural sounding rhythms – is it 6/8? – no matter, relax and enjoy. It's not fully unplugged but it has a pleasing rawness about as if this is being sung around a big old fireplace with a real fire crackling away. And did Guy overdub a little brass in a few places or is that my imagination?
'Cause I'm from the country and I'm so tired
Give me a drink of your wine
Please
My final selection from Mighty Baby is the other one that usually gets mentions when the topic arises. House Without Windows adorned the pole position on side 2 of the LP, and the rationale for its placement would have followed the same logic as Egyptian Tomb. Much like that number, it contains the opposing attributes of a gentle voice uttering near mystical lyrics with an instrumental approach over a two chord riffing affair that owes more to US garage than new age. As the number progresses and Ian Whiteman's organ becomes more prominent, the realisation dawns that what we're hearing is something akin to a Blue Note Hammond thumper; Whiteman's early love for jazz would appear to extend to Jimmy Smith, or Jimmy McGriff in mod terms (or even Brian Auger if you transpose everything to the UK). Martin Stone fills the Grant Green position admirably but predictably adds a degree of ferocity to the cool tones of Mr Green.
The other tracks on the album also have merit and deserve a mention even while I'm reserving space for goodies from elsewhere in Mighty Baby's all too brief career. Trials Of A City contains the urgency and the strut of some of the better Brit R&B bands of the period while At A Point Between Fate And Destiny is a much more dreamy affair and one of the pointers I referred to in this set to album #2.
And yes, that album, A Jug Of Love, does cut back on the level of attack in the MB approach such that it was effectively non-existent (apart from some gentle country dancing in Keep On Juggin'). This has been put down to the fact that by the time it was cut the majority of the band had become followers of sufism. That's part of the story but there was more to it. In the interview with Ian Whiteman referred to earlier, he states:
"My attitude to music changed dramatically over the many miles travelled, and the many gigs played. It had its ups and downs, but after a gig in Middle Earth in Covent Garden circa 1967 that we shared with the famous Byrds in one of their best incarnations, and the original Fairport Convention line up, we all witnessed the simple beauty of countrydelic American music. And that we weren't The Action any more. Small Fender amps, more country style songs (e.g. I'm from the Country from that first album – after all I was from the country) and bendy notes."
So although he's a little vague about the date of that Middle Earth gig, in the last sentence, he does put it before the recording of Mighty Baby. I would not, however, minimise the effect that sufi had on the band's music. Reference Ian Whiteman's quoted remark about "our spiritual awakening".
Describing what 1971's Blue Horizon release A Jug Of Love is, isn't easy. Adjectives like warm, loose, mellow, languid, intimate, reflective help a little but they only go so far. Labels and comparisons don't help a lot either. Very, very vaguely country rockish in places but it's not a lot like country or rock as we know it. And, contrary to what some reviewers have said it's a long way from Sweetheart Of The Rodeo and The Gilded Palace Of Sin. The closest is possibly the Dead's American Beauty in that neither are all out country but do use country tropes. What I can say is that it's an album that takes a few listens before you really get into it.
Take the first (and title) track, A Jug Of Love; it's clear that Martin Stone has swallowed a barrel load of Nashville licks and is happy to regurgitate them but the song itself, both in lyrical and melodic terms, bears minimal relationship to what I would call country. That said, and while Stone's note-bending and sliding sometimes seems to bear a tenuous relationship to the rest of what's going on, the resulting mix is never less than interesting and always enjoyable. The track lasts for nearly six and half minutes but the bulk of that is singing rather than instrumental. There were six tracks on the original LP with timing running from 6.20 to 9.20 (though I should add that the 2006 CD issue has extra tracks and is on Spotify).
For me the most realised song on the set is Virgin Spring, that is the original LP version of the number rather than the single take which is one of the CD bonus tracks and for which, see later comment. Stone's work is more integrated and the two sections of himself and Ian Whiteman on piano, playing off each other are an absolute delight. They're also not show-offy, something that's often found in prog; here, as elsewhere on the album, the instrumental interludes complement the vocal work and vice versa.
Snow, let it freeze on that mountain
Rain, let it run right on through
The Happiest Man In The Carnival is one of the few tracks to raise the tempo to more than a slow ambling pace. After a minute's worth of mood setting from a flute, tinkling bells and more, the pace settles to a gentle jog. And when those vocals do appear we're treated to the Whiteman/King patented CSN style harmonies after some Beach Boys melismatic ahs. Though if we're still talking comparisons, the Dead's vocal work on American Beauty and its predecessor Workingman's Dead might have some relevance.
I can't leave A Jug Of Love without a mention of Keep On Juggin' which as its name implies is a full scale knees-up with two-pronged electric guitar boogie onslaught. The reviewer of the album for Head Heritage made the comment that it "sits awkwardly with the rest of the album" and I'm inclined to agree. And I'm indebted to that same reviewer for the following:
"The Melody Maker review of the time said the album was 'so laid-back that the band must have been floating a couple of feet above the studio floor when they recorded it'."
Apart from a couple of singles, I've got to the end of what was perceived as Mighty Baby's oeuvre in the sixties/seventies; they went their separate ways after A Jug Of Love. However, bootlegs have emerged over the years, mainly of live appearances. In the noughties this all changed; official live albums came out and studio cut material also appeared often as bonus tracks on the albums. In the footnotes I cover the five tracks that were cut after Reg King had left the Action but before the boys were officially christened Mighty Baby. The tracks appeared as extras on the first CD release of Mighty Baby in 1994 (helping to blur the differentiation between the bands).
The CD release of A Jug Of Love in 2006 also came with embellishments and they're certainly not to be ignored; all four bonus tracks are of significant interest to fans of not just the band but of good music from the period in general. I've already mentioned one, that is what is usually referred to as the electric version of Virgin Spring which appeared as the B-side to Devil's Whisper in August 1971. Both single tracks came from Blue Horizon sessions and for the avid fan, this take on Virgin Spring has the benefit of a different arrangement which featured an instrumental introduction and a marginal upping of the tempo plus other more subtle differences which reveal themselves as the number progresses. Devil's Whisper was something different again. More up tempo than anything on A Jug Of Love other than Keep On Juggin', it also managed to sound more country-like than anything on the album. What is particularly unusual about the track is the manner in which it manages to reach not one but two climaxes, with the first appearing at roughly 1:20 and running to 1:40. And listen carefully to those loud sections. Who do they remind you of? For me it's a blast of Gram and the Burritos (and if you want a reminder, try Hot Burrito #2). I wouldn't classify this as cribbing though, rather I'd call it a tribute to one of those outfits from across the pond that opened the Babe's ears to the possibilities of country rock.
The final pair of bonus tracks on A Jug Of Love take us back a couple of years; both were outtakes from the Guy Stevens sessions and the only reason suggested for them not being present on Mighty Baby was lack of space. Both tracks would have nestled well within the bounds of their intended album. Ancient Traveller is the slower of the two, giving off a similar feel to At A Point Between Fate And Destiny – whither he goes we know not or words to that effect. Messages initially resembles one of the lighter tracks on The Notorious Byrd Brothers, driven along very effectively by the rhythm section until the chord change into the middle eight brings more than a hint of Lovecraftian darkness – "Have I / Seen You / Somewhere / Seen You / Been here / With you / Have I seen you before".
A fine coda to the Mighty Baby studio career.
But not quite. Within the albums that comprise the relatively recent outpouring of MB material (and also lurk within the mighty (pun intended) At A Point Between Fate And Destiny box set) there's evidence of other studio visits. A rising sun, rainbow and early biplane decorate the cover of Day Of The Soup, an album which contains tracks that were intended for a second album in 1970 i.e. prior to A Jug Of Love, which activity was abandoned due to Head Records going bust. The opener, Winter Passes is sung by an American female duo Emily Muff (Kathy Bushnell and Janet Dourif) and is the solitary non-instrumental track in this grouping of recordings. I'm unsure how to characterize the track: it's unlike anything on Mighty Baby and it doesn't have the dreamlike quality of the bulk of A Jug Of Love being rather more earnest and somewhat prog-like in approach. The other four tracks for the proposed second album are instrumentals entitled Now You Don't (Part 1 to Part 4) with timings varying considerably. What the whole thing represents is the only occasion when the delights of their perennial stage favourite, India, or as it's sometimes titled, A Blanket In My Muesli, were captured in a studio. (And if I jump ahead and say that one of the bonus tracks on this set is entitled Now You See It, then you'll guess that the lads didn't suffer from a sense of humour deficit in spite of those sombre looking faces in the relatively few photos that exist of them.) For a taster, here is Part 3, the shortest component, and it's on Spotify so you can sample all four parts sequentially. Or, if you'd like the full experience here, this clip has the entire Now You Don't.
Also studio recorded is an album entitled A Jug Of Love Rehearsals which is sort of what it says on the tin, except the rehearsals are instrumental only making this something much more for completists than other buyers. On the plus side I'd state that these warm-ups often show some variation on the released versions and for fans of the jams this is all marvellous stuff, particularly for those who love the two feet in the air hovering as in the MM quote. One song which didn't find its way onto the intended album was Mr Parsons' Lazy Days, possibly because the near Quo-like chugging might not have been felt appropriate for 'The Jug'.
Which leaves us with the live material which, almost without exception, hasn't been recorded to anything like a professional level so the sound quality suffers accordingly. The vocals come off worst, in part because of not being miked to match the instruments' volume, though it's also true that neither King nor Whiteman's delivery is as polished as artists who'd chosen singing as their prime musical specialisation. All that said, nothing can take away from the availability of A Blanket In My Muesli (India) from the second Glastonbury Festival held in June 1971, nearly five decades after the event. The occasional foreground noise and lack of clarity don't detract from the musical experience. True Babe fans waited decades to hear the full 36 plus minutes of this and it doesn't disappoint.
That review I wrote of the Mighty Baby album was headed "Britain's Grateful Dead?". I don't know about that question mark but just play a little Live/Dead, Dark Star even. Don't the Babe rock a tad more than the Dead? And produce a wider range of tonal colours? And evoke aspects of world music which would emerge in the years to follow? And aren't the band at least as simpatico as the Dead if not more so? I rest my case.
Heresy? Give some of these tracks a good listen.
FOOTNOTES
1. I didn't actually buy the Mighty Baby CD which I reviewed, though was tempted by the bonus tracks which were cut as demos while the Action's music was undergoing its transformation. The reason for me not doing so was that I was and still am perfectly happy with the vinyl version with its gatefold sleeve; such things were fashionable at the time. According to eBay it's worth something between (or maybe above) £199 or £497.
2. The Blue Lagoon ballroom used to sit on the cliff top overlooking Great Western Beach in Newquay to the left of the slope to the beach with the (St. Austell Brewery owned) Great Western Hotel on the right. I have a very distant memory of singing I Go Ape at the Blue Lagoon while there was discussion on possible gigs for the band. The ballroom complex has now been pulled down and replaced by a multi-floor building serving several functions.
3. Head Records was a small London-based indie which released a small number of singles and albums in 1969 and early 1970. Mighty Baby was distributed by Chess in the US.
4. Guy Stevens was a British music biz mover and shaker who, in the sixties and seventies, seemed to have a hand in almost everything that was going on. In 1963, he had a weekly DJ session at the Scene Club in Soho where he played US soul and R&B discs from his own extensive collection; name bands used to drop in to hear those records. In '64, Chris Blackwell, boss of Island Records, hired Guy to effectively run his new project, Sue Records UK which, via relationships Guy built with US record labels, released a whole host of American records ranging from rock and roll to out and out blues and soul from the likes of Elmore James, Bobby Bland, Bobby Parker and Ike & Tina Turner. In parallel, Guy started working with Pye International on their R&B Series which focussed mainly on Chess/Checker. As the sixties rolled on, he got involved in artist management and record production, with responsibility for albums from Free, Larry Williams and Mighty Baby. He managed and produced Hapshash and the Coloured Coat and Mott the Hoople and in a looser capacity was around in the early days of Spooky Tooth and Procol Harum. In 1979, The Clash asked for and got Guy to produce their album, London Calling. Although by that time Guy's skills might well have been impaired by his alcohol addition, his involvement was very much appreciated by the band. Guy died in August 1981 from an excess of the prescription drugs he was taking to control his alcoholism.
There's a kind of tribute to Guy from Martin Stone in the Terrascope interview:
"Guy Stevens? A wonderful person! I think the best thing was when we turned up at the studio and Alan Whiteman has got this little case and Guy says "what's that then?". Ian said, "It's a flute" and Guy said "I don't record flutes"! He was a rock 'n' roller, he did not understand flutes or want to record them. I thought that was wonderful, not that I dislike flutes it must be said but I did understand his perspective on that, y'now?"
5. As already stated, in my review of Mighty Baby, I commented that certain songs like Egyptian Tomb and House Without Windows might make saleable singles with a bit of trimming. I didn't do any digging though. If I had I'd have found that Egyptian Tomb coupled with I'm From The Country did see release in 45 RPM format but only in France and the Netherlands. Reviewer "Happening45" stated that it was criminal that "this didn't get a UK release" and made reference to the attire relating to the before and after Action/Mighty Baby transformation and the record itself:
"But while their sartorial elegance may have taken a dip, their music was reaching dizzy heights and I think Egyptian Tomb is one of the finest tracks of the psychedelic era, still very tight melodically and harmonically, but with a pioneering adventurous swagger. I'm not sure what time signature this is in but it's certainly an odd one, and yet it sounds so free-flowing and natural, washing over like waves of Arabian silk."
6. My comparison of the Whiteman/King harmonising to CSN(Y) was, at the time, purely drawn from my own listening. However, subsequently I've noted that Jeff Penczak in his review of the At A Point Between Fate And Destiny box set in the December 2019 Terrascope comes to similar conclusions, particularly on the slower numbers on both studio albums. In terms of dates it's worth noting that the first Crosby, Stills And Nash album was released in May 1969 while Mighty Baby was January 1969. So, no chance of copying there. And, given that timing, it's likely that the harmonising might have been derived from Buffalo Springfield rather than the later band; in the interview already mentioned, Ian Whiteman does say that they were big fans of that band.
7. The novel, "Been Down So Long It Looks Like Up To Me" was written by Richard Fariña and published in April 1966. Two days after publication of the book, Fariña lost control of his motor bike and died at the tender age of 29. Richard's friend Thomas Pynchon described the novel as "coming on like the Hallelujah Chorus done by 200 kazoo players with perfect pitch … hilarious, chilling, sexy, profound, maniacal, beautiful, and outrageous all at the same time." The book, which became a cult classic with the late sixties underground crowd, was largely based at a fictional Mentor University which itself was based on the university Fariña attended, Cornell in Ithaca, New York.
8. The 1994 CD release of Mighty Baby contained five bonus tracks which had been cut as demos by the Action (minus Reg King but prior to the Mighty Baby sessions). The tracks had already appeared in a 5 track mini-album credited to the Action and entitled Action Speak Louder Than. While these technically fall within the Action oeuvre, I felt that they warranted mention here since they give some idea of where the band were at musically at this stage of their development. They're all good listening and I'd single out Understanding Love and My Favourite Day as most interesting, with the vocal on the first conjuring up the early Byrds and the atmosphere on the second, Brian Wilson.
9. The Byrds' appearance at Middle Earth can actually be dated as 11th May 1968. They sang five songs from the Sweetheart Of The Rodeo album which hadn't as yet been released – this would take place in August 1968 – but recording sessions had started for it in March that year and would go on till late May. Also in the set list were other country numbers: Merle Haggard's relatively recent (then) Sing Me Back Home, Earl Scruggs' instrumental, Foggy Mountain Breakdown plus a couple of Buck Owens numbers. The Byrds present were Roger McGuinn, Chris Hillman, Kevin Kelley, Gram Parsons and Doug Dillard. The last named, an unofficial member, would go on to record The Fantastic Expedition Of Dillard And Clark (with Gene Clark of course) later in 1968; I would hazard a guess that banjo player Doug featured strongly on the Middle Earth Foggy Mountain Breakdown performance. Mighty Baby were privileged to have been present at what was almost the first unveiling of country rock L.A. style in the UK.
I said "almost" because the Byrds also played at the Camden Roundhouse on 6th May 1968 (and the set was similar) and later at the Royal Albert Hall on 7th July 1968 though I'm assuming that Ian got the location right. I would add that Martin Stone makes an undated reference to being on the bill for a Byrds/Fairport Convention appearance and he gives Middle Earth as the venue.
10. After the collapse of Head Records, Mike Vernon, noted blues enthusiast, music writer, record producer and label owner, invited MB to record for his Blue Horizon label. This came about due to the fact that Vernon had already recorded Martin Stone both in his Stone's Masonry and Savoy Brown days.
11. The flute on The Happiest Man In The Carnival was played by Susan Archuletta, also known as Zahara.
12. My characterisation of the two ladies who formed "American female duo Emily Muff" might have been a little misleading. The ladies have a website which tells us that:
"The pioneer rock duo Emily Muff was founded by two American young women (Kathy Bushnell and Janet Dourif) in London, 1968 (i.e. they were UK based – DS). Their band toured extensively throughout Great Britain – and was the first female rock duo in the history of British Rock 'n' Roll.
The ladies played a variety of instruments including a Telecaster each and toured extensively within the UK. On one of their earliest tours they opened for Family who, the site tells us, gave the duo their name.
13. In 1971, three fifths of Mighty Baby – Ian Whiteman, Mike Evans and Roger Powell – spent some time in Morocco. On their return, determined to record something that reflected what they had heard and learned there, and in combination with two American musicians, Susan and Conrad Archuletta, they recorded the album If Man But Knew as The Habibiyya. An impression of the content can be gleaned from the track The Eye Witness though there's greater variation than this performance might suggest, so try Fana Fillah too. Incidentally, the term Habibiyya actually denotes followers of spiritual teacher Muhammad ibn al-Habib. I should add that in the "Untold Story Of The Counterculture's Islamic Connection" Ian Whiteman interview, he proffered a less striking version of the story behind the album which started with a phone call from Chris Blackwell rather than a burning determination to capture a culture on record.
All three ex-Babes did session work in the seventies for the likes of John Martyn, Richard & Linda Thompson and many more, but largely, though not completely, moved away from music in later years. Ian Whiteman developed his interest in the visual arts and made a living from calligraphy and illustration. At one stage he had an ongoing blog but this moved to what he calls his "personal and professional jottings" within which I note that the British sense of humour hasn't entirely disappeared: there's a "blogroll" as a subheading. In 1997, he assisted Yusuf Islam/Cat Stevens on his return to music and in 2001, recorded Islamic sacred music in Morocco. Ian has been living in Andalusia since 2003.
Mike Evans died in January 2010. The Whiteman blog/jottings contains a number of tributes to him – just use the Search box. He was clearly much loved.
14. Alan King's first brief stop after his Action/Mighty Baby days was with the band B. B. Blunder but in 1972, together with lead guitar man Phil Harris, formed pub rock band Ace featuring singer Paul Carrack. After early success, Ace upped sticks and moved to Los Angeles circa 1976. However the departure of Carrack caused the band to split in 1977. King returned to the UK and worked in the band Juice On The Loose for several years. Wiki then reports, "King subsequently moved to New Zealand and, other than some reunions of The Action in the late 1990s, largely left the music industry. In the 2010s, he led a new band in New Zealand using the "Juice On The Loose" name."
15. Martin Stone continued with his music career on and off until his death in November 2016. In the pub rock era in the early to mid seventies he was a founder member of Chilli Willi and the Red Hot Peppers. With pub rock starting to get replaced by punk, the group disbanded and Martin found work with other outfits including the Pink Fairies. However, he increasingly found another pursuit becoming more profitable (and interesting), that of "bookrunning" that is, finding and then buying rare/famous and sometimes lost books at low prices and selling on at market value. His talent was such that he gained an international reputation as a book seller. He died in November 2016 but even relatively late in life he hadn't totally dropped his interest in music. In 2019, he made a posthumous appearance as a member of the Deep Fix on the album Live At The Terminal Café from Michael Moorcock And The Deep Fix. Novelist and musician Moorcock was a friend from childhood days. Terminal Café is a sample from the set.
16. This is India which was cut by John Coltrane with Eric Dolphy, McCoy Tyner, Reggie Workman and Elvin Jones, live at the Village Vanguard in November 1961 and it was included in the 1963 Impulse LP, Impressions. The album and this track in particular have been significant influences on more than one group of musicians. Under the heading "Influence on popular music", Wiki includes the paragraph below:
"According to Roger McGuinn, while touring in late 1965, the rock band the Byrds had only a single cassette recording to listen to on the tour bus, with Ravi Shankar on one side and Coltrane's Impressions and Africa/Brass on the other: "We played that damn thing 50 or 100 times, through a Fender amplifier that was plugged into an alternator in the car." The result was the recording of the single "Eight Miles High", acknowledged by the band as a direct homage to Coltrane, and to "India" on Impressions in particular."
Whether any members of the Babe were aware of this specific influence on McGuinn I don't know though he has often spoken of Coltrane in the context of the Fifth Dimension album, and Eight Miles High in particular.
17. In the closing section of the main text I posed some questions and suggested possible answer(s). Let me add that, although I bought every one of the albums from the Grateful Dead up to Live/Dead and slightly beyond, it wasn't until that 2 LP set that I actually believed that the message that Rolling Stone had been ramming down my throat ever since its first mention of this amazing band (or so they told me) was actually true. I'd been trying to love its predecessors but couldn't. Live/Dead convinced me. So the comparison I'm making isn't a light one. And I still love both albums.
I also owe it to Mighty Baby to say that comparing them to the Dead makes them sound too much like a copycat outfit. They weren't. The Action had been recording professionally two years before the Dead and, if anything the sources that the Babe drew upon – a wide knowledge and understanding of American R&B, the blues heritage and folk club experience that came via Martin, the latter's knowledge and interest in a variety of cultures including the West Indies (check out that Terrascope interview in depth), Ian's appreciation of jazz plus interest in Eastern and North African music – ranged further than the Bay Area band. Unfortunately, in spite of sterling efforts at disinterment over recent years, the Babe's heritage is minute in comparison to that of the Dead but let's give thanks for what is now available and enjoy.
Oh and if my own view of Mighty Baby as evidenced by the second para of that review tended towards faint praise, I came off the fence in the rating. Five stars, definitely.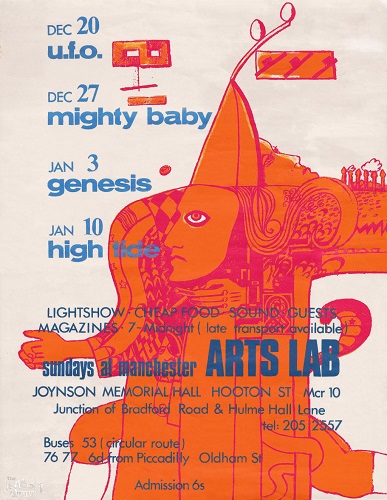 Mighty Baby: At A Point Between Fate And Destiny – The Complete Recordings (6CD Boxset)
The Official Action & Mighty Baby website
Iain Sinclair on Martin Stone (The Independent, February 1995)
Monkey Picks – articles/interviews – Action/Mighty Baby
Mighty Baby biography (AllMusic)
Dave Stephens is the author of two books on popular music. His first, "RocknRoll", is described by one reviewer as "probably the most useful single source of information on 50s & 60s music I've come across". Dave followed this up with "London Rocks" in 2016, an analysis of the early years of the London (American) record label in the UK. You can follow him on Twitter @DangerousDaveXX
TopperPost #898