Phil Harris
| Track | Single / Album |
| --- | --- |
| That's What I Like About The South | Ara RM 104 |
| Woodman, Spare That Tree | Ara 153 |
| The Preacher And The Bear | RCA Victor 20-2143 |
| Ain't Nobody Here But Us Chickens | RCA Victor 20-2683 |
| Loaded Pistols, Loaded Dice | RCA Victor 20-2575 |
| The Darktown Poker Club | Ara RM 116 |
| Smoke, Smoke, Smoke (That Cigarette) | RCA Victor 20-2370 |
| The Thing | RCA Victor 20-3968 |
| The Bare Necessities | The Jungle Book |
| Thomas O'Malley Cat | The Aristocats |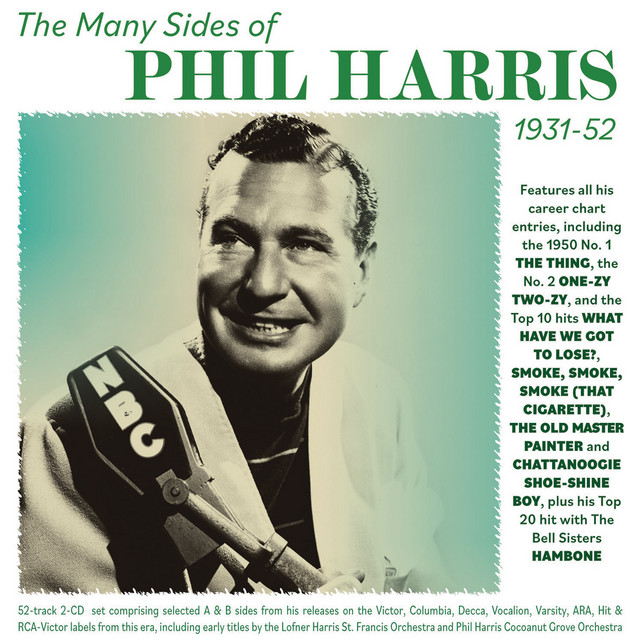 Contributor: Calvin Rydbom
Phil Harris' career lasted close to 70 years, from the early 1920s to the early 1990s. During a large chunk of those years he was a fairly significant star in American entertainment. Someone who people knew and whose voice was easily recognized. Both singing and simply talking, Harris was unmistakable. Yet oddly I'd guess no more than a few people had any idea what he looked like.
From 1936 to 1952, with some breaks during WWII, Harris was the bandleader and a regular performer on The Jack Benny Program on the radio. He did not, however, make the transition to television. The same with his own radio sitcom, The Phil Harris-Alice Faye Show, which ran from 1946-1954. Now during those 18 years he played essentially a bigger than life version of himself. An overly hip, hard drinking, fun loving bandleader and singer who specialized in the talking blues style of singing which also was largely comedic, or at least a little tongue in cheek. Although, there was a slight variation to the character on the two programs, especially before marrying Faye in 1941. The womanizing aspect went away of course, and the hard drinking was toned down quite a bit and the now stereotypical clueless husband was played up. He did drift into drama and, at least as a bandleader, music that could be listened to without chuckling a little. The over the top Phil Harris character he played was as big a part of the act as both the singing or leading a jazz orchestra.
Harris' star declined a bit in the late 1950s and early 1960s, but he rebounded spectacularly as a go-to voice for Disney films in late 60s and early 70s. He became a star to another whole generation with his vocal performance, and singing, as Baloo the Bear in The Jungle Book.
Phil Harris was born in the American midwest, in Indiana, but grew up in Tennessee and considered himself a southerner. When he wasn't in Tennessee as a child he was travelling with his parents, who were circus performers. In fact, his first professional job was as a drummer in a circus band. Later in the early to mid 1920s he performed as a drummer in a couple of big bands, most prominently the Henry Halstead Orchestra.
In the late 1920s he formed his own orchestra in San Francisco with Carol Lofner and recorded a fair amount of sides with the swing band while holding court in a prominent hotel in the region. In 1932 they split and Harris took over as his own front man.
In 1933 he made a short film called So This Is Harris! that won an Oscar for Best Live Action Short Subject. In 1936 he became the musical director of The Jack Benny Program where he showed a gift for snappy patter and quickly joined the cast of the show. His nicknames for Benny – Jackson or Mr. Jackson – actually became popular slang terms in the late 1930s and early 1940. "Ain't that a Lulu" entered the American vocabulary as well. He was the original, and perhaps the only, dixie hipster, although he didn't start playing up the southern aspect of his character till midway into his career.
In 1946 he and his wife Alice Faye began co hosting a comedy-variety show that followed the Benny program named The Fitch Bandwagon. The show quickly became a situation comedy where Harris played a variation of the Benny character, vain and boisterous but a bit more of a bumbling husband. All reports were that off the air he was a soft spoken, somewhat modest man though.
He made the rounds and appeared on many television shows in the 1960s before hitting it big again as a Disney animated star. During that time he could be found on just about every variety show on the air. Dean Martin, Bing Crosby to Johnny Cash. But his renewed popularity with Disney led to him leading a band in the 1970s and early 1980s in Las Vegas. Often on the same bill as Harry James.
He continued to perform and appear on American television up until the early 1980s before going into semi-retirement, with his last animated vocal performance being in 1991.
He was an established radio star, and his band was a popular draw as well. His name first showed up on a 78rpm in 1931, with his first turn as a vocalist coming the same year. From 1936 to 1954 his band performed every Sunday night on the radio. But it wasn't till much later he began having what we could call hits.
In 1947 Harris released a number of 78rpms on RCA records which, for me at least, are just fantastic. Harris is often credited with rapping before rap was a thing. Which is sort of nonsense. Yes his style was fast talking, but it was more the style and cadence of square dance calling, or even of an auctioneer, and he used it as a singing style rather than performing anything close to what would be described as rap. Still, it's a connection many try to make.
That's What I Like About The South was one of several songs about being a southerner that Harris performed. But this one became his theme song for several years. He performed it a number of times on his radio shows, and in the 1945 film I Love A Bandleader which featured one of his radio co-stars, Eddie 'Rochester' Anderson. It's probably my favorite version as you also get the visuals of his directing his band. Sometimes his comedic gifts overshadowed his musical skills but he could play several instruments beyond his original drums, and played piano on an episode of I Love Lucy in the 1960s, and led a tight orchestra for many years. Watching him lead his band though is almost as much fun as the tune.
Woodman, Spare That Tree is an older tune that Harris covered, originally written by Bert Williams whose style Harris was often compared to, although Harris added a lot more pizzaz to his talking style. A little bothersome is that the 1947 release is credited songwise to Williams and Harris. Which is odd as Williams died in 1922, nine years before Harris' first recordings. But that was the norm at the time, stealing old songs and all. After his Disney years he re-recorded many of his 40s and 50s songs in stereo for re-release. Always stick with the originals, especially where this song is concerned.
Those RCA sides were so much fun, many of the covers from forty to fifty years before, with Harris' style taking then to another level. The Preacher And The Bear was a cover from roughly 45 years before. Although just as many of them were huge hits for other artists during the same time Harris was recording them. Ain't Nobody Here But Us Chickens was also a hit for Louis Jordan, equally as good but decidedly different. On the other hand, Gene Autry has a greatly inferior version of Loaded Pistols, Loaded Dice when compared to Harris and his Orchestra.
The Darktown Poker Club was another Bert Williams cover, this one from 1914. On the original release the record lists Williams as the writer. This 1947 version lists Williams-Vodery-Havez. Seems a lesson in the difference between writing and arranging could have been given.
I said earlier go with the original version, and the original of Smoke, Smoke, Smoke is a great tune. But if you want to track down this song then you really want to find the version Harris did on the Johnny Cash Show in the 1960s. Just seeing Cash chatting with Harris is well worth it. And Harris' aging Vegas singer routine is great (see above clip … ed.). And as much as Harris covered some older songs, some of his work was covered as well, and he seems to be a favorite of Commander Cody of the Lost Planet Airmen who covered a couple of his songs, including this one.
The Thing was Harris' biggest chart single, staying at Number One for fourteen weeks in 1950. Of course it's somewhat of a novelty song, as were many of his songs, and we never actually know what the thing was.
Any kid, or adult for that matter, could sing The Bare Necessities in the late 1960s. It catapulted Harris from the B-list he had been on for the past fifteen years or so back to the A-list he had been on in the 30s and 40s. At least for a few years. Over the next couple of years he, or at least his voice, graced a couple more Disney films. Thomas O'Malley Cat from The Aristocats is my favorite from those years. And as I said earlier those films renewed his career and gave him a place in Vegas for many years.
Phil Harris recorded the thirty something songs, that often make up any collection of his, several times it seems. It was about the performance of his stock of standbys as much as the songs themselves. In many ways he was a performer for whom singing was just one of a number of different tools he used. Bandleader. Comedian. Singer. Drummer. Piano player. Voice Over Artist.
But I dare you to listen to these ten songs and not find your toes a tappin.
Phil Harris and His Orchestra discography
Phil Harris at 45worlds on 78rpm
Phil Harris "This Is Your Life" (1957)
"So This Is Harris!" (Academy Award winner 1933) on YT
The Jack Benny Program – "How Jack found Phil Harris" (1945 episode)
Bing Crosby, Alice Faye & Phil Harris perform a medley of songs from Alice's movies on "The Hollywood Palace" TV show (1967)
Phil Harris biography (Apple Music)
Calvin Rydbom's latest book is "The Akron Sound: The Heyday Of The Midwest's Punk Capital" published this year by The History Press. He is the vice-president and archivist of the "Akron Sound" Museum and vice-president of freelance archiving firm Pursue Posterity. He has published a number of music-related articles and was elected to the Society of American Archivists steering committee on recorded sound before being promoted to website liaison. Some of Calvin's other toppermosts are on the Dead Boys, Rubber City Rebels and Tin Huey all from Ohio. He has also written about many of the great jazz artists for this website including Thelonious Monk, Sonny Rollins and McCoy Tyner.
TopperPost #755