Skids
| Track | Album / Single |
| --- | --- |
| Into The Valley | Scared To Dance |
| Masquerade | Virgin VS 262 |
| Thanatos | Days In Europa |
| Vanguard's Crusade | Virgin VS 306 |
| Circus Games | The Absolute Game |
| Hurry On Boys | The Absolute Game |
| Sweet Suburbia | Virgin VS 227 |
| Blood And Soil | Joy |
| The Saints Are Coming | Scared To Dance |
| Melancholy Soldiers | Scared To Dance |
Skids (l to r): William Simpson (bass, vocals), Richard Jobson (vocals, guitar), Stuart Adamson (guitar, keyboards, vocals), Thomas Kellichan (drums) – Virgin Records promo photo by Dennis Morris 1979
Contributor: Michael Martin
It was 1979. The first wave of punk had passed. The Pistols had split. The Damned had split, albeit temporarily. The Clash were heading off in a different direction. Sid Vicious, the punk icon, was dead. A new wave of bands were exploding onto the scene. The Skids were one of them that caught my eye, and it wouldn't be too long before their logo would be scrawled across my schoolbag and exercise books much to the bemusement of my class mates.
Four punks from Dunfermline in Scotland. Richard Jobson (vocals ), Stuart Adamson (guitar), Bill Simpson (bass) and Tom Kellichan (drums) had attracted the attention of Virgin Records through local support slots to the likes of The Clash, Rezillos, Stranglers, plus a self-financed trip to play a few showcase gigs in London. The first release on local indie label No Bad records was a 3-track EP (Charles, Test Tube Babies, Reasons) which quickly sold out. Skids would go on to influence many of the later post punk era Scottish bands and produce a string of 7″ singles which would become the soundtrack to many a night's dreary routine of homework and exam revision, and more lately the soundtrack on the school run with my own young uns.
This then is my Top Ten Toppermost Skids tracks for anyone who fancies a delve into the back catalogue of one of the finest Scottish bands ever.
"Did you see that eejit dancing on Top of the Pops last night?" That was the main topic of conversation in class one Friday morning – February 1979, room 66 of Regent House Grammar School – where most mornings the discussion was music, often the previous night's John Peel show or Top Of The Pops. We even had the teacher who was a big fan of The Fall joining in some mornings.
The Skids that night had the same shock factor on me as the Sex Pistols did several years earlier on TOTP with Pretty Vacant. I said nothing as the rest of my class mates mocked Richard Jobson's antics and appearance. I had a pound note in my pocket for a visit to the local record shop after school. Oliver's Army by Elvis Costello was my intended purchase but on seeing that in a plain white sleeve, with Skids' Into The Valley on the shelf above in a striking band pose style picture sleeve, Elvis C was soon forgotten about till a few weeks later. I was hooked on the Skids.
Normally, back in the pre internet days of the late 1970s, the only way of discovering if a band had a new single was the music press … normally NME, Sounds or Smash Hits of which at least one was bought religiously every week. I must have missed out on one a few months later … a Tuesday, I was off with a bug of some sort, in my sick bed listening to the new top 40 on Radio 1 with a glass bottle of lucozade with the orange wrapper for company when, lo and behold, one of the week's new entries was Masquerade by Skids. Waow! So different from Into The Valley but just as catchy and with Bill Nelson of Be Bop Deluxe fame producing … a sign of greater things to come.
After buying the first LP, Scared To Dance, it was only a matter of months before a single called Charade was released as a taster for the forthcoming album, Days In Europa. Thanks to the talents of producer Bill Nelson this was a total change of direction. Synthesizers were added and temporary drummer Rusty Egan brought his unique drum sound, an album in my opinion that was way ahead of its time, totally different to its contemporaries The Jam (Setting Sons), The Damned (Machine Gun Etiquette), Stiff Little Fingers (Inflammable Material). Thanatos was a track worthy of being a single as were most of them. Thanatos, meaning "a greek god of death"; this and other themes containing Nazi imagery had the music press trawling through the lyrics and coming to the conclusion Richard Jobson was a right wing fascist, which of course he wasn't.
A leftover track from the Days In Europa sessions, released as the flipside to Working For The Yankee Dollar, which was released intially as a double 7″ pack, a marketing ploy no doubt as with most of the previous Skids singles. With the help of eBay some twenty-odd years later I was able to pick up the rarer coloured vinyl 7″s. Vanguard's Crusade was a galloping drum laden punk style spaghetti western track with some great riffs by the late Stuart Adamson, another fine B-side following in the footsteps of Out Of Town, TV Stars etc.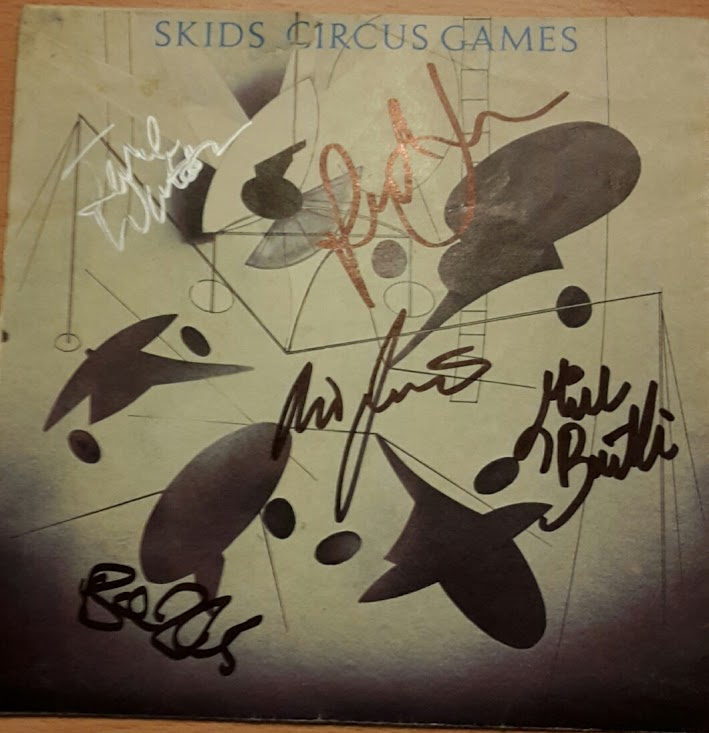 Reports in Sounds music paper early in 1980 were confirming the departures of Rusty Egan, bassist Bill Simpson, keyboards player Alistair Moore, and the arrivals of Mike Baillie and Russell Webb and of demos being recorded. One of the tracks demo-ed, Circus Games, was the taster for the new LP The Absolute Game released in late summer 1980, slightly unusual in that it featured a children's choir on the chorus, and the gimmick with this 7″ … a poster sleeve of the band looking very dapper in a complete wardrobe change from the last LP. In came woolly cricket jumpers, baggy flannel trousers, brogues and check shirts.
Probably the first and only time I've ever enjoyed hearing a didgeridoo on a record! Hurry On Boys is another standout album track from The Absolute Game. By now the Skids were attracting the attention of Garry Bushell of Sounds who regularly featured Skids tracks in his Oi disco playlists along with skinhead bands, the Business, the 4 Skins and Peter and the Test Tube Babies, due to their rebel rousing choruses and catchy guitar riffs. The 'gimmick' with this LP was a free 12″ of mainly instrumental music limited to the first 20,000 which meant not hanging around after school. First stop … the record shop.
Sweet Suburbia, an early single limited edition on white vinyl with another fantastic B-side, Open Sound, the first to feature the trademark indecipherable lyrics of Richard Jobson. If you missed out on the issue of Smash Hits that featured the lyrics – that was it until the arrival of the internet and fan forums years later where someone would post them.
February 1981 and the music press were reporting a new Skids LP in the making. A live FM Radio broadcast at The Venue in London and the Rock Goes To College BBC2 show featured the band showcasing a couple of new songs. Blood And Soil was a heavy, guitar based, marching tune with an industrial theme which sounded promising. Roll on a few months and we were to read that Stuart Adamson had walked out of sessions for the new LP with drummer Mike Baillie in tow. That left Jobson and Webb to carry on as The Skids. The resulting LP, Joy, failed to chart and, after being dropped by Virgin, they called it a day leaving Skids fans to this day wondering what the LP would have sounded like if Stuart had stayed.
Richard Jobson went on to form The Armoury Show with Russell Webb after dabbling in acting and poetry. Nowadays, Richard is an accomplished film maker. Stuart Adamson joined up with Bruce Watson to form Big Country; the band toured and recorded for twenty years before Adamson's untimely death in December 2001.
In 2006, U2 and Green Day released their version of The Saints Are Coming as a charity single to raise money for the Hurricane Katrina relief fund. This, perhaps, was the catalyst for the Skids to reform, and a year later they'd played T in the Park as well as sell out gigs in their hometown of Dunfermline.
Fast forward to 2016 with the news that the Skids will be touring next summer with the line up of Richard Jobson, Bill Simpson, Mike Baillie, Bruce and Jamie Watson to celebrate 40 years. The first new dates since 2010 where this song, Melancholy Soldiers, was one of the stand outs live, performed with the same anger and passion as in 1979 from the LP Scared To Dance which, incidentally, was released as a very limited (20?) run on blue vinyl which today fetches £500+.
If you're thinking of attending a Skids gig next summer I wouldn't hang about. They will sell out for sure. Myself, I'm looking forward to the Belfast date as I missed their last visit here in N. Ireland in 1980 … not a safe place for a 14-year-old to be wandering about at night back then. One of my biggest regrets.
You'll find all album tracks and singles, John Peel sessions and more on this 6CD box set Skids: The Virgin Years
If the Skids are United: Mike Baillie interviewed by Malcolm Wyatt (2019)
The Skids biography (Apple Music)
Michael Martin, a chef born in Belfast in that great year for music 1966. He currently lives in the seaside town of Donaghadee some twenty miles outside Belfast, a survivor of the N. Ireland punk wars and dreaming of a time machine that will transport him back to 1979. His 1980s hifi system is in perfect working order and can still be heard playing cassettes and vinyl from the 70s/80s. Michael can often be found lurking on various social media sites: Facebook, Instagram @daysineuropa79 and Twitter @thanatos_1979.
TopperPost #563