Slim Dusty
| Track | Single |
| --- | --- |
| When The Rain Tumbles Down In July | Regal Zonophone G 25085 (1947) |
| A Pub With No Beer | Columbia DB 4212 (1957) |
| Lights On The Hill | Columbia DO 9836 (1972) |
| Duncan | EMI 5141 (1980) |
| The Biggest Disappointment | Columbia DO 10554 (1974) |
| Cunnamulla Fella | Columbia DO 4633 (1965) |
| Leave Him In The Long Yard | Columbia DO 345 (1980) |
| Trumby | Columbia DO 4707 (1966) |
| Looking Forward, Looking Back | EMI 8889882 (2000) |
| Country Revival | Columbia DO 397 (1980) |
(photo from the Slim Dusty Centre, Kempsey NSW website
Contributor: David Lewis
With a smile as warm as a Sydney spring day, a face that looked like it was carved out of Uluru and a career as long as a drive through the Nullarbor Desert, Slim Dusty was and is an Australian icon. Born David Gordon Kirkpatrick in 1927, just outside of Kempsey in NSW, Slim holds the world record for the longest continuous record contract (just over 50 years with EMI), and was the second artist to release 100 albums (Cliff Richard was the first).
It's my belief that the best country music comes from the experience of driving down dusty roads, in a ute [1] or a pickup, preferably with a working dog in the back. Australian country music fits the bill perfectly. Slim personified Australian rural life, and his songs reflected the changes in Australian society and culture over 50 years. While he could sing of hardship and sadness, he was rarely, if ever, pessimistic about the direction Australia took. He looked to America for the musical forms, particularly the Carter Family and Jimmie Rodgers, but injected a pure Australian influence which continues to be prominent today.
His recording career began in 1945. He did a now forgotten single which featured yodeling. All Australian country music from the 1920s featured yodeling (and it is still a renowned style, with a national competition held each year). Slim hated yodeling and never performed the single. However, he stamped his own brand on Australian country music with When The Rain Tumbles Down In July. He received no royalties from it, so had to stay on the farm after the sudden death of his father, Noisy Dan. Slim grew up in the fairly green area of Kempsey, Northern NSW on a farm, and this is a place of lovely bush poetry.
Slim is the last of the major bush poets (so far, anyway). Bush poetry is a style of verse that stretches back to the 19th century. While Adam Lindsay Gordon points the way, it is A. B. (Banjo) Paterson and Henry Lawson who are Australia's major bush poets. The interested reader is directed to such poems as 'Clancy of the Overflow', 'The Man from Ironbark' and the major work, Paterson's 'The Man from Snowy River'. Andrew Shields' toppermost on Gary Shearston features some Lawson poetry. Bush poetry is notable for its uniquely Australian idiom, its depiction of rural living (particularly that of the rural working class) and its descriptive passages of the Australian landscape. It also has a politically radical edge.
Slim was this tradition: he even set 'The Man From Snowy River' to music (though I decided not to include it in my final ten, it's one that maybe should have gone in anyway. Paterson's other major poem, 'Waltzing Matilda' was also done definitively by Slim – (again I wanted other songs). The American influence is there though. The Carter Family's own songs of rural life resonated in Australia. And Slim has taken the melody of I'm Thinking Tonight Of My Blue Eyes and changed the words, in an evocative and keenly realised lyric.
Though Rain Tumbles Down was a hit, and a standard that Slim played till his death, A Pub With No Beer was one of the first international hits by an Australian (I Remember You by Frank Ifield also gets credit for the first international hit). Written by Gordon Parsons, the lyric was based on a poem by Dan Sheahan, an Irish immigrant to Australia. Parsons adds stock characters – the swagman, the barmaid, the town drunk. Several pubs claim to be the original, but Sheahan, was based in Ingham, Queensland. Parsons' hapless pub is beautifully described and its patrons suggest a mighty thirst to the listener. It was another staple of Slim's live set.
While Slim was a very capable songwriter, he surrounded himself with rural people, mostly uneducated in the formal sense, but who knew the forms, the emotions and the depth of bush poetry. His main collaborator was his wife, Joy McKean, a schoolteacher who married Slim in 1951.
No other Australian sang about trucking more authentically than Slim Dusty. Lights On The Hill captures the grind and boredom of long-haul trucking. The rhythm drives forward and those lights, blinding the narrator, give a tactile sense of nearly being home. The tragedy of the song is driven home – the driver runs off the road and is killed. It's a trucking song that ranks as high as Six Days On The Road or Willin' in its credibility and musicality. It's a Joy McKean composition. And as one who was fortunate enough to have a coach driver for a father, I know exactly how it feels to sit in a large diesel engine powered machine for hours. I've pulled into many towns feeling about half past dead. And had a good night's sleep on my mind. It's worse for the driver, who has to remain alert and concentrating the whole run. It's relentless, and repetitive. The groove of this song gets it. And its twist, heartbreaking and unfortunately more common than we'd like, is a satisfying and tragic end.
Duncan was Slim's biggest selling single. The Town and Country is a real pub in Tempe, in Sydney's inner west. I bet you'll be singing along by the end of it. I don't drink beer, but I'd love to have a beer with Duncan and the rest as well. I've driven past it many times. It is under threat by developers in Sydney, but no-one is game to finally knock it down it seems.
Few songs capture family politics like The Biggest Disappointment. The only twisted branch upon the good old family tree tells his story fully and honestly. A common tale among the jackaroos and farm labourers he met on his travels, Slim sings it properly. This is another Joy McKean, and from an urban, or even a well-to-do it's a tragedy. However, the resignation? acceptance? of the last verse makes it somewhat of a triumph – "I just couldn't be the person that they wanted me to be". Joy and Slim had spoken to tens of thousands of people in this situation, and its empathy and acceptance rings true and correct.
Cunnamulla Fella is a comic song, using towns in Queensland as the protagonist moves from place to place. There's a statue of Slim in Cunnamulla. That's how much they love him. The story slips back and forward, as the rather dodgy narrator marries, realizes his error, moves to Augathella then Dirranbandi where he is recognised, so becomes known as the Cunnamulla fella. It is as well here that we might discuss Slim's clothing – like the Cunnamulla fella, he usually wore moleskin trousers and R.M. Williams boots – iconic riding boots made in Australia. He also wore a battered Akubra hat, another Australian icon, equivalent to the 10-gallon Stetson hat. Slim resisted (somewhat) the idea that Nashville should be the model – he always sang in a broad Australian rural accent, played Maton guitars (made in Australia), and wore Australian working gear. His contemporaries (such as Tex Morton, or even later ones like Reg Lindsay and Lee Kernaghan) sang and sing in a more American style. The three towns exist in about a 500km radius of each other.
The bond that animals can have with humans is perfectly captured in Leave Him In The Long Yard, written by Slim, Kelly Dixon and Marion Dixon. The horse in question is old, but he has worked hard. This horse knew his job and did it – the song was released in 1980. Kelly Dixon had worked with horses all her life, so the deep affection is genuine. It's hard to not turn this into a glossary of Australian terms, but a 'baldy bay' is a pale horse and 'smoke' is morning tea break. One of Slim's most beautiful melodies as well rounds it out. It's a popular song at funerals too.
Slim was deeply respectful of Indigenous Australia and he is a hero to Australian Aborigines. After Slim's death, Peter Garrett of Midnight Oil told the story of the Oils going outback to play remote Aboriginal communities. At the end of the show, feeling rather proud of themselves, they'd say "bet you haven't seen a show like this before", and always get the response – "Slim was out here 6 months back". This is not the time nor place to enter into a discussion on Australian race relations – but Slim was on the side of reconciliation. Trumby tells the story of an Aboriginal ringer [2] (stockman, usually in droving, or essentially, cowboy) who was highly skilled but couldn't read or write. As a result, he drinks poisoned water, meant to keep wild dogs out of the water holes – there's a drought on, and food and water is scarce. Devastating, but with a firm but gentle message of anti-racism ("his skin was black, but his heart was white, and that's what mattered most"). There's also the idea of the lack of opportunity for Australian aborigines – a situation that shamefully still persists today – why couldn't Trumby read? School has been compulsory in Australia since the 19th century.
One of the great themes of country music is that of the rambler. Slim will just have to Walk A Country Mile. A country mile is long – a phrase dating from before standardization. But you'll see everything, learn lots, and end up where you want to be going. Gorgeous lap steel. And it was another one written by Slim's wife Joy.
Towards the end of his life, Slim released the introspective Looking Forward, Looking Back. Written by the great Don Walker, who was the pianist in Cold Chisel, its lyrics fit Slim perfectly. At the end of it all, he can make songs from what he knows. The day's trivialities don't matter. It's the journey that matters – where you've been, and where you're going… and it was given a magnificent video:
AC/DC said it about Rock and Roll (it ain't noise pollution, and it'll never die). Country Revival is a statement as defiant and as proud – it doesn't matter that people are listening to it in greater numbers – it's been here all along and it'll stay forever. And Slim is one of those who will keep it going.
With 106 albums, there are many many songs I considered. G'day G'day is a great song of greeting: "just say g'day and she'll be right". Indian Pacific documents one of the world's great train journeys, Three Rivers Hotel, and on and on.
Slim Dusty died in 2003 having received many music awards, an MBE (Member of the Order of the British Empire) and later an AM (Order of Australia Medal). He was invited to play the Grand Ole Opry in 2002, which he did to great acclaim. On his death, he was given the honour of a State Funeral, which included an Aboriginal smoking ceremony – a rare honour indeed. He personified Australia, in all its beauty, worth and flaws. He represented its best while not ignoring its worst. Like Johnny Cash or Bruce Springsteen, he didn't work in or directly experience many of the things he sung about, but like them both, he was able to express the everyday experience of the audience in such a way that the audience loved them for it. While Australian Country music has produced some truly great acts, none will ever surpass Slim Dusty. And I suspect if you asked them, none would want to.
[1] A ute is a utility vehicle – a uniquely Australian car which is on the chassis of a sedan, but instead of back seats has a tray in which tools, dogs, timber, plumbing supplies, guns, oil barrels, kids or whatever needs carrying can be put.
[2] A ringer is also the top shearer in a shed – he who can shear the most sheep in the least time. In the traditional Click Go The Shears, the ringer is beaten by a new bloke.
Slim Dusty with Joy McKean in 1957 (photo: Nathan Edwards)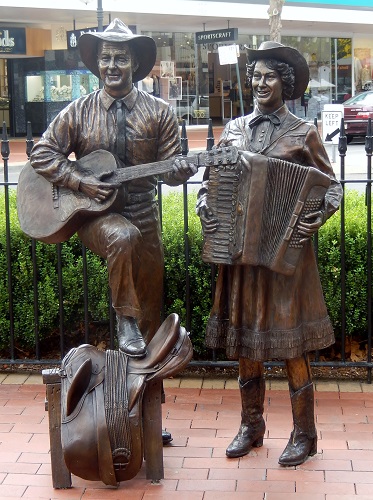 The Slim and Joy Statue in Tamworth, NSW
The Slim Dusty Centre in New South Wales
Slim Dusty Comprehensive Discography
Slim Dusty biography (Apple Music)
David Lewis is a regular contributor to Toppermost. A professional guitarist, mandolinist, banjoist and bassist, he plays everything from funk to country in several bands and duos. He is a professional historian and a public speaker on crime fiction, adventure fiction, philosophy art, history and popular culture. More of his writing can be found at his rarely updated website.
TopperPost #773