Adam Faith
| Track | Single / Album |
| --- | --- |
| What Do You Want? | Parlophone 45-R 4591 |
| Poor Me | Parlophone 45-R 4623 |
| The Reason | Parlophone 45-R 4623 |
| Big Time | Parlophone 45-R 4643 |
| Johnny Comes Marching Home | Parlophone 45-R 4665 |
| How About That | Parlophone 45-R 4689 |
| The Beat Girl Song | Beat Girl (OST) |
| The First Time | Parlophone R 5061 |
| Cowman, Milk Your Cow | Parlophone R 5635 |
| I Survived | I Survive |
Contributor: Merric Davidson
Adam Faith was born Terence Nelhams-Wright (known as Terry Nelhams) in Acton, West London in June 1940.
Like so many others he started out in a skiffle group, the Worried Men, in 1957, playing the 2i's Coffee Bar and appearing on the Six-Five Special on TV where he impressed Jack Good and was rewarded with a recording contract with HMV. He moved to Parlophone in 1959 where the hits began. In time, he was to become equally as famous as a much-loved actor. There is a lot more to chronicle in the life and times of the charismatic Adam Faith but it doesn't need to be done here.
This isn't intended as an essay on the merits (or otherwise) of a UK pop star, more an attempt to address my enduring love for (some of) this man's records, almost sixty years on. It's really hard to believe that it's that long since I first heard his fourth single and first No.1, What Do You Want?.
After three failed singles, here was the song that would propel this budding actor into the pop charts and a string of top ten hits. I was twelve when it came out in 1959 and I was sold – hook, line and sinker.
I wanted to hear What Do You Want? all the time. Had to have it but I had no money. My mother eventually took pity and bought it for me. But – and it was a huge but – it may have been What Do You Want? but not as I knew it. It was this …
For those who don't know, Embassy was the budget label of the now defunct High Street emporium, Woolworth's. Everyone had at least one Embassy record in their collection, standing out like a bad penny, and mine was What Do You Want?.
The singer, Johnny Worth, was also Les Vandyke, the song's writer. It wasn't great. The one I wanted was this one; the hit record, the one with John Barry's arrangement, not the measly, cheap, 'wrong' version from Woolies.
The first Adam Faith record that I owned was the follow up, Poor Me, which came out just two months later, in January 1960. I had been saving up. Poor Me, again written by Vandyke and arranged by Barry, and of course influenced like the last one by Buddy Holly, was nevertheless under two minutes of pure pop magic. Once again, the singer hit the No.1 spot. Poor Me is still my favourite Adam Faith record, the only one of his on my (very long) essential pop playlist and one of the great pop records. Here it is:
The flip side, The Reason, was written by John Barry and, at a time when we all owned so few records that both sides were played over and over again, I got to know every inch, every groove of The Reason. I mean it's not a particularly brilliant song but it has rather a pleasing understated Barry sound and based on plays on my Dansette alone, it's got to go in.
Adam Faith was never a rock 'n' roll singer; he wasn't even a good singer and he knew he wasn't, had a really limited range and didn't always hit the right notes. What he did have, though, was a presence and a charm and there was something about him and his chiselled good looks that made even the poor records he scored with later, tolerable.
But before then, there was the flip side of the third hit (Someone Else's Baby), the Lionel Bart composition, Big Time, written for his musical, Fings Ain't Wot They Used T'Be. "No more chicken runs, I used to dig 'em once, when I was back in school, I was the biggest dunce …"
My next purchase was a double A-side (Adam Faith released five singles in 1960 alone) and the side I played to death was Johnny Comes Marching Home. With its supreme arrangement by John Barry and its familiarity, the American Civil War anthem sounded great to this thirteen-year-old. I can see now that it was maybe an attempt to break the singer's pop chains by giving him material for a wider audience. I don't know, perhaps I'm imagining things because, for certain, there were many more pop ditties to come between 1960 and 1962. Only one of these, the fifth hit, How About That, again written by Les Vandyke, makes this top ten. Romance, innocence, wonder, hope: "You've got a face like an angel's face, how about that …".
After that one, and the dreadful Lonely Pup (In A Christmas Shop), it was really a race to the bottom for Adam. From 1963 onwards, with the help of hit songwriter Chris Andrews, a lot of records were released and the first of these harnessed the Merseybeat sound. The First Time made it to No.5 and I've included it for its sheer chutzpah.
By this time, the backing band, the excellent Roulettes, were filling out the sound and receiving credit on the records. We Are In Love was another attempt to cash in by bringing an ersatz Beatles beat to the capital. It peaked at #11:
Years passed, and then, in the summer of love, with Adam spending more time acting than recording, there was this oddity; a Brothers Gibb song Cowman, Milk Your Cow which was released as a single. Adam hadn't had a top twenty hit for three years. Despite its catchy title (!) this one died on the vine, but it has a lot going for it and is well worth a listen. Peter Green on guitar.
And that was pretty much it. I could have included a few late-period cover versions in this list: Bacharach & David's A Message To Martha, Bob Lind's Cheryl's Goin' Home, but I'd have been had up for rock treason. So I'm finishing with the opener from Adam's 1974 comeback album, I Survive; he had survived a serious car crash the previous year. There is at least one dodgy note – it wouldn't be Adam without that – but it's ambitious and appealing. Sadly, despite stellar guitar work from Ritchie Blackmore and contributions from Paul McCartney, the album, described as "a debacle" by Faith in his autobiography, flopped.
After two decades working as a financial adviser and investor, famously conducting his affairs from the restaurant of Fortnum & Mason, Adam Faith was declared bankrupt in 2002 following the collapse of his Money Channel TV venture. He had a history of heart problems and died of a heart attack the following year, aged 62.
Adam Faith – a man who never found his true vocation, a rock anomaly who lives on in the nostalgic canyons of your mind.
"He was never big-headed, and to me that's what made him a star." Gerry Marsden
"He was a pioneer of pop in the Sixties and a great actor. A true working-class hero." Cilla Black
"I will miss him. He was a one-off. He was a good mate." Roger Daltrey
"He was a bit of a workaholic. He just put everything he had into what he was doing at the time. But the main thing I remember about him more than anything else is he was just so nice. There was no ego there. He was always very, very kind and he would always come over and he was the most friendly person I think I have ever known." Tony Blackburn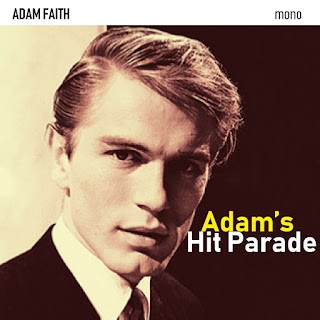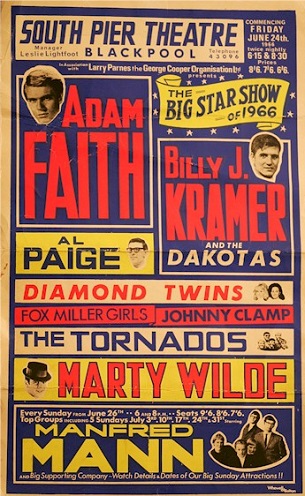 SELECTED TV/FILMOGRAPHY
Never Let Go (1960)
Beat Girl (1960)
What A Whopper (1961)
Mix Me A Person (1962)
Budgie (1971-72)
Stardust (1974)
Yesterday's Hero (1979)
McVicar (1980)
Love Hurts (1992-94)
The House That Jack Built (2002)
Adam Faith website (including pictorial discography)
Adam Faith interviewed by John Freeman "Face to Face" BBC TV 1960
John Worsley (1931–2021) aka Johnny Worth and Les Vandyke
Johnny Worth/Les Vandyke talks about the influence of Buddy Holly on "What Do You Want" (YouTube)
Adam Faith biography (Apple Music)
Merric Davidson is a retired publisher who started this site four years ago. He tweets toppermost @AgeingRaver.
TopperPost #637