Bryan Ferry

'Boys And Girls' back cover photo by Antony Price
Contributor: Steven Sonsino
You're 12 years old and there's no internet. No YouTube, no Facebook, no way of seeing your favourite bands. Except on a Thursday night when the BBC broadcasts Top Of The Pops.
And on this particular Thursday night – 5th October 1973, the 500th edition of TOTP, no less – you're hoping to see the Sweet in all their coy glamness play Ballroom Blitz.
You've been working on the words and you can remember them all:
It's, it's a Ballroom Blitz
It's, it's a Ballroom Blitz
It's, it's a Ballroom Blitz
Yeah, it's a Ballroom Blitz
So, when Bryan Ferry comes on, sitting at a white baby grand piano in a black t-shirt, playing A Hard Rain's A-Gonna Fall, it's no wonder your head explodes.
For one thing, the lyric is mind expanding. (You're 12, remember.)
I saw ten thousand talkers whose tongues were all broken
I saw guns and sharp swords in the hands of young children
And it's a hard, and it's a hard, it's a hard, it's a hard,
And it's a hard rain's a-gonna fall
It's hard not to sing along with the jaunty chorus. But the contrast between the upbeat tempo and the dark truth of the apocalyptic lyric is nails-on-blackboard brilliant.
I know the words are Bob Dylan's, but this track gets my vote for the best cover of anything, anywhere.
There's an amazing film that gives some sense of Ferry's energy in 1973. This is before pop videos are a thing – three years before Bohemian Rhapsody and ten years before Thriller. It's impressive and worth three minutes of your time. (Bonus points if you can spot the continuity slips.)
LESSONS FROM HARD RAIN
What A Hard Rain's A-Gonna Fall teaches my 12-year-old self is to pay attention to lyrics rather than outfits. And that I should explore the work of other artists – of course, Bob Dylan – and other genres. Such as soul, blues, jazz and even – dare I say it? – country. (Kicking and screaming here.)
In hindsight, as I compile my Toppermost Bryan Ferry tracks, I've come to see the band Ferry formed, Roxy Music, as a special shell or a beautiful piece of amber that you pick up from a beach. You keep it for years on a shelf, and look at it fondly every time you pass.
To me Roxy Music is a time capsule. But Bryan Ferry is a wormhole.
I see Ferry's style and ideas constantly evolving. And through his music I find myself spiralling into other people's back catalogues as well as other musical genres. (Country music notwithstanding.)
For me, in short, Bryan Ferry is a lifelong music education.
More than this, Ferry is a continual reminder that for some of us music is not a pastime. Not something you put on in the background to while away the hours. (Though we do this, too.)
For most Toppermost readers, I would suggest, music consumes us. So, what I'll try to do with my Toppermost Bryan Ferry tracklist is not to share the hits. That's too easy.
However, I will share what I think the hits are and where to find them. (A useful starting point if you've skipped over Bryan Ferry until now.)
So here are the tracks that almost made it. Here is my TopperAlmost list.
A TOPPERALMOST BRYAN FERRY LIST (The Brightside)
Hold on, though.
In listening again to all my Bryan Ferry albums, singles, downloads and tapes (yes, tapes), I realise my TopperAlmost list is already published.
Released on the Virgin label in 2009, The Best Of Bryan Ferry is the outstanding list of Bryan Ferry greats. Every other Roxy/Ferry collection pales – this is the best single source of Bryan Ferry classics from 1973 to 2009. Check it out.
Sadly, the album isn't readily available on the streaming services, though you can get pre-loved copies on Amazon.
Whittling Ferry's back catalogue down to a TopperAlmost list for newcomers to Bryan Ferry is tricky, but doable. The rule? Only one track per album.
1. A Hard Rain's A-Gonna Fall (These Foolish Things, 1973)
2. The 'In' Crowd (Another Time, Another Place, 1974)
3. Let's Stick Together (Let's Stick Together, 1976)
4. This Is Tomorrow (In Your Mind, 1977)
5. Sign Of The Times (The Bride Stripped Bare, 1978)
6. Slave To Love (Boys And Girls, 1985)
7. Kiss And Tell (Bête Noire, 1987)
8. Taxi (Taxi, 1993)
9. Don't Want To Know (Mamouna, 1994)
10. All Along The Watchtower (Dylanesque, 2007)
11. You Can Dance (Olympia, 2010)
12. Johnny And Mary (Avonmore, 2014)
If you push me to reduce this to 10, in true Toppermost style, I would drop All Along The Watchtower (it's hard for anyone to screw up such an amazing track) and Johnny And Mary. Ferry's version is as good musically as the original Robert Palmer, but it's not better.
COMPLETE TOPPERMISSES
Gotta say it. There are some Bryan Ferry tracks you can afford to ignore. These are the top 10 TopperMisses, if you like.
10. He'll Have To Go (1989). Country cover on The Ultimate Collection album. No thanks.
9. Dance With Life (Brilliant Light (1996). From the OST to John Travolta's Phenomenon. Lyrics by Bernie Taupin. Its saccharine sweetness will rot your teeth. So it would have been a killer hit if they released it, ha! (Good call not to succumb to this, Bryan!)
8. Song To The Siren (2010). This is not a bad version of the Tim Buckley classic. But too much like phone-holding music for me. And I can't shake the luminous version by This Mortal Coil featuring Elizabeth Fraser and Robin Guthrie of the Cocteau Twins. I just can't listen to Ferry's version. Sorry.
7. Smoke Dreams Of You (2002). It turns up on the B-side to the Goddess Of Love single from Frantic. From the As Time Goes By sessions. A leftover. Thankfully.
6. Goddess Of Love (2002). Inevitably influenced by co-producer Dave Stewart, whose work with Eurythmics is off-the-charts brilliant. But this sounds like Duran Duran. (I challenge you not to sing Hungry Like The Wolf when you listen to this.)
5. Lowlands Low from Rogue's Gallery (2006). A pretty good sea shanty as sea shanties go. (I've seen Fisherman's Friends and the master shantyman, A. L. Lloyd, so I think I have some idea what I'm talking about.) It's better than The Cruel Ship's Captain, though, which is rambling and even more dreadful.
4. Feel The Need In Me. Actually, this is a great version of the Detroit Emeralds classic, on the B-side to the Windswept 12″. Great, that is, until Ferry starts singing. What did they do to his voice in post-production? I think the whole thing was speeded up because it's a (great but) long intro. Avoid.
3. Love Letters. The title track from Ferry's 2022 EP, a cover of the 40s song which Trini Lopez recorded and which my mum loved. But it's such a sad rendition because it highlights Ferry's declining vocal powers. He was 76 when he recorded this. (A poor musical choice, Bryan.)
2. She. Duet with Charles Aznavour from 2008. It's exactly as you imagine. Only worse.
1. Are You Lonesome Tonight? Ferry's Elvis cover from 1992's Honeymoon In Vegas soundtrack. He should have known better. Don't bother to dig this out. It needs to stay buried.
THE OFFICIAL TOPPERMOST GUIDE TO BRYAN FERRY
(The Darkside)
So what makes my Official Toppermost Bryan Ferry list different from the TopperAlmost list? First, these are the tracks I return to repeatedly.
In addition, they are the tracks that – regardless of what it takes – I keep alive in every format. Year after year. From vinyl, to tape, to CD, to download and now in every streaming format I can manage.
What else is different about this Bryan Ferry Toppermost list?
Well, I notice that the list majors on B-sides, remixes and other collectors' items. Not the things that the radio or TV or even the artist himself wants us to listen to. Plus, these are the things I found for myself. That seems important.
One more thing.
Seeing this selection in the sparse form of a Toppermost list I notice the songs I've chosen are deeply forlorn and – in places – very dark. I didn't realise that until now.
On the positive side there are no obvious pappy poppy choruses and the songs are lyrically complex, rich and rewarding.
So, in no particular order …
After Boys And Girls in 1985 comes the Bête Noire album in 1987. An extension of Ferry's evolving multi-instrumental style, with over-dubbed soundscapes. Far more multi-textured than before. But there's nothing standout as a single, no album-defining track. And I'm disappointed.
The live tour that follows is outstanding, though. (Checkout the recordings on YouTube.)
But then nothing.
For six years.
Taking a break from recording, Ferry throws together a covers album, the rather patchy Taxi (1993). But I know the opening track, I Put A Spell On You. It's a Nina Simone classic.
The single cut is anaemic, however. It's missing any kind of intro and without the depth of the longer album track I'm including here. Be warned, if you haven't heard this before: I Put A Spell On You is not a love song. It's an obsession song and disturbing with it. Ferry doesn't hide this, though thankfully he does cut the most dreadful line from Screamin' Jay Hawkins' song; a phrase that Nina Simone makes work (barely) in her version.
So listen to this full-length album cut. Put your headphones on and crank up the volume. I challenge you not to tap your foot or sing the chorus.
TOPPERMOST BONUS: there's a collection of I Put A Spell On You remixes that repay careful listening. My favourite is the haunted house mix. It takes a seriously obsessive track and makes it even more freaky. (On Apple Music and Spotify among other platforms.)
As Time Goes By? A whole album of creaking jazz standards? Really?
I can't face Ferry's take on jazz and American standards when it first appears in 1999, even though it is highly regarded. Grammy nominated, indeed.
In fact, it takes me a few years to get into this. I eventually discover that Ferry's versions are surprisingly good, it's just that I love the originals so much. The Ella Fitzgerald version of Miss Otis Regrets particularly springs to mind.
And then one day I find myself watching Night And Day (1946), the Cole Porter story. Cary Grant is dreadfully miscast as Cole Porter and an old buffer (Monty Woolley) starts to sing Miss Otis Regrets.
Suddenly I have a route into Ferry's version of Miss Otis Regrets. Ferry is the faithful retainer and can barely keep his stiff upper lip stiff. Listen to this now and you can hear him swallowing his tears. I find this version strangely moving.
With Ferry's voice in full youthful throttle, Love Me Madly Again, from the In Your Mind album of 1977, draws on a recurring Ferry theme: what happens when former lovers meet again?
At this point in the real world I'm 16 and the long-lost love theme really hits me.
This is the standout track on this album, despite strong singles in This Is Tomorrow and Tokyo Joe. But why?
First, it's the unusual mix of the driving strings backing a traditional rock band. It's something I didn't hear in the charts that much.
Secondly, I begin to recognise the pace change as a classic Bryan Ferry move.
In an interview with Uncut magazine in 2018 Ferry talks about guitarist Chris Spedding almost being phased by this change of pace.
"I sort of tricked him," Ferry says, "because it was one of those songs where it goes from one thing into a whole different mood, a different movement, really – and I just let it go on into the next part of the song, with completely different chords and everything."
So what does Chris Spedding do that's so wonderful?
"I've always tried to get people's initial responses from a piece of music," Ferry says. "So I always like to record the first take, and I remember that was one time when it really paid off. You just get people instinctively responding to the music they're hearing for the first time, and that's very important."
So the guitar solos on this track are from the first take? Believe it.
Ferry's collaborator Colin Good – musical director for As Time Goes By (1999) – helps Ferry rework Roxy and Bryan Ferry classics for the moody neo-noir TV series Babylon Berlin. These combine into an entire album of louche interpretations of Ferry and Roxy standards in the 2018 album Bitter-Sweet.
And while the show makes uncomfortable viewing, it's Ferry's music that brings a modern and edgy undercurrent to the Kander and Ebb Cabaret-style the producers are searching for.
All the sin that I can take,
But you don't even know my name
The lyric from Boys And Girls is grim in the context of the AIDS epidemic of 1985 when the song was written. But in the decadent context of the Weimar Republic of 1929? Chilling.
It's 1982 and Roxy Music are dying on their feet. After the commercial success of Avalon comes a gruelling world tour. I see them at Wembley Arena in September 1982 and am surprised to see Phil Manzanera in a stripey tank top and Andy Mackay in a zipper jumper.
I begin to wonder … are they demob happy? Is Roxy Music about to come crashing down? Woolly jumpers aside, when they play Jealous Guy you can hear a pin drop in the arena. Lennon was killed less than two years before and the loss seems fresh.
Then Roxy plays another astonishing cover: Neil Young's Like A Hurricane. And I'm thinking, "Cheeky!"
Neil Young plays the arena next week with the Trans tour. And I've got a ticket for that, too.
Although Roxy play it first, Like A Hurricane becomes a standard part of the Bryan Ferry setlist for the next 40 years. On the Live In Lyon DVD (2007) there's a version with a fantastic saxophone solo, from Jorja Chalmers. Check it out here on YouTube.
There is a CD of this show available, with a Japanese import of the DVD, but it's tough to get at the time of going to press. Must keep trying.
On the Toppermost Spotify playlist linked below you'll hear the Roxy Music version from Heart Still Beating (1982). But the Live In Lyon version is on the Toppermost Megamix, also below.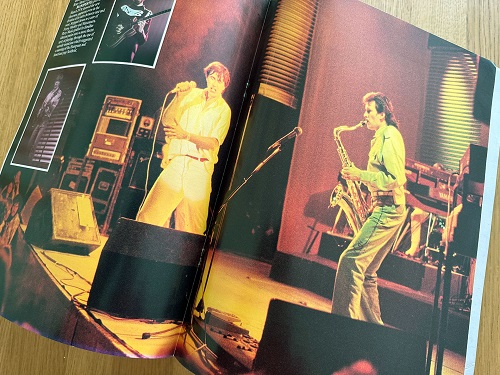 Another Time, Another Place is the only original song on Ferry's second solo album Another Time, Another Place (1974) and is Bryan Ferry's first song not recorded by Roxy Music.
But when I listen to it, I can't help thinking it would fit like a dream on the first Roxy album. I particularly love the dreamy opening and then the moment the song returns to that opening theme at 3.12.
I'll never stop apologizing for ruining this LP which belonged to my very best friend, Philip. Sliding the needle in a groove – at speed – is a crime.
Shameless (2010). OK, this is the version released by the very brilliant Groove Armada (Andy Cato and Tom Findlay). It appears on the album Olympia Remixes (2010) but was released a few months earlier by Groove Armada on Black Light (2010).
Bryan's version on Olympia is pretty good and the lyrics of both tracks are identical.
And the way we were
Fatefully entwined
In a shameless world
Rock 'n roll desire
Is this harking back to his split with Jerry Hall?
For me, Ferry's Olympia version of Shameless doesn't have the stark, four-to-the-floor feel that Groove Armada brings. I also think their version just feels darker. According to an interview with Andy and Tom in Q magazine, this is Ferry's first ever guest appearance on another artist's record.
But what about the dreadful duet on She with Charles Aznavour in 2008? Best to forget that, frankly. I wish I could.
FUNFACT: It's worth exploring Bryan Ferry's Soundcloud account where his team posts tons of remixes of Shameless along with other Olympia and Avonmore tracks. I find the remixes make listening to something you know 'first-time exciting' again.
My great friend Philip and I used to argue whether This Island Earth from The Bride Stripped Bare (1978) is better than Another Time, Another Place (1974), both sitting as they do at the end of their respective albums.
Both tracks make a strong statement of sentiment, defining the albums with a unique emotional stamp. For myself I can't help but favour This Island Earth. There's so much to love here, starting with the signature morse dot-dot-dots, blending imperceptibly into the song's opening words.
So I send an SOS
Semaphore myself
It is the more intense of the two tracks, I feel, the words spitted out with frustration and pain. I suppose that the split from Jerry Hall is very recent at this time, so there's one possible motivation right there.
In addition, This Island Earth is sonically brilliant. Ferry is obviously getting more into layering sounds as the years go by. Have your headphones ready for listening. It's a track that's been ignored by Ferry until relatively recently, perhaps because of the meaning it held for him?
But a fantastic muted saxophone version now appears on The Jazz Age (2012), Ferry's revision of his work with Colin Good.
FUNFACT: The version of Love Is The Drug on The Jazz Age inspired Baz Luhrmann to include it in The Great Gatsby (2013) resulting in a collaboration to create several jazz pieces for the movie. That material was released as The Great Gatsby – The Jazz Recordings (A Selection Of Yellow Cocktail Music). The music fits the era like a mute fits the bell of a trumpet.
My current favourite version of This Island Earth is the Johnson Somerset remix on Ferry's Soundcloud account. It's respectful of the original and allows you to just lose yourself in lyrical sadness.
Castaway as strangers are.
You can also hear it on the Toppermost Megamix, also below.
As an extra present for my birthday in 2000, my wife buys Bryan Ferry's latest collection, Slave To Love: The Best Of The Ballads, She throws it on the CD player and, a few minutes later, This Love emerges from the speakers.
I am stunned.
I've never heard this track before. Sharp intake of breath. I feel exactly how I did when I first listened to David Bowie's Wild Is The Wind.
So, of course, I have to learn as much as I can about This Love.
It's written by master composer Craig Armstrong and Jerry Burns and was originally sung by Elizabeth Fraser, she of the Cocteau Twins. The track is from the 1996 film Cruel Intentions. (Les Liaisons Dangereuses for the now generation.)
Fraser's version is amazing, ethereal – it's a wonderful track. But in Bryan Ferry's hands, with all the emotional baggage of an older man, it just floors me. And it's straight into my Toppermost list, very close to the top.
As The World Turns (1977). First the facts. This is the B-side to the single This Is Tomorrow, and is co-written by Ferry with Eddie Jobson. Jobson is then 21 or 22, the violinist and keyboards wizard who replaces Brian Eno in Roxy Music. The guitarist is Robert Fripp from King Crimson.
And I am 16.
Gotta tell you that the teenager in me today still remembers – keenly – the feelings of love, loss and despair that this song still wrings. This is my desert island Bryan Ferry track.
But there's a real problem if I want to take it to a desert island. It has never been released on CD anywhere by Bryan Ferry.
Except on a very rare EP released in Japan, now only available at a price that would clear my mortgage. Therefore, to protect this precious piece of plastic from being scarred to death I've recorded it directly onto my Mac, removed the bumps and clicks in an audio editing program (Adobe Audition) and have just paid Dolby to have it remastered.
Is it worth it?
You decide.
THE AMENDED TOPPERMOST BRYAN FERRY PLAYLIST
AS IT APPEARS ON SPOTIFY
There is only so much space in the Spotify catalogue and they don't have every one of my ideal versions of these tracks to share with you. And some songs aren't available in every territory. So I've replaced a couple of tracks – This Love and As The World Turns – with Your Painted Smile from Mamouna (1994) and You Go To My Head from Let's Stick Together (1976).
| Track | Album |
| --- | --- |
| I Put A Spell On You | Taxi |
| Miss Otis Regrets | As Time Goes By |
| Love Me Madly Again | In Your Mind |
| Boys And Girls | Bitter-Sweet |
| Like A Hurricane | Heart Still Beating (Live) |
| Another Time, Another Place | Another Time, Another Place |
| Shameless | Black Light |
| This Island Earth | The Bride Stripped Bare |
| Your Painted Smile | Mamouna |
| You Go To My Head | Let's Stick Together |

Bryan Ferry amended toppermost playlist
THE FULL TOPPERMOST BRYAN FERRY MEGAMIX
Here's an edited megamix of the Bryan Ferry tracks I love the most, including Like A Hurricane (from Live In Lyon, 2007), This Love and As The World Turns.
DOWNLOAD THE TOPPERMOST BRYAN FERRY MEGAMIX
You can download the Toppermost Megamix for your own personal use right here. There's a high quality lossless version and a smaller mp3 file. Don't download these on your phone – they will burn through your data quota.
Lossless audio download link here (large file, c600mb)
Mp3 audio download link here (small file, c60mb)
OTHER BRYAN FERRY RESOURCES
The TOTP Archive
500th edition of TOTP – who else was playing the same day as Bryan Ferry in 1973?
What does Bryan Ferry think of Bryan Ferry?
Two brilliant interviews, this one from Uncut in 2018 where he talks about the two phases in his career – the pop song phase and the soundscape phase. And this interview with Robert Palmer in the New York Times from 1985. (Surely not that Robert Palmer?)
Bryan Ferry's Official Spotify Playlist here
Bryan Ferry's Lyrics
This may be a good time to suggest you explore Ferry's recent book "Lyrics". He won't win the Nobel prize but they do make a satisfying read and they're hugely thought-provoking in their textual form.
Bryan Ferry's official chart results over the years here
Bryan Ferry's official Soundcloud account here. Lots of great remixes and rare versions to listen to and download.
A great documentary: The Making Of Olympia on YouTube
Some people hate the evolution Bryan Ferry underwent from Hard Rain to Johnny And Mary. But you can see the early evidence of the transition to soundscapes in the brilliant (and still the best) Roxy Music album Flesh & Blood, which then morphs into an even silkier style on Avalon (1979) and Boys And Girls (1985).
Bryan Ferry at Live Aid
Slave To Love is the killer single from Boys And Girls, Ferry's first solo album in seven years and the first since Roxy Music disbanded in 1983.
Astonishing to think, given how slow Ferry works, that just a few weeks after the album's launch on 3rd June 1985 he is at Live Aid in London (on 13th July 1985). He plays Slave To Love, two other tracks from Boys And Girls and Jealous Guy.
My wife is there with a friend who has tickets. I'm not; that they're playing Jealous Guy somehow seems appropriate.
My wife's less-than-perfect pic from Live Aid showing David Gilmour to Ferry's left. I much prefer it to the pro shot though!
FUNFACT: Gilmour plays with Ferry on Is Your Love Strong Enough? from the soundtrack of Legend (Tom Cruise, Tim Curry, Mia Sara) released later that same year.
Ferry Rarities and B-sides
On every Ferry collection album, or combined with promotional singles, you will find outtakes from recording sessions, or reworked versions of classic tracks. They're not obvious hits but they will often entice collectors to buy an album. And we do buy, dammit.
On the collection I mentioned earlier, The Best Of Bryan Ferry, there are two uncollected tracks. I Don't Want To Go On Without You is an old Drifters song Ferry recorded in the late 1990s, alongside Dave Stewart from the Eurythmics at the now infamous Alphaville Sessions. Most of these tracks ended up on Frantic (2002) and Olympia (2010).
Track 21 is a semi-acoustic piano version of A Fool For Love, which to me is a more plausible rendition of the song which appears on Frantic. The medieval vibe – There was a king… – requires a piano, it seems to me.
By the way, if you're in the mood for other pre-launch tracks from the Alphaville Sessions then check out this playlist on YouTube. How Mark Guest got these files I don't know.

cover image on the 1994 Mamouna CD single
Let's Stick Together classic promo 1975
From 'The High Road' tour 1982
I Put A Spell On You, Top Of The Pops, 1993
Jealous Guy at LSO St. Luke's, London 2007
You Can Dance promo 2010
Bryan Ferry Official YouTube Channel
Bryan Ferry biography (AllMusic)
Steven Sonsino is a long-time Bryan Ferry/Roxy Music fan. He still enjoys playing air guitar, especially the 2-week solo in Freebird. First concert: Freddie Garrity and the Dreamers. (And yes he was wearing short shorts.).
TopperPost #1,077