Dionne Warwick
Track
Album
Wishin' And Hopin'
Presenting Dionne Warwick
Land Of Make Believe
Make Way For Dionne Warwick
You'll Never Get To Heaven ...
Make Way For Dionne Warwick
Walk On By
Make Way For Dionne Warwick
I Just Don't Know
What To Do With Myself
Here Where There Is Love
I Say A Little Prayer
The Windows Of The World
Do You Know The Way To San Jose
Valley Of The Dolls
I'll Never Fall In Love Again
I'll Never Fall In Love Again
Heartbreaker
Heartbreaker
How Many Times Can We Say Goodbye
How Many Times ...
Contributor: David Lewis
Growing up in rural Australia in the 1970s and 1980s, 2DU – the local radio station – had what was, in retrospect, a particularly superb playlist. A mix of Top 40, country music and easy listening, I'm pretty sure it gave me a great foundation in these genres. At Christmas time it would play for 24 hours and after midnight would play classic rock albums. I remember hearing for the first time Alice's Restaurant, Thick As A Brick (finally!), Hitchhiker's Guide To The Galaxy and Dark Side Of The Moon. I digress. Most of these became seminal favourites, part of my musical (and comedy) DNA, and still played today.
I can't remember the announcer's name but when I was about 12 he called the singer in the next song "The best vocalist in the world". Now, at the age of 12, I was expecting multi octave shrieks and technical leaps. Instead, I got whispered kisses, lightly landing on notes just to fade away, only to somehow reappear on the next note. At that point I fell in love with Dionne Warwick. Of course, at 12, as a young, straight anglo male, this was a secret – a guilty – pleasure, and my love of Dionne remained unspoken, lest my street cred as a music nerd be forever destroyed. In fact, I had no street cred and was not a music nerd then. But a boy can dream, can't he? She later co-hosted Solid Gold – a music TV show featuring acts lip-syncing to a live audience, with dancing by the Solid Gold dancers. This description does not do it justice – I enjoyed it greatly.
The song was Do You Know The Way To San Jose. And it is a wonderful song, made all the better by that performance. Nearly all of these songs are by the songwriting team of Bacharach and David. Burt Bacharach's music studies and Hal David's incisive, insightful and beautifully crafted lyrics suited Dionne perfectly. Bacharach is a superb arranger and played to all of Dionne's strengths – delicacy, sublime phrasing, accurate pitch and a tone of voice that sat somewhere between the reeds and the strings. The opening 'woahs' dragged me in, almost reluctantly, and then as she easily jumped between 4/4 and 7/4, I was hooked. I really believe if you don't like this stuff, then you really shouldn't call yourself a pop music fan.
Bacharach and David had met Warrick (as she was born) in 1962. Her singing was extremely suited to Bacharach's melodies and David's words. Bacharach works on a pulse – the count may move from 4/4 to 5/4 to 7/4 and back again, but unless you're paying attention, you won't notice. Dionne is able to flick these over like the natural singer she is. Always in complete control of her voice and never showing off, Warwick has, I would argue, more chops than many of those who belt out a thousand notes per minute. Her first hit with them was Don't Make Me Over, a phrase she said to them in anger when they gave one of her songs to someone else.
Listen to Wishin' And Hopin', her second single and the flip side of This Empty Place. British listeners are more likely familiar with Dusty Springfield's version. As great as Dusty's is, the ease in which Dionne deals with those syncopations, plus her easy listening voice pips Dusty, at least for me. Not to disparage Dusty, but Dionne simply shines in a way that connects with this listener. Or listen to Walk On By. This is perhaps her best known song, but I'm running out of descriptors. So, let's just say 'perfect'. If you're still not sure, it's been covered by a whole host of others, including the Stranglers, Isaac Hayes and the Average White Band.
I'm going to commit near heresy here – Dionne's version of I Say A Little Prayer is as good as Aretha's. I nearly said "better than". I still might. Fundamentally, it's a great song. My friend and occasional Toppermost contributor Glenn Smith argues that it is the whole of American popular music compressed into three minutes. Again, it was written by two men, with lyrics by one man who had no business being so insightful into the quotidian chores of a woman in love. Dionne is less histrionic than Aretha and finds subtleties in the lyrics which suit her voice and gives the song a different, but no less potent, power.
Dionne's I Just Don't Know What To Do With Myself, a 1962 Bacharach David composition with a somewhat troubled history is, I think, definitive. Dusty Springfield had a massive hit but, again, I think Dionne's voice works better. Yes, I know, I'm wrong, and I'm always wrong and why do I even bother? But have a listen to how that voice lightly touches each word, lifts it and ethereally moves to the next note and word.
Not to be confused with the Bucks Fizz song of similar title or, for that matter, the one by the Easybeats, Land Of Make Believe has all the elements one expects from a Bacharach David Warwick performance. It's a heartbreaking song, especially when she coos "I need you so much". How to use power lightly for a bigger impact – it's right there.
While this could easily be a Bacharach David top ten, I don't want to ignore other parts of her career. So I'll just go one – no two – more and put in a nod for I'll Never Fall In Love Again. In terms of what I can say about it, it's the voice, it's the lyrics, it's the ornamentation. In the words of the lawyer, Dennis Denuto, in the Australian film The Castle, it's the vibe of the thing. I'll also add the peripatetic yet perfect melody of You'll Never Get To Heaven (If You Break My Heart). Gorgeously arranged, in lesser hands it would sound unfinished and unstructured. But in the sure hands of Dionne and whoever played on it, and Bacharach's arrangement (and Burt rightly sees himself as an arranger as well as composer), it's a lovely piece of music. Dionne's scatting suggests musical depths that might have seen her as important a jazz singer as Billie Holiday or Ella Fitzgerald, as well as one of the most important pop singers.
I'd better look at her work with other songwriters (and other labels). She never stopped as an artist, though it's probably true the Bacharach David Warwick combination was unbeatable. Nonetheless, her more mature voice on Heartbreaker is rich, full and enhances an already excellent song. Written by Barry, Robin and Maurice Gibb, the three brothers also appear on it. Apparently, Dionne was not fond of it, later joking her dislike of the song made her cry all the way to the bank. Maurice was upset for a different reason – he felt it should have been a Bee Gees song. However, he admitted that Dionne did a brilliant job, and as they appeared on the single anyway, he was happy. Dionne trusted Barry's assurances that it was a hit, and everyone else was more or less satisfied as well.
The scourge of AIDS galvanised many artists to help raise funds. That's What Friends Are For saw Dionne team with Elton John, Stevie Wonder and Gladys Knight. A rather schmaltzy song, it is fair to say that this powerful quartet bring something special to it. Credited to Dionne and Friends, the keen listener can discern the unmistakable voices, plus the piano of Elton and Stevie's plaintive yet somehow soothing harmonica. It was the biggest selling US single in 1986. The talent on board saves it from schmaltz and lifts it to superb pop.
The final song for this list is the follow-up to Heartbreaker. Unfortunately, it could not match the massive success of its predecessor. I think it matches its quality. How Many Times Can We Say Goodbye is a duet with the late, great Luther Vandross. Their voices meld seamlessly. It's a shame it wasn't a much bigger hit as rarely does AOR reach such lofty heights.
It is, I suppose, easy to dismiss Dionne Warwick as a 'pop' singer, or an AOR vocalist, or even a 'middle of the road' singer. Yet this music, at its best, is as technical and as challenging as the most virtuosic of jazz. It's also more accessible and can be more satisfying. Dionne Warwick has done other things but she keeps coming back to singing. She has six honorary doctorates, has been Goodwill Ambassador of the Food and Agriculture Organization of the United Nations (FAO). In 2013, she declared bankruptcy but seems to have recovered. She is that overused and underappreciated word – a legend. Her legacy is secure. Like Sarah Vaughan, or her friend Gladys Knight, or Bing Crosby, she elevated pop music to something more than a commercial transaction between record label and consumer. Above all this, though, is that voice – the instrument of power, applied gently and subtly. Not much else matters to us lesser mortals.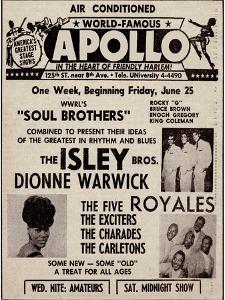 Dionne Warwick official website
The Official International Dionne Warwick Fan Club
Dionne Warwick Awards & Honors
Dionne Warwick Archive (Facebook)
The Guardian interview March 2020
Dionne Warwick biography (AllMusic)
David Lewis is Australia's best jazz mandolinist, unless you can name someone else: then he's Australia's second-best. In any case, he's almost certainly top 100. He is a regular contributor to Toppermost, and also plays guitar, banjo and bass professionally. More of his writing can be found at his rarely updated website. David is also the co-author of "Divided Opinions" published this year and derived from an established podcast on Australian politics.
TopperPost #954