Roy Orbison
| Track | Single / Album |
| --- | --- |
| Ooby Dooby | Sun 242 |
| Domino | The Soul Of Rock And Roll |
| This Kind Of Love | Roy Orbison At The Rock House |
| Only The Lonely | Monument 45-421 |
| Running Scared | Monument 45-438 |
| Crying | Monument 45-447 |
| Dream Baby | Monument 45-456 |
| In Dreams | Monument 45-806 |
| Blue Bayou | Monument 45-824 |
| It's Over | Monument 45-837 |
| Oh, Pretty Woman | Monument 45-851 |
| Goodnight | Monument 45-873 |
| Too Soon To Know | MGM K 13549 |
| Not Alone Any More | Traveling Wilburys Vol.1 |
| You Got It | Virgin 7-99245 |
Contributor: Dave Stephens
There's a cat in town that you might know
He goes by the name of Orbison …
Roy Orbison, 1963, England. Stock still, all in black. Shades, for stage fright or over-awareness of his looks. Ballad after ballad. Encore after encore. Even the Beatles couldn't get him off the stage. (Documented in various places and for more, see Footnote 1.)
Roy Orbison, household name, almost as well known as Elvis. Gets on the radio quite a bit and your mate's mum loves him. But is he worth listening to? That's what this Topper will try and answer. I'm not intending to document things like who bought him his first guitar: the writer of the more than adequate Wiki entry on Roy covers all bases including things like that – and it was his dad on Roy's sixth birthday – but for anyone who wants something more self-contained I will include some biographical words in Footnote #1 (and you're still at liberty to ignore them).
So, without any further verbiage let's get on to selection numero uno from the Fantastic Fifteen (and I must put on record my gratitude to the editor for his empathy on that number).
THE ONE THAT STOOD OUT
Only The Lonely (Know How I Feel) – but with the bracketed portion usually dropped – (Monument single, June 1960) (all release dates from 45cat)
"… it was not until he (Roy – DS) and Foster (Fred Foster, head of Monument Records – DS) placed the voice in a setting that seemed to be inspired by black vocal group sounds that the singer achieved his potential. Only The Lonely (1960) was a beautiful pop ballad, using a mannered vocal group refrain to set a strange background for Roy's soaring voice." (Source: Charlie Gillett writing in "The Sound Of The City")
What was my background when I first heard this record on Radio Luxembourg in summer, 1960? I'd got into the pop music thing when I heard rock and roll circa '55, '56 and started buying records a year or two later. With the death of Holly in '59 and a few other events that have been reported many, many times, it was becoming clear by the middle of 1960 that rock and roll wasn't going anywhere, indeed very little of it was still being heard on the airwaves. As a consequence if it couldn't be rock'n'roll, I always listened with an ear for anything different. Only The Lonely was different. Not dramatically so but different enough to register through my tinny transistor radio. I'd never heard of Orbison before, but hardly anyone else in the UK had either; I would find out many years later that his only (previous) release in this country had been a London American EP entitled Hillbilly Rock containing 4 Sun rockabilly tracks (and I'd have given a heck of a lot to have found that at the time).
Stylistically, I guess I'd have identified the record as doo wop – the opening dum-dum-dum-dumdy-doo-wahs were the obvious giveaway – though that voice when it entered didn't sound as if it had anything to do with the genre. Mind you, beyond Frankie Lymon and Teenagers, us Brits didn't know a terrific amount about doo wop because a lot of it hadn't been released here. Of white doo wop, we knew the Diamonds' Little Darlin' (but didn't know it was a crib from a black group's record) and obviously we knew Teenager In Love, didn't everyone? But what the voice gave the record was something non doo woppy, a totally unexpected dignity and authority more along the lines of Jim Reeves He'll Have To Go or Jack Scott's What In The World's Come Over You, two records from the same timeframe. The stop time latin flourishes in the second half of each verse also didn't come from doo wop territory; if anything they were more akin to the Mediterranean exotica of Presley's It's Now Or Never, another platter from the first half of the sixties (and it's worth noting that sound engineer Bill Porter worked on that record and on this one and Roy's other Monument discs). I almost forgot to say that there were strings on the record but even that didn't put me off.
It's possibly under-appreciated how much the late great Charlie Gillett's style relied on economy and efficiency. I can't think of a better way of describing Only The Lonely than the words he used.
THE EARLY HINTS
While it's often assumed that Roy's output from his sojourn at Sun conformed pretty strictly to rockabilly, anyone who's delved into At The Rock House, the LP that Sam Phillips issued in '61 to attempt to capitalise on Roy's sales at Monument, will be aware that that's not strictly the case. And while it's well documented that Roy cut a version of Ooby Dooby at the Norman Petty Studio in Clovis, New Mexico which was released on the Je-Wel label (backed by a take on Trying To Get To You) prior to his move to Sun, what is less well known is that he cut demos of other numbers at Petty's studio. These included draft versions of his songs, An Empty Cup, A Broken Date and You've Got Love, both of which Petty later successfully pitched to Buddy Holly for inclusion on his debut album, The "Chirping" Crickets. The first of the pair, a brooding ballad, strongly prefigured the stance of the narrator on the big Monument ballads – "She just drove by with another guy / No wonder I can't help but cry" – and although the song itself was clumsily structured, its performance did feature Roy with some early soaring and the Teen-Kings not a million miles from a doo-wop backing.
Holly and Orbison are sometimes recorded as being friends in biographies and I've often felt that the fact that both recorded the Chuck Willis proto-soul ballad It's Too Late, was more than just coincidence. The Holly version appeared on The "Chirping" Crickets and it could be that Roy just happened to buy that LP and liked the song. It's not important, what does matter though is that this is just the sort of song Roy might have written; not only was the subject matter right up his street, the expanded first line went "It's too late, she's gone", the structure was absolutely made for that voice. In fact, if anything, he underplayed it. If not for the fact that I've already logged this number as a selection in both the Willis and the Holly Toppermosts, I'd have made this version a selection too.
I didn't. But I did go for another track from At The Rock House and it's another which would undoubtedly have sat in the can if Sam Phillips hadn't seen dollars in front of his eyes and released the LP.
This Kind Of Love (Sun LP, At The Rock House, 1961)
I missed the LP when it came out but later picked up a cheapo Allegro set which Roy shared with Jerry Lee Lewis with Sun tracks from both, plus Tommy Roe (and the choice of Tommy by Allegro remains a puzzle to me till this day). This Kind Of Love wasn't on it and I didn't come across the track till the advent of the internet and things like YouTube. The Praguefrank discography on Roy groups the track in a list of songs cut "btw 1957/1958" in the Sun Studio, 706 Union Avenue, Memphis, TN. It includes a bracketed "overdubbed" against the number but no details are given on backing musicians. It's Too Late (also overdubbed) and a demo version of Claudette, the song which Roy wrote about his wife and managed to sell to the Everly Brothers, are on the same list. The other online source, indeed megasource on Sun Records, 706unionavenue, doesn't offer any further information.
We tend to think of Roy's hit records as being complex creations often building to a climax which allowed him to demonstrate the full glory of that voice. But that's not all he did: the rhythm here was choogling rather than typical Sun rockabilly – John Fogerty might have had a good crack at this – and the verses were minimalist; three lines only with the last repeated to make a fourth. And then the trick: the verse ended up 4 half notes above the starting note (or tonic), or E up to G# or do up to mi, and then the next verse started on that higher note i.e. in the key relating to that note. There was an upward key change like this moving to verse 2 and then 3, then a very basic instrumental break taken purely on chords, then verse 4 and that was it. Might sound complicated but it's not. Without those key changes it would have been trivial; the changes add tension and slight confusion as the brain adjusts to where we now are. If you wanted a label for it, call it a mood piece. What it did show was Roy's growing all round musical ability or the way that he could step back and think hard about an arrangement in addition to writing the song and performing it. What I did glean from the 706unionavenue pages on Roy was that Sam was very impressed with his musicianship – and remember that Roy played guitar in the early days – and his ability to memorise and replicate musical pieces.
That all sounds pseudo-technical. Play it again and just enjoy it.
THE MOULD BREAKER
The immediate pair of follow-ups to Only The Lonely played games with the formula but didn't add anything ground breaking. Blue Angel actually used the good old doo wop progression while on OTL, Roy had in fact come up with something that you initially thought was that progression but was in reality considerably more subtle. But what came next rang the changes.
Running Scared (Monument single, March 1961)
"Paranoid bolero with Mexican accent and strings. As in most westerns, our hero gets the girl. The difference, maybe, is that the way Roy conceived it, the woman had all the power. Not that leaving it up to her made what was going on any less a life-and-death issue." (Source: Dave Marsh in "The Heart Of Rock And Soul: The 1001 Greatest Singles Ever Made")
His first really big production, and there are slight echoes of This Kind Of Love, with four verses coming one after another only separated not by key changes but by step increases in the backing instrumentation, starting with rhythm guitar only, hammering those four note bolero figures, then a piano, ending up with full orchestra plus singers with each verse not quite resolving, thus building up the tension that you think is going to be swept away by the final section, which I hesitate to call a bridge or middle eight because it's not bridging anything, and that hammering hadn't disappeared and doesn't disappear until eventually the whole thing comes together in the final word of "you turned around and walked away with me", i.e. the "me", which had been reached by a process of vocal mountain climbing, denoting the happy ending.
Savour that happy ending. Such an event was a rare thing in the Orbison world. Dreaming on the other hand wasn't uncommon at all, so maybe this was only a dream.
Savour also the fact that Roy plus co-writer Joe Melson and producer Fred Foster had come up with a performance – and by that I'm talking about the whole musical experience rather than just Roy's vocal, magnificent though that was – the like of which had never been heard in the pop world before.
Number 1 in the US, 5 in Australia, 1 in Canada and 9 in the UK (and one wonders why we held back a little after giving "Lonely" the top spot).
THE MONUMENTAL BALLADS
And yes that's a terrible pun but I found it totally and utterly irresistible. In my defence, it fitted: outside of his comeback/return/revival/call it what you like, in the US all of his big hits came from the Monument spell only, the vast bulk of them were ballads and I'd not hesitate to describe Running Scared as monumental and plenty more deserved that descriptor too.
Goodnight (Monument single, January 1965)
It's possible that Roy's love of variety, often leading to complexity within his productions, might have got in the way of creating musical experiences – those words again – which would really resonate with the record buyer. This record was the follow-up to Oh, Pretty Woman, his biggest ever hit which has logged seven million sales and the YouTube clip has had 101 million hits. Goodnight made a measly #21 in the US and only #14 in the UK. The fact that it contained 4 or is it 5, different melodic sections – usually gorgeous ones – in addition to the introduction, all within two and a half minutes, might not have helped. Kind of like a concertina'd Beatles Medley from Abbey Road but with a higher level of integration.
I have a theory that at least some of the people who've bought Roy's records over the years were the same people who also bought discs from the Platters, with the similarity being big ballads furnished with orchestral and vocal backing, with Tony Williams doing the soaring thing in the lead role. They almost owned the hit parade from the mid-fifties through to the early sixties and even managed a comeback later on in that decade with a different lead singer. If there's any truth in this theory then I'd surmise further that such folk would have been disinclined to fork out cash for the more creative records from Roy which de-emphasised repetition and hooks, like Goodnight.
Roy had an answer to this and it appears in the follow-up to Goodnight, (Say) You're My Girl wherein he restates the main theme before galloping off down other avenues – it is a relatively bouncy record for Roy – and then restates the theme instrumentally prior to going into the grand finale. While the addition of a degree of repetition could/should have helped with sales, in fact they were a degree lower than those for Goodnight. However, given that this was early/mid '65, the distraction caused by four moptops from Liverpool plus the other UK groups who'd also crossed the pond, might have lessened the attraction of Orbison records.
There was an earlier record from Roy which made use of touches of repetition in an extremely clever way, and that record was:
Crying (Monument single, July 1961)
"When Roy Orbison walked off stage, he became an observer of life. He could see what made people lonely in the most crowded of honky-tonks and how we all yearned for each other in dreams. He'd write it down, make it rhyme, because he was a songwriter. I had the pleasure of working with Roy as we rerecorded this classic." (Source: k.d. lang introducing a performance of Crying, no date given but probably in the 90s)
I was all right
For a while
I could smile
For a while
Words from me aren't going to do justice to the most perfect statement of Roy's art. I was going to talk about how Peter Lehman in his book "Roy Orbison: Invention Of An Alternative Masculinity" had used a 'language' to summarise the musical structures in Roy's songs (using a different letter to denote each different theme) with the statement below equating to Crying:
A, B, C, D, E, F, A, B slightly mod., C mod., D mod., E mod., F mod.
But whenever I attempt to verify it I lose myself in the performance.
In Dreams (Monument single, January 1963)
"It is a beautiful song and it was written by Roy … Those lyrics, that feel meant something to him. And it just so happened that a song in a certain situation could mean something else. And the way that Frank Booth used that song in two different places, it is just kind of unbelievable. But I can see why Roy was upset because for him it meant a third thing." (Source: David Lynch as quoted in the Wiki essay on the song and, indirectly, Peter Lehman)
David Lynch's usage of In Dreams in his 1986 film, Blue Velvet, was one of the triggers for the Orbison comeback.
Roy had an absolute fascination for dreams which is instantly apparent in the frequency of occurrence of the word in the titles of his self-written songs, with as many again without that word in the title but still majoring on the subject even if sometimes unobtrusively. The same fixation also emerged in his choice of covers like Stephen Foster's Beautiful Dreamer and Boudleaux Bryant/The Everlys' All I Have To Do Is Dream.
This number opens with the "candy-coloured clown they call the sandman" tiptoeing into his room and causing Roy to drift away – one of his favoured phrases – into a deep sleep where he walks and talks with her and she's his, all of the time, only for him to awake and find her gone: the painful reality separating real life from the fantastical stuff of dreams. It's a tale that he would narrate over and over again, in spite of closing by telling himself that such things occurred "Only in dreams, in beautiful dreams". All this to delicious fragments of melody with strings sometimes echoing Roy, and almost as spritely as country fiddles, and at others taking a more languorous and elegant line, all to one of those latin rhythms that Atlantic deployed so well in the early sixties with someone like the Drifters up front.
Blue Bayou (Monument single, August 1963)
Blue Bayou just had to be a dream since the only bayous in Texas are way over in the east, stretching into Louisiana and almost the polar opposite of desolate Wink, the small Texan town where he grew up, which Roy had told the world that he'd wanted to get away from just as soon as he could. The utopian picture that he paints of that place where "I left my baby behind" is overshadowed though by his opening lines: "I feel so bad I got a worried mind / I'm so lonesome all the time". And the edge in his voice as he tells us in the bridge that he's going back someday, come what may, betrays the fact that this is a daydream; Blue Bayou, with the fishing boats, sails afloat, is never-never-land.
It's Over (Monument single, March 1964)
One of his number ones in the UK and Ireland but it only squeezed into the ten in his home country, perhaps a sign of things to come.
But with its downer opening statement – "Your baby doesn't love you anymore" followed by the drums announcing "THIS IS GOING TO BE A BIG BALLAD" (unlike the relatively floaty Blue Bayou), and a number in which you just know there'll be climaxes, probably in plural, it's a good track against which to ponder the conclusions reached by Peter Lehman in the book I made reference to earlier: what he calls Roy's "masochist aesthetic". I purchased the book since it seemed to be the only one available that made an attempt to tackle the music, as opposed to providing almost purely biographical information. And it does do that. Apart from the occasional excursion elsewhere, Peter focuses on the Orbison persona as portrayed in the majority of his songs and he's absolutely relentless in his analysis. I don't disagree with him per se but have included a couple of observations (or minor reservations) in the Footnotes.
THE WILD CARD
Dream Baby (Monument single, February 1962)
Dream Baby stands out in Roy's discography as both the first non self-written A-side on Monument – it was penned by Cindy Walker – and his first rocker on an A-side (with Monument again, I'm ignoring Sun for the moment) with perhaps a couple of comments on the second half of that statement: as a rocker it was a relatively gentle one though as the number progresses, Boots Randolph on sax is allowed to inject some welly, and, it could be argued that Roy's take on Fred Neil's Candy Man was a rocker but it was on a flip.
Also compared to all Roy's Monument singles which had preceded it, Dream Baby was decidedly minimalist in nature, both lyrically and melodically. Structurally, the only song I can think of that it resembles is Chuck Berry's Memphis, Tennessee though with stresses falling in different places, the songs themselves still sound considerably different. As a writer, Cindy Walker will have been known to Roy from an early age; he later recorded her Distant Drums and Shadaroba. According to Ellis Amburn in his biography "Dark Star: The Roy Orbison Story", he used to sing Bob Wills' Dusty Skies, one of her compositions, back in the Wink days.
Whatever the reason for Roy selecting the song – and undoubtedly the "dream" in the title will have played a part – it remains a delightful inclusion in his recorded oeuvre and allows me to make a not too uncomfortable segue to …
THE COVER JOB(S)
There were many and they give us fine demonstrations of Roy's ability to handle conventional material which didn't align with his unusual approach to writing songs. My intent was originally to include multiple examples but pressure from elsewhere reduced the content of this section to one track only:
Too Soon To Know (MGM single, July 1966)
From the Roy Orbison Sings Don Gibson LP but released before that album hit the shops. Since that release date was perceived as being too close to the motorcycle accident which caused the death of Claudette, the disc was banned from broadcasting by the BBC in the UK on the grounds that it could have been perceived to have been a eulogy to her, although in fact it had been recorded a few days before the tragic crash. The ban didn't stop the British public from buying the record and it reached the #3 spot in our chart, the best position out of all Roy's MGM output. Unfortunately, US buyers gave the record relatively short shrift – it only reached a lowly #68.
The song itself had originally appeared on the flip side to Gibson's Blue Blue Day, a hit for him in 1958. Although Don is seen as a country artist, this particular song could have come from the late fifties pop mainstream; this was Don's original which you'll note has that unusual piano 'double riff' for want of a better way to describe it.
Roy had shown a liking for Don Gibson songs from his early Monument days continuing through the MGM period: his take on I Can't Stop Loving You is up there with the best renditions of the number– it fits his persona perfectly – and A Legend In My Time could have been written for him. He was also partial to the Bryants and cut an unusual Bye Bye Love which removed the putting-a-brave-face-on-it Everlys approach, plus a more predictable All I Have To Do Is Dream. The Platters also receive mention in this essay and I would put his take on their My Prayer alongside the original. Oldies like Beautiful Dreamer and Johnny Ray's Cry also got the Orbison treatment. And apart from the Gibson set, there was also an LP of Hank Williams numbers from MGM.
THE ROCKABILLY
… which Roy, at times in his career, at least in part, disowned, though he did retain Ooby Dooby in his stage act. He used to say whilst at Sun that his true forte was singing ballads. I suspect the truth is more complex. Why, otherwise, would he record a version of Mean Woman Blues which was so influenced by the Lewis cut – a great favourite with Brit buyers since it appeared on the flip of Great Balls Of Fire – and put it on the flip of Blue Bayou? Contrary to what Lehman says, I think there was a macho element somewhere which was telling him, I can do such things just as well as alpha males like Jerry Lee.
Ooby Dooby (Sun single, May 1956)
I mentioned that cheap Allegro LP I picked up in the sixties: it didn't even have Ooby Dooby and I wasn't that impressed with the Orby tracks that were on it. Bear in mind when I say that that this was well before the torrent of rockabilly that hit the record shops in the seventies, and the only tracks I'd heard in the genre were from Presley and Carl Perkins which set a pretty high bar. What did cause me to change my mind was the purchase of CCR's Cosmo's Factory LP several years after its release. The Fogerty version of Ooby Dooby is one of the highlights of an excellent album and it took me back to the original, and other Orbison Sun material, with varying degrees of reappraisal starting to enter the grey matter, particularly for this number.
Fogerty retained both of Roy's 24 bar guitar breaks from the original but when you take away the relative slickness of his axe work, those are basically the same notes he's playing. Listening to both again, I'll stick with Roy but nice try JF.
Cat Called Domino (sometimes shortened to "Domino") – Sun but not released at the time – now on CD set The Soul Of Rock And Roll
The correct lyrics:
There's a cat in town that you might know
He goes by the name of Domino
A long tweed jacket and a diamond ring
A blue sport car, he's a crazy king
They love him so that cat called Domino, Domino, Domino
I can't for the life of me understand why Sam Phillips didn't see fit to release this one as a single – it's easily the best of his Sun rockers and, like Ooby Dooby, benefits from that starting-way-down-there-and-getting-spikey-on-the-way-up Orby guitar work. Ignore names like Phillips or Petty in the credits; this was all Orbison and as rockabilly numbers go, a good 'un.
THE BIG ONE
Oh, Pretty Woman (Monument single, August 1964)
"We'd just begun about six in the evening. What you do is play anything that comes to mind, and my wife wanted to go to town to get something. I said, "Do you need any money?" And Bill Dees said, "Pretty woman never needs any money." Then he said, "Would that make a great song title?" I said, "No, but 'Petty Woman' would." So I started playing the guitar and he was slapping the table for drums. That was the conception, and by the time she got back – which was about 40 minutes – we had the song." (Source: quote from Roy in "Dark Star: The Roy Orbison Story")
Whether this was intended to be such a high point for a career, I don't know and actually, presume not. But the record must have given Roy some satisfaction in that it combined the apparent simplicity of something like Dream Baby with the underlying structure of one of his big ballads, and it rocked. The fact that the public lapped it up – doubly so after the film starring Julia Roberts and Richard Gere – was almost a bonus.
This is another Orbison record which contains that relatively rare thing, a happy ending: the lady turns and walks back to him. However, there's a story associated with this which has her disappearing down the street until Fred Foster prevailed on Roy to change the wording and include a positive finale. Even then, given that the preceding monologue was all going on in Roy's head, the reason for her turning doesn't seem too apparent although Dave Marsh offers a reason, in that book:
"Nah, she came back for the same reason you did. That bass line's irresistible."
THE COMEBACK
Not Alone Any More (Wilbury Record Co. album, Traveling Wilburys Vol.1, October 1988)
At long last, a new Orbison song, not that he hadn't written any for some time, but there'd been little in the public domain, and not that he wrote all of this one: all of his new band mates chipped in but Jeff Lynne did most of it (according to Wiki). Regardless of its actual content, I always see this song as an acknowledgement that Roy had found some mates to kick a ball around with; he was no longer 'the loner' in Neil Young speak (though I should also log the fact that there was also a Roy Orbison The Loner appearing in 1966 on his second MGM LP, and it wasn't the same song). Of course, it doesn't mean that at all but it is still unlike the typical Orbison song in that he's the one who left her but who belatedly returns for a second bite only to find that "she's not alone any more". But she was the one who had been feeling all the deprivation of the typical Orbison song narrator.
You always said that I'd be back again
That I'd come running to you in the end
I freely confess that this track is present in the 15 as much for sentimental reasons as anything else. Arguably it's bettered by some of the tracks from Mystery Girl but this is the one that at the time, really put COMEBACK into my head in whacking great letters. (And I should apologise to David Lewis for the reuse of a selection from the ten in his excellent Wilburys' Toppermost.)
Roy's album Mystery Girl, for which work took place between July 1987 and November 1988, a month before his death, was released posthumously on 31st January 1989. For any reader who doesn't know it, I can happily inform him or her that it was an unqualified success. And that's not just my opinion, the critics loved it – AllMusic's Stephen Thomas Erlewine stated "it's designed as a graceful coda to a legendary career and, amazingly enough, it succeeds" – and the public went for it in a big way: #5 in the US Album Chart and #2 in the UK.
If you were to ask, were there elements of pastiche about the album, my answer would have to be yes. Without some evocation of the glory days at Monument, the album would have hardly had any reason to exist. However, the fact that the producers/arrangers – Jeff Lynne was responsible for approximately half of the tracks – have made guitars the principal backing instrumentation with strings used, but less frequently, unlike the constant orchestral presence at Monument, helps to reduce that temptation to constantly compare with the sixties records.
You Got It, first track on the album and first to appear from it as a single, was very clearly an attempt at pop singles chart success and …
You Got It (Virgin single, January 1989)
– it thus made total sense to raid Roy's back catalogue for any obvious tropes that might click with the punter and throw in other early sixties popular ephemera while you were about it. Tympani to give wide screen sonic appeal and lyrics that eased back on the angst but majored on the lurve thing and you never know, you might have a hit. And they did. But surely it wasn't something that would appeal to your writer?
Well it wasn't going to, I was going to go for Costello's Comedians with the Bolero echoes of Running Scared or the knowing title and rocking beat of the T-Bone Burnett produced (All I Can Do Is) Dream You, but that descending set of chords from the massed band round about a minute in (not a million miles from the one used in Not Alone Anymore), used again in a mid-song intermediate climax some 50 seconds later and aired again, of course to trigger the real climax, makes a mockery of good intentions.
A pastiche but a glorious pastiche and one that registered with an international audience; in addition to it going down well with the more obvious English speaking buyers, the record cracked the top ten in Austria, Belgium, Finland, Germany, Holland, Norway, Sweden and Switzerland.
The comeback section wouldn't be complete without one more number even if the fate of that number was to fall off the bottom of the fantastic/fascinating/fabulous fifteen:
"The screen door slams
Mary's dress sways
Like a vision she dances across the porch
As the radio plays
Roy Orbison singing for the lonely
Hey that's me and I want you only"
(Thunder Road – Bruce Springsteen)
"In the end it's that goose-bump inducing voice that endures. Does anyone who's heard it need to ask why Elvis Presley once called Orbison the greatest singer in the world?" (Article in "Entertainment Weekly" entitled Orbison's Last Dream, December 4, 1998)
FOOTNOTES
1. Ellis Amburn in his Orbison biography, talks about the opening night of Roy's 1963 UK tour when, in spite of being officially bill topper, Brian Epstein had persuaded him to take second spot, after which the Beatles would close the show.
"The cheering and screaming started with Running Scared and continued through the set. According to biographer Philip Norman, the Beatles were suddenly "deeply uneasy" about being top of the bill. As Orbison performed, chinless and tragic, the Beatles stood in the wings wondering how they would dare to follow him." At the conclusion of his act, Roy came backstage, but the crowd started yelling "We want Roy! We want Roy!"
Amburn also quotes George Harrison as saying:
"The audience was just enthralled with him. It was a very frightening thing to be behind the curtain waiting to follow Roy Orbison. He just killed them. We were in awe of him."
2. Roy Kelton Orbison was born on 23rd April 1936 in Vernon. Texas. His father, Orbie Lee, was an oil well driller and car mechanic. After several moves, 10-year-old Roy found himself in Wink, Texas; the small oil-based township was well to the west of the state, 195 miles from El Paso on the border with New Mexico. From an early age he was into music with initial influences coming from what was then called country & western. Among his early favourites was Lefty Frizzell, someone he didn't forget when it came to choosing forenames decades later in the Traveling Wilburys. In high school he formed a band called the Wink Westerners who were successful enough to get a weekly slot at station KERB in Kermit, Texas.
Circa 1955, Roy saw a performance by Elvis Presley in Odessa, Texas. With rock and roll incorporated in his act and an updated version of the Wink Westerners, rebadged as the Teen Kings, he cut a version of a song he'd got from a couple of college friends, (Wade Penner and Dick Moore) called Ooby Dooby, first at the Jim Beck Studio in Dallas, in December '55 and then in March the following year in the Norman Petty Studio in Clovis, New Mexico. As reported in the main text, the Norman Petty version was issued as a single by Odessa based Je-Wel Records. It was that record, used as a demo, which got Roy and the Teen Kings their contract with Sam Phillips at Sun after an earlier approach using the name of Johnny Cash, who Roy had met, failed.
A rerecorded Ooby Dooby was released on the Sun label in May 1956 and it gave Roy his first hit – #59 in the Hot 100, certainly not to be sneezed at. Three more singles followed but not a hint of more chart action. Whilst at Sun, Roy stayed in Sam Phillips' house with his girlfriend, Claudette Frady, who he married in 1957. Ray wrote a song about his lady entitled Claudette and managed to sell it to the Everly Brothers who recorded it as the flip of All I Have To Do Is Dream. Couple the royalties for that with the ones for So Long I'm Gone for Warren Smith and Down The Line for Jerry Lee Lewis, and it looked as if Roy had a career as a songwriter ahead (and I'm grateful to Dik de Heer for alerting me to the last two compositions). Consequently, he set off for Nashville and worked for a spell for song publishers Acuff-Rose reporting to Wesley Rose.
He made some singles for RCA and also started writing with Joe Melson, an acquaintance from his Texas days. According to Wiki, Wesley Rose introduced Roy to Fred Foster, founder and hands-on manager of Monument Records. Roy's third record for the label was Only The Lonely, for which Joe supplied those dum-dum-dum-dumdy-doo-wahs. The next year (or two or three or four) you might be reasonably familiar with. This was when the hits happened and they were seriously big ones. But after Oh, Pretty Woman in late summer 1964, sales started dropping off somewhat and Wesley Rose, acting as Roy's agent, negotiated a contract with MGM in 1965 instead of renewing with Monument.
On a personal front, Roy divorced Claudette for infidelity in 1964 but remarried her in December 1965. In June the following year, while both were out riding motorcycles, she had a fatal accident when a pick-up truck pulled out in front of her. In September 1968, Roy was touring the UK when he was informed by phone that his home in Hendersonville, Tennessee had burned down, and two of his three sons had died. In March 1969, he married Barbara Jakobs, who he'd met in the UK. In the eighties, Barbara took over as manager of Roy's career.
He stayed with MGM till 1973 releasing a lot of singles and what might have seemed like almost as many LPs. Sales continued to fall in the US though he did do better in other countries; he kept his head above water in places like the UK and Australia up to 1969 approx (particularly with Penny Arcade in Oz). Peter Lehman comments that Orbison just seemed to "disappear" (my word) from 1966 up to his comeback. And the comeback when it did arrive was anything but a big bang.
Wiki records the following: a compilation of Roy's hits reached the #1 spot in the UK in '76; Linda Ronstadt recorded Blue Bayou in '77 and Don McLean cut Crying in '80 with both hitting the US Top Ten; in '81, Roy cut That Lovin' You Feelin' Again with Emmylou Harris and it won a Grammy; Van Halen cut Oh, Pretty Woman in '82; there was also a more controversial variant entitled Pretty Woman from rap group 2 Live Crew in 1989 which resulted in Roy's publisher Acuff-Rose suing. Also, controversially, in 1986, David Lynch included In Dreams in his film Blue Velvet without permission: "the song served as one of several obsessions of a psychopathic character named Frank Booth (played by Dennis Hopper)." (Source: Wiki)
1987 was a busy year for Roy. He recorded Crying with k.d. lang and won another Grammy with it. He was inducted into the Nashville Songwriters Hall Of Fame and the Rock And Roll Hall Of Fame (by Bruce Springsteen). He cut a song called Life Fades Away along with Glenn Danzig and it was featured in the film Less Than Zero. Early work started on the album Mystery Girl. Perhaps of most significance during the year was the concert filmed-and-aired-on-TV, entitled Roy Orbison And Friends: A Black And White Night. The "friends" included Springsteen, Jackson Browne, Elvis Costello, T-Bone Burnett, Tom Waits, Bonnie Raitt, Jennifer Warnes, James Burton and k.d. lang.
In 1988, work continued on Mystery Girl, and the Traveling Wilburys were not only formed, but they released their first album (in October).
Those were merely the highlights.
Roy died of a heart attack on 6th December 1988.
3. If I've disappointed Orbison fans by including very little from his days at MGM I apologise. While I don't agree with broad brush statements along the lines of that portion of his output being inferior to the Monument records, it can't be denied that the MGM records didn't sell in his home country and even in other countries (like the UK) acceptance of those records did gradually drop off. History hasn't really changed that or, to put it another way, nuggets from MGM which rival the Monument hits haven't been unearthed over the years. Consequently, in an essay which I knew before starting was going to contain a goodly number of words I felt that to add more on MGM just wasn't warranted.
4. The final line in the Nick Cave version of Running Scared is "And then you turned around and walked right out on me", which would be a better fit to the Orbison persona although as Peter Lehman has it, it's the build-up that's important, not the climax.
5. See below my observations on Peter Lehman's conclusions regarding the Orbison persona as portrayed in his songs and documented in his book, "Roy Orbison: Invention Of An Alternative Masculinity":
Firstly, to say that I get the impression that Peter isn't armed with a terrific amount of knowledge of the wider field of popular music within which Roy operated (and apologies to Peter if I'm wrong on this point), while he does state that country music is prone to display not totally dissimilar attitudes, I don't think he recognises the extent to which this occurs – even the titles give it away: I Will Always Love You, I Fall To Pieces, I'm So Lonesome I Could Cry, She Even Woke Me Up (To Say Goodbye), not to mention You Win Again and many more. Crossing over into black music, there is this little thing they call the blues – remember "country music, white man's blues – and it didn't go away even when they mixed in some gospel and called it soul. In addition to Jackie Wilson – correctly credited by Peter – there were folk like James Brown (well before he got into funk) and Bobby Bland over in Houston, crying his eyes out on most records and he even had Joe Scott doing the orchestral thing behind him.
That went on a little but the second thing I was going to say was that Roy had to make a living. When he found something that worked, he stuck with it. Many artists are just as insecure as the average Joe financially; the hits could dry up just like that and, in a sense, they did for Roy, although it was a relatively gentle descent.
6. If there's any reader wondering why, in the section on covers, I didn't mention Roy's version of Distant Drums, a number that is strongly associated with Jim Reeves, that's because it wasn't. Gentleman Jim's version was released posthumously in 1966, and became a #1 hit in the UK, while Roy's take was released in 1963.
7. The 706 Union Avenue website referred to in this post is now archived (as of November 2022) at this destination.
8. I couldn't resist the clip of Roy with a "torch and twang singer":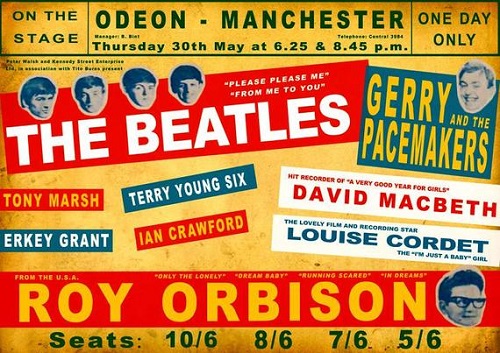 Also – from the official Roy Orbison YT channel:
Monument Concert 1965
The Ed Sullivan Show, July 1965 (brief clip)
Roy Orbison biography (AllMusic)
Dave Stephens is the author of two books on popular music. His first, "RocknRoll", is described by one reviewer as "probably the most useful single source of information on 50s & 60s music I've come across". Dave followed this up with "London Rocks" in 2016, an analysis of the early years of the London (American) record label in the UK. You can follow him on Twitter @DangerousDaveXX
TopperPost #939