Willie Clancy
Track
Album
Ask Me Father /
Carry Me Down To Carlow
Irish Jigs, Reels & Hornpipes
Hornpipe
Irish Jigs, Reels & Hornpipes
Rakish Paddy
The Gold Ring
An Bhean Tincéara /
The Ravelled Hank Of Yarn
The Gold Ring
The Bold Trainer-O
The Gold Ring
The Templehouse /
Over The Moor To Maggie
The Minstrel From Clare
A Spailpín a Rún
The Minstrel From Clare
The Dear Irish Boy
The Minstrel From Clare
Dark Lochnagar
The Gold Ring
The Rolling Wave
The Gold Ring
Contributor: Andrew Shields
In a previous Toppermost I looked at the career of the great song collector, folklorist and uilleann piper, Séamus Ennis. During his lifetime, Ennis' only genuine rival for the title of the best living piper in Ireland was his close friend Willie Clancy. While the two men came from very different backgrounds and pursued contrasting career paths, their keen enthusiasm for Irish traditional music and their shared interest in passing down the lessons they had learned from the older pipers of their day played a critical role in keeping interest in the instrument alive. Indeed, this proved critical for its future survival as this was at a time when it did not have anything like the popularity it has today.
This is reputedly an illustration of Garrett Barry (1847-1899), the blind uilleann piper from Inagh, County Clare
Through his father, Gilbert, Willie Clancy also had a direct connection to the music of Garrett Barry, the great nineteenth century travelling piper. As Colin Harper and John McSherry point out in their excellent book, "The Wheels Of The World: 300 Years Of Irish Uilleann Pipers", this was despite the fact that Barry "died nearly twenty years before Willie was born and nearly forty years before he took up the pipes". By continuing his legacy, however, Clancy provided an invaluable service to Irish traditional music.
In many respects, Clancy was born to be a musician. For example, his father was a talented amateur musician himself who played both the flute and concertina. He was also a talented singer, as was Clancy's mother, Ellen. The family's home was also a meeting point for the numerous other traditional musicians who lived in their local area around Miltown Malbay in County Clare. Later in his life, Clancy claimed that he had always been "surrounded by music". From an early age he had also heard stories from older people about "the travelling pipers … and the fiddlers". His father also continually impressed on him the importance of the music of Garrett Barry who he viewed, in Willie's words, as "the St. Patrick of music". Although his father did not play the pipes himself, he regularly played tunes which he had first heard from Barry. In this way, Willie built up a keen knowledge of Barry's repertoire, despite never having met him or ever heard him play.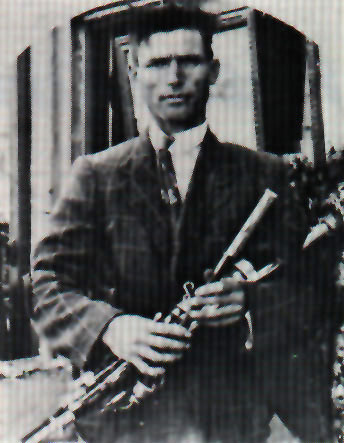 Johnny Doran
By the age of five, Willie Clancy had already begun to learn how to play the tin whistle and soon afterwards moved on to the flute. Despite his obvious abilities on both instruments, Clancy remained fascinated by his father's accounts of the special qualities of the pipes. As a result, when he heard the travelling piper Johnny Doran play them at the horse races in Spanish Point in County Clare in 1936, he was immediately hooked. With a friend, Martin Talty, he began to follow Doran around on his musical expeditions in their locality. Over time, Clancy persuaded Doran to become his first real mentor and teacher on the pipes. Despite his keen enthusiasm for the instrument, it remained too expensive for him to be able to purchase his own set. Eventually, Johnny Doran's brother, Felix, resolved this problem by giving Clancy an old and tattered practice set of his own.
Once he started playing, Willie quickly mastered the intricacies of the instrument and was soon widely accepted as an exceptionally talented piper. Unlike Séamus Ennis, who was able to concentrate for most of his life on his combined careers as musician, collector and radio broadcaster, Clancy found it necessary for financial reasons to combine his musical activities with regular paid work. Throughout the 1950s, financial necessity drove him to find work outside his native County Clare, first in Dublin and later in London where he worked as carpenter on the buildings.
Séamus Ennis
Unlike Ennis – who was more of a purist in such matters – early in his career Clancy occasionally played with céilí bands (usually as a flautist), most notably with the Tulla Céilí band who were then the best known group of its sort in Ireland. Such bands were usually made of amateur musicians and they often tended to play a rather ersatz version of Irish traditional music. Despite this, they offered Clancy an invaluable opportunity to hone his musical skills. After moving to London, however, he found himself among a group of Irish musicians who were far more attuned to both his musical ideas and his style of playing. This group included the excellent fiddlers, Michael Gorman and Bobby Casey, and the extremely original and unorthodox banjoist and singer, Margaret Barry. Together with these and other expatriate musicians, Willie Clancy began to make a name for himself playing in Irish pubs, particularly in Camden Town.
It was in these years that Clancy came to be recognised as one of the finest living pipers. This reputation only grew further in the years after his return to Ireland in 1957. From that time on until his death in 1973, Clancy combined a full-time job as a carpenter while also playing music whenever he had free time. In those years, his home in Miltown Malbay also became a place of pilgrimage for people interested in Irish music from around the world. Those who visited there were drawn both by his immense knowledge of Irish music and by what Harper and McSherry describe as the "gentle, playful, warm and philosophical nature of the man". The "playful" side of his character comes through strongly in the great clip at the head of this piece where he does some gentle 'slagging' (to use the Irish term) of an interviewer from German TV.
Before going on to discuss Clancy's career as a musician, however, it might be useful here to first say something about the nature of the uilleann pipes themselves as an instrument. They come from the same family as the Scottish bagpipes but there are significant differences between them. The most immediately noticeable of these is, perhaps, the fact that, with the uilleann pipes, the supply of air to the bag comes through an under-arm bellows rather than as with the bagpipes by inflating it through the mouth.
When playing the uilleann pipes, the elbow controls the bellows. Indeed, it is sometimes claimed that the name itself derives from 'uilin' or 'uile', the Irish words for 'elbow'. The Irish pipes are also significantly more complex than the other types of pipe instrument. For example, there are seven parts to the instrument: one chanter (on which the melody is played) and three drones and three regulators. The drones provide a solid base on which the wilder flights of the instrument can take place, while the regulators allow the piper to add harmonies and different rhythms to a tune. Generally speaking, the complexity of the pipes gives them a range and versatility with which the other forms of the instrument simply cannot compete. Also, in the words of Colin Harper, the music journalist, "in the hands of a master" the instrument can convey "an extraordinary emotional impact".
The complex nature of the pipes also means that they are an extremely difficult instrument to play. In consequence, the numbers of specialist pipers in Ireland has always been a comparatively small one and the ranks of the genuine masters of the instrument are even smaller still. In his own lifetime, for example, only Leo Rowsome from the older generation and the great Séamus Ennis of his own, could be considered as being in the first rank of pipers along Clancy himself. Among the factors which distinguished Clancy's playing was its relaxed and easy quality. However, it also had a compulsive rhythmic drive and propulsion to it when necessary.
His playing style also reflected the fact that he was a man very much at ease within the tradition from which it derived. Such was this ease, that Clancy also felt free to add embellishments/ornaments to the tunes which he played, rather than always repeating them in precisely the same style in which he had played them previously. As in jazz this willingness to improvise within set forms and to incorporate minor mistakes as part of a vital and alive type of music making, gave artists like Clancy the opportunity to express their own individual creativity while carrying on the traditions from which they had sprung. In this way, his own playing reflected his gentle, witty, laidback and occasionally melancholic personality.
In this respect, the selections here are designed to give an idea of the uilleann pipes extraordinary range, from the exuberance which Clancy could convey when he played fast tunes to the melancholy of his playing on slow airs. My first choice is a set of two jigs from the album Irish Jigs, Reels & Hornpipes, which Clancy made with Michael Gorman, the fiddler, during his London years. A characteristic feature of Irish traditional music is the way that musicians there often combine pieces in a manner which brings out their contrasts or similarities. The sudden changes in tempo and feel which result from these combinations also gives the music a 'lift' in a way which would be very hard to achieve otherwise.
The combination of pipes and fiddle was also a relatively unusual one although the above clip shows Clancy playing with another fiddler, Joe Leary, at the Fleadh Cheoil (a rough translation would be 'festival of music') in Kilrush in County Clare in 1963. Such was the virtuosity of the two men that they made the instruments seem a very natural fit. There is also a natural exuberance and vitality to both their playing which perfectly fits the upbeat character of these two jigs.
My other selection from Irish Jigs, Reels & Hornpipes, Hornpipe, is played by Clancy on his own. This is despite the fact that in "Wheels Of The World", Colin Harper and John McSherry state categorically that there is no 'solo piping' on the record. This is clearly incorrect and Clancy's playing here has a lovely relaxed and easy feel. While the hornpipe is unidentified on the record, Clancy subsequently re-recorded it as The Faithful Friend (along with another hornpipe, The Plains Of Boyle) and this later version can be heard here.
The next selection, Rakish Paddy, comes from a private recording of Clancy made at a friend's house in 1958. Clancy's style of playing was perfectly suited to this kind of relaxed and informal music–making and the pieces recorded that day rank high among his very best recordings. Of these outstanding recordings, the very best in my opinion is 'Rakish'. The uilleann piper and scholar of the pipes, Pat Mitchell, has described it as being "so magical" that "it transports us to the realm of the sublime". The reel itself serves as a perfect vehicle to demonstrate the remarkable dexterity and skill of his playing. It is also striking how Clancy feeds off the enthusiasm generated by the small group of people who were in the house at the time he recorded it.
The next choices, the two reels An Bhean Tincéara / The Ravelled Hank Of Yarn are also fine examples of the rhythmic drive and propulsion which characterised Clancy's playing. Like Séamus Ennis, Clancy was also particularly renowned for his playing of slow airs. Among the finest of these was The Bold Trainer-O which has the same tune as the more well-known song, The Green Linnet. However, Clancy had learned the air from his father, whose version of it was based on the less popular variant version. The lyric of it can be found here. As with the other slow airs he played, Willie's version has a haunting quality and a deep melancholy to it which makes it exceptional.
My next two selections come from the excellent album, The Minstrel From Clare, which Clancy made for the Topic label in 1967. Taken as a whole, the album represented by far the best all-round representation of Willie's skills as a musician produced during his lifetime. For example, it included a number of tracks which displayed his superb abilities as tin whistle player. Indeed, some commentators have suggested that he was an even better whistler than he was a piper. The two reels I have selected, The Templehouse / Over The Moor To Maggie clearly demonstrate the remarkable rhythmic dexterity in his whistle playing. (There is a good discussion of Willie's ability on the whistle here and also here.
The album features a number of tracks where Clancy shows that he was no slouch as a singer either. Although I have not included any of these, I strongly recommend that readers should check out his fine version of Erin's Lovely Lea.
My other selections from the album are two fine slow airs, A Spailpín a Rún and The Dear Irish Boy which Clancy plays with his usual skill. In both, he also frequently displays what Séamus Ennis described as his "penchant for sad, wailing nuances". The words to the songs (the first with an English translation) from which these airs derive can be found here and here.
In my opinion, though, Clancy's greatest ever playing on a slow air is on the next selection, Dark Lochnagar. Along with Seamus Ennis' Easter Snow and his Gentle Philip Fahy, this is perhaps my favourite uilleann pipe piece. There is a beautiful expressiveness to Clancy's playing on it which gives the piece a rare and haunting sadness and beauty. The Byron poem on which the air is based can be found here and here is the air itself.
The final pick, The Rolling Wave, is a very different piece of music which uses a kind of slippery time signature to suggest a feeling of perpetual movement. Again, his playing here shows both Clancy's masterly technique and his rhythmic flair.
Dark Lochnagar and The Rolling Wave were among the last recordings that Clancy made for the Irish television and radio service, RTE, in the years before his untimely death in January 1973. His passing brought an end to the career of one of the most important figures in modern Irish folk music. His contribution to the genre was, in many respects, immeasurable – both as an instrumentalist and as a preserver of a piping tradition from County Clare which he passed down to a number of his protégés, the most important of whom was the late great Liam Óg O'Flynn of Planxty. Along with this, there is the invaluable legacy of his recorded work, which is a hugely important store of Irish folk music in its own right.
Shortly after his death, a number of his friends combined together to found the Willie Clancy Summer School in his home town of Miltown Malbay. The school still continues today and fittingly has become one of the most important events in the Irish folk music calendar. If in the words of his friend, Junior Crehan, the "gap in the tradition" which was caused by Clancy's death can "never be filled", this nonetheless means that his great work will hopefully be carried on by each successive new generation of young musicians.
The Willie Clancy Memorial Sculpture in Miltown Malbay, Co. Clare
FOOTNOTES
Willie Clancy was born on 24th December 1918. I had hoped to have this piece ready for his centenary but unfortunately circumstances meant that this did not prove possible. In this almost centenary year, however, it is good to remember this modest unassuming man who was also a musician of the highest calibre.
I have listed the selections above as far as possible in chronological order although not all of Clancy's recording sessions have been dated. So if there are any errors here, please let me know.
For anyone interested in exploring Willie Clancy's career further, the superb book by Colin Harper and John McSherry, "The Wheels Of The World: 300 Years Of Irish Uilleann Pipers" is indispensable. The documentary, Cérbh É? Willie Clancy (a rough translation would be 'Who is Willie Clancy?'), which first appeared on Irish television is also well worth seeking out (it is in Irish but has English subtitles).
The excellent Irish radio documentary about Clancy, Lashings Of Music, can also be downloaded here.
The footage of Willie Clancy's funeral here shows the widespread respect there was for him all around the country and also gives a vivid window into the Ireland of his day.
The best choice for those beginning to explore his work as a piper is the 2CD compilation, The Gold Ring. This gathers together almost all of his work which was recorded by the Irish national broadcaster RTE but also includes many private recordings which were not previously available.
Willie Clancy (1918–1973)
The Irish Traditional Music Archive
In The Name Of Willie Clancy: a short film by Donal Dineen and Myles O'Reilly
Willie Clancy biography (Apple Music)
Andrew Shields is a freelance historian, who grew up in the West of Ireland and currently lives in Sydney, Australia. Along with an interest in history, politics and literature, his other principal occupations are listening to and reading about the music of Bob Dylan and, in more recent years, immersing himself in the often brilliant and unduly neglected music of Phil Ochs ….
TopperPost #759