Archers of Loaf

Matt Gentling, Eric Johnson, Mark Price, Eric Bachmann (l-r)
(Alias Records 1993 promo photo by Michael Lavine)
Contributor: Wayne Jessup
One of the savage ironies of the early 90's alternative nation explosion was the maniacal focus on Seattle, when there were regional scenes across the country every bit the equal, merely shy of the spotlight. The Fort Apache studio in Boston was a notable outpost, and further down the East Coast, Chapel Hill, North Carolina would soon come to punch above its weight musically, with Superchunk and Polvo waving the flag, along with our current subject, Archers of Loaf.
Riding the college radio wave, they essayed an idiosyncratic and satisfyingly noisy catalogue of four LP's, a masterful EP, and an odds and sods EP that shined a light on the depth of their work.
Archers of Loaf, (Eric Bachmann, Eric Johnson, Matt Gentling, and Mark Price), all hailed originally from Asheville, NC., but only became acquainted when they came together at UNC Chapel Hill, on the other side of the state. Their initial singles caught the attention of Alias Records (Yo La Tengo's pre-Matador home, as well as The Loud Family) and debut Icky Mettle served as their calling card, a raucous storm of noise leavened with favorites that would become the foundation of their live set for years to come. Album closer Slow Worm effectively dialed it back and pointed the way to their future sound.
Marking time between their first and second LP's, as bands do, they dropped an EP, but unlike marketplace satiaters beloved by labels everywhere, they unleashed what could be their masterpiece, entitled Vs The Greatest Of All Time, a brutal five song assessment of the record business that foresaw the coming arc of a culture.
Swerving major label attention to keep it under the radar for a bit longer, 1995's Vee Vee continued the noise parade and a burgeoning love affair with college radio, although the bookends of opener Step Into The Light and closer Underachievers March And Fight Song tipped their hand that a lot more was going on under the hood.
1996 saw them release The Speed Of Cattle, a collection of B-sides & oddities lifted by the inclusion of a powerful Peel Session appearance. While remaining on Alias, they rose to the challenge, partnering on a distribution deal with Elektra to drop their most fully realized LP to date, All The Nations Airports, where all the loose threads were woven together. Noise still had its place, but songcraft took over, and they delivered. Even the instrumentals, twangy Bumpo, and affecting closer Bombs Away, pretty much rule. Like DC's Jawbox, by maintaining a strict eye, they took advantage of a rip in the major label space/time continuum and somehow managed to do their (arguably) best work.
Incessant touring and an imploding corporatized indie scene led to burnout, and they tipped their hat and walked out the door with 1998's White Trash Heroes. A show near the end of the tour in Chapel Hill was released in 2000 as Seconds Before The Accident.
Reuniting on their home turf for a 2011 secret show at the Cat's Cradle in Carrboro, NC that proved a rousing success, they subsequently hit the road again. Spurred by a rerelease program from local label/now indie institution Merge Records, they reclaimed their legacy. Live album Curse Of The Loaf is taken from the 2012 comeback show that accompanies the documentary What Did You Expect?.
Fast forward to 2020, Archers of Loaf announced new music in the form of a single, Raleigh Days, a brisk and stunning return to their mid-90's glory sound, leavened with wisdom hard won. Even better, tour dates were announced. And then 2020 happened. Carrying on regardless, Archers of Loaf released another single, Talking Over Talk/Cruel Reminder, confirming that there was more to come. A May cover of The Rolling Stones' Street Fighting Man read the room correctly. With 2021 appearances at the Wicker Park and Hopscotch Festivals, (Chicago and North Carolina, respectively), it appears that Archers of Loaf is gearing up for big things in 2022.
| Track | Album / Single |
| --- | --- |
| Web In Front | Icky Mettle |
| Lowest Part Is Free! | Vs The Greatest Of All Time EP |
| All Hail The Black Market | Vs The Greatest Of All Time EP |
| Harnessed In Slums | Vee Vee |
| Greatest Of All Time | Vee Vee |
| Assassination On X-Mas Eve | All The Nations Airports |
| Chumming The Ocean | All The Nations Airports |
| Perfect Time | White Trash Heroes |
| White Trash Heroes | White Trash Heroes |
| Raleigh Days | Merge Records MRG724 |
Web In Front stands up there with anything from the early 90's indie takeover, a delightfully inexplicable ode to everything and nothing. Not long into Our Quarantine Days, during one of my daily walks, it surfaced on my phone in a random attack; an indie Banquo's Ghost, drilling my already rattled brain with a single throwaway line, "and there's a chance that things will get weird, that's a possibility." Preach on, brother. It turned out to be the psychic match that lit this whole piece …
Moving on to a double shot from their industry-bashing EP Vs The Greatest Of All Time, Lowest Part is Free! sets the tone, gifting us the immortal: "got nothing to say, gonna say it anyway". Closer All Hail The Black Market brings it on home.
From their second full-length Vee Vee, Harnessed In Slums fully realized their status as college radio favorites, and Greatest Of All Time continued their jaundiced scene assessment: 'The underground is overcrowded …' Indeed.
While the first two LP's served as a Petri dish of controlled chaos, All The Nations Airports found them expanding their scope and reach. Assassination On X-Mas Eve was the perfect crystallization of odd noise and their inherent gift of melody, and they could even tame the concept of moody piano ballad with Chumming The Ocean.
From their final LP White Trash Heroes, the effortless Perfect Time, while buried in the middle of the LP, stands as one of Bachmann's finest songs. The title track is a humble valedictory wave at the crowd that took them to the furthest edge of their sonic development, with the dominance of keyboards signposting Bachmann's future work with Crooked Fingers. Even the album's low-key iconic cover strikes a chord, a mere glimpse of which conjures up a jumble of faces from the past, life-affirming noise, and beer-soaked floors.
Coming from nowhere, the 2020 single Raleigh Days proved an unlikely bridge to the past, a fun house mirror image reversal of White Trash Heroes. Reinvigorated, our gang stands tall and, at this point, who the hell knows what the future holds. If you need to quickly sum up the 90's to someone who wasn't there, a copy of Nevermind will suffice, but if you need to explain what it was like to BE, in the 90's, then that's where Archers of Loaf comes in.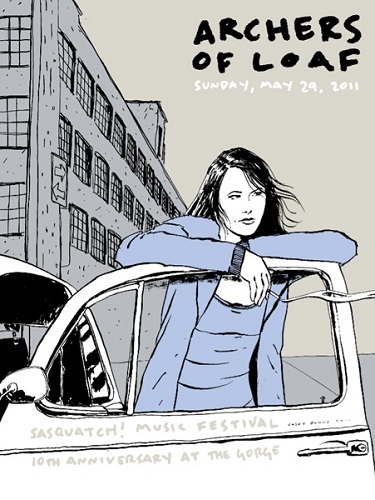 Poster by Casey Burns
Archers of Loaf official website
What Did You Expect? (documentary trailer)
Live Q&A With Josh Modell 2021(YouTube)
Live at Liquid Lounge, Norman, Oklahoma March 1994 (YT)
Live at Great American Music Hall, San Francisco (YT)
(Audio-full show) November 1998
Archers of Loaf biography (AllMusic)
Wayne Jessup (@waj1) can be found at The Owl Mag and Burned All My Notebooks. He has written on The Dream Syndicate, Mission of Burma, Fugazi, Spoon, Jawbox, Lucinda Williams, Afghan Whigs for this site.
TopperPost #1,009