Captain Beefheart
Track
Album
Sure 'Nuff 'n' Yes I Do
Safe As Milk
Tropical Hot Dog Night
Shiny Beast (Bat Chain Puller)
Click Clack
The Spotlight Kid
Ashtray Heart
Doc At The Radar Station
Moonlight On Vermont
Trout Mask Replica
My Head Is My Only House
Unless It Rains
Clear Spot
Suction Prints
Shiny Beast (Bat Chain Puller)
Electricity
Safe As Milk
Long Neck Bottles
Clear Spot
Veteran's Day Poppy
Trout Mask Replica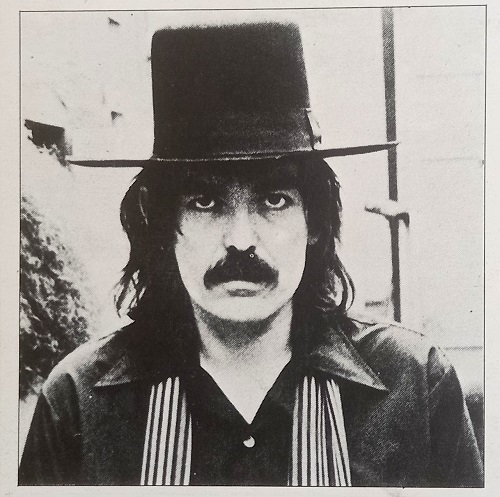 (back cover photo '2 Originals of Captain Beefheart' LP, Reprise 1976, design and photography by Seabrook, Graves, Aslett Associates)
Contributor: Simon Sadler
He was John Peel's favourite artist, a childhood friend of Frank Zappa and one of the most distinctive voices in rock and pop. Don Van Vliet adopted the name Captain Beefheart, took the blues and with a twist of avant-garde and his ever-shifting Magic Band turned out some of the most exciting and distinctive music of the 60s and 70s.
A child prodigy and by all accounts a precocious little thing, Van Vliet grew up in Lancaster, California and formed the first incarnation of the Magic Band in 1965, gaining a reputation as a fearsome live act and attracting the attention of A&M who paired them with producer David Gates (yes, that David Gates) to produce a brace of punchy, bluesy singles (check out their take on Diddy Wah Diddy on Youtube).
Released in 1967, Safe As Milk was a stunning debut album, perfectly capturing the band's heady mix of blues, psychedelia and soul. Sure 'Nuff 'n' Yes I Do opened that album, and as a bold statement of intent, and with killer slide guitar from Ry Cooder, was every bit as good as anything the British blues boomers could conjure up. With Electricity, Van Vliet showed off his best Howlin' Wolf impression on a mighty slab of theremin-soaked psychedelia.
Beefheart's next project was going to be a double album called "It Comes To You In A Plain Brown Wrapper", but as on many occasions in his career, label wrangles confounded the idea, though various elements of it would emerge over the following years on the Strictly Personal and Mirror Man albums. The Captain's next concept, though, was fully realised.
Mixing primal blues, free jazz, rock and Surrealist poetry, Trout Mask Replica saw Beefheart going further out than just about anybody in the contemporary music world. Sounding at first listen like random extemporisation, this album was in fact carefully crafted and shaped by Van Vliet and drummer John French acting as musical director, and with Zappa controlling things behind the decks. Beefheart had the band installed, some might say imprisoned, in a house for nine months, while the album was created, rehearsed and honed to its skewed perfection. Here we see two of the more conventional cuts from a sprawling double set. Moonlight On Vermont showcases the sheer power of Beefheart's vocals (he was well known for blowing out microphones), and also highlights the curious method of recording his vocals, without headphones and with only a playback through the studio wall for guidance. Veteran's Day Poppy sends out a strong anti-Vietnam War message, and features an almost proto-postrock coda.
Though Trout Mask and its similarly flavoured follow-up, Lick My Decals Off Baby, were both critically acclaimed, they sold next to nothing and by 1972 the band were on the brink of financial collapse. Van Vliet took the decision that he needed to make something more accessible, and initially this paid dividends with the release in quick succession of The Spotlight Kid and Clear Spot (available on CD only as a twofer). These albums saw a move away from the complex, polyrhythmic and bizarre, but without losing any of the power and musicianship of previous releases. Every great artist needs a train song and Van Vliet weighed in with Click Clack, driven by French's insistent rhythms. A simple, chugging beat also typifies the bluesy stomp of Long Neck Bottles, blessed with some fine harp blowing. A less frequently heard side of the Cap's work is exemplified with My Head Is My Only House Unless It Rains; a simple but beautiful example of love and longing.
The relative success of these albums then pushed the Cap down an even more commercial route, urged on by new management, releasing the below par Unconditionally Guaranteed. Frustrated with this direction, the whole Magic Band walked out on Van Vliet, forcing him to hastily assemble a new group. This became known as the "Tragic Band" and, despite being fine musicians, were saddled with playing the tamer fare from that album and its follow-up, Bluejeans and Moonbeams, both of which Beefheart subsequently disowned.
Out of contract and with no band to play with (having sacked the Tragic Band), Beefheart was on his uppers. Enter old friend Zappa, who took him with him on his Bongo Fury tour. This experience clearly rejuvenated the Captain's mojo as he came back to life with the powerful and diverse Shiny Beast (Bat Chain Puller). Tropical Hot Dog Night showcases a loose and easy going marimba-driven style, but welded to the Cap's menacing "meet the monster tonight" lyric, later appropriated by Beefheart devotee PJ Harvey. In contrast, Suction Prints is a frenetic instrumental highlighting just how taut and well-drilled the Magic Band were, the Captain's soprano sax trading licks with Bruce Fowler's trombone, while the slide guitars pound away relentlessly beneath.
Now rejuvenated, Beefheart somewhat ironically became something of an icon to the burgeoning punk scene, something his outsider attitude railed against, never more so than on the acerbic Ashtray Heart from Doc At The Radar Station. "Open up a case of the punks," he screams, "someone's had too much to think." Yet of course songs such as this would be influential on a new generation of primordial rockers from The Birthday Party onward.
And then, after the final broadside of Ice Cream For Crow, it was all over. Beefheart announced his retirement from music to concentrate on his painting and, apart from one or two radio performances in the early 80s, no more music was heard from the great man. He died in 2010, leaving behind a unique legacy of innovative and influential music.
Captain Beefheart Radar Station
Home Page Replica – info on Captain Beefheart
Captain Beefheart biography (Apple Music)
Simon Sadler is a lifelong music fan and unreconstructed vinyl junkie. Occasionally (i.e. with Stone Roses album regularity) he writes at his own blog here.
TopperPost #286