Design
| Track | Album / Single |
| --- | --- |
| Willow Stream | Design |
| The Minstrel's Theme | Design |
| The Jet Song | Tomorrow Is So Far Away |
| The Time Has Come | Tomorrow Is So Far Away |
| Love Is | Tomorrow Is So Far Away |
| One Sunny Day | Regal Zonophone RZ 3082 |
| Day Of The Fox | Day Of The Fox |
| If You Think About Me | Day Of The Fox |
| Wherever You May Go | In Flight |
| I'll Be Back Again | In Flight |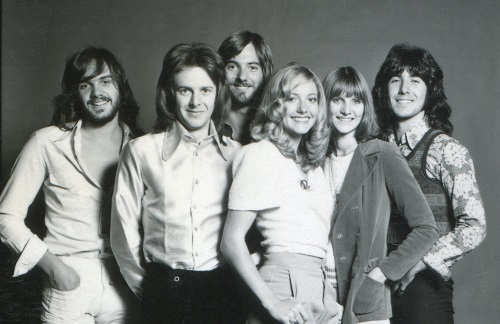 Design (l to r): Geoff Ramseyer, Jeff Matthews, Barry Alexander,
Gabrielle Field, Kathy Manuell, John Mulcahy-Morgan
Contributor: David Pearson
DESIGN have been tagged as the nearest thing we Brits ever had to the 5th Dimension. In the early 1970s, the six-piece vocal group from London created a unique fusion of soft rock with lush harmony vocals that has been described as "superlative, shimmery sunshine pop".
I've always loved vocal harmony groups – not just the high profile chartmakers like The Beach Boys, Four Seasons or Mamas & Papas, but all those others who never quite cracked the UK hit parade – Spanky & Our Gang, Harpers Bizarre, Cowsills, Happenings, Sunshine Company, etc. etc.
The music has come to be labelled now as 'sunshine pop' and was almost exclusively American – well, they have better weather than we do. But we had our own sunshine popmakers here on our own shores – a boy/girl band called Design.
The Design story began in December 1968. Tony Smith was a young songwriter who worked at the BBC Gramophone Library in London. He was seeking some backing singers for a demo session and enlisted his BBC colleague, John Mulcahy-Morgan and his friend Geoff Ramseyer, who were both members of a semi-pro rock group called Free Expression. He also asked Gabrielle Field, who brought along her best friend, Kathy Manuell. The two girls grew up close to each other in Welling, Kent, and went to a convent school together.
After Design was joined by Barry Alexander, a songwriter with the Beatles' Apple company, they all moved into a basement flat in Earls Court, so they could rehearse every evening after work. What was it like living and working together?
"We were brothers and sisters – a real family," says Gabrielle. "I don't remember many arguments, we were respectful of each other's space. We always put our music first and shared love and laughter. Falling asleep with wonderful guitar sessions going on seemingly all night are a vivid early memory."
Then came their first break. Adrian Kerridge from Lansdowne Studios heard their work and offered them a recording contract, signing them to his production company Motive Music International. Within a year enough material had been recorded for an album of (mainly) Tony Smith's compositions. Unusually the vocals were recorded prior to the backing musicians, as this was a way of preserving the unique vocal sound that the group had developed.
Motive had American contacts and as a result Epic Records in the USA offered the group a two-album deal and a $25,000 advance, something very unusual for a British group back then. Here in Britain, radio and TV performances began to build up their name. But then came a problem. Shortly before the album was released, Tony Smith was taken ill and decided not to continue performing, preferring to write and be around the recording studio. A replacement was found in the lead guitarist from Free Expression, Jeff Matthews, who had already been working with Design for some time.
The group started to appear frequently on television and over the next five years they would be on more than fifty TV shows, becoming the most televised group in Britain. They recorded three more albums, Tomorrow Is So Far Away, Day Of The Fox and In Flight, toured with Gilbert O'Sullivan, and starred in cabaret and at the London Palladium.
Then in autumn 1974, Gabrielle Field and Geoff Ramseyer decided to leave Design. The group continued as a four-piece, releasing a fifth album By Design, but it was never quite the same and Design finally broke up at the end of 1976.
Gabrielle looks back fondly now on her days with Design. "So many memories of late nights creating harmonies," she says, "early mornings in the studio or photoshoots, very long days together working on TV shows, sharing meals at home or on the road, evenings on stage in cabaret and concerts, meeting many fabulous people and talented showbiz characters."
Design's music has often been described as British sunshine pop and Gabrielle agrees that it sums up the group perfectly. "I think it's a charming description of that happy time when the world seemed full of hope and happiness and simplicity."
Tony Smith would relocate to France and is still writing and performing; Barry went into radio and then publishing as a writer and editor; Gabrielle settled in Australia, where she created a family act with her five children as pirates; Kathy continued to write and produce music and now lives in Malta; John moved to the USA and a career in the lighting industry; and Jeff would resume his career as a chartered quantity surveyor. Very sadly, Geoff Ramseyer died in 1975, only six months after leaving Design.
Since 2011 Barry has overseen a reissue programme of Design's first 4 albums, along with non-album single tracks and unreleased rarities. 2019 was the fiftieth anniversary of the group's first recording session in April 1969, and Market Square released a CD compilation, Children Of The Mist: The Best Of Design, containing the most popular tracks from their albums and some previously unreleased recordings and demos. All of this is lovingly put together by Barry, who also manages the Design Facebook page, regularly providing group members like myself with photos and memories from Design's past.
Design, in my humble opinion, never made a bad or substandard recording, so restricting my choice to just 10 tracks was challenging. In the end my selections all come from the Children Of The Mist compilation and all can be found on YouTube.
Willow Stream from their debut album Design was also their first US release. Variety magazine described the song, written by Tony Smith, as "a smooth flowing pop-rocker with an emphasis on 5th Dimension-like harmonies". The album would be the group's only US LP release, with one Italian website describing it as "the Holy Grail of soft rock".
The Minstrel's Theme also comes from that debut album and was written by Barry, who post-Tony Smith would emerge as the main songwriter within the group. He had penned it during his early days with Apple and was about his girlfriend "sweet Josephine, so fair and so serene". A lovely song, but by the time Design committed it to vinyl she had married someone else!
The Jet Song (see top clip) – this track from their second album Tomorrow Is So Far Away is a fabulous cover of a song by US outfit The Groop. In my view Design deliver a vocal tour de force with a punchy arrangement characterised by brass orchestration and vocal ba-bas in a classic slice of sunshine pop. It was their second single release (April 1971).
The Time Has Come, again from the second album and also written by Barry about his ex-girlfriend Josephine. A truly beautiful song with a wonderful string arrangement by Syd Dale that just gets you every time.
Love Is comes again from Barry's pen and is from that second album. A bright, upbeat number with a real positive vibe and wonderful counter-harmonies. And the lyric:
Love is a feeling of floating on air,
Love is the warm gentle smile that you wear,
Love is the way that you're always near.
One Sunny Day is a non-album single release from July 1973. John and Geoff sang lead vocals and the song, by Ed Welch, had a strong chorus. Like so much of their output it got good radio airplay and lots of good reviews, but again inexplicably, no chart success.
Day Of The Fox is Geoff's song, and he takes lead vocal on a jaunty folk-type piece that demonstrates just what a range of styles in which the group could sing. From their third album Day Of The Fox (1973).
If You Think About Me is also from Day Of The Fox. Once more some great uplifting ba-ba harmonies – Oh I didn't mean to hurt you and I still love you so. Again written by Barry.
Wherever You May Go comes from their fourth album In Flight (1974). Although Barry was the main songwriter, John Mulcahy-Morgan contributed some fine songs and this is one of them, a great up-tempo number.
I'll Be Back Again is yet again one of Barry's tunes and comes from the fourth album In Flight. Gabrielle and Kathy take lead vocal on this one and it's a gorgeous song and performance. Now I need you near, I'll be back again.
Why Design never troubled the charts is as baffling as it is unfair.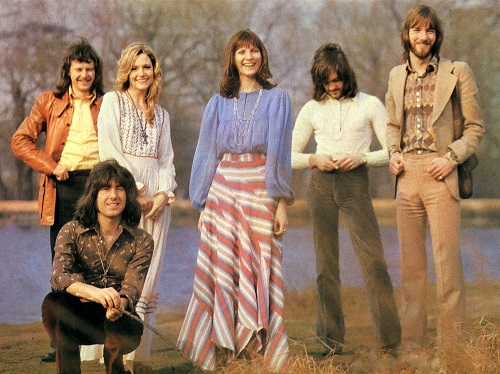 David Pearson has lived all his life in Glasgow. Married with two sons, he was an English teacher for 40 years. Since retiring in 2011 he has written a number of items for a range of publications, including 55 Life, Northern Echo, Record Collector and Shindig. Lover of 60s/70s pop, especially anything with a strong harmony sound.
Photos of Design on this post were taken for promotion purposes and are featured uncredited on the group's official website and posted here with permission.
TopperPost #891