Dr. Hook
| Track | Album / Single |
| --- | --- |
| Sylvia's Mother | Doctor Hook |
| The Cover Of "Rolling Stone" | Sloppy Seconds |
| Only Sixteen | Capitol 4171 |
| A Little Bit More | Capitol 4280 |
| Sharing The Night Together | Pleasure & Pain |
| When You're In Love With A Beautiful Woman | Pleasure & Pain |
| Better Love Next Time | Sometimes You Win |
| Sexy Eyes | Sometimes You Win |
| Years From Now | Sometimes You Win |
| Baby Makes Her Blue Jeans Talk | Players In The Dark |

Capitol Records 1979 promo photo l-r: Jance Garfat, Billy Francis, Rik Elswit, John Wolters, Ray Sawyer, Bob Henke, Dennis Locorriere – photo Tom Hill
Contributor: Calvin Rydbom
In the category of bands that started out as a bit of a novelty act with some acoustical ballads, then moved into easy listening and country rock before ending up as a disco-influenced soft rock band, it's fair to say Dr. Hook and the Medicine Show stands at the top of the mountain. Really one of the only ones who ever tried to climb that mountain, actually.
I have no plans on trying to make the argument Dr. Hook was a great, ridiculously talented band full of first class musicians who never got their due. No, but they were a group that was a lot of fun, put out some wonderfully catchy tunes that are the very definition of ear candy. Between 1972 and 1982, they charted ten times in the US and UK Top 40s, with six top ten singles in each.
Somewhere around 40, I stopped being the pretentious music snob of my youth and began to appreciate god solid pop fun. Well, maybe it took till I was 45. But regardless, Dr. Hook is good solid pop fun. And more power to them for being so.

(as featured on Dominique Petersen's Dr. Hook Facebook Fan Page)
Dr. Hook started when the two southerners who had played together in a band called the Chocolate Papers (above), moved to New Jersey. And they quickly talked a member from their first band into joining them. They soon met bassist, New Jersey native and future primary vocalist, Dennis Locorriere, there.
One of the southerners, Ray Sawyer, had been in a serious auto accident in 1967 in which he had lost his right eye and chose to wear an eye patch ever since. Another one of the southerners, George Cummings, had Captain Hook of Peter Pan pop into his head, and "Dr. Hook and the Medicine Show – Tonic for the Soul" went on the fliers for their first gig. Of course, that caused fans to assume Sawyer was Dr. Hook, but over the years, the band always pointed people to their bus driver when they asked who Dr. Hook was.
They met Ron Haffkine, their long-time producer and manager, and Shel Silverstein, who wrote some of their early hits, while working on the film Who Is Harry Kellerman And Why Is He Saying Those Terrible Things About Me?. Actually, Haffkine heard their demo and decided they were the group he wanted for the soundtrack, as he was the film's musical director. He got them a meeting with Clive Davis, where at least one of the band members jumped on and danced on Davis' desk. Davis signed them anyway, and the band was off and running.
The year 1972 provided a fast start for the band with two albums full of Silverstein songs. The first album, Doctor Hook, featured Sylvia's Mother. Which ranks right up there with Jim Croce's Operator as one of the truly exceptional 'phone calls turned into song' efforts of the era.
The second album, Sloppy Seconds, led with The Cover Of "Rolling Stone", the biggest hit among their songs that brushed up against being a novelty. They actually got the cover of the Rolling Stone that year, albeit as a caricature, and the magazine didn't actually put their name on the cover. In was a massive US hit, but the BBC refused to play it because of advertising restrictions, so CBS records set up a phone line for people to call in and hear the song.
The band then has a couple lean years, as well as a couple lineup changes before going forward under the leadership of Locorriere and Sawyer instead of the departed Cummings.
It took three years for them to get back on track with a cover of Sam Cooke's Only Sixteen, which was yet another song got banned by the BBC. They quickly followed up with another comeback single, A Little Bit More. At this point, Silverstein was gone and they had changed from a band whose songs were written by a cartoonist to a solid soft rock outfit. Which was good as their third and unreleased fourth albums were pretty dismal. But this change in direction really didn't work, or last, at least in the long term. So, they changed course yet again and found themselves a very popular disco influenced pop band from 1978 to 1982.
Sharing The Night Together and When You're In Love With A Beautiful Woman from the album Pleasure & Pain cemented their place as a go-to band for romantic tunes you could dance to at the club. Sharing The Night Together still gets a lot of couples on the floor slow dancing. It is a perfect song from the era.
They stuck to that format, attempting to duplicate it on the next album, Sometimes You Win. Better Love Next Time and Sexy Eyes are good songs for the genre, and certainly highlights for the band but not as good as the previous album's best. It's as if the group always led with their very best stuff when they changed course.
I should probably stop for a second and own to the obvious. This Toppermost has read like a tracklisting for a Dr. Hook Greatest Hits album, which, as we all know, usually isn't the same thing as a band's best work. Well, the truth is the band was an out and out singles group whose albums really never lived up to the one or two best songs on each release. Haffkine, who was still producing and managing the group at this point, had an ear for what would be a hit, and the band's singles, and hits, were usually far and away their best songs.
I mention this now because a third song from Sometimes You Win is the first song on my list not to at least sneak onto the charts, that being Years From Now. It's a bit more serious lyrics-wise than most of their songs, and Locorriere's vocal was spot on. You could tell it was not meant to be a frivolous song as the video had Locorriere singing the tune while sitting in a chair next to a roaring fire. Early 1980s video were not known for their subtlety.
A couple years later they peaked one last time with a much more up-tempo tune called Baby Makes Her Blue Jeans Talk. The entire video had Locorriere and Sawyer walking together, actually following the young lady who the track refers to – again not subtle – and sharing the lead vocals. This seems somewhat ironic as it was their last hurrah together. Sawyer left the band shortly after, and it broke up a year or two later.
At that point, Locorriere owned the band name, and although he released half a dozen solo albums, he often toured as The Voice of Dr. Hook or Dennis Locorriere Celebrates Dr. Hook. From 1988 to 2015, Sawyer also toured as Ray Sawyer of Dr. Hook or Dr. Hook featuring Ray Sawyer, as he was granted permission to use the name in that manner. Although when I saw him in a free festival setting around 1988-1989, he was billed as just Dr. Hook. For a short time, he was joined by Billy Francis, the third member of the band who stayed from the first album to the last and the only band member who conclusively danced on Clive Davis' desk.
Unfortunately, Francis passed in 2010 and Sawyer in 2018. Locorriere is actually the only member of the final lineup of the band from 1985 who is still alive. He has been struggling with health issues for a few years but claims to be taking his version of Dr. Hook on the road again someday.
At the end of the day, Dr. Hook had over 60 Gold and Platinum singles and a Number One single in 42 countries.
Which if you catch lightning in a bottle just right, while recording some really catchy ear candy level songs, can happen.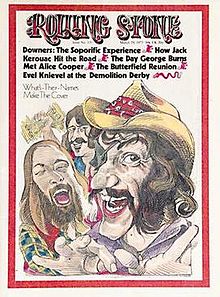 RS 131 (March 1973) – "What's-Their-Names Make The Cover"
Ronja's Dr. Hook YouTube Channel
Dr. Hook biography (Apple Music)
This is Calvin's 50th post for this site. His latest book is "The Akron Sound: The Heyday Of The Midwest's Punk Capital". He is the vice-president and archivist of the "Akron Sound" Museum and vice-president of freelance archiving firm Pursue Posterity. He has published a number of music-related articles and was elected to the Society of American Archivists steering committee on recorded sound before being promoted to website liaison. Calvin has written on many artists for this site including Gene Clark, Nanci Griffith, Billie Holiday, Charles Mingus, Max Roach, Thelonious Monk.
TopperPost #873