Ernie K-Doe
| Track | Single / Album |
| --- | --- |
| Make You Love Me | Minit 604 |
| There's A Will There's A Way | Minit 604 |
| Hello My Lover | Minit 614 |
| Mother-In-Law | Minit 623 |
| A Certain Girl | Minit 634 |
| I Cried My Last Tear | Minit 634 |
| Hey, Hey, Hey | Minit 645 |
| Here Come The Girls | Here Come The Girls |
| Back Street Lover | Here Come The Girls |
| Jump Into Your Love | Syla EK-120 |
DAVE STEPHENS' NEW ORLEANS SCENES #6 – ERNIE K-DOE
Ernie K-Doe wasn't the best singer in New Orleans. He wasn't the second best singer. He wasn't the third best … well, you can see where I'm going. Ernie could carry a tune though and there are those who would say that he was the biggest personality in New Orleans. In later years he called himself the Emperor of the World. In the forward to Ben Sandmel's well-received biography of the man, "Ernie K-Doe: The R&B Emperor of New Orleans", renowned music writer Peter Guralnick says very little about his music but states: "K-Doe lived in a rich tradition of grandiosity that encompasses … Rabelais, Don Quixote, and Tristram Shandy".
I'll try and say something about the man's music over the paragraphs that follow. While Ernie wasn't quite up there with Louis Armstrong and Fats Domino as one of the three musical legends of the Big Easy – something that Ben Sandmel (in said book) reports that he used to claim – he, with a bit of help from Allen Toussaint, made a more than significant contribution to the New Orleans music scene. In May 1961, his record Mother-In-Law hit the number one spot in the US Hot 100. This was something that Fats Domino and Little Richard, two of the giants of rock and roll and R&B who recorded in New Orleans, never achieved.
Ernest Kador was born in New Orleans on 22nd February 1933. His father was a Baptist preacher so early experience in black choirs like the Golden Chain Jubilee singers and the Zion Travellers was virtually a given. For a spell – 1950 to '54 – he lived with his mother in Chicago and that's where he first started singing in clubs in a secular style. On return to New Orleans he formed a group, the Blue Diamonds, with himself on lead. They made one record: Honey Baby/No Money. The A-side was fairly typical medium tempo New Orleans fare with prominent piano but with a doo wop overlay. Ernie wrote both tracks under the name E. Kado. His first solo outing on record came via Bumps Blackwell, the A&R Man for Specialty Records, who spotted him performing in Club Tijuana in New Orleans. One single followed in late 1955 with tracks Do Baby Do and Eternity. They're both on this clip with the slower side of the pair, Eternity, first. Composer credit for the two sides was given to E. Kador. No success came from the single so Specialty dropped Ernie but three further tracks were cut at the sessions which produced the single and these eventually emerged on a mixed artists New Orleans comp called Lay That New Orleans Rock 'N' Roll Down in 1988. (source for much of the information in this paragraph: the Blackcat Rockabilly Europe article on Ernie)
Things then went quiet for Ernie for a few years until Ember signed him in early 1959 and another solitary single emerged coupling My Love For You, the slow side, with Tuff Enuff, an up tempo jumper. Slightly strangely the record was credited to Ernie Kado which would seem to be a bit of a backwards step in terms of recognition; on the writing side he got co-credits on both this time. Later the same year he signed a contract with the new Minit label which was looking around to find artists to record. Minit had also signed Allen Toussaint, a young but precocious talent, to be the label's house producer. The combination of Toussaint and K-Doe (as Minit owner Joe Banashak renamed Ernie since he thought it was easier to pronounce) was to go on to be a major part of the Minit success story.
Minit 604 was actually the third single released by the still very young label and in addition was probably the first to feature Allen Toussaint as producer and arranger – for the rationale behind these statements, see the footnotes. The artist name was "K-Doe" – I've no idea why his first name got dropped – and the tracks were Make You Love Me and There's A Will There's A Way. The first opens with what I firmly believe is a "hi, this is me" musical statement from Allen (aligning with my theory that this is his first Minit production). It only lasts 5 or 6 seconds but involves both piano and horns and it's so delightful, and technically satisfying, that I find myself stopping the clip and pushing it back to the start every time I go back to the number. In a sense almost anything after that intro would have been a disappointment but the rest of Make You Love Me barrels along like a fast rhumba with the brass section as crisp as ice but with a warmth (and humour) that totally belies the simile. And Toussaint is so mean as to not repeat his opening so you just have to listen to the track again.
There's A Will There's A Way is a complete contrast. This time the horns have that quality of indolence that characterises some of the best records from the Big Easy. And they're everywhere, almost drowning out Allen who's very much got his Ray Charles-in-church hat on rather than the Professor Longhair one (though I hasten to add that those horns shift this away from typical Charles territory). This is gospel and blues coming together and Ernie handles it very well even letting out a James Brown screech at 1:59. And you did guess correctly, the full title line reads "Wherever there's a will, there's a way" (my comma, it isn't on the record).
I haven't always been so very good
Babe, I haven't done the sweet little things I should
That single displayed two of what we later would recognise were Allen Toussaint tropes: his own piano work, sometimes quirky, sometimes the last word in funk but always interesting, and the usage of the band's brass section, almost invariably done with more imagination than typical pillagers of horn charts from Fats Domino records. The A-side of Ernie's second Minit outing, Hello My Lover, gave us trope number 3, his usage of backing vocalists. Before listening to it, spare a minute or so to digest Huey "Piano" Smith's High Blood Pressure from less than two years earlier. Allen had picked up a lot from Huey; usage of support vocalists sometimes like extra instruments was just one of a number of attributes which appeared on Smith records. While you're about it note also the chord sequence which turns up again in Hello My Lover …
… but K-Doe and Toussaint weren't just cribbing. For a start that sequence appears all over the place and was particularly popular in New Orleans – Make You Love Me uses it too but you're distracted by the different rhythm – but the whole approach is different; this is Crescent City soul rather than a fun-packed easy rolling dancer.
I can't leave this single without mention of the flipside. ˈTaint It The Truth was another early soul ballad and more akin to the sort of thing that Ray Charles was doing in his Atlantic days and Ernie, whilst not a Brother Ray, still delivered it well. This one would have made the ten but got edged out. Both songs, incidentally, were written by Toussaint.
That usage of backing vocalists was extended further on Mother-In-Law where fellow Minit artist Benny Spellman was called in to provide a bass line in a not dissimilar manner to performances from the Coasters. Given that this was at least a semi-comic song – heaven forbid it was totally serious – perhaps the production was intended as Allen's tribute to composers and producers Jerry Leiber and Mike Stoller for the Coasters.
The worst person I know
(Mother-in-law), mother-in-law
She worries me so
(Mother-in-law), mother-in-law
If she leaves us alone, we would have a happy home
Sent from down below
(Mother-in-law), mother-in-law, (mother-in-law), mother-in-law
(With the bracketed phrases being the ones delivered by Spellman)
While that record was by a long chalk, Ernie's biggest and best-known number, UK readers might know another track from him better. The A-side of his Minit single #5, A Certain Girl, was the source for one of the pair of covers which formed the Yardbirds debut disc released in May, 1964. It was a decent record but the harmonica/guitar approach effectively eliminated those traces of the Big Easy which were all over the original, particularly the bounce of the vocalists including a bass man (limited to a scathing "Nohhh!") who probably wasn't Spellman this time – the two were daggers drawn because of Benny not getting any credit on Mother-In-Law.
In a sense it's a shame to apply analysis to such an enjoyable record – and feel free to skip the next chunk – but it's interesting and, for me, important in terms of what happened when and who got what from where. The first line of the song, which melodically is then repeated, consists of four parts:
There's a certain girl I've been in love with a long, long time (Ernie)
What's her name? (backing chorus)
I can't tell you (Ernie)
Nohhh (solitary backing vocal)
This is call and response to a quite sophisticated degree and could also be viewed as a multi-part riff. The effect is multiplied by the differing tones deployed by the vocalists and the percussive effect of parts of the phrasing. If you were to replace some of the vocals with instrumentation then you wouldn't be a million miles from the sort of thing James Brown started doing later in the decade. They called it funk when he did it. More on this later.
The flip was something different again (and where have I said that before?). Slightly reminiscent of some of those belting ballads from the forties and fifties, preferably with crying or tears in the title – We'll Meet Again comes to mind though Vera holds the tears back with admirable Brit stiff upper lip. Mind you, Ernie is telling himself that's he's getting over it – Now it's all over, it's all in the past, no more crying for me at last to fruity trombone backdrop– and no one seems particularly unhappy about life, they could even be marching along Bourbon Street. I Cried My Last Tear coupled with A Certain Girl is, for me, Ernie's greatest double sider, with Allen's name – or rather, Naomi Neville, his mother's maiden name – appearing against both songs.
I said there would be more on the multi-part riff thing. The track with the minimalist title Hey, Hey, Hey which appeared in '62 was a development of the same. Depending where you start counting, the first line (repeated melodically but not quite lyrically) has up to six parts with Allen's piano making the final contribution. As an extra delight we also get Ernie duetting with the piano on the wind-up line.
In 1963, Minit was sold to the Los Angeles based indie, Imperial Records. Ernie switched to another Joe Banashak label, Instant, and a couple of singles were released. The four tracks displayed broadly the same characteristics as his Minit output; my favourite of the bunch is Reaping What I Sow, a self-penned soul ballad from spring '64, on which Ernie's restraint is both admirable and surprising, and I say surprising in light of only the occasional slow outing on Minit (and I would plead guilty to selecting such numbers instead of the jumpers of which there were a preponderance).
His next port of call was Duke Records out of Houston, Texas, where he stayed from early summer 1964 up to 1969. The Blackcat Rockabilly article on Ernie characterises much of his post Minit output as follows: "After the good times at Minit had run out, Ernie started a long love affair with soul music (on Instant, Duke and Janus), forsaking his individual New Orleans style for the latest soul sounds". While I don't agree with them re his records for Instant, and the one I drew attention too was atypical, they are spot on in terms of his Duke performances. Either he was attempting to emulate name soul singers, or Don Robey, the notoriously hands-on label owner and often producer, was telling or even ordering him to, and Robey was known for getting his way:
You want Wilson Pickett, try Ernie's Little Bit Of Everything from '65.
For James Brown, try Later For Tomorrow, from early '67, a fine soul blues ballad akin to some of the very early Brown output – the pleading starts at about 1:15 in.
Or, Bobby Bland, well at least the arrangement isn't a million miles away from the ones that Joe Scott created for Bobby at this label of course: How Sweet You Are from '68 – Ernie made a good attempt to replicate the big man but still came second.
Later For Tomorrow and another single, (It Will Have To Do) Until The Real Thing Comes Along, for which the only clip on YT is faulty, achieved lowish R&B Chart positions but that's all that resulted from a quite long run of singles on Duke. I've sampled everything I could find on YouTube from the Duke days, and several tracks weren't there indicating either lack of interest or rareness of the source singles, and although he was approximating the broad sounds with good stylistic wraparounds from the label's production team there was something missing; or to put it another way, if he was aiming to be a major player in the soul scene, these tracks didn't prove that the ability was there. Hang on to that thought because the possibility also existed that Duke were not able to deliver their end of the process of record creation.
In 1970, Ernie was reunited with Allen Toussaint and an album was released on Janus entitled, unimaginatively, Ernie K. Doe. It received little critical attention at the time and the Blackcat Rockabilly article referred to earlier states, in relation to this album, that "the old spark was missing". Jeff Hannusch in his otherwise excellent Offbeat feature on Ernie (see footnotes) talks about simplicity giving way to "boring and complicated arrangements". However, a retrospective visit to Ernie K. Doe by the AllMusic critic Jason Ankeny delivers an entirely different opinion. In his words it's a "lost classic of New Orleans R&B". I'm with Jason; I was totally unaware of the set before embarking on this post but I'm now a total convert. I'd warn that its availability is a bit of an issue – see footnotes – but the ten tracks it contains are included on the 2xCD Here Come The Girls set as tracks 14 to 23 on the second CD (and this set is on Spotify and is highly recommended).
Proof? Take a listen to a few of the tracks: savour the country soul of Way Back Home (Solomon Burke or Merle Haggard could have sung this song), the Stax or Hi style deep soul of Whoever Is Thrilling You (Is Killing Me) or the laid back funk groove of Fly Away With Me, and I haven't selected any of these – but could have.
No, the first of my two picks from this fine album is Back Street Lover, a gumbo of Memphis soul, funk and New Orleans. The latter is in relatively short supply on this set but after the broad scenario of this tale of infidelity is laid out in the stanzas below, in come those horns, lazy and sharp at the same time. How do they do that? (Thank you Des Lynam)
There's a man over there, huh
He's your back street lover, honey but I don't care
Just treat me right when I'm around
And keep your back street lover on the other side of town
There's a track in the set that you just might have heard but not been aware of the source and there's no way I could have left it out of my picks. Easily the most upbeat number on the album, Here Come The Girls was selected for use in a telly ad by Boots in the UK in 2007. With Ernie getting randier by the second, this one is in marching mode. Check out the middle eight:
I can live without coffee, I can live without tea
And I'm livid about the honeybee
I'm not a fillet steak
I can leave or take
But the girls are part of me
All the tracks from Ernie K. Doe were written by Allen Toussaint and he was i/c production and arrangement of course. Although not credited, it is believed that it was the Meters who provided back-up throughout the album. Unfortunately, other than the person who belatedly gave Ernie some publicity via the Boots advert nearly four decades after the event, very few people bought the LP and it sunk without trace.
During the seventies and the eighties, with his popularity on the wane apart from a spell starting in '82 when he hosted an R&B radio show and his eccentric performances attracted a level of cult fame, Ernie took increasingly to the bottle. In 1995, he met and subsequently married a lady called Antoinette Fox who was a long-term fan. She managed to sort out his drinking issues and together the pair took over a run-down club which they renamed the Mother-In-Law Lounge. He also started making records again after a long spell away from the industry.
A minor problem with the later records from the Mother-In-Law man is that they're difficult to pin down in terms of dates. In the 45cat discography the last single to get listed with a date is a rerelease of A Certain Girl in '84, those that follow don't have dates alongside, and the Soulful Kinda Music discography doesn't list any singles at all after '76. Discogs has a smattering of late dates but also a load of 'unknowns' in the date column. Discogs also omits one that does appear in 45cat and, for me, it's a record of some interest. It came out on the tiny Syla Records, probably in the nineties. The artist listed was Mr. Ernie K-Doe – their words – and the tracks were Jump Into Your Love and (the rather explicit) Do You Want Some. The area for composer was left blank. This is the A-side; the flip doesn't dial down the ferocity content.
Very limited lyrically, indeed the impression given is that much if not all of it other than the title line was extemporised by Ernie; riff driven with horns and a very clangy guitar carrying it forward, so there were still echoes of New Orleans even if it was New Orleans on steroids. And I like it. So much so that it's selection #10. Both sides also found their way onto an album: I'm Cocky But I'm Good Just Standin' On Top Of 'De World produced by Milton Batiste and which AllMusic lists as released in '96. With a reshuffle of the tracks (in order to put recut and marginally reinterpreted versions of three of his Minit tracks up front), that same album was rereleased under the misleading title of The Best Of Ernie K-Doe which you can find on Spotify, just look for Ernie's wig. The set is a very mixed bag with the two tracks from the single being the highlights. Another album, Fever, was apparently released in '96 but it's not on Spotify, nor are there tracks on YT, and I've not explored further.
Ernie died in 2001. All those years of alcohol finally put paid to his kidney and liver. He was buried in St Louis Cemetery in New Orleans after a traditional jazz funeral. "He is buried in the same tomb with his second mother-in-law, with whom he was very close, and his best friend, Earl King" (source: Wiki).
I was less than generous about Ernie in my introduction but as I hope has become clear, there was a degree of tongue in cheek going on: I love the guy preferably with Allen Toussaint somewhere around! I'm leaving the final words to someone else.
Dan Phillips, based in Lafayette, Louisiana, runs a weekly radio show called Funkify Your Life. He also has a blog entitled "Home Of The Groove". On the site he has devoted several chunks of text to the subject of Ernie K-Doe. Here he is writing about the splendour of the Ernie K. Doe album but widening his subject area in the following manner:
"As crazy (and I mean that in a good way) and self-absorbed as Ernie K-Doe could be, if you listen to this record and some of his earlier sides, you'll find that his boasts about his abilities weren't the hollow rants of a washed-up one (big) hit wonder. He had the chops; but it seems that Allen Toussaint was the only producer who could draw the great stuff out of him."
FOOTNOTES
1. Specialty Records was a Los Angeles based indie which was founded by Art Rupe in 1945. The label established a presence in New Orleans via usage of the city's recording studios, particularly the one owned by Cosimo Matassa in order to record artists who were based there.
2. Robert "Bumps" Blackwell was a band leader, song writer, arranger and producer. He worked as A&R Manager for Specialty Records during the early to mid-fifties and in that role was responsible for producing all the early Little Richard hits from Tutti Frutti onwards. He later became Richard's manager and worked with him on albums. Among the other major artists with whom Bumps was involved was Sam Cooke most notably on the production of You Send Me.
3. Both 45cat and Global Dog Productions list the first few Minit singles as 601/602, 603 and 604. Quite why two numbers were allocated to the first single I have no idea.
4. Minit Single 601/602 was from a gentleman called Boogie Jake with tracks, Bad Luck And Trouble and Early In The Morning (and the single got picked up by Chess for distribution). Both tracks are relatively basic downhome blues, stylistically not too far away from that recorded at Jay Miller's studio in Crowley, Louisiana, for Excello Records (and it is believed that Jake – real name Matthew Jacobs – did cut some tracks for Miller). There is absolutely nothing about the single which suggests that Allen Toussaint would have had any arrangement or production responsibility. The situation on Minit single #2, Nolan Pitts with What Is Life and Middle Of The Night is slightly less clear cut, but Mr Pitts is not believed to have made any other records and Mr Toussaint's hand is not clearly on the tiller for either of these tracks.
5. A tiny handful of covers of the record I've Cried My Last Tear were released. The O'Jays, fresh from obtaining their first Top Fifty hit with a version of another record with which Allen Toussaint was involved, Benny Spellman's Lipstick Traces, attempted to repeat the feat or achieve even more with a follow-up from almost the same source, but their version of I've Cried My Last Tear stalled at the low end of the Hot 100. There were also decent Brit versions from Cliff Bennett & the Rebel Rousers plus Brinsley Schwarz.
6, Duke Records was founded in Memphis by David James Mattis and Bill Fitzgerald in 1952. Within a year, Don Robey, who was the first black record label owner of any significance (and who was already owner of Peacock Records based in Houston), bought into Duke. Shortly afterwards Robey took over as outright owner of the label and rebased it to Houston. Duke specialised in gospel and blues with the latter moving towards soul, as exemplified in the fifties through to the sixties by records from Bobby Bland who, arguably, was their biggest star name (and who had moved with the label from Memphis to Houston).
7. In terms of availability of Ernie K. Doe, I've attempted to find the album on Amazon with no success and I also looked it up on Discogs. It's there but under the heading 'Marketplace' there is the statement "This release has been blocked from sale in the marketplace. It is not permitted to sell this item on Discogs". However, it does seem to be on eBay and at normal price rather than secondhand.
8. In "The Rise, Fall And Redemption Of New Orleans' 'R&B Emperor'", an online article from Karen Michel, the general manager of radio station WWOZ, David Freedman, is reported as saying with regard to Ernie's period with the station:
"You never knew what the next thing was going to be out of this guy's mouth. It was like he was in a trance state. You had to kind of enter into it, and then as you began to enter into that crazy universe, you'd just kind of surrender to it [and] it all made sense."
9. Earl King, a singer, guitarist and song writer who was born and based in New Orleans, was a major figure in R&B from the city from the fifties through to the early/mid sixties. His record, Those Lonely Lonely Nights, released in 1955 and penned by himself and label owner Johnny Vincent, was enormously influential on swamp blues musicians in SW Louisiana in the years that followed. Other significant records released by King included Come On (which was recorded by Jimi Hendrix and Stevie Ray Vaughan) and Trick Bag (recorded by Professor Longhair).
10. I have to credit Dan Phillips of the Home Of The Groove site for turning me onto Jump Into Your Love and its flip, Do You Want Some. Dan's piece on the single and related album provides more insights into the ever fascinating Mr Doe plus extra information on these recordings.
11. There are several good online essays on Ernie K-Doe available including one from Ben Sandmel (prior to his biography of the man) under the heading "Mr. K-Doe Goes To Washington" for the Folklife in Louisiana website, and, one from Jeff Hannusch for Offbeat Magazine headed "Masters Of Louisiana Music: Ernest Kador, Jr. Aka Ernie K-Doe". In the latter, Hannusch draws our attention to early influences on K-Doe including Archie Brownlee, lead singer of the Five Blind Boys Of Alabama. He comments re the flipside of the first Minit single, There's A Will There's A Way, "K-Doe mimics Brownlee to a 't'". Hannusch also gives us a paragraph of background on the Mother-In-Law song from Allen Toussaint:
"I really had trouble writing for Ernie," admitted Toussaint. "He was into that spiritual church thing. He liked to holler and preach like the Five Blind Boys. I couldn't write like that. I was inspired by Danny White to write 'Mother-In-Law.' Danny didn't make a lot of records, but he was very popular in New Orleans. We weren't recording Danny at Minit [White recorded for Frisco], so when it came time to do a session on Ernie I thought, 'Well, maybe we can get away with recording the songs I'd written for Danny,' so K-Doe ended up recording 'Mother-In-Law'."
I should add that Danny White is a really obscure New Orleans name but he did manage to record quite a lot of singles between 1961 and '69 across several labels. AllMusic has a write-up on him.
12. During the course of writing this essay another New Orleans musician died. That man was Robert Parker and he died on 19th January 2020. He was initially known as a very much in demand sax player but subsequently added singing to his skill set, with his biggest success, of course, being Barefootin' in 1966. The reason for the appearance of this footnote is because Robert was one of the sax players on Mother-In-Law.
13. While there aren't a lot of live clips of Ernie on YouTube, the one I've picked to close this essay is one heck of a lot better than any suggestion of scraping the barrel might imply. It features Ernie plus Allen with full band and back-up singers performing three numbers, kicking of with A Certain Girl at the Dew Drop Inn Revisited concert at the New Orleans Jazz & Heritage Festival 1992. Go for it Ernie. Take us to the brink!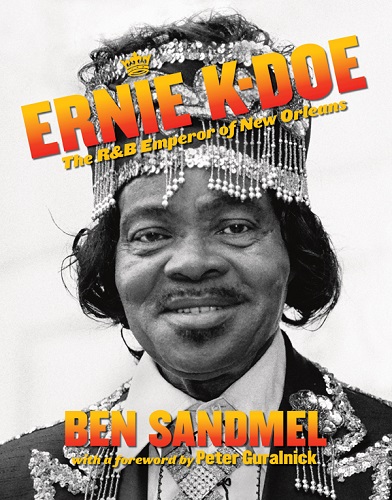 "Ernie K-Doe: The R&B Emperor of New Orleans" by Ben Sandmel (2010)
Louisiana Music Hall of Fame: Ernie K-Doe
Mother-In-Law Lounge, New Orleans – reopened and rockin' (YouTube)
Ernie K-Doe biography (Apple Music)
Dave Stephens' New Orleans scenes
#1 Fats Domino, #2 Chris Kenner, #3 Jessie Hill, #4 Barbara Lynn, #5 Benny Spellman, #6 Ernie K-Doe, #7 Irma Thomas, #8 Barbara George, #9 Earl King, #10 Smiley Lewis, #11 Professor Longhair, #12 Shirley & Lee, #13 Lloyd Price, #14 Dr. John, #15 Huey "Piano" Smith, #16 Roy Brown, #17 Johnny Adams, #18 Eddie Bo, #19 Guitar Slim, #20 Clarence "Frogman" Henry, #21 Bobby Mitchell
ONE HIT WONDERS ON TOPPERMOST
#1 Jody Reynolds, #2 James Ray, #3 Richie Barrett, #4 Mickey & Sylvia, #5 Scott McKenzie, #6 Blue, #7 Chris Kenner, #8 Dawn Penn, #9 Shep and the Limelites, #10 The Poni-Tails, #11 The La's, #12 Thomas Wayne, #13 Don Gardner & Dee Dee Ford, #14 Carl Mann, #15 Duncan Browne, #16 Harold Dorman, #17 Ned Miller, #18 Gary Shearston, #19 The Fendermen, #20 Jimmy Radcliffe, #21 Joe Dolce, #22 Sanford Clark, #23 Bob Luman, #24 Jessie Hill, #25 Ernie K-Doe, #26 Irma Thomas, #27 Barbara George, #28 Ray Smith
Dave Stephens is the author of two books on popular music. His first, "RocknRoll", is described by one reviewer as "probably the most useful single source of information on 50s & 60s music I've come across". Dave followed this up with "London Rocks" in 2016, an analysis of the early years of the London (American) record label in the UK. You can follow him on Twitter @DangerousDaveXX
Read the Toppermosts of some of the other artists mentioned in this post:
Louis Armstrong, Cliff Bennett, Bobby Bland, Brinsley Schwarz, James Brown, Solomon Burke, Ray Charles, Coasters, Sam Cooke, Fats Domino, Little Richard, Robert Parker, Benny Spellman, Yardbirds
TopperPost #838