Fleetwood Mac
The classic 1968 lineup
from the gatefold of 'Mystery To Me' (1973)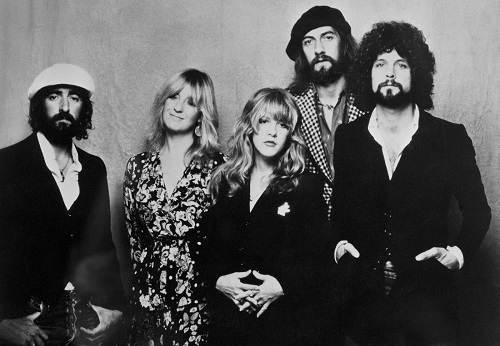 Fleetwood Mac promo photo 1977
Contributors: Andrew Shields, David Lewis, Peter Viney
Mac playlist
Fleetwood Mac: The Peter Green era (1967-1970)
by Andrew Shields
At any given time, there are always many highly skilled and technically accomplished musicians in the world. However, there are usually only a handful of those who combine such technical ability with that added quality (best described as 'soul', perhaps) which marks them out as very special artists indeed. In classical music, for example, this select group would include pianists like Dinu Lipatti and Glenn Gould and cellists like Jacqueline du Pré. In jazz music, the names that would spring to mind immediately are people like Louis Armstrong, Billie Holiday, Charlie Parker, John Coltrane and Miles Davis. In folk music, there are those exceptional artists like Anne Briggs, June Tabor, Bert Jansch, John Renbourn and Davey Graham. And in rock music – in my opinion, at any rate – Peter Green stands very close to the top of that list. His mastery of touch and tone are second to none and his playing had a soulful and searching quality with which very few of his contemporaries could compete.
Green had first come to prominence with the bands, Peter B's Looners (led by Peter Bardens) and John Mayall's Bluesbreakers (where he replaced Eric Clapton). Those of you interested in a more detailed account of Green's time with the latter band will find one in Dave Stephens' excellent Toppermost. I will, however, direct readers towards the superb instrumental The Supernatural which Green recorded during his time with Mayall and which, in Dave's words, acted as a significant "pointer to the future". It also demonstrated that he was developing his own distinctively pure guitar sound which he was to go on to perfect with Fleetwood Mac.
During his time with Mayall, Green also found the ready-made rhythm section of John McVie on bass and Mick Fleetwood on drums. Such was his determination to secure them for the new band he wished to form after leaving Mayall's group that he named it 'Fleetwood Mac' even before John McVie had actually joined the band. In the brief interval before he did, Bob Brunning played bass with the group. Once McVie joined – and with the addition of Jeremy Spencer as a second guitarist – the first stable line up of Fleetwood Mac was born.
From that point on, the band came to have something of a split identity. At times, indeed, it appeared to be little more than a slightly above average British 'Blues Revival' blues band (particularly on Spencer's cover versions of Elmore James songs which worked well live but added very little to the original versions on record). At others, particularly on Green's original songs, it seemed an entirely different proposition – blues influenced but innovative and experimental and, on occasion, transcendent.
One of the first indications of Peter Green's exceptional talent as a songwriter came with the group's third single – and my first selection here – Black Magic Woman. Although many people probably know this song from Santana's cover (and some probably think it's his song), I prefer the original more moody and pared-back version. It also features a typically brilliant solo from Green. Like most of his best songs, it also mixes a blues flavour with other influences (Latin music and jazz in this case).
The group's next single, Need Your Love So Bad was a cover of a classic song (for background information click on Dave Stephens' fine Toppermost on Little Willie John. Both the original and the Fleetwood Mac versions are equally good, but they are excellent in different ways. There is for example, a plaintive, pleading quality to Green's version which is not present in the earlier one. Also, this is one of those songs where Green's guitar work reaches a very high level of excellence. It's one of the finest examples of what Charles Shaar Murray has described as his "liquid purity of tone". Indeed, it is one of those tracks which makes the well-known B.B. King quote about him – "He has the sweetest tone I ever heard; he was the only one who gave me the cold sweats" – all too believable. The song also demonstrates what a superb soulful singer Green was at that time. This fact is frequently overlooked because of his undoubted brilliance as a guitarist. Here's a live, albeit probably mimed, performance of the song:
Charles Shaar Murray has described my next selection Love That Burns as "not just simply white blues but blues blues of the highest order". He also refers to its demonstration of Green's ability to master not just "the music's stylistic devices" but also to its "emotional core". There is a haunting sadness to much of Green's best music in this period that goes well beyond the clichés of the UK blues revivalists. To quote from Thom Hickey's great piece on Green's playing, it is this remarkable "mixture of musical daring with emotional vulnerability and depth that distinguishes Peter Green from all his contemporaries".
If there is a better instrumental in all of rock music than my next pick, Albatross, then I have yet to hear it. Just before they recorded it, Danny Kirwan had joined the group as a third guitarist. By this point, Spencer had more or less ceased to be a creative force of any kind in the band. Indeed, Kirwan proved a far more effective foil for Green's guitar style than he had ever been. He provided the second guitar on Albatross which helped to give it the beautiful yearning quality which made it so outstanding. In later years, Green talked about the influence which the great English composer Ralph Vaughan Williams' violin piece, The Lark Ascending, had on Albatross, and there is a similar exquisite melancholy to both works.
My next three selections (Man Of The World, Oh Well and The Green Manalishi (With The Two Prong Crown) all provide evidence of Green's increasingly troubled state of mind which sadly (in many respects) coincided with a period when he was experiencing ever increasing commercial success. He was very uneasy about the amounts of money that they were making, feeling that they had done little to deserve it. He was also becoming worried about what he saw as the spiritual emptiness of the 'rock star' life. At the same time, he was also falling prey to some of the temptations which that lifestyle entailed. These later songs seemed to offer, in Thom Hickey's words, "reports back from dark reaches within himself". Man Of The World is a notable example of this trend, especially with its cri de coeur "I just wish that I had never been born".
While Man Of The World was gentle and folk-influenced (as is the beautiful second part of Oh Well), with the first section of Oh Well and with 'Manalishi' Fleetwood Mac moved into far heaver musical territory. Some commentators have seen both as providing a pointer which later heavy metal bands were to follow.
My last selection, A Fool No More is a superb blues-influenced song which I first discovered on Peter Green's solo album, In The Skies. I thought it was a stunning song from the first time I heard it, but it was only much later that I discovered he had recorded it live with Mac. Luckily, the earlier version is just as good as the later one and I thought it would be the perfect closer for this list. It also provides further proof, if any were needed, of his supreme abilities as a musician.
As Peter Green's own music became more experimental, he was also beginning to move away from the 'blues' model on which Fleetwood Mac had been based. He was also seriously thinking of moving on from the band itself. What precise musical direction he would have taken after this remains open to question as, in 1970, a combination of circumstances and his own personal troubles led Green to leave the music business behind, more or less completely. He was to return to it later but as a very different type of artist. When Jeremy Spencer left the group soon afterwards to join the controversial religious sect, the Children of God, the future of Fleetwood Mac seemed very much up in the air. Its subsequent history is, however, another story and one for David and Peter to tell.
Track
Single / Album
Black Magic Woman
Blue Horizon 57-3138
Need Your Love So Bad
Blue Horizon 57-3139
Love That Burns
Mr. Wonderful
Albatross
Blue Horizon 57-3145
Man Of The World
Immediate ?IM 080
Oh Well
Reprise RS 27000
The Green Manalishi
(With The Two Prong Crown)
Reprise RS 27007
A Fool No More
Live At The BBC
Fleetwood Mac: The Bob Welch (and others) era (1970-1974)
by David Lewis
With the major star – Peter Green – unwell, and Jeremy Spencer in the Children of God, Fleetwood Mac regrouped with Christine Perfect, later McVie's wife, on keyboards. For perhaps understandable reasons, she changed her name. Guitar duties were eventually filled by Danny Kirwan and Bob Welch. This version of the Mac is rather overshadowed by the impact of Green's incendiary playing, and the multi-million selling Buckingham Nicks years. But it is in this era we see the band move away from pure (ish) blues to a more rock-based and commercial sound. Welch is an underrated songwriter, and it is also in this period that Christine Perfect starts to become, not just a marvellous performer, superb singer and excellent pianist, but, in my view, the finest British female songwriter (and one of the finest British songwriters, full stop).
Jewel Eyed Judy from Kiln House (1970) should have sold as well as, I don't know, Rhiannon, or Black Magic Woman. It didn't, so it's a lost classic for fans of the band. It anticipates grunge, and the guitar solo at the end, apart from being about five minutes too short, is just about perfect. It has Kirwan and Spencer but Welch is yet to join. Christine Perfect is uncredited on keys.
Following the timeline of Fleetwood Mac is a wonderful exercise for a Sunday afternoon, though it is not for the faint-hearted. It took Mick Fleetwood two separate volumes of memoirs to sort it out. But in all of their lineups there is quality.
Christine McVie, at least in my view, is the strongest writer in Fleetwood Mac – making her Superwoman, given the strength of her bandmates' writing. There are no weak writers in Fleetwood Mac (with the recruitment of Neil Finn, Fleetwood Mac have yet another world class songwriter, though at the time of writing he hasn't contributed any new songs to the band.) Christine's first Fleetwood Mac composition, Future Games' Show Me A Smile, is one of her best tracks anyway. She has an emotional depth in her expression that very few vocalists reach. It's all on display here.
The beautiful Bright Fire from Penguin (1973) brings a pop and jazz sensibility. An almost lilting ballad, its ethereal quality is highlighted by some perfectly placed keyboard comping by Christine McVie. An uncharacteristically busy bass by John McVie supports superbly and Mick Fleetwood – a strangely underrated drummer – really shines here. Fleetwood Mac is a subtle band and the touch here is spot on.
Spare Me A Little Of Your Love, off the Bare Trees album, is another lovely Christine McVie track, which sounds like something Rick Danko might have sung with the Band, and the backing is Band-like. Listen to those Robbie Robertson-esque licks that open the track. The coda is a fantastic double time jam, seeing them stretch out over the fade-out. Danny Kirwan is incredible on this, bringing chops that are at least the equal to Peter Green or Lindsey Buckingham. It was later covered by Jackie DeShannon and Van Morrison.
Rolling Stone pointed out that Bob Welch brought an LA sensibility to the band's songwriting – Woman Of A Thousand Years from Future Games encapsulates this sound. It has, to my ears, a touch of prog rock. It's reminiscent of Yes, but without the pomp. It is a beautiful track.
In 1972, Danny Kirwan was sacked, really due to his deteriorating mental illness and alcohol abuse. Kirwan's superb musicianship was never in doubt, even as his personality clashed with everyone else. He is one of the great rock tragedies, dying essentially homeless in 2018. Dave Walker from Savoy Brown and Bob Weston briefly replaced Kirwan, but Walker was musically incompatible and Weston apparently contributed to the breakdown of the McVies' marriage This line up of the band was still able to produce excellence, although it only released one album.
A bit of soul infuses my next track, Hypnotized. This one, from Mystery To Me (1973), ranks with any of the better-known songs of Fleetwood Mac. The vocal harmonies are superb (though admittedly not quite to the standard they would become), and the groove in this is urban, but restrained. As I write, I'm questioning whether to call this Mick Fleetwood's greatest drum part. Maybe I'll stick with 'one of'. But the song is tight, uptown and slick – all great qualities.
Christine McVie pointed the way ahead with Why from the same album. It's a typically gorgeous McVie melody, with a lovely arrangement. It fitted nicely into the next iteration's live set, but the original is a worthy addition to any list of this version of the band's best.
The band was starting to fall apart again: the last album of this era, Heroes Are Hard To Find. Welch wrote most of the songs on the album and, like Rumours, it was made under difficult personal circumstances, but didn't sell in the numbers and is perhaps a bit more uneven. It was a big hit, though. Nonetheless, She's Changing Me, is an outstanding track which also sounds like it wouldn't be out of place in the next lineup.
Bob Welch left in 1974. The band had been tied up in legal issues as the band's manager, Clifford Davis, claimed the name and after some further shenanigans, sent out a band which had none of the members in it. McVie and Welch were announced as joining the band for some concerts. Bob Welch, though, was tired, dried up creatively and sick of the whole business. He was not invited to join Fleetwood Mac in the Rock & Roll Hall of Fame and he believed this snub stemmed from a court case in which he sued them over royalties. To everybody's shock and sadness Welch committed suicide in 2012 at the age of 65. However, he'd had a successful career as a solo artist and songwriter.
For a version of Fleetwood Mac which is often seen (and unfairly dismissed) as 'transitional', there is a lot of great work here. Had the issues which plagued the band at the time been able to be resolved, there is no reason to think it wouldn't have continued to the great success it was to eventually achieve.
Mick Fleetwood has forgotten the name of the record company employee who got him to listen to an album by a young Californian couple, though he is forever grateful. He approached the hotshot guitarist on the album who agreed to join the band, provided his girlfriend – who also sang and wrote songs – could also join. From any other couple, you'd politely decline the offer and find another guitarist. But when Lindsey Buckingham suggests his then girlfriend, Stevie Nicks, these types of rules get relaxed …
| Track | Album |
| --- | --- |
| Jewel Eyed Judy | Kiln House |
| Show Me A Smile | Future Games |
| Bright Fire | Penguin |
| Spare Me A Little Of Your Love | Bare Trees |
| Woman Of A Thousand Years | Future Games |
| Hypnotized | Mystery To Me |
| Why | Mystery To Me |
| She's Changing Me | Heroes Are Hard To Find |
Fleetwood Mac: The Buckingham Nicks era (1974-2018)
by Peter Viney
A confession. I saw the first incarnation of Fleetwood Mac more than once, and thought them a terminally dull, plodding band with a fluently beautiful guitarist in Peter Green and a very boring catalogue apart from the marvellous but atypical hits, Albatross, Oh, Well and Green Manalishi. I'd also seen John Mayall's Bluesbreakers live several times. I really didn't like version one, and I still don't.
I took only a cursory interest in the intervening years, and sat up and took notice as soon as Stevie and Lindsey joined. I consider this to be a separate and stratospherically more interesting band altogether.
It's odd to name and base a band around a largely non-songwriting rhythm section, but they did. Something happened to John McVie who turned from a standard (aka boring) bass player into a guy with an incredible and unique spring to his playing. None of it is hard, but it's not the notes it's all in the style and rhythm. I hugely admire his playing and when I saw them a few years ago, McVie was the only one without a shadow musician in the background supporting him. Mick Fleetwood is a fine drummer, but you need writers. They had Christine McVie, but as soon as you put Stevie next to her, her writing accelerated. Now they had three powerful songwriters in the band.
We decided eight songs per era. As soon as I started to think, I felt I needed at least five by Stevie Nicks, five by Christine McVie and five by Lindsey Buckingham. I'm going to think that way, list five each and whittle them down to a final selection of eight. I'm going to confess a strong predilection for Stevie's voice that will affect my choices.
One of the joys of Toppermost is exploring the further corners of the catalogue, but this is Fleetwood Mac. My three friends who run second-hand record stores have all commented that Rumours LPs never sit in the rack for more than a day. I've got the DeLuxe edition and I've got the box set, but it is the basic albums and the hits that leap out. Yes, I have every album, and yes, it's Fleetwood Mac, Rumours and Mirage that I return to most often. Fleetwood Mac defines 'catchy'.
The first album, Fleetwood Mac (1975), leapt out of the speakers and set out its stall with Lindsey's Monday Morning. Lindsey established that the lad sang higher than the girls with I'm So Afraid which gave him a chance to show off his guitar playing. I did feel when I saw them live that he sees himself as a Hendrix competitor.
The first two releases, Warm Ways and Over My Head were Christine's songs. Over My Head was the new band's first hit (US #20), but her selection for me was the crisp, keyboard led Say You Love Me (US #11) with its swooping bass line.
The third single, Stevie Nicks' Welsh witch Rhiannon leapt out, with a US#11 chart placing. It had that repetitive teasing guitar figure, the soft thudding drums and sprung bass that defines their sound. The hippy mystical lyric is the keynote and it was their first UK hit (UK #46) albeit a minor one. Crystal was a direct transfer from a planned second Buckingham-Nicks album.
Rumours (1977) is one of the best-selling albums of all time (UK, US, Australia, Canada #1). Four hit singles … Go Your Own Way (US #10, UK #38), Dreams (US #1, UK #24), Don't Stop (US #3, UK,#32) and You Make Loving Fun (US #9, UK #45). The pattern is clear … they were way bigger in America than in Britain, or maybe we just bought the album. There's not a track I wouldn't include.
My second favourite Fleetwood Mac track of all time is Dreams (Stevie Nicks). A few years later, I used to take my daughter to school to the sound of New Kids On The Block every day. We car pooled, and the other dad was less accommodating than me, and so got my daughter hooked on Rumours, a great relief to me. Dreams was her favourite too, but my son, also in the car, went into paroxysms of fury at the line thunder only happens when it's raining, pointing out that it is a meteorological fallacy. At twelve, you can't compare Bob Dylan's lost in the rain in Juarez to explore the metaphor. On which the double entendre of women they will come and they will go surely references All Along The Watchtower's the women came and went, but given Stevie's seductive purr, does it better.
There was a point in my life when I spent twenty minutes in a traffic jam every morning at the same lights. It would have been Tony Blackburn who for most of a year seemed to play Fleetwood Mac in that traffic jam, and it was You Make Loving Fun that brings it straight back. I also still call the song Miracles instead of its real title. Christine's Songbird is exquisite and subtle, and has had a long life outside Fleetwood Mac in dozens of cover versions, notably Eva Cassidy, Rita Coolidge and Willie Nelson.
They share my accolades, because my other favourite from the album is Lindsey's Go Your Own Way, but here it's the women in the chorus that make it so forceful. On Never Going Back Again we get Lindsey's best country guitar-pickin'.
The Chain credits all five band members and it survives on so many live sets. Maybe shared credits help. The vocal switching points to the soap opera behind the making of the album. Lindsey's picking on one channel and power guitar on the other is a signature. It's even got a crunchy bass solo interrupted by Lindsey's 'approaching train' guitar. It's a song that works especially well in live versions.
Tusk was a double album in 1979, and apparently very much Lindsey's baby. It also did better in the UK (#1) than the USA (#4). At the time many thought it too esoteric, too varied, too weird. For the 70s band, it was the classic third album syndrome. Time has been kind and its ratings seem to go up as the years go by. Tusk the title track (US #8, UK #6) with its whispered vocal mixed way back among all the chatter with horns coming in was unexpected. It has a drum solo too. It was a grower and has to go in.
The other single was Sara by Stevie Nicks and my other most-played on the album. I can add that I am among the Tusk naysayers.
1982's Mirage was a return to form, and a return to US #1 too (UK #5). When we first discussed this Toppermost, Gypsy was the first song I wrote down. My all-time favourite Fleetwood Mac song. OK, Stevie's still singing about lightning striking, and in America the 'gypsy' connotation is mystical and positive, so she didn't have to call them 'travellers' and anyway it wouldn't have scanned. Lindsey's insistent guitar and Mick Fleetwood's drums propel it. I love the lyric too … So I'm back to the velvet underground … Her face says freedom, with a little fear … She is dancing away from you now … she was just a wish …
Christine opened the album with Love In Store, and co-wrote the other single Hold Me.
Lindsey's best song on there was Oh Diane allowing a trip back into retro-pop. It appealed far more in Britain (#9) than in America. We've always been partial to vintage late 50s/early 60s.
Tango In The Night (1987) is the last of the classic albums for me. Everywhere is my first choice, and it's by Christine McVie. If you're hyper-critical it's 'Fleetwood Mac by numbers' but it's as good as any of the major hits. Little Lies is a Christine co-write with that whispered chorus and a deep rich Stevie Nicks line in the background. It emphasises the combination of their voices. Big Love is Lindsey Buckingham on a power-rock excursion.
The album is dominated by Christine's and Lindsey's songs. At this point, the take-off of Stevie Nicks as a solo performer is evident. Her best stuff isn't going to the band. Her most appealing song Seven Wonders isn't hers (apart from "additional lyrics"). Welcome To The Room…Sara reuses the name, but it's not the same standard, and recycles lines (the first cut is the deepest one … hang on, Cat Stevens wrote that line). When I See You Again is indifferent.
Behind The Mask … 1990, and Lindsey has slung his hook. Billy Burnette and Rick Vito are the replacements, and co-writing the songs. That was the error to me, of the 'second era' of the band's three incarnations – new guys come in as major writers. Christine wrote the title track Behind The Mask and it's the best song on there. Stevie wrote Freedom with Mike Campbell of Tom Petty's Heartbreakers. Her main contribution is Affairs Of The Heart.
Time in 1995 has no Stevie Nicks contribution, and Lindsey Buckingham sings backing on one track. Dave Mason and Bekka Bramlett are on board. I Do by Christine was the single. Time was ticking away.
Say You Will came in 2003, and was a hit again (US #3). Christine had left the band, though she turned up on two tracks originally slated for a Lindsey Buckingham solo album. The good news was that Buckingham-Nicks were back for the album and tour, reviewed here here. The best tracks for me were Thrown Down and Say You Will both by Stevie Nicks. Lindsey Buckingham does his country picking intro on Miranda. His song Peacekeeper is another stand out. I thought his Come was a dreadful guitar show off.
To summarise:
5 x Christine McVie compositions: Say You Love Me, You Make Loving Fun, Songbird, Everywhere, Little Lies
5 x Stevie Nicks compositions: Rhiannon, Dreams, Sara, Gypsy, Say You Will
5 x Lindsey Buckingham compositions: Monday Morning, Go Your Own Way, Tusk, Oh Diane, Big Love
… and the final eight, my Toppermost:
| Track | Album |
| --- | --- |
| Rhiannon | Fleetwood Mac |
| Dreams | Rumours |
| You Make Loving Fun | Rumours |
| Go Your Own Way | Rumours |
| Tusk | Tusk |
| Gypsy | Mirage |
| Everywhere | Tango In The Night |
| Little Lies | Tango In The Night |
Mac playlist
Fleetwood Mac: A Musical History (BBC 2018 Pt.1 on YT)
Go Your Own Way – The UK Resource for Fleetwood Mac
Mick Fleetwood official website
Jeremy Spencer official website
Christine McVie official facebook
Lindsey Buckingham official site
Still Going Insane – A Lindsey Buckingham Resource
Lindsey Buckingham & Christine McVie official website
Buckingham Nicks (1973) – full album on YouTube
Fleetwood Mac biography (Apple Music)
The 50 Greatest Fleetwood Mac Songs – Mojo (2019)
The Best Song From Every Fleetwood Mac Album – UCR (2019)
Fleetwood Mac's 50 Greatest Songs – Rolling Stone (2017)
The 20 Best Fleetwood Mac Songs of All Time – Paste (2014)
David Lewis is a professional guitarist, mandolinist, banjoist and bassist, he plays everything from funk to country in several bands and duos. More of his writing can be found at his rarely updated website.
Andrew Shields is a freelance historian. Along with an interest in history, politics and literature, his other principal occupations are listening to and reading about the music of Bob Dylan.
Peter Viney has been an educational author and video scriptwriter since 1980. He has written articles on The Band, Van Morrison and Bob Dylan. He also writes novels under the name Dart Travis and writes on popular music, theatre and film at his website.
TopperPost #777