Jackie Wilson
| Track | Single |
| --- | --- |
| Reet Petite | Brunswick 9-55024 |
| Lonely Teardrops | Brunswick 9-55105 |
| Doggin' Around | Brunswick 9-55166 |
| A Woman, A Lover, A Friend | Brunswick 9-55167 |
| Baby Workout | Brunswick 55239 |
| I've Got To Get Back | Brunswick 55289 |
| I've Lost You | Brunswick 55321 |
| (Your Love Keeps Lifting Me) Higher And Higher | Brunswick 55336 |
| You Left The Fire Burning | Brunswick 55480 |
| What A Lovely Way | Brunswick 55480 |
Contributor: Dave Stephens
Jackie Wilson said …
Van sang that and it appeared as the opening track on Saint Dominic's Preview, his sixth solo studio album, in 1972. While Morrison has never been one to keep his influences hidden, Wilson might not have seemed one of the first ones to come to mind. But in his feature on Van for "Rolling Stone: 100 Greatest Artists" Peter Wolf recalled getting friendly with the man when he was living in Boston circa 1968 and used to visit Peter's flat and apparently "spend endless hours" going through his records. Peter went on to say:
"Over and over, we would listen to what he called "the gospel" of Jackie Wilson, Ray Charles, Hank Williams, Louis Jordan, Billy Stewart, Elvis and John Lee Hooker. "They're the real deal," he'd say."
Joe McEwen writing on the subject of Jackie in another Rolling Stone publication, "The Rolling Stone Illustrated History Of Rock & Roll" (with my copy published in 1981), starts off his essay talking about Jackie's near legendary stage act. He then goes on to say:
"A contemporary of James Brown and Sam Cooke, he made his debut as a solo performer in 1957. The comparison with two of black music's most influential figures is not unflattering: as a showman, Wilson was the equal of Brown, while as a vocalist, he could match Cooke's range and then some. Yet while both Brown and Cooke became wealthy men, honored as pioneers, Jackie Wilson suffered a checkered and enigmatic career. Despite his popularity in the late Fifties and early Sixties, his recordings rarely reflected his talent."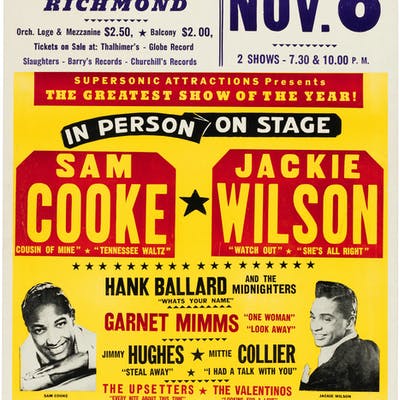 While much of the cause for this state of affairs lies fairly and squarely at the door of Jackie's label, Brunswick Records, the man himself wasn't exactly blameless; when the label used to throw a big ballad at him complete with what our transatlantic cousins would call a schlock arrangement, Jackie would respond with a virtual "bring it on" and so it went (and it went pretty frequently). He saw himself as Detroit's answer to Mario Lanza which accounts for a not insignificant portion of his output. All of which tends to back up Joe McEwen's final line and could possibly have made the task of producing a memorable Toppermost Ten, not the easiest, particularly if one was searching for evidence of Wilson as a soul music pioneer alongside Brown and Cooke and one or two more.
But it wasn't. Difficult that is. Mind you, it couldn't have been easy following that first solo single, Reet Petite, which only hit #62 in Billboard and #45 in Cashbox but achieved a magnificent #6 in the UK where we'd never heard of the man before. What might have given that record a bit of a push upwards was its airing on Six-Five Special. Although the programme was based on live music coming predominantly from British artists, it also had a regular slot – I can't remember if it was weekly or not – where a record was played, often American, while the camera panned around the youthful audience jigging around. In autumn 1957, Reet Petite was one of those records, and boy what a record! We'd only taken on board Little Richard and Chuck Berry within the preceding few months and here was another US record which seemed to have come from another planet. With hindsight it's easy to say that it was a jump blues featuring a fruity sounding band (of probably forties vintage) with an even more fruity sounding vocalist singing novelty lyrics which, a little research would tell you, had borrowed a smidgeon from a 1946 disc from Louis Jordan titled Reet, Petite And Gone, and, if you know much about blues, then aural evidence might have told you that fruitiness in the vocal department wasn't dissimilar to the output from blues shouter, Roy Brown. None of which alters the fact that this record sounded fantastic in 1957 and has actually aged very well.
Jack Leroy Wilson Jr. was born on 9th June 1934 in Detroit. Like every other soul singer worthy of that description he sang in a gospel group in his youth. He dropped out of school at the age of 15 and intended to pursue a career in boxing. But he didn't drop the singing and formed a group called the Falcons, not to be confused with the Wilson Pickett Falcons. Another member of the group was his cousin Levi Stubbs later to become a near household name as leader of the Four Tops. Two other members would go on to join another Motown group, the Contours.
He was discovered by Johnny Otis – and that's not the first time that phrase has been used in my essays on fifties R&B artists – and signed up with Al (not the singer) Green as manager. In 1952, using the name Sonny Wilson, he cut a couple of records for Dee Gee Records, a label co-founded by Dizzy Gillespie. The titles were Rainy Day Blues / Rockaway Rock (an instrumental) and Danny Boy / Bulldozer Blues. He would go on to record Danny Boy again at Brunswick, but this take is well worth a spin with Jacky showing no lack of confidence at the outset of his career.
In 1953, Jackie signed up with Billy Ward and the Dominoes and went on to become the replacement for previous lead singer Clyde McPhatter though not before McPhatter had given him some vocal tuition. Wilson is on record – see the Wiki feature on him – as saying "I fell in love with the man's voice. I toured with the group and watched Clyde and listened." Clyde went on to the Atlantic label where the Drifters were formed around him. Jackie meanwhile stayed with the Dominoes until 1957 and was lead vocalist on St. Therese Of The Roses which made #27 in the Hot 100 in '55.
Al Green negotiated a contract for Jackie with Brunswick Records, a subsidiary of Decca, but he never got to hear the fruits of that agreement since he died shortly afterwards, leaving his deputy Nat Tarnopol as Jackie's manager. Tarnopol manoeuvred himself into a position to have a significant level of control over Jackie's output. According to the Soulwalking site: "Jackie was, for years, the only singer on the subsidiary Brunswick label, so Tarnopol convinced the Decca bosses that he could successfully handle the label and attract more black talent and, as part of the agreement, he was given 50% ownership of the label."
Round about the time Jackie signed with Brunswick, he had a regular gig at Detroit's Flame Show Bar owned by Al Green and it was there that he first met Berry Gordy Jr. Some reports suggest that the shared background in boxing got the pair talking; what we do know is that Berry along with Roquel "Billy" Davis were aspiring songwriters and, yes, it was their song Reet Petite which got selected as Jackie's debut number at Brunswick (with Davis appearing in the credits under the pen name of Tyran Carlo).
Single #2 from Jackie coupled a strings adorned ballad – To Be Loved – with hints of soul, with a 12 bar mid-tempo jumper, Come Back To Me which was OK but wasn't up there with Reet Petite in the downright memorable stakes. (And if you're wondering why the disc appears to be on Coral, that was the subsidiary used by Decca for release in the UK.) Bearing in mind that the release date, February 1958 acc. to 45cat, was still early in the development of soul music, then Jackie's music could have gone in at least two directions: either taken on more gospel overtones, and that includes the backing singers, plus a more funky rhythm section and moving onto what we would start to call 'soul'; or stuck with a more mainstream pop approach on the faster stuff and pumping out ballads accentuating the Mario Lanza aspects of the Wilson voice in order to illustrate his unique selling point (to drop into today's lingo) and to aim directly at the white audience dominated pop chart. Unfortunately for soul fans, Brunswick, Tarnopol and possibly Wilson himself, though it's hard to tell how much he might have contributed to such decisions, largely went with the second approach. It's entirely possible that the example of the direction taken by RCA with Sam Cooke, marketing him strongly towards a pop rather than R&B audience for the earlier part of his secular record career, might have influenced Brunswick.
Two of the biggest names in soul music, Ray Charles and James Brown, started their recording careers before Wilson but didn't break through to a white audience until considerably later; in Charles' case with What'd I Say in the second half of 1959 and with Brown easing into the Hot 100 more slowly with tracks like Night Train (#35 in 1962) and Prisoner Of Love (#18 in 1963) leading the way into the higher echelons of that chart.
The last two paragraphs are intended as a rationale or excuse for the Brunswick handling of Wilson's musical career. They're also a simplification; Brunswick did make some attempts to reflect what was happening in black music (though such attempts when filtered through white arrangers & producers usually suffered from lack of empathy) and James Brown did record standards (These Foolish Things, 1963) and Ray Charles always had a liking for the jazzier aspects of music i.e. neither stuck completely to R&B.
1957 TO 1961
I've broken down Jackie's output – which was all on Brunswick – into three parts. While the differentiation between parts 1 and 2 is gradual, that between 2 and 3 is hard edged (but more on that later). It's time to stop pontificating and get on with the music. And what better way to get this section rolling than Jackie's greatest record:
Lonely Teardrops had a late fifties/early sixties teen type sound about it, accentuated by the arranger's usage of pizzicato strings – something relatively rare in popular music until Adam Faith came along. Lyrically, all the clichés were there – "My heart is crying, crying / Lonely teardrops / My pillow's never dry of lonely teardrops" – contributed once again by Gordy & Davis (plus, according to Wiki, Berry's sister Gwendolyn). None of which would have led anyone to expect one of the most joyful sounding records of 1958/59 and a pop classic in anyone's book. I've deliberately selected a live clip for this number and you'll see why roughly 1:10 minutes in:
However, I am conscious that the informed reader might still be worrying about my usage of the word "rarely" in association with usage of pizzicato strings. Do I hear, "what about Buddy Holly's It Doesn't Matter Anymore"? Well, according to DAHR: The Discography Of American Historical Recordings Jackie's Lonely Teardrops was recorded on 10/5/58 (American date style) and 45cat tells us that the producer & arranger was Dick Jacobs who was one of the regular arrangers that Brunswick used. The Wiki feature on It Doesn't Matter Anymore tells us it was recorded on 21st October 1958 in the Decca New York Studio and it "featured the orchestral backing of Dick Jacobs". Now the story that's usually attached to the Holly New York session is that Jacobs had too little time to put together a proper string arrangement so came up with the pizzicato thing. Perhaps we should add to that "as he'd done a fortnight or so earlier for Jackie Wilson's Lonely Teardrops". If I were to come up with some words to describe the Jacobs' contributions, I might say that both songs majored on a bitter sweet concoction with the plucked violin strings providing an extra layer of super richness combined with jangled heartstrings.
Lonely Teardrops established Jackie Wilson as a formidable hit parade presence. While he never quite matched the musical or commercial success of that record in his initial period of chart glory, he got close and maintained an enviable level of consistency through 1959 and 1960 in the top twenties of both the Pop and the R&B Charts (though not always with the same records). And that bracketed phrase is quite telling. Brunswick gave the impression of deliberately targeting different audiences with different records or sides of records though I suspect that, at least in the early phases, that impression might have been little more than scattershot recording.
Tracks like That's Why (I Love You So) and You Better Know It were aimed at the white teen audience though the second mingled in more R&B flavouring, making it equally attractive to the black buyer who was aiming at getting out on the dance floor and strutting his or her stuff. "That's Why" was the last of a series of tracks written by Gordy & Davis prior to Berry disappearing off to do not insignificant things elsewhere in Detroit.
In addition to this kind of material, Brunswick also recorded Jackie with plenty of ballads, usually with big band and strings backing and with our man's vocal style ranging from night club to quasi-operatic and points in between. Night from March 1960 is a good example of this approach. I'd say that it's pretty safe to assume that Brunswick were aiming at a slightly older record buyer with this type of record and it must have been gratifying for the label to find that it worked (though not forever). The record made #3 in the Pop Chart and #4 in its R&B equivalent.
That wasn't the last of Jackie's multiple personalities. Flip Night and you'd find something very different. The ballad Doggin' Around owed more to James Brown or Ray Charles than Sinatra or Lanza. This B-side managed a chart showing on its own: #15 Pop but a splendid #1 in the R&B Chart. Of a style that's often termed blues ballad rather than outright blues (though boundaries are blurry), it retained, indeed emphasised, the blues lyrically but didn't utilise the 12 bar structure. Such numbers usually found the singers using aspects of their gospel heritage: note the awe-inspiring rising Yeeeeeeaaaaaaaah in "You better stop yeah doggin' me around". Note also the organ in the backing mix à la Charles plus the bluesy tinkling piano which I reckon Floyd Cramer must have listened to before deploying it so successfully on a host of sad country records.
Brunswick might have had certain failings but they still knew one of the oldest tricks in a record label's bag: follow a hit with something broadly or even, very, similar, and that's why A Woman, A Lover, A Friend was released three months later. In '65 the song appeared on The Great Otis Redding Sings Soul Ballads (usually shortened to Soul Ballads), on which, in line with the title, five of the tracks had been soul or pre-soul successes for other artists. The Redding version was excellent and chock full of the Stax house style but it didn't have the warmth of the Wilson original. To my ears, Jackie sounds as if he could have been listening to Sam Cooke but then, Otis drew plenty from Sam too; there's a Cooke number on Soul Ballads (and three on its follow-up).
Following the success of Doggin' Around, Brunswick issued an album entitled Jackie Sings The Blues focussing on that style of song. They were so quick to release it (1960) that A Woman, A Lover, A Friend missed out (but became the title track for the following album).
This is probably a good point at which to interject a biographical note. In his online feature on Jackie, Jerry Reuss states:
"By early 1961, Freda (Jackie's second and then current wife – DS) was living with their four children in Detroit while Jackie rented an apartment in New York. Jackie, living the unbridled life as a star, was dating model Harlean Harris while having multiple other affairs on the side. On February 15, 1961, Juanita Jones, one of the other women, shot Wilson twice as he returned with Harris to his Manhattan apartment. At nearby Roosevelt Hospital, life saving surgery was performed followed by weeks of medical care. Wilson lost his left kidney and carried the bullet that was near his spine for the rest of his life."
1962 TO EARLY 1966
The second half of 1961 saw the start of a downturn in Jackie's record sales: none of his singles made the Pop Top Twenty and the situation in the R&B Chart was almost as bad in that only one single made the twenty. In 1962, the competition for R&B Chart places got even harder; in addition to the more obvious names who were all motoring, people like Bobby Bland and Solomon Burke were getting both attention and sales, and Stax and Motown were revving up (to pursue the automobile analogy which seems apt for Detroit).
Even the Wilson big ballads were starting to lose their appeal so, in mid '62 Brunswick tried Jackie out with a more edgy affair, I Just Can't Help It aided and abetted by an unknown but highly memorable Mr. Bassman, in an attempt to compete with such things as Shout And Shimmy from James Brown and, you guessed it, this was the one that gave him his solitary R&B hit that year – it only reached #17 but better than nothing.
Follow-ups failed but in early '63, Baby Workout emerged from the Brunswick stable. Something of a cross or merger: on the one hand it had that in-your-face rhythmic punch that would later appear in such things from JB as Out Of Sight and I Got You (I Feel Good), yet on the other with its brassy backing, it wasn't a million miles from the sort of number Bobby Darin would do when in finger-snapping Tony Bennett night-club mode.
In terms of chart action, it did the trick: #1 in the R&B Chart, #5 Pop. The record was followed by a stream of slightly similar sounding efforts like Shake, Shake, Shake; Baby Get It (And Don't Quit It); Call Her Up and more, though none had the impact of Baby Workout either musically or in the charts. The immediate successor to "Workout", Shake A Hand deserves a little more attention. It was a duet with a lady called Linda Hopkins and although somewhat ponderous in the solo sections, it came alive in a gospelly hand-clapping manner in the chorus. It was in fact number 2 in a short series of duets, three with Linda, and the last, Think Twice with LaVern Baker. Said series kicked off in '62 with I Found Love / There's Nothing Like Love, both sides of which are contained in this clip which for me is the best of the bunch (with my preference going to the flip but I couldn't find a version on YT unsullied by adverts). I would interpret the series as further attempts by Brunswick to woo the black audience.
Within this period there were also several interesting individual records which indicated that Brunswick/Jackie were trying on various forms of soul dressing for size. She's All Right from late '64 is one such. The guitar and horns suggest a slight resemblance to Stax productions which is surprising when you consider that the arranger, Ray Gordy, was the wife of Berry from 1960 to '64 and had been associated with Motown from the early days. That one nearly made my ten but instead I went for I've Got To Get Back (Country Boy) from the start of 1966. For this late release date there were almost retro touches about the record: from the use of the doo wop progression, the counterpoint tenor meandering round Jackie and the feeling of a fifties blues ballad. But it was all wrapped up in mid/late sixties professional gloss. Nice record guys. Shame it did zilch.
MID 1966 ONWARDS
It would be tempting to regard much of the first half of the sixties Wilson output as transitional. Tempting but misleading. There was no sense of a gradual move towards a broadly Motown styled music, which is a simplification (again), but it'll do. In terms of R&B cum soul, 1962 to early '66 consisted of attempts to latch onto various streams of black music which would get lumped together under the label 'soul' but totally ignoring that stream – no, major river, not stream – which originated from Detroit itself. The change when it came, came with one record and a new producer. Over preceding months and years, Nat Tarnopol had appeared increasingly (but sometimes sharing the role) as producer, and Jackie himself with similar frequency as one of the composers. With Whispers (Getting Louder) released in August '66, this all changed. The new producer was Carl Davis whose CV included the production of R&B and Pop hits for Gene Chandler and Major Lance in Chicago. At Brunswick, Davis would work with a range of new (to the label) arrangers but evidently called the shots. Composers, too, were new. My notes for this one read "jumper with strings and soft ladies in support – Motownish".
There's little doubt that this was the sound Davis was after since he hired the Motown house band a.k.a. the Funk Brothers as backing team for the session and continued to use them from then on. In his biography of Jackie, Jerry Reuss quotes Carl Davis as saying: "the Funk Brothers used to come over on the weekends from Detroit. They'd load up in the van and come over to Chicago, and I would pay 'em double scale, and I'd pay 'em in cash."
Although we didn't pick up on the track on this side of the pond, the US public loved it and the Wilson comeback was underway. In terms of a selection from this timeframe I've gone instead for a track which came two releases further down the line, I've Lost You (which might have been part of a not fully realised story sequence since its predecessor was entitled I Don't Want To Lose You). My reasons for the selection? The song (which came from Van McCoy) was better melodically and in placement of hooks (though lyrically it was the same old Lonely Teardrops story), the arrangement was delivered in a manner that was designed to capture teenagers at the time (but still sounds fresh today with the violins leading the listener through the storyline) and Jackie sounded more at home with this new style.
The high point saleswise of the Wilson revival came with (Your Love Keeps Lifting Me) Higher And Higher: top ten entries in both charts including the last number 1 spot (of four) with the R&B audience. It was very good, note the way that the arranger builds the levels of exuberance in roughly 45 second blocks with subtle changes introduced on each 'restart'. The level of quality from Whispers through to the early seventies was such that a goodly number of his singles should have been rewarded with chart success but didn't get it; sales went largely downhill after this one.
His other success during this period was unusual in that it was spread over multiple decades. I Get The Sweetest Feeling, another Van McCoy number but a co-write this time, saw release a year after "Higher". It did moderately well but wasn't a smash. However, it didn't get released in the UK until a rerelease of "Higher And Higher" reached #11 here in May 1969. It was the success of that which probably prompted a 1972 release of "Sweetest Feeling" here and, great news for Jackie, it got to #9. Later releases of the same track in '75 and Feb '87 (shortly after the Reet Petite reincarnation – see footnotes) got to #23 and #3 respectively. (And another rerelease of "Higher" in July '87 reached #15).
Which is all fine but over the years it has led to a degree of over-exposure of both "Higher" and "Sweetest Feeling" which is why the second doesn't make my ten. Apologies to those who were expecting to see it but you'll probably hear it again on the radio before too long.
Apart from reissues, Jackie's last real hit of any size was You Got Me Walkin' written and co-produced (with Carl Davis) by Eugene Record of the Chi-Lites with the group providing the backing. It was another fine example of Jackie slotting in well to another person's vision.
My final two selections come from a late (1972) single which is so obscure that it didn't even see release in the UK. The first, You Left The Fire Burning is as forceful as anything he did under Carl Davis; the second, What A Lovely Way combines ballad components and funk. Both records feature strong but effective use of violins:
HIS DEATH
On 29th September 1975, Jackie was playing a Dick Clark oldies show in the Latin Casino in New Jersey and, in the middle of singing Lonely Teardrops – Wiki tells us that it was on the words "My heart is cryin'" – he collapsed and might or might not – accounts vary – have taken a blow to his head with the fall. Cornell Gunter of the Coasters, who was providing backing singing, gave him mouth-to-mouth resuscitation and he was taken to hospital.
He was left in a semi-comatose state and apart from a partial but very brief recovery in 1976, remained that way until his death on 21st January 1984. According to the Northern Soul Train biography of Jackie, Al Green – the singer this time – was one of few fellow artists to regularly visit him during the long period in a nursing home.
CONCLUSION 1
"His recordings rarely reflected his talent …"
Did Joe McEwen have a point or not? If you look at Jackie's record output prior to Carl Davis coming on board and filter it via 'soul' and possibly, given the timeframe, 'pre-soul', then you might say yes. He cut a small number of blues cum soul ballads – and I'd add Please Tell Me Why released in 1961 to those mentioned – but hardly enough to be called highly distinctive in this category. The later productions produced by Davis could be called 'soul' but only in the wider sense in which it's used to define Motown in general. In addition, the Davis records regularly placed the arrangements to the fore as much as the vocal contribution i.e. they were much more team efforts than records by Brown or Cooke, the names used by McEwen for comparison. What I'm trying to say is that while Wilson was highly influential on other soul artists, few of his records stand out as pioneering soul achievements.
And there's one nagging question about Jackie which never quite goes away. Why didn't he follow Berry Gordy and become a major part of that empire that he (Berry) was building? Had the early friendship evaporated? Did Jackie need the security of a big record label (always remembering Brunswick was part of Decca)? Did Nat Tarnopol have a hold on him?
But does any of that matter when we have Reet Petite and Lonely Teardrops? And Higher And Higher and, yes, The Sweetest Feeling? Categorisations fall away.
CONCLUSION 2
Van finished with:
Reet Petite
The finest girl you ever want to meet
FOOTNOTES
1. In relation to the 'aging' of the Reet Petite record it's worth noting that when it was rereleased in 1986 it hit the number one spot in both the UK (and that was over the Christmas period), Ireland and the Netherlands and achieved a Top Ten position in five other countries.
2. For historic reasons Billy Ward and his Dominoes warrant a Toppermost of their own. In its absence, below is a slightly modified version of the mini biog I included on the group in the Drifters Toppermost:
Billy Ward was something of a child musical prodigy and studied music at the Art Institute in Chicago and the Juilliard in New York after completing his military service. He picked up jobs as part-time arranger and vocal coach, and came up with the idea of recruiting students to form a vocal group. He found Clyde McPhatter after the latter had won an amateur talent night at the Harlem Apollo. The first group that Ward put together started off playing talent contests and got themselves a recording contract with Federal Records, part of King Records of Cincinnati. The group were originally called the Ques, then the Dominoes, then Billy Ward and His Dominoes. Ward played no role in the actual singing, but would accompany the group on keyboards and produce the guys in the studio. He also wrote many of their songs along with talent agent Rose Marks who also worked on the group's management. One of their most famous numbers was Sixty Minute Man, a title that wasn't designed for white radio airing but in spite of that it was one of the earliest R&B records to cross over to the Pop Chart (it made #17). Billy Ward paid his singers a salary each rather than giving a part share of royalties, concert monies etc. According to Wiki – "Allegedly, Ward paid his singers $100 a week minus deductions for taxes, food and hotel bills." He also fined a member if he stepped out of line in any way.
The group started out in 1950 and managed to hit the charts through to 1958. 12 of their records got into the R&B Chart Top Ten and four of those crossed over into Pop Top Thirty. The last two of those were Stardust and Deep Purple, oldie ballads sung with orchestral backing. The group splintered some time in the early sixties with multiple outfits attempting to continue the name.
3. I'm not aware of the connection between the records Lonely Teardrops and It Doesn't Matter Anymore being made anywhere in print (or on the net) though I can't say categorically that that isn't the case. Consequently, I'm laying claim to pointing out the linkage.
4. With regard to Jackie's recording, Night, Wiki tells us that "the song is based on the aria "Mon cœur s'ouvre à ta voix" from the opera Samson And Delilah by Camille Saint-Saëns."
5. If I've logged more about chart entries for Jackie than in other Toppermosts, that has been to confirm the degree of success he had, particularly with a white audience. On the R&B front he achieved four number one positions in the R&B Chart (and three of those are in my ten).
Rock & Roll Hall of Fame: Jackie Wilson (1987)
Jackie Wilson Lovers: Mr. Excitement remembered
Jackie Wilson on Brunswick Records
Jackie Wilson biography (AllMusic)
Dave Stephens is the author of two books on popular music. His first, "RocknRoll", is described by one reviewer as "probably the most useful single source of information on 50s & 60s music I've come across". Dave followed this up with "London Rocks" in 2016, an analysis of the early years of the London (American) record label in the UK. You can follow him on Twitter @DangerousDaveXX
Read the Toppermosts of some of the other artists mentioned in this post:
James Brown, Roy Brown, Ray Charles, Coasters, Sam Cooke, Al Green, Buddy Holly, Van Morrison, Johnny Otis, Otis Redding
TopperPost #948