Maxïmo Park
| Track | Album |
| --- | --- |
| Apply Some Pressure | A Certain Trigger |
| I Want You To Stay | A Certain Trigger |
| Girls Who Play Guitars | Our Earthly Pleasures |
| Books From Boxes | Our Earthly Pleasures |
| When I Was Wild | The National Health |
| Is It True? | Too Much Information |
| What Did We Do To You To Deserve This? | Risk To Exist |
| Versions Of You | Nature Always Wins |
| Mary O'Brien | Warp Records WAP220CD |
| North By North East | Download single (2018) |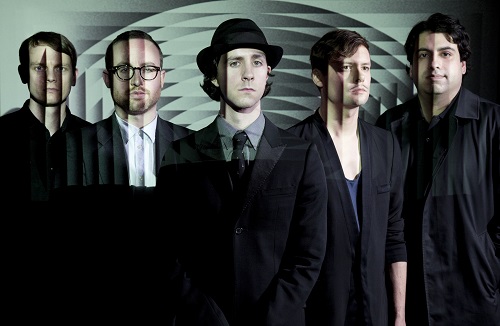 Maxïmo Park (2017 – l to r): Tom English (drums), Duncan Lloyd (gtr), Paul Smith (vocals), Lukas Wooller (keyboards), Archis Tiku (bass)
Contributor: Justine Harvey
The first few years of this century, I was in a musical rut, listening to the same old music. Occasionally a new band would break into my consciousness but I felt that the days of a band really meaning something to me were behind me. Then along came Maxïmo Park with their mixture of spiky punky numbers and songs of wistful yearning. I still think of them as 'my new band'; it comes as something of a shock to realise they've been around for the best part of two decades and have released seven studio albums, including a new record they put out while I was dithering over my choices for this list, causing a last minute rethink.
Starting the list off with an obvious one, Apply Some Pressure, the one most people will know, one that might still be considered their signature tune, what it seems many music critics would like all of their songs to sound like (although they'd no doubt be criticised if all their songs did still sound like this). A live favourite, which is important for a band that consistently delivers great live performances and, in this song, a perfect vehicle for frontman Paul Smith's exuberant pointing and jumping routine.
But it was another single from their debut album A Certain Trigger that really got to me. I Want You To Stay was the one that made me think here was a band I could love, not merely like. A lot of this comes down to age and geography, the band being a similar age to me and with connections to the north east of England which is where I grew up. The conflicting feelings of homesick nostalgia and a desire to break out of small-town inertia and images of post-industrial landscapes that litter their songs are all too familiar to me and never done better than in the chorus in this song:
Cause nothing works 'round here
Where cranes collect the sky
I long for the neon signs of night
Cause nothing works 'round here
Next a pair of songs from Our Earthly Pleasures, a far cry from the difficult second album. The album blasts off with Girls Who Play Guitars which combines nostalgic reflections with an explosive sing-along-able chorus and is another live highlight. By contrast, Books From Boxes is quieter and slower, a melancholic song about a very specific moment in time, crammed full of detail, closer to a short story than a pop song.
Those first two albums are amongst my most played records of all time and it took much deliberation to pick (and stick with) just four favourites – The Coast Is Always Changing and By The Monument in particular just missing out. For the rest of the list, I've chosen songs that show the breadth and depth of the rest of Maxïmo Park's work.
While few of their songs break the three and half minute mark, When I Was Wild from fourth album The National Health is short by even their standards at just over a minute long. But it is anything but slight with the brevity adding to the haunting feeling created by Smith's vocals over a simple keyboard and cello accompaniment. A definite departure from the post-punk guitar sound of their early music.
The next two albums have moved further away from the indie guitar sound to be replaced by various takes on synth pop. Is It True? from Too Much Information sounds like Roxy Music but with painfully intimate lyrics, the devastating "ambivalent" shattering any illusion of a cosy relationship before the final discomfort.
Now that I'm in bed with you
listening to your favourite tunes,
ambivalent.
Oh, I never came too soon.
Oh, you didn't come too soon.
Released in 2017, Risk To Exist is what I think of as Maxïmo Park's Brexit album, a response to the rise in right-wing populism (Smith sings on Respond To The Feeling "everyone's turning right"), austerity and the migrant crisis (donations were made from the title single to a refugee charity). Politics have always been there in the background of their work but this is the most explicit. Over a catchy bit of synth pop with Low's Mimi Parker on backing vocal, What Did We Do To You To Deserve This? is a swipe at deceitful politicians, cronyism and the rigid class system, that feels ever more pertinent now:
You look out for your mates and yourself and that's natural, I'd say
But then you trample over the less well off and downtrodden they stay
With Versions Of You we are back with the personal again, an achingly tender song about fatherhood. It was a late entry to this list, the song on the band's latest release Nature Always Wins that stopped me in my tracks and demanded to be listened to without distractions.
For the final choices, I've moved away from album tracks and picked two more obscure songs. Mary O'Brien from the Our Velocity single is one of a series of B-side tracks inspired by obituaries. This one is about Dusty Springfield, Mary O'Brien being her real name. Smith has described the rationale for this as wanting to break from the deeply personal songs he was writing around the time of the second album and put together some B-side songs more quickly. Although intended to be more throwaway than their album tracks, I find these vignette songs fascinating – other subjects include film director Robert Altman, former deputy leader of the Labour party George Brown, philosopher Jean Baudrillard and photographer Don McPhee. I'm slightly disappointed the rumoured album of obituary songs didn't materialise.
North By North East is one of just two non-album singles put out by the band (the other being a Record Store Day single), released in 2018 as part of The Great Exhibition of the North, a two-month arts festival in Newcastle and Gateshead. With its classical orchestration, it could be mistaken for the pomp and ceremony propaganda you'd associate with such events, but the lyrics undercut that. It is still a celebration of sorts of their "adopted hometown" but a realistic one that sees the "skeletal shipyards" alongside the landmarks of the "blinking bridge" and Grey Street. Closing with the line "somehow I know that I'm home when I'm here" and we've come back to those feelings that started my love affair with Maxïmo Park.
The Making of North By North East – Great Exhibition of the North (YT)
Maxïmo Park live at Brixton Academy (2005)
Maxïmo Park biography (AllMusic)
Having written about topics ranging from baby car seats to housing policy, Justine Harvey now mainly writes about theatre buildings for work or her passion for outdoor swimming. Writing about music has made a nice change. She is on Twitter @seatinthestalls and Instagram @justinefharvey
TopperPost #947