Leadbelly
| Track | First recordings |
| --- | --- |
| Birmingham Jail | Library of Congress 4470-B-6 (1940) |
| Black Girl | Musicraft Mus 312 (1944) |
| Ella Speed | Library of Congress 120-B-5 (1933) |
| The Gallis Pole | Musicraft GM-509-A (1939) |
| John Hardy | Library of Congress 4472-B-1 (1940) |
| Midnight Special | Library of Congress 124-A-1 (1934) |
| On A Monday | Asch SC-258 (later Folkways) (1943) |
| Rock Island Line | Library of Congress 995-B-2 (1937) |
| Take This Hammer | Victor 051330 (1940 unissued) |
| Whoa, Back Buck | Library of Congress 154-B (1935) |
These 10 personal favourites were selected from vinyl records going back over fifty years. They are all available now on The Definitive Leadbelly and The Smithsonian Folkways Collection CDs, the same versions in the main as the ones familiar to me since the 60s. To find out more about the origin of these and other Leadbelly recordings, visit Lead Belly: Complete Discography and The Leadbelly Web

Leadbelly "King of the 12-String Guitar"
('Storyville Blues Anthology Vol.7' front cover photo)
Contributor: Merric Davidson
Leadbelly or Lead Belly?
"During the 1930s and 1940s it was usually spelled as two words, but gradually, over the past 40 years, it has been reduced to a single word: Leadbelly. The family is not unanimous in its support for either form, though most would probably opt for two words. We decided, however, that current conventions should prevail because "Leadbelly" is the way most people are used to seeing it spelled today." (Charles Wolfe & Kip Lornell, "The Life And Legend Of Leadbelly" HarperCollins 1992)
"Huddie William Ledbetter is better known by his stage name Lead Belly. Though many releases list him as "Leadbelly", he spelled it "Lead Belly" which is also the spelling on his tombstone, and the spelling used by the Lead Belly Foundation." (Wikipedia)
I'm going with the Leadbelly spelling throughout as that's how it's spelled in my mind and on most of my records including this EP from 1961 (note the misspelled Hudie Leadbetter at the top!):
THE LIFE AND LEGEND
The story of Leadbelly reads like fiction and while there's no doubt much of it was embellished in the narrative, the rest resembles a particularly lurid plotline. It was a tough old life for a young black man growing up in the southern states in the latter part of the 19th century and the early part of the next; tougher than tough, rougher than rough, unimaginable in today's America (really!?). But rather than recount all the old stories here, I'm extracting from Harald Grut's sleevenotes (indicated HG in text) to the Storyville Blues Anthology album (Vol.7. SLP124) which occupy the next few paragraphs. For a more detailed life story look no further than Wolfe and Lornell's definitive and excellent biography referred to above and quoted throughout this piece (indicated W&L).
"Lead Belly was a folk singer rather than a blues singer. His memory for the songs he had heard and learned during his travels in the Southern States and during the years spent in penitentiaries had made him a gold mine to everyone who took more than a passing interest in that vast and wonderful heritage.
"He was born Huddie (pronounced 'hugh-dy') Ledbetter in the mid-to-late 1880s (see later) and his background was rural. From Mooringsport, Louisiana, his birthplace, his parents moved to Texas in 1893 when he was five and there his father worked as a sharecropper. His first meeting with music came at that time when somehow he acquired an accordion and learned to master it after a fashion.
"As he grew up he became increasingly popular because of the music he could contribute to the local 'sukey-jumps'. At the age of sixteen, he was married and had a child. And then his wanderings began. All over the South where his fancy took him. Rough times, hard times, bad luck, but also a healthy appetite for all that life had to offer. In Dallas, in 1910, he heard his first jazz band. He picked up a smattering of piano and learned how to master the twelve-string guitar.
Well, I used to just have an ordinary guitar. One night I was playin' in a place and people was drinkin' and some was dancin' and it was warm and one of the strings broke. I jest went on playin' though. Then a pretty gal come along and boy! She was a high-brown. Wow! She came over to where I was sittin' and playin' and she come and leaned down close. Jest then another string broke but I didn't let on. I jest went on playin'. It was hot, and she jest leaned over my shoulder and pushed against me – you know. And another string broke, but I couldn't stop now. Not no how! So I jest kept on playin', 'cause she was nice – fine as wine in summer time. And then you know what? Another string broke, and I jest had one string left. I played that one string 'cause I liked that thing. But I made up my mind right then that I'd go out and get me a 12-string guitar. (W&L)
"In 1918, Huddie Ledbetter entered Texas penitentiary for a term of thirty years, convicted of murder and assault to kill. In 1925, he was pardoned by Governor Pat M. Neff; as legend has it because his singing appealed to the heart of the stern governor.
"He resumed his wanderings and met and travelled with Blind Lemon Jefferson. But once again, he fell victim to his own volatile temper. In 1930, he entered Louisiana penitentiary for a term of ten years, convicted of assault with intent to murder. This was where he was 'discovered' by the folklorists, John and Alan Lomax and a vast number of recordings resulted. They used their influence to obtain a reprieve.
"The Lomaxes brought him to New York and introduced him to a life of far greater splendour than he had ever known. His songs were discussed by musicologists at austere universities, and he appeared on radio and recorded profusely enjoying the sweet taste of success.
"Huddie Ledbetter died in a New York hospital on 6th December 1949. Ironically, his biggest success came a few years later when one of his songs which he had sung for the better part of his life, Goodnight Irene, became a universal popular hit.
"Lead Belly's claim of being "King of the Twelve-String Guitar Players of the World" may have been slightly exaggerated but he was, in the words of one of Alan Lomax's colleagues, 'a demon of a man'. To which Lead Belly commented: 'The demon means the head man. That ol' man knows what he is talkin' about!'." (HG)
"Sweet Singer of the Swamplands Here to Do a Few Tunes Between Homicides"
So rang out this sensational headline from the New York Herald Tribune on 3rd January 1935: "His big voice carried across the room, high and clear, and two hours after he started they still lingered, draining his repertoire of Negro ballads, working songs and reels and filling his ears with applause."
"Alan and I were looking particularly for the song of the Negro laborer, the words of which sometimes reflect the tragedies of imprisonment, cold, hunger, heat, the injustice of the white man." John A. Lomax, folklorist (1933)
"Leadbelly at this moment is the most famous black man in the world, and I the most notorious white man." John A. Lomax (1935)
"Lead Belly: Bad Nigger Makes Good Minstrel"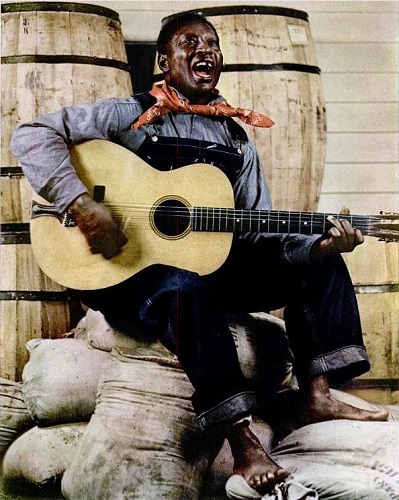 Staged photograph of Leadbelly for an article in LIFE magazine (dated 19th April 1937) during the time he was playing concerts in NYC; the shocking headline (above) demonstrating the overt racism of the times.
This LIFE photo-page is captioned: These Hands Once Killed A Man
 SOME OF THE SONGS
"I would shiver the whole night through"
My husband was a railroad man
Killed a mile and a half from here
His head was found in a driving wheel
And his body hasn't never been found
There is a fascinating history of the song Black Girl aka In The Pines aka Where Did You Sleep Last Night on Wikipedia but, suffice to say, Leadbelly's interpretation of it goes way back to the 1910s and he eventually ended up recording it under the auspices of the Lomaxes in the 40s. His version is, for many, the definitive one.
"I've been the death of many a poor boy
– and now I am ready to die Lord"
John Hardy he was a desperate little man
He carried two guns every day
He shot a man on the West Virginia line
Might have seen John Hardy getting away poor boy
Might have seen John Hardy getting away
I've been to the east I've been to the west
I've been this whole wide world round
I've been to the east river and I've been baptized
Now take me to my hanging ground lord now
Take me to my hanging ground
The historical John Hardy is believed to have gotten into a drunken dispute during a craps game held near Keystone, West Virginia and subsequently killed a man named Thomas Drews. Hardy was found guilty of murder in the first degree, and was hanged on 19th January 1894 with 3,000 people allegedly in attendance. Hardy is believed to have made peace with the Lord the morning before his death by being baptized in a river. The song has been performed by numerous artists. The earliest known recordings are credited to Eva Davis for Columbia in 1924, Ernest Stoneman for Okeh in 1925, and Buell Kazee for Brunswick in 1927 (source: Wikipedia).
"I gee to the mule but the mule wouldn't gee"
I taken my gal to a country store
I bought my gal some calico
Taken my gal to a party-o
And I wouldn't let her dance but a set or so
Ta-woah-ho, gee, back up, get over there, yeah
[Chorus]
Woah, buck an' gee by the lamb
Who made the back-band, woah goddam
etc.
This worksong, recorded by Leadbelly in 1935, has also been covered by Dave Van Ronk, the Rooftop Singers, Lonnie Donegan, Bob Grossman and Lulu Belle and Scotty in 1940. Leadbelly replaced the word 'goddam' in the chorus with 'Cunningham' when he was singing 'in polite company'.
More on the lyrics of Whoa, Back Buck at this brilliant forum.
"The Death of poor Ella Speed"
Come on and take heed
Just remember the death of poor Ella Speed
Ella Speed was down town she was havin' her lovin' fun
Let me tell you what Bill Martin done
The deed that Bill Martin done
First degree murder with a Colt forty-one …
Until I came to put this piece together I'd sort of assumed that Ella Speed (trad. arr. Leadbelly) was one of the definitive Leadbelly songs; he sings it so authoritatively and it's maybe my favourite of all of his. But then I came across a fantastic version by Mance Lipscomb; it's well-known but it wasn't to me.
And so I wanted to find out who sang it first – Huddie, that great collector of songs, or Mance. However, I could turn up nothing that was conclusive and you might say, probably rightly, what's the point in trying. I'll keep an eye on it though.
Anyway, looking at the lyrics of the Lipscomb account, he's telling this tragic story through the eyes of the murderer (without naming him as Bill Martin) and the effect is quite chilling – see below:
And then, as invariably happens when you're surfing around, I stumbled across this remarkable history of the song and its true story on Weenie Campbell's extraordinary website; the death of poor Ella Speed dating back to New Orleans in 1894 as apparently does the beginnings of the song which immortalises her. The Lomaxes first came across it and published it in 1934 but there are similarities in earlier songs from the 20s. It's an intriguing piece if you have something of the detective about you!
"Yonder comes Miss Rosie"
If you're ever down in Houston
Boy you better walk right
And you better not squabble
And you better not fight
Bason and Brock will arrest you
Payton and Boone will take you down
You can bet your bottom dollar
That you're Sugar Land bound
Let the Midnight Special
Shine a light on me …
Huddie first recorded his version of this traditional song at Angola Prison for the Lomaxes in 1934 and, as the Houstonia magazine points out, it sheds light on the horrible conditions at the State Prison Farm in Sugar Land, Texas.
A.W. Brock was the chief of police in Houston for a time and the team of George Payton and Johnnie Boone was a pair of city detectives who specialized in working the black sections of town. (W&L)
Although there were recordings of songs similar to Midnight Special prior to Leadbelly recording his own personalised version in 1934 – and indeed after, most notably by the State Street Boys for the Okeh label in 1935 (Willie Broonzy on vocals and guitar – yes Big Bill, Jazz Gillum on harmonica, Black Bob on piano, Zeb Wright violin) – I think it's fair to say that Leadbelly's Midnight Special is by far the most long-lasting and well-known today.
Apart from my top 10, here are some of the other songs, popularised, written (or rewritten) by Huddie Ledbetter: Cotton Fields, Pick A Bale Of Cotton, Boll Weevil, John Henry, Goodnight Irene, Stewball, Ha Ha This A-Way, Meeting At The Building, Bring Me A Little Water Silvie, Old Riley, Julie Ann Johnson, You Don't Miss Your Water, Black Betty, Grey Goose, Out On The Western Plain and a hundred other songs from the oral tradition that are well-known today.
THE LEGACY
"Here's to Cisco and Sonny and Leadbelly too …"
(Bob Dylan's Song To Woody)
In his Nobel Prize for Literature lecture in 2017, Bob Dylan said, "Somebody – somebody I'd never seen before – handed me a Leadbelly record with the song Cotton Fields on it. And that record changed my life right then and there. Transported me into a world I'd never known. It was like an explosion went off. Like I'd been walking in darkness and all of a sudden the darkness was illuminated. It was like somebody laid hands on me. I must have played that record a hundred times."
Huddie's friend Pete Seeger, who described the music of Leadbelly as "some of the best songs we'll ever know", recorded this tribute (written by Lorre Wyatt and Pete) on his album Pete in 1996:
Huddie Ledbetter was a helluva man
Huddie got his music from the heart of the land
In his voice you could hear John Henry's hammering
While his hands would "buck and wing" upon the big 12-string
Sometimes a lion, sometimes a lamb
Huddie Ledbetter was a helluva man
He's a long time gone but his songs live on …
"I met Woody at Leadbelly's house in New York. I met Lee Hayes of the Weavers there. I met Burl Ives at Lead's. Everybody else that I met was at Lead's. He had Italian friends, Jewish friends, white friends … he had all types of people at his house." Brownie McGhee
"I came to his and Martha's apartment over on east Tenth Street and I carried my own guitar, and they begged me to stay, to eat, sing and dance there … three little rooms painted a sooty sky blue and then smoked over with stains from cigarettes, cigars of the rich and poor. I listened as he tuned up this Twelve-String Stella, easing his fingers up and down along the neck. He had a slow running, easy deep, quiet way about him and his thoughts ran as deep in color as the lights that played down from the sky and into his face." Woody Guthrie
Leadbelly's work has widely influenced a who's who of world-renowned musicians.
"If there were no Leadbelly there would have been no Lonnie Donegan; no Lonnie Donegan, no Beatles. Therefore, no Leadbelly, no Beatles." George Harrison
"He never knew that he was to be the father-figure of the British Skiffle Movement. Had he known, he would probably have been pleased, though not surprised; 'Lead' was well aware of his greatness. Fiercely masculine, his voice carried a strange mixture of emotions, his songs impressed with the uncomfortable proximity of love and hate. His guitar music was superb, a fitting accompaniment to his voice. The odd thing about Lead's voice is that one almost tends to think of it in the baritone range, its massiveness forcing the mind to deceive the ear. His great physical strength could be felt in everything he sang, in every note that he ever played on his 12-string 'Stella' guitar." Alexis Korner
The King of Skiffle, Lonnie Donegan, recorded many of Leadbelly's songs, most notably Rock Island Line which was his first hit record, reaching #8 in 1956. I counted ten more on Lonnie's Rock Island Line – The Singles Anthology CD set.
So many artists have recorded Goodnight Irene including Frank Sinatra, Jo Stafford, Ry Cooder, Bryan Ferry, Keith Richards, Eric Clapton, Tom Waits and Pete Seeger with the Weavers. Recent research shows that Goodnight Irene (or Irene, Good Night) was written and published by Gussie Lord Davis in 1886. Huddie was reportedly singing his adaptation of the song as early as 1908. He first recorded it in 1933. It would eventually become his most famous song. (W&L)
Van Morrison: "I first heard him in my father's record collection. He had Leadbelly records when I was very young. It was maybe 1954 or 1955. He had been in the States before that and he turned me on to the music with his record collection. The first ones were Ella Speed, Goodnight Irene, On a Christmas Day, Take This Hammer, Sweet Mary, Rock Island Line … yeah, those were the first ones. They were on an album called Classics In Jazz on Capitol. The voice, the 12-string guitar, the amazing sound." (interview in The Guardian 2015).
Leadbelly recorded Cotton Fields in 1940, a song which has been covered over a hundred times, and here are just some of them from the Highwaymen and the Springfields to Creedence Clearwater Revival and the Beach Boys.
Huddie popularised an old traditional number and recorded it as The Gallis Pole in 1939. Based on the Child Ballad, The Maid Freed From The Gallows, there have been many recordings and variations on the theme from the falsetto of John Jacob Niles (1940) to Judy Collins hitting the high notes on Anathea (1963), but perhaps the most celebrated interpretation is from Led Zeppelin who included their reading of Gallows Pole on their third album.
There's a lot more on the origins of The Gallis Pole (including an image of the 1920 Columbia recording of Gallows Tree by Bentley Ball) at Joop's Musical Flowers: the original versions of famous songs and songs covered by famous people – a highly recommended website if you've got the odd several hours to spare!
More recently, Kurt Cobain of Nirvana famously sang Where Did You Sleep Last Night on MTV Unplugged in 1994, referring to Leadbelly as the band's favourite performer:
Jack White's collection of esoterica includes Leadbelly's New York City arrest record. The White Stripes included two Leadbelly songs on their official 2004 DVD release Under Blackpool Lights: Take A Whiff On Me and the closer, Boll Weevil.
And then there's …
Huddie learnt the song Take A Whiff On Me ahead of his teens. He played any number of instruments before eventually getting a guitar; the guitar was not a favourite instrument with 19th century blacks but was experiencing a real surge of popularity in the rural South in the early 1900s. (W&L)
Cocaine's for horses and not for men,
The doctor say it kill you, but he won't say when.
By the time he was 14, Huddie had won a reputation for his guitar playing and singing … At 16, his father presented him with a typical coming-of-age present in the frontier south of that time – a pistol. His father's words: "Now son, don't you bother nobody, don't make no trouble, but if somebody try to meddle with you, I want you to protect yourself." (W&L)
Black Betty (Roud 11668) is a 20th-century African-American work song often credited to Leadbelly, though the earliest recordings are not by him. The origin and meaning of the lyrics are subject to debate. Historically the 'Black Betty' of the title may refer to the nickname given to a number of objects: a musket, a bottle of whiskey, a whip, or a penitentiary transfer wagon. Some sources claim the song is derived from an 18th-century marching cadence about a flint-lock musket with a black painted stock; the "bam-ba-lam" lyric referring to the sound of the gunfire. In the British Army from the early 18th century the standard musket had a walnut stock, and was thus known (by at least 1785) as a 'Brown Bess' (much more on Black Betty at Wikipedia).
In 1933, the Lomaxes made a number of field recordings at the State Prison Farm in Sugar Land. One of the convicts, James "Iron Head" Baker, sang songs from the Leadbelly repertoire including Black Betty and Pick A Bale Of Cotton (interesting alternatives on the meaning of Black Betty here at The BS Historian and at HeadStuff).
And then there's this!
The long list of Leadbelly songs goes on and on forever-o.
The Leadbelly Box – a prized possession from 1965 – a Folkways LP set released in the UK on the XTRA label by Transatlantic Records
Excerpt from the 1935 'March of Time' newsreel (produced by Time magazine) which re-enacts Leadbelly's release from Angola Prison. John Lomax plays himself and Leadbelly performs 'Goodnight Irene'.
On 'Leadbelly's Last Sessions', Huddie talks about the bars and brothels as he remembered them as a young man on Fannin Street in Shreveport, before singing his famous song of the same name – Wolfe & Larnell describe Fannin Street thus: "blacks in the bottoms tended to settle problems by themselves, by skill with a knife and quickness with a gun."
Scenes from the 1976 Gordon Parks biopic – Leadbelly and Blind Lemon Jefferson on a train singing Silver City Bound and driving in a car singing See That My Grave Is Kept Clean.
"This is a song … was sung by Leadbelly and it was written for … his friend … He had a friend named Blind Lemon … And they used to ride back and forth on a train from somewhere to Texas … And I learned this tune from a record I heard by him." (Nina Simone at Carnegie Hall, 1963)
Leadbelly sings the entire album 'Leadbelly Recorded in Concert, University of Texas, Austin, June 15, 1949' in this clip. This was his only such long live performance recording and it was made only six months before his death.
Leadbelly's nickname came from his ability to act as the lead man for the convict gangs that worked the cotton fields at Sugarland. He himself worked at a fast pace, and the songs he knew and sung helped make the work go smoother for all of them. One day the chaplain of the prison, the Reverend "Sin Killer" Griffin, came to him. "He says to me, you're a hard-driving man. Instead of guts, you got lead in your belly. That's who you are, old Leadbelly!" Whatever the case, Huddie seemed proud of the nickname and used it himself enthusiastically. (W&L)
Huddie Ledbetter (1889-1949)
According to John Lomax, Huddie Ledbetter said he was born in 1885. Ross Russell, who interviewed Huddie in Los Angeles, puts the date at 20th January 1889, "not 1885 or 1886, as has appeared elsewhere". Frederic Ramsey, Jr., who recorded Leadbelly's Last Sessions in New York, seems totally confused: in a magazine obituary, Ramsey mentions Huddie's death "at sixty years," in 1949, yet states four paragraphs later that he was born circa 1882. The tombstone in Shiloh Baptist Church's graveyard places Huddie's birthdate in 1889, but two census reports – 1900 and 1910 – both claim 1888 as the year of his birth. He was listed as twelve years old in 1900 and twenty-two in 1910. The most accurate date would have been provided by the 1890 census, which has been lost to posterity, but Huddie had clearly settled on the 1889 date by the time he spoke to Ross Russell. (from Monty Brown's great blog on Leadbelly)
Though Leadbelly was often called a blues singer, he had a repertoire that extended far beyond the blues. It was an old complex body of songs that came from a time before the blues, a time when American music was not defined through genres, copyrights and hit records. He was the first authentic traditional singer to go before the American people and make them aware of the rich vein of folk music that lay just beneath the surface of the hard bedrock of twentieth century industrial society. He also opened the door to the wondrous and potent world of African American folk culture and shared it with millions through the shaping power of his imagination. (Charles K. Wolfe and Kip Lornell)
The blues is like this. You lay down some night and you turn from one side of the bed to the other, all night long. It's not too cold in that bed and it ain't too hot. But what's the matter? The blues has got you. When you get up and sit on the side of your bed in the morning, you may have a mother or father, a sister and brother around, but you don't want no talk out of them. They ain't done you nothing, but what's the matter? The blues has got you. When you get up and put your feet under the table, you look down at your plate. You got everything you want to eat. Well, you get up, you walk away, you shake your head and you say, 'The Lord have mercy, I can't eat and I can't sleep.' What's the matter? The blues has got you and they want to talk to you. (Leadbelly)
The Lead Belly Foundation – official website
Lead Belly: Complete Discography
Lead Belly Official Facebook Page
"The Life And Legend Of Leadbelly" by Charles K. Wolfe and Kip Lornell (Da Capo Press revised edition 1999)
Charles K. Wolfe (1943-2006) Musicologist, Writer, Editor, Lecturer etc.
Kip Lornell – Professor/Folklorist and Writer
Lead Belly and the Lomaxes: Myths and Realities
Lead Belly: The Smithsonian Folkways Collection (5xCD)
"Legend Of Lead Belly" (2013) – Smithsonian documentary on YT
"A Vision Shared: A Tribute to Woody Guthrie and Leadbelly" (1988) directed by Jim Brown, narrated by Robbie Robertson
Leadbelly's Last Sessions (4xCD)
Lead Belly: The Smithsonian Folkways Collection – Martin Chilton review (The Telegraph 2015)
"Leadbelly – Three Songs" (1945 rare footage): Pick A Bale Of Cotton, Grey Goose, Take This Hammer
The Louisiana Music Hall Of Fame: Leadbelly
Rock & Roll Hall Of Fame: Lead Belly
"Negro Folk Songs As Sung By Lead Belly" by John A. and Alan Lomax (Macmillan 1936)
Tribute to Huddie Ledbetter – Royal Albert Hall concert, 15th June 2015
Roger Ebert on the 1976 biopic "Leadbelly" directed by Gordon Parks
Lead Belly biography (Apple Music)
Merric Davidson is a retired publisher who started this site six years ago. He tweets toppermost @AgeingRaver.
TopperPost #810