Mew
| Track | Album |
| --- | --- |
| Am I Wry? No | Frengers |
| Her Voice Is Beyond Her Years | Frengers |
| Apocalypso | And The Glass Handed Kites |
| Special | And The Glass Handed Kites |
| Introducing Palace Players | No More Stories ... |
| Sometimes Life Isn't Easy | No More Stories ... |
| Water Slides | + - |
| Satellites | + - |
| Carry Me To Safety | Visuals |
| Comforting Sounds | Half The World Is Watching Me |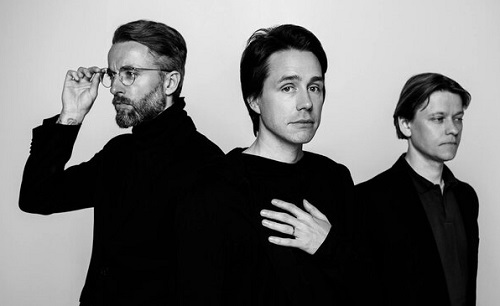 Mew (l to r): Johan Wohlert (bass), Jonas Bjerre (lead vocals/keyboards),
Silas Utke Graae Jørgensen (drums)
Contributor: Steve Miller
I dragged a friend to see Mew back in, I don't know, 2003? After the show, they said that it was like seeing an indie band that thought they were a stadium band. That's stuck with me ever since – there's a dichotomy at the heart of Mew, a series of questions that seem impossible to understand, but that are core to appreciating them.
Even their most well-known single, Am I Wry? No, poses a question which, although it's maybe answered in the title, doesn't find closure in the actual lyric. It's an excellent introduction to their work though; featuring jagged jittery guitar of a superior indie calibre, Jonas Bjerre's heavenly falsetto, and a shift towards the end where the titular question is posed and the song shifts gear completely.
This song was the lead single from their first major label album, Frengers (2003). It featured both new material and tracks from an earlier couple of indie albums and had a title that meant "Not quite a friend but not quite a stranger" according to the sleevenotes.
Featuring the aforementioned single, and a track, Her Voice Is Beyond Her Years, featuring guest vocals from Stina Nordenstam, Frengers went to number 2 in their native Denmark as well as bringing them to wider international attention.
The follow up album, in 2005, saw more questions brought to the fore. And the Glass Handed Kites saw epic rock bombast and songs that ran into each other and were intended to be listened to as continuous pieces. Whilst titles like Saviours Of Jazz Ballet might have suggested they were getting a little too pompous, the rock hooks in Apocalypso (see top clip) and the guest vocals of J Mascis on a couple of songs dragged them back from the prog label. Even a song like Special, possibly the closest they get to a four minute pop song, has a video that is closer to Bergman than MTV and a chorus of "You're a rocket to me".
Their next album was their first to go to #1 in their native Denmark, as well as #2 in both Norway and Finland. In typical style, though, they didn't exactly make it easy. The full title of the album: No More Stories Are Told Today, I'm Sorry They Washed Away // No More Stories, The World Is Grey, I'm Tired, Let's Wash Away.
Luckily this album is generally abbreviated to No More Stories… but it features an opening track, New Terrain, which is a whole new song when played in reverse, a lead single called Introducing Palace Players with multiple shifts in signature, and another single, Repeaterbeater, which has two minutes of subtitled dream dialogue at the start of the video. While they can at times seem impenetrable, the conundrum is that they really do reward the effort – dig under the layers and this is possibly their most accessible collection. Although songs like Silas The Magic Car and Sometimes Life Isn't Easy may be pop tunes through a Scandinavian arthouse filter, they're still pop tunes.
Possibly in a direct response to the 23-word title of their previous LP, their release in 2015 withdraws into itself. The album, titled + – , is another compelling set of songs, with Satellites proving to be a much more banging lead single than last time around and tracks like Water Slides showcasing their poppy tendencies.
Their output has slowed since then. Visuals was released to muted reception in 2017 and though it's still a strong piece of work, it's fair to say that without much of a record company push, it's probably an album that's fallen through the cracks. Songs like Carry Me To Safety still illustrate their strengths – it's a beautiful song, reminiscent of She Came Home For Christmas from fifteen years before.
And much like many of their gigs, this list has to come back to Comforting Sounds. Featuring on both Frengers and Half The World Is Watching Me, this glorious evocation of childhood memories dissolves into an epic seven minute coda, all spiralling guitars, flashing lights and violin playing bears. There's a DVD available of a Copenhagen homecoming show that illustrates this gloriously. It's Mew in a bottle, it makes my heart miss a beat every time I hear it, and if you've only got five minutes to spare, find an extra five, watch this video and fall in love with this wonderful band.
MewX.info fansite – discography/podcast/community etc.
"Mew are a band who provoke fanaticism globally, but not on a global scale. The distinction is important. That innate outsidership has always heightened the significance for the individuals scattered across the map who each feel like this is somehow just for them …"
Steve Miller lives in Northampton, where he saw the Pixies in 1988 and still waits for a show to beat that. He's recently started a new blog going through his underwhelming tape collection at MillersMixTapes and can be found on twitter @serial_miller banging on about nothing in particular.
TopperPost #945