Rick Astley
| Track | Album |
| --- | --- |
| Never Gonna Give You Up | Whenever You Need Somebody |
| Whenever You Need Somebody | Whenever You Need Somebody |
| Hold Me In Your Arms | Hold Me In Your Arms |
| In The Name Of Love | Free |
| Cry For Help | Free |
| Never Gonna Give You Up | Rick with The Luddites (YouTube) |
| Rocking In The Free World | Rick with The Luddites (YouTube) |
| Keep Singing | 50 |
| Every One Of Us | The Best Of Me |
| There Is A Light That Never Goes Out | Rick with Blossoms (YouTube) |
Contributor: Dave Ross
As Rick Astley "won" Glastonbury this year with his great solo set on the main stage, his collaboration with Blossoms covering songs of the Smiths in a hot sweaty tent and generally proving himself a serious challenger to Nick Heyward for 'the nicest man in pop' title, I decided he needed the Toppermost treatment. I have a history with Rick that goes back to 1987, faded as he escaped the limelight, reignited in his lean years, faded again and currently is firmly in the rediscovery stage following Glastonbury. So, this Top Ten will be a chance for me to share this history.
In 1987, I was leaving my post punk days far behind me as new friends introduced me to a world akin to Wham's Club Tropicana. Hedonistic, drink-fuelled foreign holidays that were accompanied by a mix of pop, soul and jazz funk. August 87 saw us in Gran Canaria and just before we departed a song was starting to get serious airplay. It was a Stock Aitken Waterman track with some guy called Rick Astley. We must have heard it five times a night as we crashed drunkenly from bar to bar so I was desperate to see who this big-voiced unknown was when we got home. I distinctly remember laughing out loud as this pale, clearly nervous, guy in a big suit and roll neck 'danced' his way through this monster of a song that was now number one and outselling everything else by miles. It was incongruous but marvellous and I was hooked.
I'll just leave this here from Wikipedia …
Astley's first solo offering was Never Gonna Give You Up, recorded on New Year's Day 1987, and released eight months later, in August. Although his producers were initially unenthusiastic about the track, Astley's distinctive rich, deep voice combined with dance-pop made the song an immediate success, spending five weeks at the top of the British charts and becoming the year's highest-selling single. The song was also a worldwide number-one hit, topping the charts in 24 other countries, including the US, Australia, and West Germany. It was the first of 13 (worldwide) top 30 hit singles for him. Never Gonna Give You Up won Best British Single at the 1988 BPI awards (now called the BRIT Awards), and he performed it in front of a global audience of 100 million.
It recently also became only the fourth 80s song to have 1 billion views on YouTube. The album it came from, Whenever You Need Somebody, sold 15 million copies worldwide and included two US number ones. Rick Astley in 1987/88 was a huge global star. Quite a rise for someone who as I'm sure you know started as a drummer in a covers band and became a tea boy at SAW. As we'll see later it was all perhaps a bit too much for him.
My second choice is the title track from that first album Whenever You Need Somebody. Its insane 80s production just cannot mask Astley's remarkable soul voice.
His follow up album Hold Me In Your Arms was always going to struggle to match Whenever You Need Somebody in terms of sales but with Astley writing five of the songs it was the first sign that he was no SAW puppet. The title track, written by Rick, stands up against anything Luther Vandross or Alexander O'Neal were releasing at the time and is my third choice.
So, much like Rick we'll leave SAW behind now and move on to another phase. By 1991, I had met and married my wife and my first child was on his way. When Rick reappeared in that same year with the album Free, shoulder length hair and a collection of songs he'd written with Rob Fisher and Mark King, and opening with Michael McDonald's In The Name Of Love, it became a regular on our music system CD player. Free is an album that instantly takes me back to a time when the idea of marriage and children to escape the madness and hangovers seemed eminently sensible. If I knew then what I know now. Anyway, Rick for a while with Free soundtracked a new and exciting time in my life. Let's go with that Michael McDonald cover as a song of hope and optimism which to be fair Rick absolutely nails. It's a brave man who covers Michael McDonald.
We got a right to happiness, in the name of love
And maybe sometimes we may forget
To give it all we possess
We gotta try for what we get, in the name of love
And without pause or regret
Searching only for the best
And we'll try in the name of love
Clearly Rick was looking to leave the madness of the SAW years behind him and the negativity and music snobbishness that enveloped him. Calling the album Free for a start. The first single is my favourite Rick Astley song and, without being too dramatic, it's a song I struggle to listen to now as it soon came to signify, along with the melancholy sadness of Del Amitri, where my life very quickly went as my eminently sensible decision soon became a life-changing disaster of a decision. Cry For Help is a phenomenal song containing gospel elements, sumptuous piano with Rick never sounding better
She's taken my time.
Convinced me she's fine.
But when she leaves I'm not so sure.
It's always the same.
She's playing her game.
And when she goes I feel to blame.
Why won't she say she needs me?
I know she's not as strong as she seems.
Why don't I see her cry for help?
Why don't I feel her cry for help?
Why don't I hear her cry for help?
I'll be honest and admit that 1993's Body And Soul completely passed me by so deep was I in life and Del Amitri. Having listened now, it's a very grown-up album that has that soul gospel feel that Rick Astley really excels at. However, I don't know it well enough to select a song for this top ten.
Right, let's move on. Rick basically packed it all in in for six years, escaped with his family, fed up with the industry. A brief return in 2001, followed by a covers album in 2005, kept him firmly out of the limelight for the rest of the decade. Except for the Rickroll phenomenon that ensured Never Gonna Give You Up was just never given up full stop! He kept himself busy but always under the radar.
In 2011, however, a phone call from my wife told me we were going to see Rick Astley at The Rose Theatre in Kingston. I was less than keen, not really understanding how he could pull off a live gig, but I went along. What she'd actually bought tickets for was Rick Astley with his band The Luddites. Rick on drums and vocals, a lead guitarist and bass player doing a bunch of rock covers dressed in black shirts, black kilts and bowler hats. Mind blown! It was brilliant. Rick and the guitarist swapped for this clip filmed on my very basic mobile phone. Enjoy this treat which is my next choice.
It was clear from this night out that, all these years, Rick was just a frustrated rock star and this was some sort of catharsis. Interesting there is no mention of this period on Rick's Wikipedia page. When I heard he was appearing with The Luddites in the back room of a pub in Kingston called The Grey Horse, wild horses wouldn't have stopped me from going. It was one of the best nights out of my life. Music can fire all sorts of emotions but this was just a head clearing night of rock and joy with a man who oozes nice in his absolute element. This is just great and yes I was that close.
Rick went on tour with Peter Kay, became a DJ and his profile began to grow. After slowly getting himself back in the studio in 2016, he released the song Keep Singing from the album 50. It seemed he was ready to face the world again and he was welcomed back with open arms. The album reached number 1, thirty 30 years after his debut. An astonishing comeback but I'd imagine there was lots of love for Rick, much the same as Take That and others that thought their years in the sun had passed. None deserved it more than Rick Astley. Keep Singing is brilliantly contemporary yet retains that gospel feel, sounding like something that Rag'n'Bone Man might release
Suddenly he was the darling of the Radio 2 set appearing on everything from CBeebies to Children In Need. He could be found appearing with Foo Fighters and Kylie Minogue while maintaining spirits during lockdown by releasing four cover versions. My next choice, Every One Of Us, was used for Children In Need in 2020. It showcases a man comfortable in his own skin with his newfound status and generally living his best life. As was I, strangely enough, with my new life and new partner.
So to Glastonbury 2023 where he produced a stunning live set including getting behind the drums again for Highway To Hell which I'd seen in 2011. On the same day at Glastonbury he took to the stage with Blossoms to perform songs by the Smiths. I implore you to seek out the whole set, it won Glastonbury in my eyes. Therefore, to finish my selection, I've chosen one of those songs. It fits with the narrative of this piece as Rick, despite all the success, only really enjoyed it much later. Eventually, he got what he wanted. I must admit to having a little moment watching this …
Rick Astley is well on the way to achieving national treasure status if he's not there already. Not suffering the sneers of the non-Glastonbury set or the TV critics. Even covering the Smiths has been met with enthusiasm as a way of celebrating the band while exorcising some of Morrissey's more extreme views. What next? I can see him becoming a Bruce Forsyth-style TV celebrity while still making music for the masses. He's just a year younger than me and unlike my marriage we've lasted 35 years together. As he's always promised to never give me up, I'm looking forward to the next 35 if we're lucky.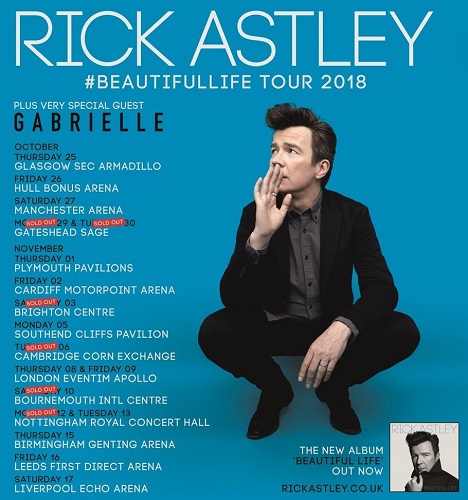 This song reached #1 on the Billboard Hot 100 on 18 June 1988
One of the four covers he released during the pandemic lockdown
Glastonbury 2023
Rick Astley Official Fan Community Facebook Group
Rick Astley biography (AllMusic)
Dave Ross lives near Windsor and hides under his online pseudonym @DaveAmitri to talk mainly about cricket and music. He has written a drama "Jimmy Blue" featuring the music of Del Amitri and has recently published his first book "12 Bowie Albums In 12 Months" based on a series of posts on The Afterword website. Follow him on twitter @DaveAmitri. His other posts for this site are on The Associates, The Blow Monkeys, Nick Heyward, The Lotus Eaters, Tears for Fears, Then Jerico, Thompson Twins, Wham!.
TopperPost #1,071