Josef K
| Track | Single / Album |
| --- | --- |
| Radio Drill Time | Postcard 80-3 |
| It's Kinda Funny | Postcard 80-5 |
| Final Request | Postcard 80-5 |
| Endless Soul | Sorry For Laughing |
| Sorry For Laughing | Les Disques du Crépuscule TW1 023 |
| Chance Meeting | Postcard 81-5 |
| Pictures (of Cindy) | Postcard 81-5 |
| Forever Drone | The Only Fun In Town |
| Heart Of Song | The Only Fun In Town |
| Crazy To Exist | The Only Fun In Town |
All of the above are on the 2006 Domino compilation 'Entomology'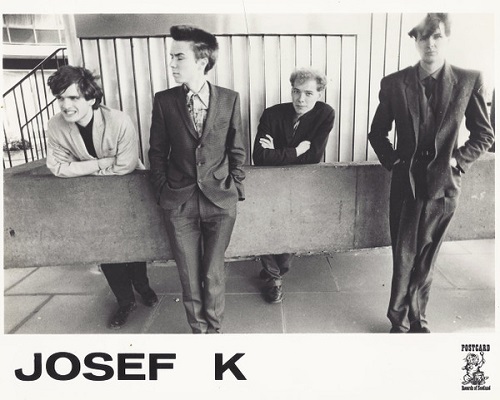 (l to r): Malcolm Ross, Paul Haig, David Weddell, Ronnie Torrance
Contributor: Andrew Shields
"Josef K can be seriously considered to be the greatest pop group of all-time beginning with a J." Paul Morley
Like their contemporaries, friends, and fellow Postcard Records artists, Orange Juice, Josef K drew on a very wide range of influences. As with Orange Juice, their interests in music were extremely eclectic, which, in both cases, ranged from an enthusiasm for the Velvet Underground and Lou Reed and early punk groups like Wire and Subway Sect to a love of funk and disco (particularly James Brown and Chic). However, Josef K were also inspired by contemporary American bands including Television – who had a major influence over their guitar sound – Pere Ubu, the Voidoids and Talking Heads. Malcolm Ross, who played with both bands, described Josef K's emphasis on contemporary influences as being the major difference between them. According to Ross, while Edwyn Collins, Orange Juice's lead singer and principal creative force, was "always nodding towards music from the past, like Creedence or the Byrds", Josef K was always more inclined towards emulating those "more arty American new wave bands". They were also an edgier and angstier band than Orange Juice. Unlike Collins – whose lyrics tended towards a cynically tinged optimism – Josef K's work often had a darker and more pessimistic feel.
The members of the group's definitive line-up – Paul Haig on guitar and vocals, Malcolm Ross on guitar, violin and keyboards, Ronnie Torrance on drums, and David Weddell on bass – had all first met at Firhill High School in Edinburgh. However, it was not until after leaving school that Haig and Ross discovered they shared a remarkable similarity in their musical tastes. Haig had already been playing guitar for several years while Ross had taken it up recently. The advent of punk inspired them both to think seriously about pursuing a musical career. With the addition of Torrance, they formed a three-piece group, TV Art. They also eventually acquired a bass player, Gary McCormack (later of the Exploited) who only remained with the band for a short time before being replaced by Weddell. In January 1980, the group was asked at short notice to open for the Clash in a concert at the Odeon Theatre in Edinburgh. Already convinced that their existing moniker was, in Paul Haig's words, "a terrible one", they decided to replace it that afternoon. As a result, Josef K was born. The choice of the new name also indicated that like other contemporary bands such as the Go-Betweens and Orange Juice, Josef K were an unashamedly arty, literate and literary band. In their case, however, the key influences were writers like Camus and Kafka which perhaps accounts for the sense of alienation which runs through most of their best work.
After the Clash gig, local promoters began to offer the group other support slots. Around this time also 'on a night out' Malcolm Ross met with Steven Daly of Orange Juice, who had recently set up his own record label, Absolute Records. In consequence, it was on that label that Chance Meeting, the band's first single, appeared. Daly's involvement with the single also brought Josef K into contact with the other members of his group and their manager and Svengali figure, Alan Horne. At this point, Horne was in the process of founding his own record label, Postcard Records. Despite his principal interest being Orange Juice, Horne was also determined that the label should have a range of other quality artists in its stable. During its brief existence, he did manage to attract other bands of a very high calibre and these included Josef K, Aztec Camera, and the Go-Betweens.
On a broader level, Postcard also helped to set the template for later independent labels in England. In this respect, Horne's determination to aim for chart success outside of the confines of the traditional musical establishment served as a key influence on the thinking of later independent labels, such as Creation Records for example. From the very beginning, Horne's ambitions for Postcard were very high indeed (as displayed by his later adaptation of the Motown logo for its 'Sound of Young Scotland' motto) even if he ran the label on a shoestring basis for most of its existence.
Radio Drill Time, Josef K's first Postcard single, is my first choice. Driven by Weddell's thudding bass line, the song also introduced the angular, 'trebly' and discordant guitar sound which characterised the band for the rest of their existence. Haig's dispassionate and alienated sounding vocal – reminiscent at times of Lou Reed – also marked the band out as very distinctive. As Malcolm Ross has put it, they were determined in as far as possible to avoid rock 'cliches' and Radio Drill Time shows how well they succeeded in this.
My second pick, It's Kinda Funny, was written in response to the death of Ian Curtis of Joy Division. It is one of Haig's most affecting and atmospheric songs and is a fitting tribute both to Curtis himself and to his band, which Paul always admitted had an important influence on his own work. While 'Funny' is one of Josef K's slower and more introspective songs, it's B-side, Final Request, is far more frenetic. It features the type of fractured dance beats which led some commentators to describe the group's sound as 'punk-funk'. It also demonstrated the fondness which both Haig and Ross had for speedy guitar runs. Perhaps the most apt definition of this strain in the group's music comes from the title of our fellow Toppermost contributor Mark Fagel's book "Jittery White Guy Music".
By this point, Josef K's music was being championed by some of the leading music critics in the UK, most notably Paul Morley of the NME and Dave McCullough of Sounds. Their support for the band meant that there was a great deal of anticipation surrounding the group's expected debut album, Sorry For Laughing. It was recorded at Castle Sound Studio in Edinburgh in late 1980 and was set for release on Postcard in early 1981. However, neither Horne nor the band liked what they heard when listening to the final mixes. According to Haig, they lacked the "manic and abrasive edge" which characterised the band's live performances. In the longer term, the decision not to release the album diminished some of the momentum which the group had built up over the previous few months.
The album itself was not released until 1990 when LTM Recordings issued both it and the band's official first album, The Only Fun In Town, in a single CD version. My choice from it, Endless Soul, is one of Josef K's finest songs. In a typical throwaway pop-star quote, Haig has described it as being about "the absurdity of being alive in a godless, vacuous universe". As with many of their best songs, it brilliantly conveys this sense of existential angst. At the same time, however, the chiming guitars give it a sense of urgency which counterbalances the uneasy character of the lyric. As Simon Reynolds has put it, Haig managed to find "an odd, giddy euphoria in doubt".
Following the scratching of the album, Josef K were invited to play a gig in Brussels by the Belgian record company, Les Disques du Crépuscule. While there, the label also offered them the opportunity to record the single, Sorry For Laughing. In many respects, it was the most commercial recording of their career and the closest in sound to their Postcard labelmates, Orange Juice. It was also the song that they played on their only recorded tv appearance in this rather oddly filmed clip:
The band's next single Chance Meeting is, for me at least, Josef K's most fully realised song. In it all the elements in their music – the beautiful melody and intricate arrangement, the influence of the pop side of the Velvet Underground, the faintly suggested dance beats, the rhythmic guitars and keyboards and Haig's crooneresque/slightly detached singing style – come together to form a near-perfect whole. The addition of the trumpet part by Al Ross, Malcolm's younger brother, also brings out the soul/funk influences which underlay the band's sound. The song also features one of Haig's best lyrics. This video for the song also shows the band's penchant for 1950s and 1960s style suits, usually bought from Oxfam, which – along with their 'anti-rockist' refusal to play encores or sign autographs and the use of pre-recorded messages to introduce their songs – added to the austere air that surrounded them.
The B-side of the single, Pictures (Of Cindy), is another example of the furious attack which the group was capable of at this time. Its reference to the 'art of things to come' also seemed to be something of a mission statement for the band.
Their relative happiness with the sound they had achieved on the 'Sorry' single led the group to re-record their first album at the same studio in Brussels. To emulate their 'live' sound, Haig was determined that his vocals should be kept low in the mix. He later described this as "being an unconscious act of commercial suicide". The resulting rather muddy texture of the record, The Only Fun In Town, led to it being slated by several of those critics who previously had been staunch supporters of the band. These included Paul Morley who claimed that he was "appalled" by the album. It was a "cowardly retreat from the greater success the band could [have] achieve[d] if it wanted it". According to Morley, "Josef K have cheapened themselves and cheated the world". In retrospect, however, this kind of hyperbole said as much or more about Morley's pretensions as it did about the record.
For me, the three selections I have chosen from the album reveal its excellence. Of these, Forever Drone and Crazy To Exist have a raw power and rhythmic drive which was rare for British music at that time. The third, Heart Of Song, has a tight funkiness which indicates one of the directions the band could have followed if they had stayed together.
Not long after the album was released, however, the group split up. There were several reasons for this, including their relative lack of commercial success. Another one was Haig's growing dislike for playing live and the whole business of touring. He was also keen to try out new musical directions. With the demise of Josef K, Malcolm Ross moved on to play with Orange Juice and subsequently with Aztec Camera. The rhythm section of Ronnie Torrance and David Weddell went on to play with the Scottish songwriter Momus in the band The Happy Family. Despite their relatively short lifespan, Josef K's legacy turned out to be a very substantial one. Indeed, several later bands including the June Brides, the Wedding Present and Franz Ferdinand have cited them as a key influence. They also produced superb music which still retains its freshness, originality and quirkiness right up to the present day. One of the questions that remained, however, was whether in his solo career Paul Haig could maintain this level of originality and distinctiveness. The answer to that question is another story and another Toppermost.
'It's Kinda Funny' is an anthology collection of classic singles plus B-sides and radio session tracks originally issued between 1979 and 1982
Josef K at Les Disques du Crépuscule records
Paul Haig interview in Penny Black magazine (2006)
Songs for Europe – Malcolm Ross and Paul Haig on the legacy of Josef K by Stuart McHugh (The Scotsman 2020)
Paul Haig audio interview on Retropopic 185 (2019)
Paul Haig interview on ElectrictyClub.co.uk (2018)
Entomology: Paul Morley sleevenotes
Endless Soul (Best of album): Allan Campbell sleevenotes
Endless Soul (Best of album): Douglas MacIntyre sleevenotes
Simply Thrilled: The Preposterous Story of Postcard Records by Simon Goddard (Ebury Press 2018)
Rip it Up and Start Again: Postpunk 1978-1984 by Simon Reynolds (Faber 2006)
Totally Wired: Postpunk Interviews and Overviews by Simon Reynolds (Soft Skull 2010)
Hungry Beat: The Scottish Independent Pop Underground Movement (1977-1984) by Douglas MacIntyre & Grant McPhee (White Rabbit 2022)
Andrew Shields is a freelance historian, who grew up in the West of Ireland and currently lives in Sydney, Australia. Along with an interest in history, politics and literature, his other principal occupations are listening to and reading about the music of Bob Dylan and, in more recent years, immersing himself in the often brilliant and unduly neglected music of Phil Ochs.
Andrew has also written about Orange Juice, Edwyn Collins, Aztec Camera, Roddy Frame, Paul Quinn, Toppermost: Paul Haig on this site
TopperPost #1,070