Samantha Jones
| Track | Single |
| --- | --- |
| Lover Please (Vernons Girls) | Decca F11450 |
| It's All Because Of You | United Artists UP 1072 |
| I Deserve It | United Artists UA 979 |
| Don't Come Any Closer | United Artists UP 1087 |
| Surrounded By A Ray Of Sunshine | United Artists UP 1185 |
| Live For Life | United Artists UP 1200 |
| Ford Leads The Way | Ford SLE19 |
| Today (Without You) | Penny Farthing PEN 703 |
| Do I Still Figure In Your Life? | Penny Farthing PEN 708 |
| My Way | Penny Farthing PEN 734 |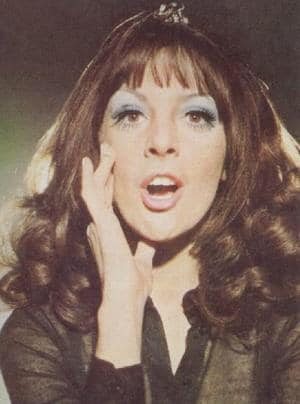 Samantha Jones (ex-Vernons Girls)
Contributor: David Pearson
Think of British girl singers of the 60s and of course Cilla, Sandie, Dusty, Petula and Lulu will come readily to mind – they racked up a huge number of hits. But dig below the surface and you'll find scores of girls who passed through the doors of recording studios throughout that decade without ever troubling the charts. Many only made one solitary record before disappearing back to obscurity. Others forged a more substantial legacy, releasing singles and albums, and making many TV/stage appearances. And into this latter category comes the wonderful Samantha Jones, whose singing career as both group member and solo artiste spanned the best part of three decades. She is regarded by very many lovers of the 60s Brit Girl genre as one of the very best, and one whose failure to ever dent the British charts is both baffling and unjust.
She was born Jean Owen in Liverpool in 1943. There was singing talent on her father's side, and Jean herself loved to sing, though only in front of her mirror. She grew up listening to and loving lots of American female artistes: singers like Ella Fitzgerald, Doris Day, Rosemary Clooney and Patti Page.
As the 60s got under way Jean was working in the offices of Jacob's biscuit factory. She answered an ad in the Liverpool Echo for a girl soprano for a group that did television work. She got the job and the group turned out to be the Vernons Girls who had been regulars on shows like 6.5 Special and Oh Boy!.
There were around 16 in the group at that time but the company decided to reduce it to a trio, and Jean would eventually find herself recruited to join Maureen Kennedy and Frances Lea. She would emerge as the main lead singer and over the next few years the girls would record several singles for Decca.
Released in 1962, Lover Please was a great single, produced by the legendary Jack Good, who had been responsible for securing their involvement in the aforementioned TV shows.
"Lover Please was a great record," recalls Samantha, "yet despite it climbing the charts we never included it in our act. Crazy!"
In 1964, Jack Good put together a TV special, Around The Beatles, featuring the Fab Four alongside the likes of Cilla Black, P.J. Proby, Millie and Long John Baldry. One musical item was to feature Cilla duetting with Baldry. But events would take a different turn as Sam explains:
"We had three days rehearsal in a Chelsea church hall. This duet was arranged between Cilla and Long John Baldry. But Cilla refused to do it – 'it'll spoil me image,' she said – and I saw the smile on Jack's face. He called me over and said, 'Right, you're on!'
"In the show Long John starts singing, and Maureen (Kennedy) comes forward through the crowd and sings Lover Please at him. The cameras then cut to me and I move forward towards John and sing Forty Days (from 1.44 in clip below – ed.). That made quite a splash. John Lennon came up to me and said, 'You shouldn't be singing with these girls, you should be singing solo.'"
Arranger Charles Blackwell also persuaded her to strike out on her own. She did just that. She was signed to United Artists and given a new name – Samantha Jones.
Her debut single It's All Because Of You was promoted on Ready Steady Go. Sam remembers it well:
"It was the top TV pop music show. The TV recording shows me getting shoved about by the studio audience and dancers milling around me. You can see it was bonkers! "
One of her early assignments was a short city promotional tour of the US, taking in places like New York and Nashville; she also made TV appearances and recorded with ex-Phil Spector producer Arnie Goland.
"At the time I didn't know who Arnie Goland was," says Sam. "But I did a song with him called I Deserve It which was never released as a single (in UK) but should have been. Arnie had done most of Phil Spector's stuff, it was really Arnie who invented the Wall of Sound, not Phil, who couldn't tell a crochet from a hatchet. I think Arnie felt annoyed that Spector was lauded as the great producer. But Arnie was a great arranger and Gerry Granahan was a great producer."
Another terrific single release was 1965's Don't Come Any Closer, penned by Charles Blackwell. A real melodrama of a song, aggressive backing singers supporting Samantha as she confronts her cheating man. She delivers the song with a wonderful mix of emotions, from anger to reflection to hurt, and barely concealed rage. A great break-up song that illustrates just what a fine singer she was.
Touring the USA was at that time a rare thing for a young British girl singer, as Sam herself recalls: "I was probably the second British girl singer to do so. I recorded with Floyd Cramer on piano and Chet Atkins on guitar. The Jordanaires were my backing singers! At my age, early 20s, you have no fear – I just stood in the midst of all these musicians and sang. I remember one of the Jordanaires saying to me one time, 'You see that microphone you are on honey? Elvis was on that yesterday!' It really was quite an experience and I loved every minute of it."
Back home in England one of her first jobs was a scary one – "It was in a terrible club in Mayfair, the Jack Of Clubs I think it was. Anyway, it was a gangsters' club. I sang with a quartet of musicians whom I didn't know, and I was shivering from the top of my boots. I recall one of the musicians knocking on my dressing-room door and saying, 'Don't worry, honey, just sing for the angels!' But yes, being out on my own was scary."
Singles and albums followed but somehow that British chart hit eluded her.
One of her most commercial was 1967's Surrounded By A Ray Of Sunshine, which was composed, arranged, conducted and produced by ex-Joe Meek man, Charles Blackwell.
By now her records were being released in Europe and beyond. Surrounded By A Ray Of Sunshine would be the title given to her RPM career retrospective compilation in 2000.
Sam's versatility in recording in a range of styles is further evidenced by her lovely treatment of the Francis Lai/Norman Gimbel song Live For Life from the movie Vivre Pour Vivre. It was a US A-side but, in Britain, United Artists made it the B-side to Why Can't I Remember (To Forget You).
The track also appeared on Sam's US-only debut album Call It Samantha in 1968.
In that same year Sam was involved in a Europe-wide advertising campaign for the Ford motor company, and part of that campaign was her single release Ford Leads The Way. "They gave it away at petrol stations," Sam recalls, "so everybody knew me."
That single was produced by ex-Teenage Opera producer Mark Wirtz.
"He was such a lovely lad," says Sam, "so sweet. And I gave him a hard time. I gave him the full diva bit! But we enjoyed working together. I did a song with him called Today (Without You) which was successful all over the continent. But I absolutely hated it! However, Mark liked it and pushed for its release. And, certainly, when I sang it around Europe everybody loved it".
That song won her the Radio-Télé Luxembourg Grand Prix International Song Contest. All this led to success on the European charts and to first placings in other international song contests.
Towards the end of the sixties, Sam signed with Penny Farthing Records and recorded the Honeybus song Do I Still Figure In Your Life. Released as a single in 1969 it also appeared on her 1970 album A Girl Named Sam, again with Mark Wirtz on production duties.
One song folk tried to persuade Sam not to record was Sinatra's My Way. "I thought sod that, I'm doing it! And, of course, it became a hit. I was very friendly with a trumpet player called Alan Downie, we'd known each other since we were teenagers, we were on sessions together. One day he comes up to me and says, 'Guess who I'm working with? Sinatra!' And one day while in Holland, Sinatra comes up to Alan and says, 'Does anyone know a broad called Samantha Jones?' I remember saying to Alan with amazement, 'He said my name! Sinatra said my name!' And Sinatra went on, 'Can you believe she had a number 1 here with My Way?'"
The song won her a Belgian music festival and reached No.4 on the Dutch charts. She would go on to win first prize in the Sopot International Song Festival in Poland with He Moves Me in 1971.
Sam continued to record throughout the seventies and early eighties, finally bowing out of the recording scene and embarking on a new life producing shows for cruise ships.
Looking back, Sam has some regrets about her song choices. "I'd like to have done more Wall of Sound type stuff, that was probably my favourite thing recording-wise. With the Vernons Girls I had done Be My Baby on TV, but when I listen to it now I could spit because it had been given a jazz arrangement. I'd never have gone for that, I'd have said hold on there fellas. But I was around 19 at the time, was beginning to get all the solos and Maureen, bless her heart, was quite happy with that."
I wondered what Sam enjoyed the most – recording, touring, TV shows? She was quite clear.
"Recording – without a doubt. I loved live performances, and in places like Holland I was guaranteed standing ovations. I loved a good audience. And I never had any nerves about live work. But I hated the choreography side of it. They could never understand how I could never take direction. I was useless. But I just loved recording, because you could never hear music as well as when you were in the studio in front of a mike. And I worked with some great musicians like Jimmy Page on guitar, Jim Sullivan and so many top people. They'd be sitting reading the paper, the red light would go on, they'd take up their instruments, do the session and then go back to their paper. So to be in the booth and surrounded by such people was just wonderful."
At time of writing Sam lives quietly in Henley with her husband.
With many thanks to Sam Goumal (Samantha Jones)
The Vernons Girls – 1962 (l-r): Jean Owen (Samantha Jones),
Frances Lea, Maureen Kennedy
Sam backstage, Southend Odeon, 28th March 1963 – during the Vernons tour with Cliff Richard and the Shadows (Photo George Rousell)
(all photos courtesy of Sam's facebook group)
Samantha Jones biography (AllMusic)
David Pearson has lived all his life in Glasgow. Married with two sons, he was an English teacher for 40 years. Since retiring in 2011 he has written a number of items for a range of publications, including 55 Life, Northern Echo, Shindig and Record Collector (including a longer piece in RC #516 on the 60s Brit Girl scene). He is a lover of 60s/70s pop, especially anything with a strong harmony sound.
TopperPost #975