The Man From Delmonte
| Track | Single / Album |
| --- | --- |
| Australia Fair | BOP Cassettes BIP502 |
| Drive Drive Drive | Ugly Man Records Ugly 3 |
| Bored By You | Ugly Man Records Ugly 5 |
| Louise And I | Big Noise |
| (Will Nobody Save) Louise | Ugly Man Records Ugly 7 |
| Like A Millionaire | Ugly Man Records Ugly 7 |
| Mathematically Speaking | Big Noise |
| Casual Friends | The Good Things In Life |
| My Love Is Like A Gift You Can't Return | BOP Cassettes BIP701 |
| Stop | The Good Things In Life |

(l-r) Sheila, Mike, Martin, Howard
(Bop Cassettes promo photo 1990)
Contributor: John Hartley
In 1988, two years after the New Musical Express had inadvertently set the world of alternative music alight with its C86 compilation cassette, Manchester-based magazine City Life joined forces with a small independent label known as BOP Cassettes to release a compilation cassette that was arguably as seminal. More so, perhaps; if you want to be mathematically pedantic, 28% of the artists featured on Manchester, North Of England would go on to make appearances on Top Of The Pops compared with only 18% of those on C86. Defenders of the earlier release may churlishly point out that lumping all the bands of the latter under a Mancunian umbrella was perhaps stretching things a tad; Milltown Brothers' home town of Colne was closer to Bradford (in Y***shire, to boot!) than Manchester, whilst the Railway Children's Wigan base was, depending where you stood, closer to Liverpool.
None of that mattered to the Man From Delmonte, however. Hot on the heels of three releases on Manchester's Ugly Man Records, the label that had brought the first release of Black's Wonderful Life and would go on to introduce the world to I Am Kloot and Elbow, the Man From Delmonte provided the perfect opening for the Manchester, North Of England compilation. Australia Fair may have borrowed its title from the national anthem of singer and guitarist Mike West's home country; its sentiment was altogether different – I wish I was born in Lancashire, he sang against a backdrop of suitably jaunty guitar pop music. And in an instant, so did the rest of the world (probably).
The band's reputation both live and on vinyl convinced BOP to sign the band up, and the track was released on the Man From Delmonte's eponymous EP for the label later that year.
Which begs the inevitable question: what was this previously-recorded material? Not many people could confidently claim to know, the Ugly Man Records releases selling out quickly, only rarely appearing at heavily inflated prices behind the counter of Manchester's finest second hand record shops. The first release was a double A-side, Sun Serious and Drive Drive Drive (22 And Still In Love With You). Featuring a band described solely by first name (Bass – Sheila, Drums – Howard, Guitar – Martin, Guitar – Mike) on the sleeve you could be forgiven for thinking that these were instrumental tracks. Far from it, however; Mike West, also credited as songwriter, was an eloquent and articulate lyricist, simple but effective enough to strike chords with the youth of Manchester.
Much of this was achieved with songs about the same handful of people: Louise, Michael, Ann were names that would crop up more than once. They were the focus of his lust and, in such songs as Bored By You, B-side to follow-up single Water In My Eyes, the focus of his frustration – You can treat me like a tart, flirt with your old flames, lose me all my friends but you can't make me care, he bluffed.
The raw honesty of West's lyrics was evident further in his outpouring of love for both male and female figures in his life. You watched us like a hawk as we talked, Louise and I, he sang in Louise And I on the band's debut album – Your friends … don't know that you love me also, it's the modern way.
Big Noise, the long-player in question, was recorded live in front of a rapturous crowd at Manchester's Boardwalk venue in mid-January 1989. It managed to fulfil a few criteria: the band were able to simultaneously showcase the live sound that was becoming almost as legendary as some of their Mancunian counterparts' t-shirts whilst enabling an increasing fan base to access long-since sold out singles and B-sides. These included amongst their number (Will Nobody Save) Louise, the band's third and final release for Ugly Man Records – She is the only girl in my world and I am the loneliest boy; she's close to extinction, the last of her kind – you save the earth and the whales and the trees, will nobody save Louise?.
B-side The Good Things In Life opens the album, although there is no space for its companion Like A Millionaire and its catchy chorus of You can be my Miss Monroe and I can be your Joe Di Maggio and we can do the things beautiful people like to do and its frenetic, harmonica-fuelled refrain. You'd have to dig out the original 12″ single for that, or if your budget was larger the 1999-released The Good Things In Life compilation, on which Vinyl Japan collated the band's entire studio recordings and their BBC Radio session. Big Noise does, however, capture a wonderful version of Mathematically Speaking. Starting off as a delicately plucked acoustic ballad, the song erupts into a frenzy of brashly strummed guitar with bass, drums and electric guitar hammering out the emotion as West invites you to add up our good days and subtract the fights and multiply by five years that somehow we let slip by.
An unreleased studio recording of Mathematically Speaking can be found on The Good Things In Life but the live version outweighs it. The converse can be said for Casual Friends, another unreleased studio version, which fades gently in with a lilting strum before Howard Goody's drums roll in, Sheila Seal's bass bounces along and Martin Vincent's guitar meanders along before a trombone joins in for good measure. You could make my day if you stay tonight, sings Mike West, I want you a lot – you're a lot to want, before a chorus of singalong ba-ba-bas fades the song out.
Perhaps the Man From Delmonte's most recognisable song was My Love Is Like A Gift You Can't Return. This proved to be the band's last recorded release, once more on BOP. Lively, cheerful and defiant, the song finds the band at the very top of its game.
Originally entitled Deborah Ann Turner it was rumoured amongst die-hard fans that the threat of a lawsuit from the subject of the song prompted a last-minute renaming. With James' newly-recruited violinist Saul Davies guesting on violin and recording overseen by 808 State's Graham Massey the track reached number 13 in the Independent Music Charts. You can return a postcard, you can return a letter, you can return something you've bought in exchange for something better … sang West. Nobody really wanted to return his songs; unfortunately, outside of the band's adopted home city there were too many other attractions equal to – not necessarily better than – the Man From Delmonte, and this transpired to be their final release.
The band's demise was perhaps not overly surprising. The 1990-released eponymous video (filmed "live at Manchester International 2 and other exotic locations" according to the sleeve) demonstrated an increasingly passionate and voluminous local fan base – complete with enthusiastic stage invasions – and a number of still unreleased tracks of similar quality. 222 Charles Barry Crescent and Stop demonstrated the band were not short of musical progression and the studio recording of the latter does little to suggest otherwise. The track was recorded in 1990, along with Lebanese American, both appearing on The Good Things In Life. Indeed, the sleeve notes to the 1990 BOP Cassette compilation of singles, Catholic Boys On Mobilettes, written by Martin Vincent, trail a first studio album by the end of that year. It doesn't take much scrutiny of the live video to find what might potentially have been the real factor behind the band's dissolution later that year, however. So heavily pregnant was Sheila Seal during the gig it wouldn't have been a surprise to learn there was a midwife backstage rather than a roadie. West and Seal would later reunite briefly under the moniker Surfurbia for a four-song EP in 1992, before the singer relocated to Kansas. The Man From Delmonte would remain one of Manchester's many well-kept secrets; even today, in the digital age with streaming bringing pretty much anything you want to hear to your phone within an instant, you'll be hard-pushed to find much of the band's output. But dig deep enough and you will find your reward.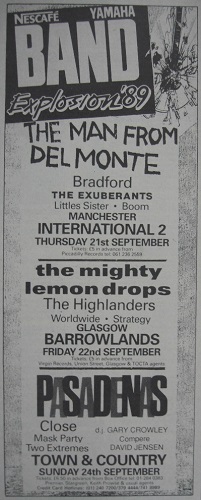 The Man From Delmonte at Discogs
The Man From Delmonte page at the 808 State website
The Good Things In Life – Compilation CD (Vinyl Japan)
Mike West interview (Penny Black Music 2002)
The Man From Delmonte biography (Wikipedia)
John Hartley has written several posts for the Toppermost site. He is the author of "Capturing The Wry", a memoir of the early stages in his quest to write the perfect pop song. He tweets as @Johny Nocash and the music he creates can be found at Broken Down Records.
TopperPost #1,062