Wooden Shjips
| Track | Album |
| --- | --- |
| Black Smoke Rise | West |
| Everybody Knows | Back To Land |
| Death's Not Your Friend | Vol. 1 |
| Already Gone | V. |
| Ruins | Back To Land |
| Lazy Bones | West |
| Eclipse | V. |
| Servants | Back To Land |
| For So Long | Dos |
| Ghouls | Back To Land |
Wooden Shjips are (l to r) Nash Whalen (keyboards), Omar Ahsanuddin (drums), Dusty Jermier (bass), Erik "Ripley" Johnson (guitar and vocals)
Contributor: Ann Sequinworld
The enigmatically named quartet play a minimal, droning brand of garage-styled psychedelia with a noticeable Krautrock influence. The band's vocals slip beneath waves of throbbing minimal rhythms, while fuzztone guitar and shrieking organs jump to the foreground. The group started in San Francisco during the mid-2000s as a DIY operation, recording and releasing records by themselves before attracting the attention of record labels. The earliest incarnation of Wooden Shjips was centered around the idea of assembling untrained musicians for the purposes of creating innovative music and bringing fresh ideas and unbound enthusiasm to the table… (edited from Thom Jurek's band bio on AllMusic)
I hope you enjoy this Top Ten and go on to explore the rest of Wooden Shjips' back catalogue.
Black Smoke Rise – West (2011)
"Deep fuzzed-out groove with a nagging organ line that builds to a cathartic guitar-solo flare-up."
Everybody Knows – Back To Land (2013)
"Fuzzed-out, murky and distorted excesses."
Death's Not Your Friend – Vol. 1 (2008)
"Droning keyboard darkness, echo-laden spooky vocals, feedback and trippiness."
Already Gone – V. (2018)
"Hazy, woozy, melodic, reflective, doped-up charm."
Ruins – Back To Land (2013)
"Rarely has trance-rock's hypnotic heart beat as persuasively."
Lazy Bones– West (2011)
"Brimming with optimism and peaceful energy."
Eclipse – V. (2018)
"There is movement and urgency without aggression, a rolling foundation of rhythm over which the vocal floats and elongated melodic guitar lines soar."
Servants – Back To Land (2013)
"The power of peace, beauty and resistance, the music is a balm against noise and negativity."
For So Long – Dos (2009)
"Minimal, droning, garage band-meets-Krautrock psychedelia full of long instrumental passages and pounding primitive rhythms."
Ghouls – Back To Land (2013)
"Creates a sense of space, both mental and physical, as well as the idea of an alternate perception that is the calling card of West Coast psychedelia."
Ripley Johnson also plays in a side project, Moon Duo, formed in 2009 with Sanae Yamada, releasing one EP and seven albums to date.
"Wooden Shjips are from San Francisco, but the concentrated ferocity of the freakouts on their two very-underground releases arrives via the 70s Germanic-guitar lunacy of Guru Guru and the confrontational repetition of VU." David Fricke, Rolling Stone
"Tight-wound repeato psych guitar raunch with spoony (maybe even imaginary) percussion, surprisingly Rev-like keys, and vocals buried under burning driftwood." Byron Coley, The Wire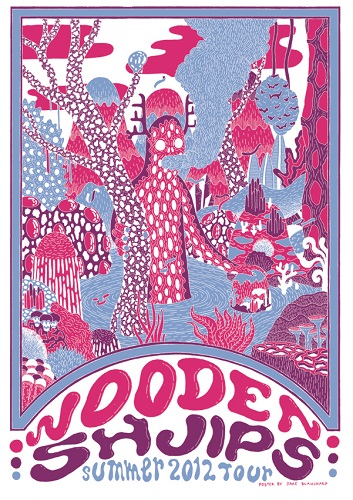 Wooden Shjips official website
Wooden Shjips on Thrill Jockey Records
Wooden Shjips encore at the Brudenell Social Club, Leeds, Sept 2018
Wooden Shjips biography (Apple Music)
Ann loves the psychedelic music of the 80s/90s. In between gigs, she runs her own business, Sequin World and Bead Monster. This is her fifth post for the site; the first four on Loop, The Heads, Thee Hypnotics, Mudhoney, others are in the pipeline. You can follow her on twitter @ann_sequinworld and other social media sites.
The quotes above are from reviews at the time of each record's release, paraphrased here and there and attached to a song. This was a cut-up process and the quote may not originally have been about that particular song but … you know what … it doesn't matter because it works.
TopperPost #828