TV Smith
Track
Single / Album
Tomahawk Cruise
Big Beat Records NS 64
The Servant
The Last Words Of
The Great Explorer
Luxury In Exile
Anthology
The Lion And The Lamb
March Of The Giants
Can't Pay, Won't Pay
March Of The Giants
Immortal Rich
Immortal Rich
Expensive Being Poor
Generation Y
I'm Your Ticket Out Of Here
Not A Bad Day
You Saved My Life Then Ruined It
Misinformation Overload
Replay
I Delete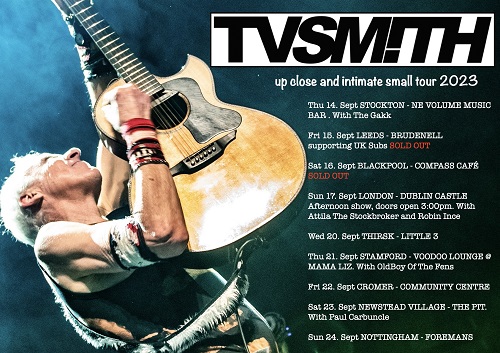 Contributor: Alan Haines
The Adverts were a punk/goth/rock band that produced a bucketful of energetic songs, spat out with fervour and intensity by their articulate and clever writer/singer Timothy 'TV' Smith. They will always be chiefly remembered for one song, the 1977 single Gary Gilmore's Eyes, a ghoulish story of someone waking up after an operation to have an eye transplant and soon realising that they are the recipient of Gary Gilmore's eyes, a recently convicted and executed murderer in the USA. The song attracted a lot of attention given its macabre subject matter, and so did the band, particularly Gaye Advert, their female panda-eyed bass player who managed to wear that essential rock accessory, the leather jacket, with such innocuous ease. However, although the critics were initially gushing with their praise for the band, that wore off after their next few singles failed to chart and some prominent critics were unnecessarily cruel, particularly targeting Gaye Advert's bass playing. It seemed bizarre to me, even then, for the NME to be that precious about someone's musical ability in a punk band. The whole chuffing point of punk was that anyone could have a go and they didn't need the dry ice, monstrous keyboards and a concept album about elves to sing and play.
TV Smith knew full well the Adverts weren't Pink Floyd and that they had musical limitations, the poster advertising the band's 1977 tour supporting the Damned stated, The Damned can now play three chords, The Adverts can play one. Hear all four of them at (location of gig). Their second album Cast Of Thousands received a negative reception (to say the least!) and the criticism got deeper and more personal, until eventually it seems this was the reason the band split in 1979.
Arguably punk had worn itself out by then, with only the Clash retaining any sense of vision and integrity. TV Smith's songwriting abilities had never been in doubt, though, and he formed a new band, called TV Smith's Explorers.
Their first single, Tomahawk Cruise, was released in November 1980 and it reflected the fears many people had about the deployment in the UK of Cruise Missiles (or USAF BGM-109 Gryphon Ground Launched Cruise Missiles to be more formal), derived from the sea-launched Tomahawk missiles. A very 'arty' sleeve for the single was created by the famous cartoonist Ralph Steadman, featuring the lyrics on the reverse. TV Smith allows the Tomahawk Cruise missile to talk to us in the first person in the lyrics and so we are privy to the cold and dispassionate nature of such a devastating weapon. If you so wish I could get nasty, Create all kinds of disasters, I know things run away with you, But at the cusp you have to choose, Between living and Tomahawk Cruise. It's as if the missile is paraphrasing The Hulk by saying, Don't make me angry, you wouldn't like me when I'm angry. Apparently, the single was a 'hit' although I haven't found anything to back that claim up. Needless to say, the music press were uninterested. They had it in for TV Smith it seemed.
July the following year saw the release of TV Smith's Explorers only album, The Last Words Of The Great Explorer that had a coloured drawing of a thoughtful looking TV Smith on the cover. And no wonder, as the album, despite containing some wonderful songs, did suffer from a bit of a 'kitchen sink' approach with every known musical trick used with gusto. Having said that, TV Smith's voice holds up throughout and is the dominant sound.
The Servant was a single pulled from the album that I played to death during the aftermath of my finals in Nottingham that year. I'm alive now I've found some purpose, I am your servant, TV Smith roared as if he was relishing his new role, away from the burden of carrying the Adverts. A state of mind he might have considered further in the track Have Fun when he says, You can't please everyone and please yourself as well. The Adverts era must have been a bruising period indeed. At least he has the satisfaction of knowing the band are now highly respected and thought of, unlike his erstwhile critics.
The title track of the Great Explorer album starts slowly with some keyboards and an unusually quiet TV Smith, but the song soon crashes into familiar territory with lots of topography thrown into the lyrics, although I think it's more about the lure of a certain type of woman, These are the famous last words of the great explorer, Other men would not have got involved, Other men would just have walked by and ignored her, but you just had to look, had to, had to lose control. Unfortunately, the other singles from the album, Have Fun and The Perfect Life were not successful. The label dropped the band and they split soon after.
He released a solo album called Channel 5 in 1983, which to be honest escaped my attention back then. There are some good songs here, particularly A Token Of My Love but the overall album appears rather slight and not sure about itself. His next venture was back in a band, called TV Smith's Cheap. They were TV Smith (vocals), Mik Heslin (guitar), Andy Bennie (bass) and Martin Deniz (drums). The band gigged around in the mid to late 1980s and early 90s, released a single called Third Term (no prizes for guessing what this was about!) and then they split. The single had a more 'Adverty' sound to it and was TV Smith at his cynical best, poking, pointing and despairing at the political situation in 1990. There was even a John Peel session, that badge of credibility, but to no avail as eventually, after releasing an album called RIP…Everything Must Go! in 1993, they ceased to be. From this era I'll pick Luxury In Exile, a rant at those dictators who manage to evade justice and swan off to enjoy their ill-gotten gains, A private plane flying into the sun, Packing cases of money and guns.
TV Smith began gigging as a solo artist and his first album post-Cheap was called March Of The Giants (1992). This has what I regard as one of his best ever songs on it, The Lion And The Lamb, a song that explores the duality of life and how we present ourselves, Well, be strong when they want it, Be weak when they want it, If you want to fit, stand and say, I am the Lion and the Lamb, I am part of the plan. The Christian overtones of Jesus accepting death meekly, like a lamb, but then staging a comeback like a Lion (according to Augustine anyway, I guess it made sense to him) underscore this twin tracked approach.
Putting unlikely fairy stories to one side, this is a fantastic album and it's almost criminal how such a talented songwriter has been overlooked for so long. He isn't an easy listen as he doesn't go for slush, but his raspy voice suits the protest songs he creates. He was and is an incredibly relevant musician. In Can't Pay, Won't Pay he turns his venom on the billions spent on nuclear weapons, polluting industries, fat cats, poverty and worker exploitation. All in a song only 2 minutes and 30 seconds long! But it must be democratic, Because I let them do it to me, I watch the fat cats get fatter, While I stay lean, In this free market, What's happening? 1992/93 or 2022/23, what's the difference!
It was another three years before a new album emerged called Immortal Rich and the title track slips effortlessly into my Top Ten. He clearly didn't lose any of his edge or justifiable cynicism in this gap and he taunts the ultra-rich for their hypocrisy: They've got a drive-in Jesus to purge their sins, Roll up to the gates of heaven and still get in, Well a big donation ain't gonna hurt, And you still get your name on the TV church.
Someone described this album as 'folk-punk' and I know exactly what they mean by that. Immortal Rich is a largely acoustic driven album, but it retains its power nevertheless. This album was followed in 1999 by Generation Y and his jaundiced take on the world hasn't let up. He tears into world problems in songs such as Momentous Changes about the relentless march of new technology – This is the dumbest thing to get so stuck, It costs a fortune just to keep up, For all that the money never comes, New skills you should be trying, All you can offer is joined-up writing. Edging it for me on this album, though, is the fabulously catchy Expensive Being Poor with its pithy delineation of poverty – But I pay more for food, But the supermarket's too far, It's expensive being poor, Because everything costs more.
A 'Best Of' album emerged in 2001 called, self-deprecatingly, Useless. He continued to perform live with a stripped-down stage presence and 2003 saw a new album, Not A Bad Day, with a new set of great songs including the irresistible I'm Your Ticket Out Of Here. This appears pretty optimistic by TV Smith's standards – The hostess to fortune, And the mouth with the most, We took the pretty route down the coast, The sun descended like a bright ball of lead, I turned to her and said, Have no worry, Have no fear, I'm your ticket out of here.
Although a deeper interpretation could suggest that the only way out of poverty for some women is a sugar daddy figure? Anyone who has a different interpretation for this song please do let me know.
The title of the 2006 album, Misinformation Overload, hints at the contents of the songs such as Ghost Of Westminster and Not In My Name as TV Smith takes his usual well-aimed swipe at the powers that be. This is much more guitar laden album than previous solo efforts and musically the highlight is the anti-Blair government You Saved My Life Then Ruined It with a hook around the chorus that's one of his best – You came like a knight in shining armour, To guard me from this global drama, And guide me into sage harbour, Turns out you were an imposter. The damage and hurt caused by Blair still resonates nearly twenty years after Smith wrote this song.
How he finds time to write new songs and record them is a mystery given his 100+ gigs a year regime, but in 2008 he was able to release In The Arms Of My Enemy where he tackles issues as diverse as the climate crisis in It's Warming Up and the drip drip death of the high street in Clone Town. The failings and waste of the modern capitalist consumer society is examined in Worn Once from the 2011 album Coming In To Land. The album is as fresh as ever with no sign that his powers of observation and interpretation were waning. His anger at the state of austerity Britain and the consumer driven apathy of most people are his subjects in the superb title track, The edge of a revolution, That's exactly where we stand, And though we could seize the moment, We aspire to wear the brand.
An album of acoustic songs was released in 2013 and the following year a new album titled I Delete came out. This is such a great album with some fabulous songs. I defy anyone not to love Replay, the mysterious London Hum and the quirky title track I Delete.
TV Smith continues to write and perform. Recent albums include Land Of The Overdose in 2018 and Lockdown Holiday in 2020. A second album of acoustic recordings came out in 2022. He has collaborated with the German band Die Toten Hosen and with his Bored Teenagers band toured with the Damned. TV Smith shows no signs of slowing down at the age of 68 and his passion, anger and sense of injustice are all undimmed. And I am furious that I missed seeing him in Stamford on 21st September 2023 as I was away. But as he does 100 gigs a year I'm sure I'll catch at least one in the future.
Alan Haines is now retired and enjoying not going to work but doing things he wants instead, such as reading, listening to music, researching family history and walking the dog.
TopperPost #1,078