Freddie Mercury
| Track | Single / Album |
| --- | --- |
| I Can Hear Music | EMI 2030 |
| The Great Pretender | Parlophone 12R 6151 |
| Love Kills | CBS A 4735 |
| Made In Heaven | Mr Bad Guy |
| Your Kind Of Lover | Mr Bad Guy |
| Barcelona | Barcelona |
| How Can I Go On | Barcelona |
| Time | EMI 5559 |
| Little Freddie Goes To School | Stuart Leathem Music (2015) |
| She Blows Hot And Cold | CBS TA 6413 |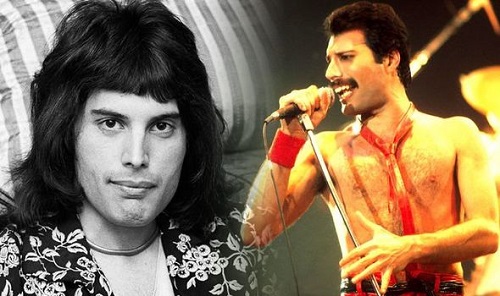 Contributor: David Lewis
Few rock stars – even few legends, as he became – had such an exotic background. Only a handful could command a crowd like he could. Jagger – yes, let's be fair. Springsteen? Beyoncé? Maybe. There might be one or two others. Freddie Mercury's major work was with Queen: but the four egos and immense talents of that band would not be content with the limitations of one band. All four had some kind of solo career. John Deacon released one album – the soundtrack to Biggles, which our editor informs me often makes 'worst movies' lists. But Freddie – he of the voice, he of the underrated piano, the composer of Bohemian Rhapsody and We Are The Champions perhaps had the biggest vision and most ambition for his solo career. That it was to be a relative failure is irrelevant to its interest and worthiness.
Freddie's life is now well-known, thanks to the work of authors such as Lesley-Ann Jones. While he was alive, there was an elusive quality and distance in his private life. This is understandable, given his homosexuality and Parsi background: the two are incompatible and any scandal would have directly affected his family.
He was born Farrokh Bulsara on the island of Zanzibar, educated in India, and finally moved to London. He adopted the English name Freddie early. Mercury came later. He studied graphic design, but he'd been enamoured of Jimi Hendrix's music and quickly joined bands and started writing songs. He met Roger Taylor with whom he ran a stall in Kensington Market, shared a flat with Brian May who'd formed a band, Smile, with Taylor. Freddie dated Brian's ex-girlfriend, Mary Austin. He sang with Wreckage, among other groups, but at least in retrospect, had set his eyes on joining Smile. Tim Staffell, lead singer of Smile, eventually left to join Humpy Bong (a band which included Colin Petersen and Jonathan Kelly). Perhaps the name is all you need to know to realise how well that band went. Staffell later went on to be the main model maker for Thomas the Tank Engine.
Freddie finally realised his ambition and became lead singer of Smile. The name was changed to the winkingly majestic Queen, and John Deacon eventually auditioned and was hired. You can read about Queen in my Toppermost. While Queen was building its reputation and network, Freddie was asked to record under the name 'Larry Lurex'. This was a lampoon of Gary Glitter. With Brian, Roger and John, he recorded I Can Hear Music, the Beach Boys song. The single disappeared without trace, really. It's a good cover of the song, but it is most notable for the guitar solo – an early attempt at the layering of guitars for which May would become famous – and Freddie's voice. It hadn't quite hit the richness and range which it was to be known for, but you can hear the start of that iconic voice. (The B-side, Goin' Back, the Goffin & King song, was sampled on the posthumous Queen album, Made In Heaven.)
As I stated earlier, Freddie was probably the member of Queen who most wanted to leave. He wasn't the first to go solo – that was Roger Taylor (so watch this space) but he put the most effort into it. Queen was greater than the sum of its parts though, so Freddie's attempts did not lead to a solo career. His first single as a solo performer was a vivacious cover of The Great Pretender. It was a song that encapsulated Freddie's life as he saw it. The quiet, shy, Indian Parsi who was gay presented himself as a flamboyant, outgoing, straight Englishman.
In 1983, Freddie had obtained the rights to use clips from the classic science fiction film Metropolis, which Queen featured in the iconic Radio Ga-Ga clip. His payment was essentially performing on the Giorgio Moroder composed soundtrack for a restoration of the film. Moroder's soundtrack doesn't really work but Love Kills is a standout and Freddie really sells the song.
The release of Mr Bad Guy in 1985 (one of the few vinyl records this child of the CD age owned) was a defiant statement of intent. The production was troubled – Freddie had worked with Michael Jackson and thought he could top Thriller. However, Freddie didn't understand that Michael chose from hundreds of songs, used crack musicians, and had a much larger marketing budget than Freddie was able to access. Compared to the Queen albums that lie either side of it, it lacks … something. Probably Brian, Roger and John as a unit. Brian doesn't appear on it, though one of the songs features a pastiche of Brian's guitar – much to his chagrin.
Nonetheless, there are a couple of terrific songs on it. Made In Heaven was later redone by Queen and appeared on Made In Heaven. I also like Your Kind Of Lover which has the kind of introduction Freddie used so often, e.g. "Is this the real life …"; "Can … anybody … find me … somebody to … love …"; "Tonight, I'm gonna have myself, a real good time …". Freddie loved soul and funk. He'd spent a lot of time in the nightclubs of New York and London, absorbing EDM as well. He'd grown to dislike rock music so the album doesn't feature much. Also, the discerning listener can hear Freddie 'come out' in this song. A terrific dance track.
Overarching everything, though, was his great love of opera – the introduction to the Queen song It's A Hard Life is an interpretation of an aria from Pagliacci., Oh, there's also that other one – Bohemian Rhapsody. It is possible that his recordings with Montserrat Caballé represent his best work. Barcelona shows both of them at their best. I think Freddie loved the discipline of opera, and Caballé loved the freedom of rock and roll. Released in 1988 for the 1992 Barcelona Olympics (held after Freddie's death), it remains the most memorable of the Olympics songs.
Montserrat Caballé had suggested an album: Freddie agreed. How Can I Go On is an excellent track from their collaboration. Freddie had an amazing talent to keep hitting higher and higher notes. He was a natural baritone but often sang in tenor range. He could also sing in the bass range. You can hear the two play off each other, satisfyingly.
Freddie was involved in Dave Clark's musical, Time. The single Time did okay, reaching #32 in the UK in 1986 but thirty years later a demo was found which was far superior. Highlighting Freddie's vocal with piano accompaniment, the lyrics are poignant and resonant and Time itself is a decent musical.
I'm not sure whether this next one counts so I'm sneaking it in near the back. Little Freddie Goes To School was written by Northern Irish composer Stuart Leathem. Freddie's voice is used from outtakes from his album with Montserrat – two songs: When This Old Tired Body… and The Golden Boy. Esther Trousdale, also from Northern Ireland, sings beautifully; an interesting and worthy addition to the list.
I finish the list with an uncharacteristic rocker, She Blows Hot And Cold. Really a studio outtake, it was the B-side to the opening single on Mr Bad Guy, Made In Heaven. The surviving members of Queen redid the instrumental tracks, but it's a Freddie solo. Great fun, and rocks pretty hard.
Freddie is one of the most beloved rock singers of all time. He is one of the more unique vocalists, and while his solo work may fall under the shadows of Queen, much of it is surprisingly excellent. He died far too young, at the age of 45, but we can at least continue to discover the breadth of his work through his recordings.
Freddie Mercury official website
Fans of Freddie Mercury (Facebook)
The Solo Collection (12 disc edition)
Freddie Mercury Solo – YouTube Channel
Bohemian Rhapsody: The Definitive Biography of Freddie Mercury by Lesley-Ann Jones (Hodder & Stoughton 2011)
Official International Queen Fan Club
Freddie Mercury biography (Apple Music)
David Lewis is a regular contributor to Toppermost. A professional guitarist, mandolinist, banjoist and bassist, he plays everything from funk to country in several bands and duos. He is a professional historian and a public speaker on crime fiction, adventure fiction, philosophy art, history and popular culture. More of his writing can be found at his rarely updated website.
TopperPost #825