Mike Stern
| Track | Album |
| --- | --- |
| Mood Swings | Upside Downside |
| Chromazone | Time In Place |
| Like Someone In Love | Standards (And Other Songs) |
| Swunk | Is What It Is |
| Blue Tone | Play |
| Remember (for Bob Berg) | These Times |
| I Know You | These Times |
| Who Let The Cats Out? | Who Let The Cats Out? |
| Song For Pepper | Big Neighborhood |
| Trip | Trip |
Contributor: David Lewis
You know you are listening to a special musician when you realise his first gig, pretty much, was with Blood, Sweat & Tears in the mid-seventies. In 1981, he joined Miles Davis. Yes, that Miles Davis, as guitarist. Mike Stern studied at Berkeley College where he quickly made an impression. He started as a rock guitarist – worshipping Clapton, Hendrix, Page, Beck, Mike Bloomfield, and that style of guitar. Jazz was a challenge to him, he claims. Listening to his effortless lines of seemingly infinite creativity, I find it hard to believe he struggled with jazz. He survived three Miles reshuffles but went into several bands in 1983, and released his first solo album, Neesh, that year. He's made about fifteen albums since, plus collaborations and sessions. This toppermost will focus on his solo career.
If you're not a tech-head you can skip through to the music; Mike comes from the fusion tradition and when he started, very few jazzers played solid-body guitars. Al Di Meola (who played with Return to Forever) did, and John McLaughlin (who also played with Miles on the seminal Bitches Brew but made his solo name with his Mahavishnu Orchestra) played solid-bodies, but Mike played a Telecaster. He'd bought it off Danny Gatton, who I've dealt with here. This guitar was unfortunately stolen in an armed robbery in Boston, but Mike eventually got his own signature model. Apparently he only owns a few guitars and generally only gigs with one. (His wife, Leni Stern, has a large collection of guitars.)
Mike is part of the midpoint between rock and jazz. He has said that Miles Davis wanted him to play like Hendrix. As a result his solid-body guitar, which is often overdriven, was unusual in jazz. He wasn't the only one, but his use of the Telecaster as opposed to a Gibson was ahead of the curve. Mike has said that Miles, who loved Wes Montgomery and Charlie Christian, also loved Hendrix, and wanted Mike to play that way. Mike's albums, too, are absolute models in how to drum – he uses great drummers. Dave Weckl is a particularly sympatico drummer; in the albums Weckl appears on, his drumming is the 'secret sauce'. But the other drummers, who include Dennis Chambers, Ben Perowsky, Vinnie Colaiuta and Keith Carlock, among others, all provide the solid foundation for Stern. Mike is a superb rhythm player – he has one of the best senses of time in the jazz world.
His first album was released in Japan and is much valued by collectors today. His latest album is a collaboration. To ease my selection process, I'm only dealing with Mike solo and all of the US releases, from 1986's Upside Downside to 2017's Trip. However, Mike is worth listening to in all his contexts, including Miles, and all of his collaborations.
From his second solo album, Upside Downside, Mood Swings is a complex, yet accessible composition – the band locks into a groove. This listener could listen to the interplay for hours. A real gem.
Time In Place is his third solo album from 1988. Chromazone is a stunning track. As we'll see, one of Mike's compositional ideas is saxophone and guitar playing unison lines. Excellent every time.
The tens of thousands of readers who devour my Toppermost articles religiously will have noticed I'm a fan of cover versions. Mike's Standards (And Other Songs) from 1992 has some gorgeous renditions of jazz standards, including Chick Corea's Windows, but I've decided to show you Mike doing straight jazz in the Bing Crosby hit, the lovely Like Someone In Love. Mike's keen phrasing is on show here, yet he never loses the melody.
Mike keeps the personnel fairly simple on Is What It Is (1994) but it's a superb album. Will Lee on bass, Dennis Chambers on drums, Jim Beard on keys. Swunk opens the album magnificently and sets the tone for what is one of Mike's best albums.
In 1999, Mike released Play, His collaborators, apart from his regular players, included John Scofield, another legendary jazz player, and the mighty Bill Frisell. Their collaboration, Blue Tone, is a gorgeous duo. The two men have completely different styles but blend beautifully. Mike's interplay with all his musicians is perhaps his greatest strength.
Mike and Bob Berg, the New York saxophonist, had a very close and empathic musical relationship. Bob's death in an automobile accident in 2002 was a blow to the industry and a terrible shock to all who knew him. Mike's musical eulogy Remember (for Bob Berg) is New York jazz at its finest. Not one to wallow, Mike has composed a high energy, fast, complex piece – the perfect tribute to Bob. A highlight is the saxophone part played by Bob Franceschini.
From the same album, These Times, I couldn't go past I Know You, which features banjoist Béla Fleck. Mike has teased more collaborations – I'd love to hear a full album and a tour to Australia with these two. Think I can clear the back yard up a bit for them. I love how the vocals, by bassist Richard Bona, suggest words but don't actually say anything. Just vocal sounds. Mike will return to this idea in other songs. And Vinnie Colaiuta (ex-Zappa, among others) excels on drums.
Perhaps my favourite album title of all time, Who Let The Cats Out? sees Mike start to stretch himself further. From this album I've picked the Title Track and it swings. A funky bass line, followed by Stern-esque guitar and sax (and in this case piano too) playing a deeply complex melody, interspersed with solos. I will try and stop myself saying this again, but Mike often takes the first solo, getting himself out of the way, and letting his sax player and other soloists shine. If you think bebop died in the sixties, you may be mistaken – listen to this track.
Big Neighborhood from 2016 has a lot of guests and Mike stretches out stylistically. I particularly enjoy Song For Pepper, sung by the incredible Esperanza Spalding, who also plays double bass on the track. Its African flavoured structures are perfectly complemented by the wordless singing of Spalding, but apart from the guitar and drums, I wish to point out Jim Beard's engaging and delicate piano part which enhances the track.
In 2016, Mike had a devastating accident on the street in Manhattan. He tripped on some construction breaking both arms and sustaining nerve damage. The risk was he'd never play guitar again. However, after months of therapy and treatment and several operations, he was back in the studio. He recorded the album Trip, in which each song title refers to his accident or treatment, reflecting the experience of injury and recovery with humour, grace and honesty. He claims to have lost some musical agility – I don't hear it. He has to fix the pick into his thumb and finger with wig glue – the same stuff, he says with some amusement, that Donald Trump uses.
The opening track, Trip, is an incendiary tour de force. Mike wails. The band is hot and swinging. If you didn't know, you wouldn't think he'd done any damage at all to his hands. He has been compared to Les Paul, who, after he broke his arm in a car accident, got it set in a playing position. The sensational playing marks an instrumentalist who is back and who still has things to do.
Mike Stern is one of the most interesting and eclectic jazz players around today. He is also, by all accounts, one of the nicest people on the scene, and while he can blaze like Hendrix, he can also simmer like Wes Montgomery. With the release of his recent album, Eleven (the title a reference to the famous scene in This Is Spinal Tap), a collaboration with the Jeff Lorber Fusion, he proves he still has much to say. Unlike many solo performers, the various lineups of the Mike Stern band are cohesive, communicative units that lift the music beyond the sum of its parts.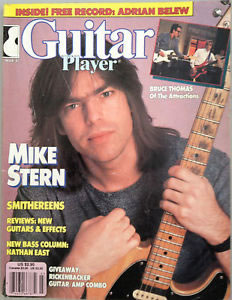 Mike Stern Discography & Appearances as a Sideman
1982 Miles Davis concert with Mike Stern on guitar
Mike Stern interviewed on For Guitar Players Only (YouTube 2017)
Mike Stern talks about working with Miles Davis for Cosmo Music (YouTube 2017)
Mike Stern biography (Apple Music)
David Lewis is a regular contributor to Toppermost. A professional guitarist, mandolinist, banjoist and bassist, he plays everything from funk to country in several bands and duos. He is a professional historian and a public speaker on crime fiction, adventure fiction, philosophy art, history and popular culture. More of his writing can be found at his rarely updated website. David is also the co-author of "Divided Opinions" published this year and derived from an established podcast on Australian politics.
Read the Toppermosts of some of the other artists mentioned in this post:
Jeff Beck, Eric Clapton, Bing Crosby, Miles Davis, Béla Fleck, Bill Frisell, Danny Gatton, Jimi Hendrix, Frank Zappa
TopperPost #830