Richmond Fontaine
Track
Album / EP
Northline
Winnemucca
Post To Wire
Post To Wire
Through
Post To Wire
Novocaine
Obliteration By Time
Savior Of Time
Lost Son
The Water Wars
$87 And A Guilty Conscience
That Gets Worse The Longer I Go EP
The Kid From Belmont Street
Thirteen Cities
The Boyfriends
We Used To Think The Freeway
Sounded Like A River
Inventory
The High Country
I Can't Black It Out
If I Wake Up And Remember
You Can't Go Back If
There's Nothing To Go Back To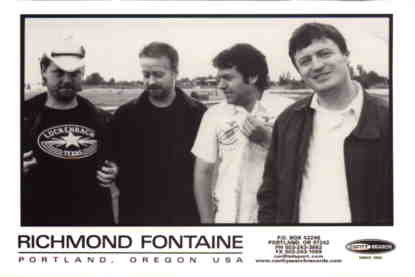 Contributor: Justine Harvey
Unusually I discovered Richmond Fontaine not through hearing a song on the radio or seeing them live but through reading the novels of frontman Willy Vlautin. His novels are slices of Americana where likeable characters find themselves in bad situations and make terrible decisions. Petty theft, gambling, drinking, absent fathers, unsuitable lovers, that sort of thing. Richmond Fontaine's lyrics cover similar territory. If it wasn't already obvious, this is alt-country.
Starting the list where I began my Richmond Fontaine journey with songs from their 4th and 5th albums, Winnemucca and Post To Wire. It was 2010 and faced with a rack of Richmond Fontaine CDs, I didn't really know where to begin so picked out two that contained songs that related to Vlautin's books. Post To Wire includes a song called Alison Johnson, the main character in the book "Northline" while Winnemucca includes the song Northline. Richmond Fontaine's work is littered with this sort of thing, references to characters in Vlautin's books, and characters recurring across songs.
Anyway, this turned out to be a good tactic as both albums are great and Northline remains my favourite Richmond Fontaine song. It begins quietly with Vlautin's strained voice describing a woman he used to know, then his voice softens on the refrain "her bloodshot blue eyes" before the chorus kicks in. The chorus contains the perfect succinct description of drifting apart from someone, "her letters turned to postcards and they never appear". No words wasted but perfectly expressing something many of us have experienced – although in the digital age text messages may have replaced postcards.
Post To Wire is probably Richmond Fontaine's most accessible album – lots of proper songs with choruses, although there is a narrative that loosely runs through it about a character called Walter. The song Post To Wire was always going to be on this list. Like Northline, it grabbed my attention on first listen and has continued to be a favourite. It is a duet between Willy Vlautin and Deborah Kelly (from the Austin band The Damnations) and their voices work brilliantly together. It is a love song of sorts, a reconciliation between two people who are tired of arguing, beaten down by life. This is probably as upbeat as things are going to get …
Through is my second choice from Post To Wire. Beginning with the line "you walked with a limp" which may sound like clichéd Country and Western misery territory but it becomes something altogether more subtle and sensitive. It is about possibly about depression/addiction/missing someone – I'm not entirely sure. I swing between thinking of it being hopeful or utterly heartbreaking, but either way it gets under my skin every time I hear it.
After those two mid-career albums I've explored the rest of Richmond Fontaine's work, mostly on Spotify I'll admit. Somehow I managed to miss them live and haven't read much about them. So this list is based solely on listening to the music in near enough a vacuum, free from the usual baggage of fancying the guitarist or preferring their earlier work. In fact it was only in putting this list together that I started to have a real idea of the chronology of their albums but my choices have turned out to pretty much span their 20 year career. Novocaine was originally recorded for their first album Safety in 1996 so is technically the oldest song on this list. I'm not going to pretend to own that record – the version I know and love is from the 2006 album Obliteration By Time which brings together re-recordings of many of their early songs. It is a simple song complete with a poppy chorus about wanting to numb the pain of everyday life.
Savior Of Time is another old one, but in its original third album recording. It is more on the alt side of alt-country with definite shades of Hüsker Dü. Vlautin's voice is lower in the mix than on later records and it thrashes along nicely, again with a catchy chorus which I seem to be susceptible to. It is about picking up a girlfriend with mental health problems and driving around town – a very specific situation but, like all the best writing, there is something very relatable to it.
The Water Wars from the 2007 EP $87 And A Guilty Conscience That Gets Worse The Longer I Go is pretty much the quintessential Richmond Fontaine song. It could be a Vlautin short story. It includes a veritable checklist of tropes from Vlautin's work. Stealing money from a friend, getting drunk, ending up "in the can", going to Vegas, getting a low paid job – all here along with an incredibly catchy refrain about the West.
The $87 EP also includes a haunting instrumental piece Kid From Belmont Street Gets Left On Colfax St. Denver, CO. A version with vocals and the shorter title The Kid From Belmont Street appears on the Thirteen Cities album which came out in the same year and since I do like the storytelling quality of Richmond Fontaine's work, it is that version that is on this list. It is quite different from the punchy chorus numbers I've included up to now. It's a delicate wisp of a tune, haunting with lyrics about a mixed-up kid and a horn part provided by one of the band Calexico.
The Boyfriends is more upbeat in its sound and even includes a trumpet. It is about not wanting to turn into the sort of men you knew growing up. It begins with a tale of dubious sexual exploits that Jarvis Cocker would be proud of. It includes the pithy damning description of a woman, "She said she wasn't used to drinking but I could tell she was", which makes me wince with its brutality whenever I hear it. It moves on to biographical detail with Vlautin recounting the string of boyfriends his mother brought home, the men he doesn't want to be like.
A bit of a change with Inventory, the opening track from The High Country. A spoken word piece with another guest appearance from Deborah Kelly telling the story of a young woman trapped in a bad marriage. I know the phrase 'spoken word' will send many running for the hills as it is often the sign of a band that is out of ideas or outright indulgence but this one is worth a listen. It is still very much recognisable as a Richmond Fontaine track and the music behind the words has an ethereal beauty to it.
Ending with I Can't Black It Out If I Wake Up And Remember – a sprawling title that fits the song. The narrator walks around his old neighbourhood, pointing out places that once meant something to him. This being Richmond Fontaine these are mainly sad memories – fires, fights and fatal car crashes. It reminds me of season finale episodes of The Wire, which end with similar looks around the city, seeing where everyone has ended up. Taken from the last proper Richmond Fontaine album (the one after, Don't Skip Out On Me, is an instrumental soundtrack to Vlautin's novel of the same name) and while this isn't the final track on the record, it feels like an appropriate way to bring a band to an end.
"Early Gus Van Zant movies and Sam Sheppard plays come to mind here, maybe even Raymond Carver. Vlautin's songs are postcards from desolate western highways and from the walking dead that pass over them." San Francisco Frontlines
"You'll be consulting the lyric sheet ofen, mostly because the words are so good that you don't want to miss anything." No Depression
RICHMOND FONTAINE STUDIO ALBUMS/EP
Safety (1996)
Miles From (1997)
Lost Son (1999)
Winnemucca (2002)
Post To Wire (2004)
The Fitzgerald (2005)
Obliteration By Time (2005)
Thirteen Cities (2007)
$87 And A Guilty Conscience That Gets Worse The Longer I Go (2007)
We Used To Think The Freeway Sounded Like A River (2009)
The High Country (2011)
You Can't Go Back If There's Nothing To Go Back To (2016)
Don't Skip Out On Me (2018)
WILLY VLAUTIN NOVELS
"The Motel Life" (2006)
"Northline" (2008)
"Lean On Pete" (2010)
"The Free" (2014)
"Don't Skip Out On Me" (2018)
Richmond Fontaine mini-documentary (2007)
Willy Vlautin's books at Faber & Faber
In Music We Trust interview with Willy Vlautin (2002)
Richmond Fontaine biography (Apple Music)
Having written about topics ranging from baby car seats to housing policy, Justine Harvey now mainly writes about theatre buildings for work or her passion for outdoor swimming. Writing about music has made a nice change. She is on Twitter @seatinthestalls and Instagram @justinefharvey
TopperPost #848