The Wonder Stuff
| Track | Single / EP / Album |
| --- | --- |
| Red Berry Joy Town | The Eight Legged Groove Machine |
| It's Yer Money I'm After Baby | The Eight Legged Groove Machine |
| Who Wants To Be The Disco King | Polydor GONE 6 |
| Golden Green | Hup |
| Circlesquare | Polydor GONE 10 |
| Mission Drive | Never Loved Elvis |
| Can't Shape Up, Again | Welcome To The Cheap Seats EP |
| On The Ropes | Construction For The Modern Idiot |
| Don't Anyone Dare Give A Damn | Better Being Lucky |
| Ten Trenches Deep | Love Bites And Bruises |
Contributor: Justine Harvey
People who don't know The Wonder Stuff well will probably still recognise their two biggest hits – Dizzy, pretty much a novelty record with Vic Reeves and The Size Of A Cow, which with its quirky chorus isn't far off novelty. Neither of those songs are on this list. Not because of any snobbery about success and selling out, but just because I don't think they are the band's best work. I'm pleased that Miles Hunt (who essentially is The Wonder Stuff) had his day in the sun and hope the royalties keep him in tartan suits for many years to come.
My selection is, however, heavily weighted towards singles. This may be because Miles Hunt's pop song sensibility meant their best songs were chosen as singles. It may also be because they released a helluva lot of singles. Or maybe I just like their poppy popular stuff. So if you are looking for lots of B-sides, import only cuts and other obscurities, you've come to the wrong list. To those familiar with the Wonder Stuff I hope this will be some favourites and to those new to them, a good entry point to what I consider to be the Stuffies' best stuff.
Kicking off the list then with Red Berry Joy Town, which kicks off their first album The Eight Legged Groove Machine and more often than not Wonder Stuff gigs. It is a great live opener, instantly recognisable but building up slowly, getting gradually louder until Miles' snarling vocals start.
The Wonder Stuff were the first band I ever saw live. Nowadays I seem to see them every December, a Wonder Stuff gig being as much a Christmas tradition as mulled wine and mince pies. So there is also a good chance they'll be the last band I ever see too. That first gig was on the badminton court of Temple Park Leisure Centre in my hometown, coinciding with the release of their second album Hup. Support was from the Sandkings (whose singer Jas Mann would go on to be in Babylon Zoo) and Ned's Atomic Dustbin (who with the Wonder Stuff and Pop Will Eat Itself made up what was known as the Stourbridge Scene). I was small, shy and looked even younger than I was. Apart from my two friends, the audience seemed to comprise entirely of 6′4″ men with long hair. The air was heavy with patchouli oil and sweat. I was intimidated. But once the music started I was moshing with the best of them. Afterwards, back at my friend's, on a high from our first gig, we danced with abandon in her kitchen flailing around to It's Yer Money I'm After Baby. Until her dad walked in and put a stop to things, it being a school night after all. Like No, For The 13th Time and Give, Give, Give Me More, More, More, It's Yer Money I'm After Baby has all the hallmarks of early Wonder Stuff songs – furious-paced rhythm section and a catchy chorus undercut by cynical lyrics.
Two of the songs here are singles not originally included on albums. Do any bands still do this? The first of these is Who Wants To Be The Disco King, which was released after The Eight Legged Groove Machine but makes a nice nod to it with the line "I'm just two legs of the groove machine". Sneering with contempt at the music of the day while protesting too much that they wouldn't want to be famous anyway, it's stuff like this that has earned Miles Hunt a reputation for being a truculent gobshite.
Second album Hup is softer than Groove Machine and on Golden Green they went for a full-on country hoedown sound, with Martin 'Fiddly' Bell playing a prominent part on (as his name would suggest) fiddle. I remember this being on Top Of The Pops while I was at my auntie's house and being really excited about it. My cousin put a dampener on things, describing them as freaks but then her favourite band was Color Me Badd…
For a long time Don't Let Me Down, Gently was my top Wonder Stuff song (it was the reason I went to that first gig) but it didn't quite make the cut here. While it does start with an excellent "hup" (an exclamation that appears on a lot of their songs as well as being the album title), over the years its lyrics of doomed love have lost some of their charm. Whereas my next choice – the second non-album single – Circlesquare is still one of my favourite songs, not just of the Wonder Stuff but of anyone of anytime. Before Radiohead's Creep or Beck's Loser, Circlesquare was an anthem for underachievers. The original is fiddle-heavy pop but I'm also quite fond of the remix, 'Paranoia mix', a slightly tongue-in-cheek nod to rave and baggy.
Third album Never Loved Elvis divides opinions but I always liked Caught In My Shadow and Here Comes Everyone. Over recent years of hearing it played live, Mission Drive has become more of a favourite. It is also the absolute favourite of my friend Jo who is one of my Wonder Stuff gig buddies. I'm a sucker for the quiet, loud dynamic, the use of "shite" and it contains several "hups". Apparently it is inspired by falling out with Pop Will Eat Itself's Clint Mansell. Miles Hunt is a man who I imagine has a lot of fallings out to take inspiration from.
Can't Shape Up, Again appears on the Welcome To The Cheap Seats EP. It is an acoustic version of Can't Shape Up from Hup. The Hup version is great but stripped back and slowed down, it is particularly lovely and Miles voice here sounds genuinely tender, almost in pain in parts. A far cry from the bombastic early cynicism.
Like Mission Drive, On The Ropes is another song that has grown on me hearing it as part of their live sets. It appears on Construction For The Modern Idiot, the album after the big hits. It is about how things change and people making mistakes."D'you wanna know what this fight's about?/Commerciality over art can't win out." The band split up after this album.
Then they reformed, played live a lot and eventually started making records again.
Miles Hunt seems to have a good secondary income from writing songs with lyrics that lend themselves to being used on Come Dine With Me and Homes Under The Hammer and I don't begrudge him that. But there is always the slight sigh at the mention of new songs, polite smiles, sudden surges for the bar and loos. But then late in 2019 the Wonder Stuff released Better Being Lucky, a record that is so good in places.
There were four songs I could have included here, all of the more melodic sensitive type, but Don't Anyone Dare Give A Damn edges it. They played it live the day after the latest election, when many people were feeling dispirited and for a few minutes things felt better, cossetted with like-minded people.
Coming to the end of compiling this list I wondered whether it is a good reflection of the Wonder Stuff's output. Specifically – is there enough fiddle? Are there enough "hups"? With my last selection, Ten Trenches Deep, both those concerns are addressed. Originally on The Eight Legged Groove Machine but suggesting the live at Leeds version here for the extra fiddle. While Red Berry Joy Town often opens their sets, Ten Trenches Deep is how they close. "We'd like to go out with a bang" Miles sings and with this they do. Five minutes of unbridled fiddle-laden fun that gets the crowd stirred up. And then it's over.
The Wonder Stuff perform The Size Of A Cow on Top Of The Pops – reached #5 in the UK in April 1991
Vic Reeves & The Wonder Stuff hit the UK No.1 spot with Tommy Roe's Dizzy in October 1991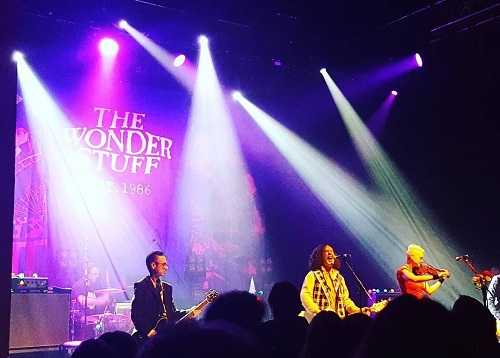 O2 Shepherd's Bush Empire, 22nd December 2016, photo Justine Harvey

O2 Shepherd's Bush Empire, 30th March 2018, photo Justine Harvey
The Wonder Stuff official website
Room 512 – the unofficial Wonder Stuff website
Miles Hunt and Erica Nockalls minisite (from Room 512)
The Wonder Stuff biography (Apple Music)
Having written about topics ranging from baby car seats to housing policy, Justine Harvey now mainly writes about theatre buildings for work or her passion for outdoor swimming. Writing about music has made a nice change. She is on Twitter @seatinthestalls and Instagram @justinefharvey
TopperPost #843